I found this for sale on eBay and, although it's JR East, I decided I could do with another 6-Car set.


Being my first Micro Ace product, I was extremely impressed with the level of detail. I was also extremely impressed with the electronics on the inside and the way everything just snaps together... of course, this is the same with the greater majority of Japanese model railway products... but this 6-Car set seemed much easier to pull apart.
Once apart, it was obvious that the decoder install was going to be very easy... The motor contacts could easily be separated and the power rails were made of copper... solderable! After the copper wire was on.. the wire was lead back up alongside the copper rails to the decoder... wires were also soldered onto the rails to provide power. Finally, the decoder was installed.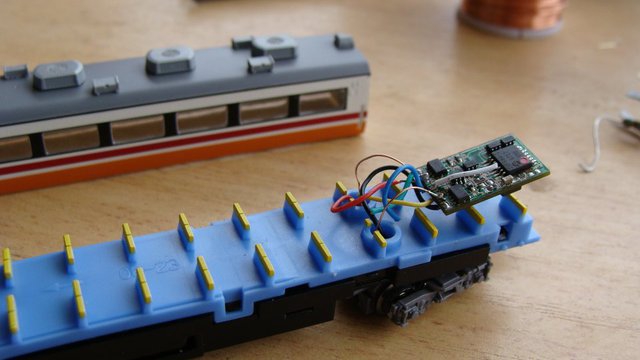 Right... lighting... as per any large consist... there is usually a considerable length to the end cars for directional lighting... this usually means that people should install separate decoders in the end cars (high price!) or run wires throughout the cars (ugly!)... so instead, I decided to convert the AC current to DC and force the lights to be in specific directions...
But you'll see that in my next post!