There's nothing better than queuing (queueing?) up at the entrance of a Flea Market... there could be any amount of treasure inside, so you'll never know what you might find. One also doesn't want others to steal said treasure, so one must be early! In Japan, just like most other countries, there's a lust for flea markets and there's always someone selling something which piques one's interest.
Banpaku Recycle Fair - Expo Park
This flea market, named Banpaku Recycle Fair, is held twice a month at Expo Park in North Osaka. Getting there from Shin-Osaka was very easy, taking the subway and the Osaka Monorail.
After getting off at Expo Memorial Park Station, exit to the east and then cross under the monorail lines. The entrance is well organised, and really, you just need to head towards this guy to find it...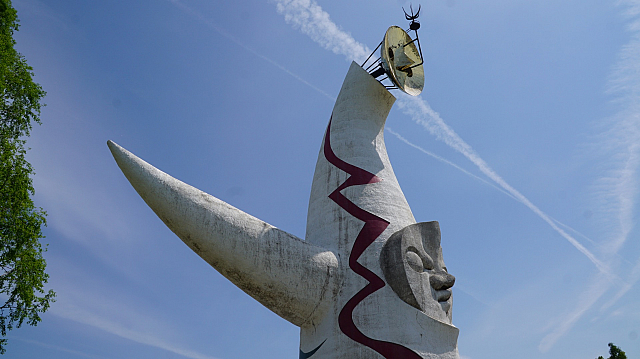 The park is used for a lot of events, even just families going for a picnic. The weather was perfect for a picnic also, but that's not what I was there for. Following the main path around to the left, you'll find the flea market.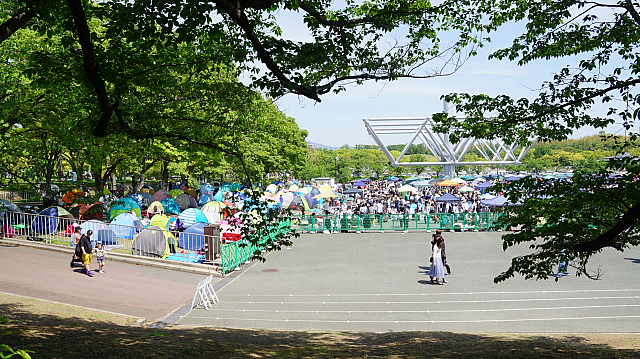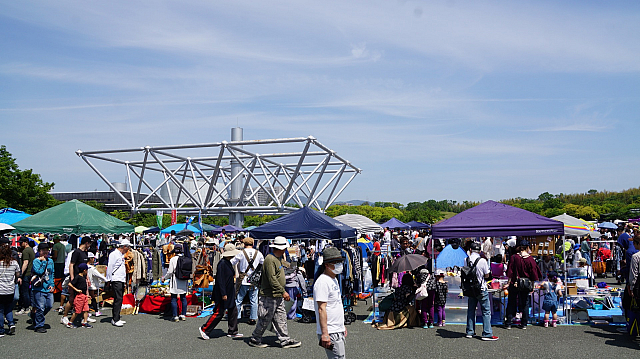 From here, the browsing commenced! I ended up picking up a Famicom and a few n-gauge trains.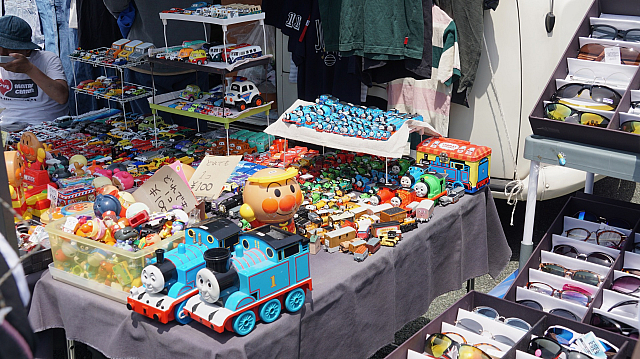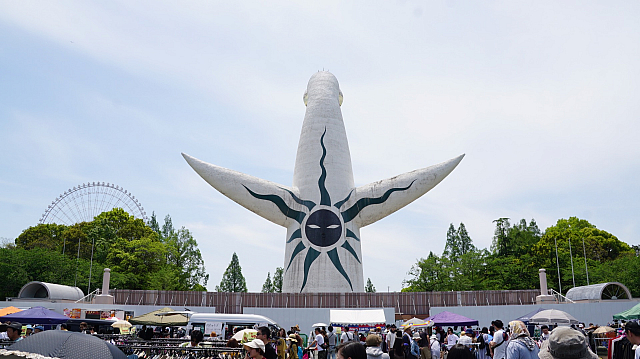 That Tower of the Sun God is ever-so-daunting.
Ohatsu Tenjin Shrine Flea Market
This one is nicely tucked away behind the busy streets of Umeda. It's a little bit south-east of the main JR Osaka Station, but within easy walking distance.
The temple itself is beautiful, a complete relic nestled in amongst a ring of skyscrapers. The area is connected to the Sonezaki Ohatsu Tenjin Dori Shopping Street (Shoutengai) which also offers some vintage and retro stores... if they're open when you're at the market!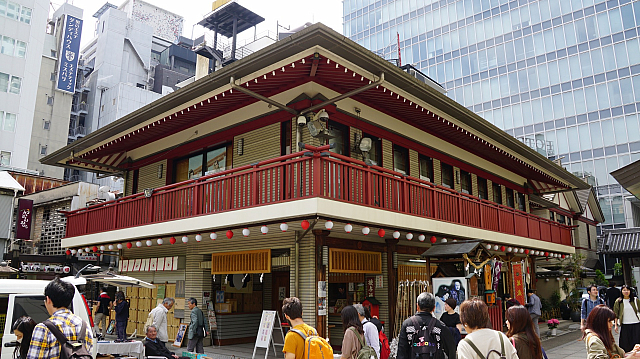 I managed to pick up a really nice Sony Walkman-style personal recorder. It had all the right inputs and looked like it might be able to be connected to an MSX/C64/etc.. for data recording.
Don't forget to actually check out the shrine itself! Make a wish if you want!
Shi-Tennoji Flea Market
This market was huge! It's on the grounds of the Shi-Tennoji Temple and it's quite an effort to navigate the layout. You can access this market via the Tanimachi Subway Line at Shitennoji-mae Yuhigaoka Station or by walking north from JR Tennoji Station.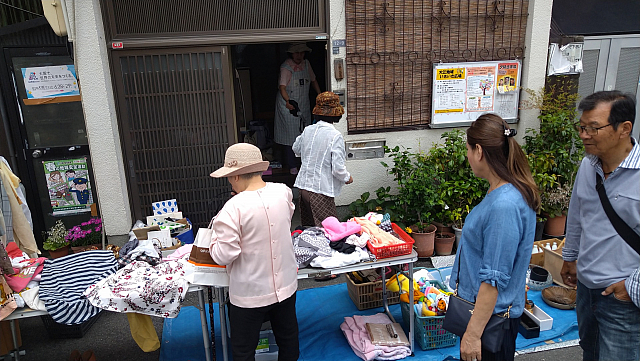 If you're walking from the Subway station, you'll find the residents have their own stalls in the street leading to the main market. I don't know how by-the-book this is, but they've made the most of the traffic that comes through!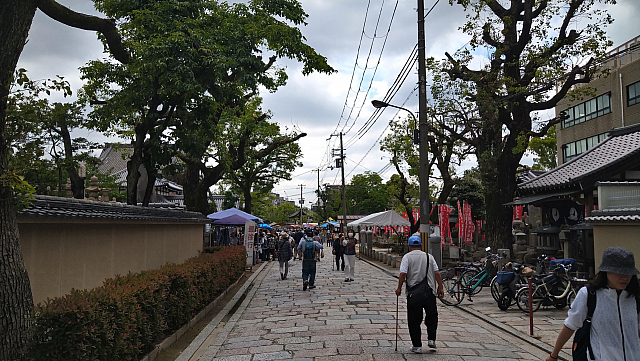 Wandering around, the usual trinkets were to be seen... until I saw this!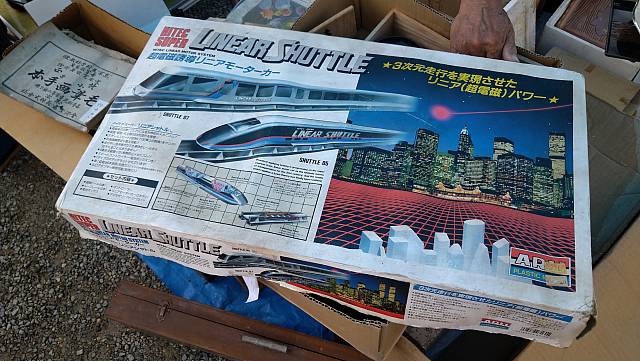 It's a vintage model maglev Linear Shuttle! Opening the box to check the contents proved that it wasn't in the best condition.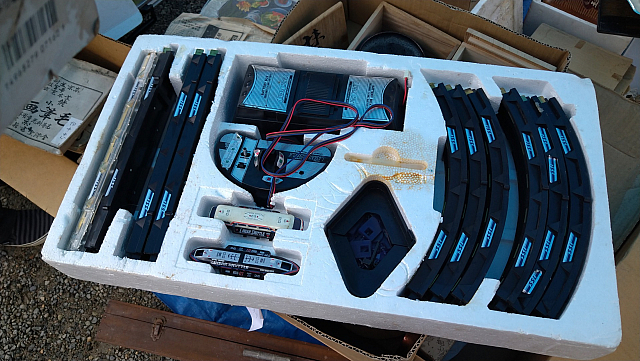 There seems to be a small oil tube included, which makes me think that the vehicle isn't always levitating... a quick google indicated that it actually only levitates on one section of track which then propels it around the loop. The loop is also vertical, as in a loop-the-loop, and not a flat circuit. The metal was also quite corroded... so I passed on it... but I had been pretty damn keen!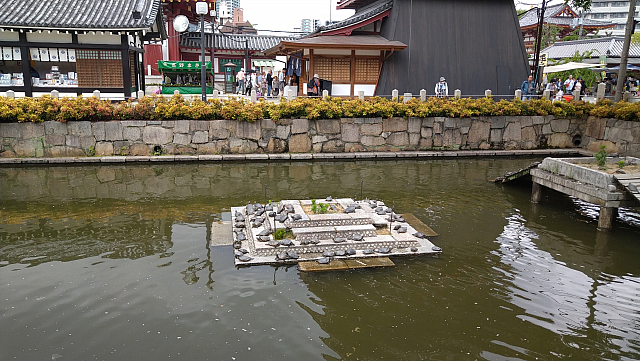 Don't forget to say Hi! to the turtles in the middle of the temple yard. And the dancing monkey! I just missed the show.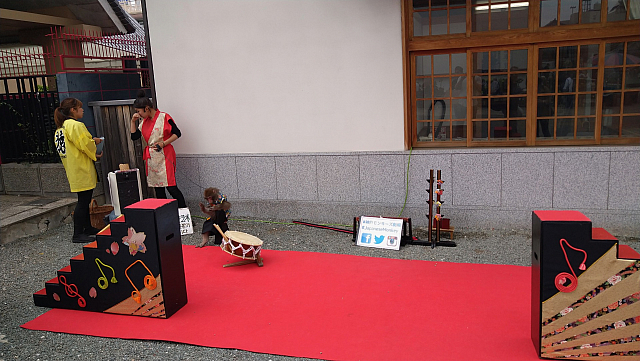 Some stall holders happily dumped their wares on their tarpaulins... others were a lot more organised.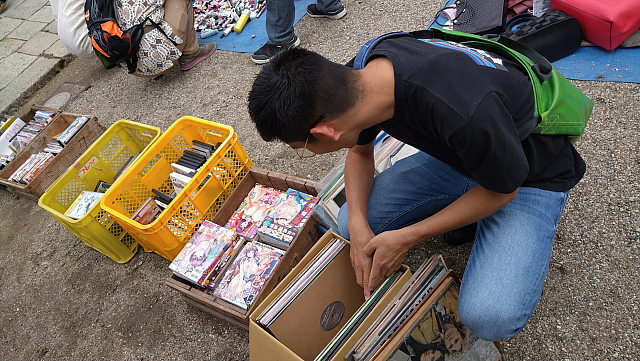 And yeah... there's a lot of the above as well... it's always fun to check out the customers of such wares!
Shin-Osaka Station - East Gate
This small market is open every Saturday morning. Markets are pretty-much always on Sundays in Australia, so it was fun to come across this randomly when heading to the station to meet friends. Fortunately, there wasn't anyting that interesting... so I didn't have to lug anything around all day.
It was also extremely hot... so anything you see above has probably already melted!