The PCMCIA (or PC Card) standard was built for portable machines which involve smaller form-factors than desktop PCs. Similar to ISA and PCI cards in desktop PCs, the cards offered expansion capabilities for portable machines including storage and communications. The most common cards are either ethernet, modem or wireless. Storage became an option with both flash memory cards, IDE interface cards and SCSI cards.
Desktop machines can be fitted out with PCMCIA card interfaces. Below I'll cover ISA to PCMCIA, PCI to PCMCIA and USB to PCMCIA, noting the limitations of each. I've had an IBM External CD-ROM 0991-011 in the collection for a while and I'd always wanted to check out its capabilities noting that it has a sound-card built-in!
The desktop machine that'll be running the tests is a PIII-500 with 512mb RAM. It's got enough storage internally to support multiple versions of Windows, so we can test compatibility across the board. I've actually taken out ethernet and sound cards, and disabled unnecessary onboard peripherals, to prevent hardware conflicts with any installed PCMCIA bridge.
PCMCIA Cards
I've tested the following PCMCIA Cards during this article. I wanted to make sure I had a card from each category, since I'd expected that certain adapters wouldn't handle all types of cards.
| Device | Description | Driver |
| --- | --- | --- |
| SanDisk 1.2gb Memory Card | Flash Storage | Uses the standard Mass Storage Driver |
| Belkin 11g Wireless Card | Wireless Network | Download |
| IBM External CD-ROM + Sound Card + Gameport | External IDE Interface + Extra | Download.EXE |
I'm pretty much in-love with the IBM External CD. It's got the beautiful 'Aptiva'-esque styling and a bloody sound-card built-in!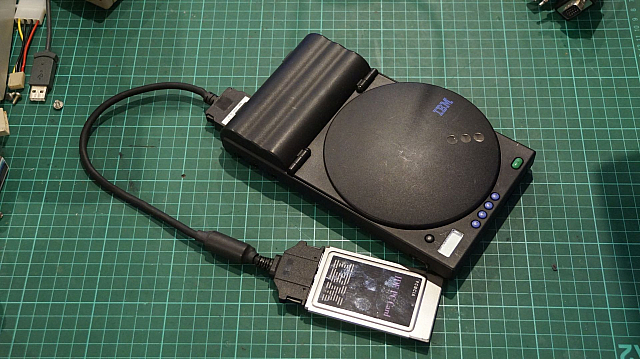 Yup, that's the amazing all-inclusive IBM External CD-ROM, but we'll discuss its capabilities at a later date. Following are the two boring (aka. just-work!) cards...
Super boring. They didn't even try to use a differing palette!
PCMCIA Interfaces
To slap a PCMCIA card into a desktop machine, you'll need some kind of adapter. The following are the units that have been tested throughout this article.
| Device | Connection |
| --- | --- |
| IO-Data CardDock EX/DV | ISA |
| Ricoh | PCI |
| Ricoh | PCI |
| Condor PCI Super Card | PCI |
| AirFree | USB |
First up, here's the Condor PCI Super Card. It's huge and seems to have been custom built for a specific chassis? It might actually have been for a Kodak photo kiosk or somesuch where there are card slots on the front of the case. Based on it's length, I could see this card providing ports to the front.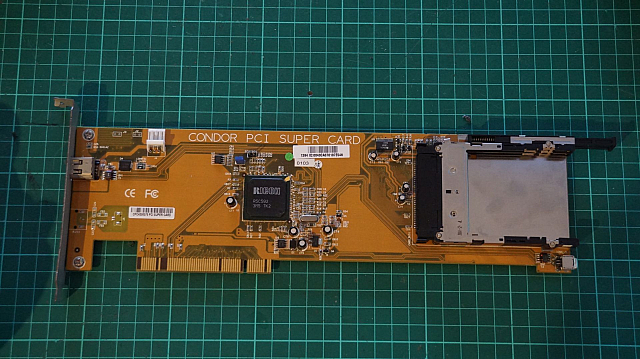 Unfortunately, it wasn't detected by any part of the system!
The other Ricoh 485-based and 475II-based cards...
Hagiwara Sys-Com Airfree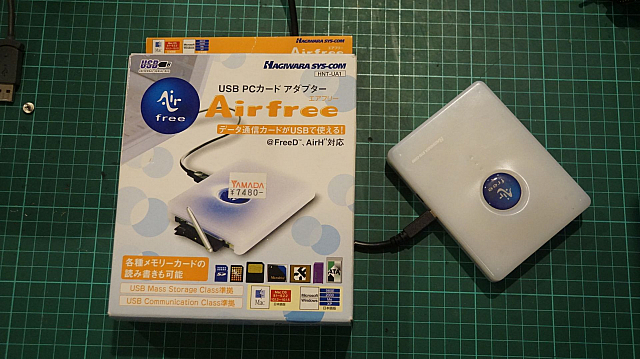 And I-O DATA's CardDock2-EX/DV...
The results are as follows. The basic finding have been that the newer PCI/USB interfaces only support specific classes of PCMCIA devices. Those being Mass Storage and Network. As soon as you bring in a card that needs interrupts or other low I/O ranges then you're out of luck. On the flip-side, newer versions of windows don't support the older ISA hardware, meaning that the ISA PCMCIA bridge that I had just wont work on anything newer than Millenium.
| Bridge | Device | Operating System | Result |
| --- | --- | --- | --- |
| IO-Data CardDock EX/DV | All | Windows 98 SE | Fully operational. |
| IO-Data CardDock EX/DV | Any | Windows XP | Card cannot be installed. Drivers wont recognise hardware and Add/Remove Hardware doesn't auto-detect it. |
| Ricoh 485/475II | Sandisk Flash Storage | Windows 98 SE | Works, but cannot be easily re-partitioned. Needed to use BOOTICE. (see information below) |
| Ricoh 485/475II | Belkin 11g Wireless Card | Windows 98 SE | Worked perfectly. Used Odyssey Client 4.52 for WPA2 access. |
| Ricoh 485/475II | IBM External CDROM | Any | Failed with resource issues. Hardware could not start. |
| Condor Super PCI | Any | Any | Entire card couldn't be recognised. Even the BIOS didn't list it. Going in the bin... but it's so cool-looking! |
| Hagiwara Sys-com Airfree | Flash Storage | Windows 98 SE | Works fine. A bit tricky to install on the US English version of Windows 98 SE as the installer just drops out. Works perfectly on Windows 98 SE JP. |
| Hagiwara Sys-com Airfree | Belkin 11g Wireless | Windows XP | Works fine, as above with installation. |
| Hagiwara Sys-com Airfree | IBM External CDROM | Any | As above with the PCI cards, it just doesn't work at all thanks to resource limitations. |
Partitioning Removable Media In Windows XP Or Lower
I'd somehow managed to trash the partition table on the SanDisk Flash Memory during the testing above. It hadn't caused the resource errors above (I went back and re-tested the scenarios after I'd realised the disk wasn't actually readable), but it had caused errors when trying to access the drive in My Computer... when it actually chose to show up. Both FDISK, DISKPART and Disk Management in all forms/versions/flavours of old-windows didn't want to touch the partition table. I also tried Partition Magic 7.0, but that didn't care either.
Actually, FDisk in Windows 98 SE JP managed to show the card, but then suggested that it was onlt 136mb in size? I actually tried to follow through with it and that's what probably really killed the partition table.
Thanks to this post at lancelhoff.com, I was directed to an older version of BOOTICE which disregards all forms of safety and allows you to totally wipe and re-partition removable media in older versions of Windows.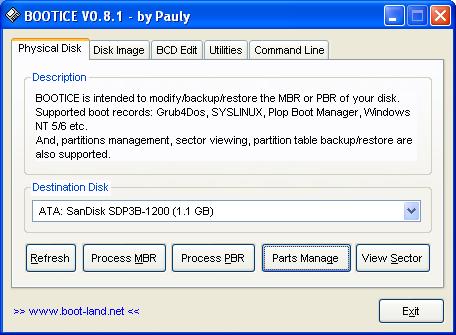 Choose the correct disk and click 'Parts Manage'. You'll be presented with the screen below...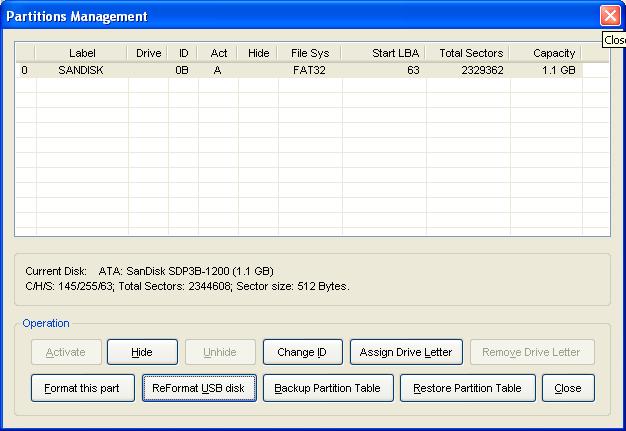 I was expecting an option to set up the actual parition table, but nothing was presented. Instead you need to choose 'ReFormat USB Disk' and choose the top option.
WPA2 on Windows 98 SE
As mentioned above, you can install the Odyssey Client 4.52 on Windows 98 to enable connections to WPA2-encrypted wireless networks.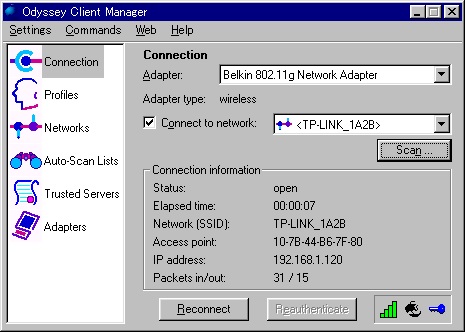 I expected that I'd have to build a guest network with WEP encryption, or worse - no encryption, to test the wireless PCMCIA cards... but I didn't! This software worked perfectly!
Conclusion
The IBM External CD-ROM is super-cool! The fact that it comes with a sound card inbuilt and a gameport/midiport is awesome. I suppose it's really suited to an older laptop that doesn't have a soundcard. I actually tried using the joystick port and it works fine, but don't expect all joysticks to work 100%. I'll post about that soon.
As for the PCMCIA to PCI or USB, you're mileage may vary. If you just want to use flash storage or ethernet cards, then go for it... but why not just get an ISA or PCI card? I remember back in the day I really wanted a PCMCIA to PCI adapter for a wireless card to join the Canberra Wireless network... as actual PCI wireless cards were still a pipe-dream. That never happened... and now I have a surplus of the technology and no real reason to need it. Actually... that's the point behind too many posts on this blog!