You'd probably not think it... but this site was actually created to talk about (big and small) trains. I've been pretty distracted lately by vintage computers and other such electronic fun. Just for something different, I thought I'd throw in an update on the latest happenings around Melbourne.
Regional Rail Link
This line, from Sunshine to Manor Loop, has been completed for ages and is functioning well. The first station on the 'new part' from Deer Park is Tarneit, followed by Wyndham Vale. There is then a loop in the middle of the bi-directional tracks for peak-hour services to return. Every afternoon a push-pull set utilises this.
From Tarneit Station, you get a great view of the Melbourne skyline as you look east-ish back to the city. There's also a nice long curve, on which an approaching service would be very photogenic in the right lighting conditions. Unfortunately, Melbourne's weather is shit.
Every so often a 'hospital' train runs from Tottenham to Geelong. These trains consist of ill rollingstock requiring servicing in Geelong and a BG engine (normally a G or an XR) hauls the lot west. This movement has been known to traverse the RRL and Tarneit would provide a great vantage point to get a shot of it.
I saw the right locomotives appear on the radar in Tottenham and got in position at Tarneit. Unfortunately the train took the old way through Brooklyn and Werribee. I was still fortunate enough to get the Down Warrnambool service.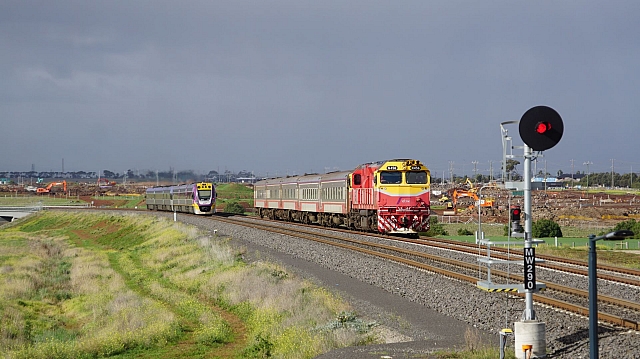 I was actually on the station platform when I saw that diesel approaching... hence missed the skyline in the proper shot!
Moonee Ponds Creek Viaduct
This amazing piece of architecture was built for the opening of the Albion Jacana Railway Line in 1929. The State Library Victoria has some awesome photographs of the construction. I was out there one early morning in August to see Steamrail traverse the bridge.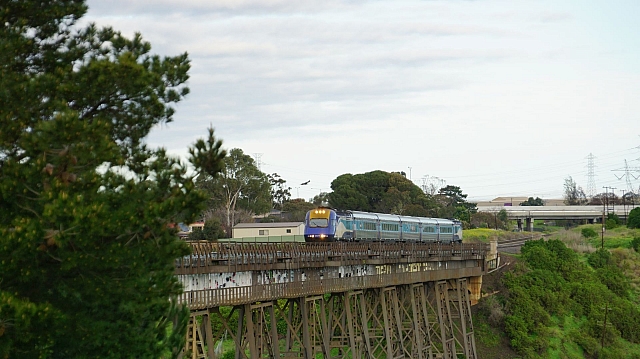 The XPT showed up first. V/Line's SG set then came through into Melbourne.
QR were hot in pursuit with a Melbourne-bound freighter.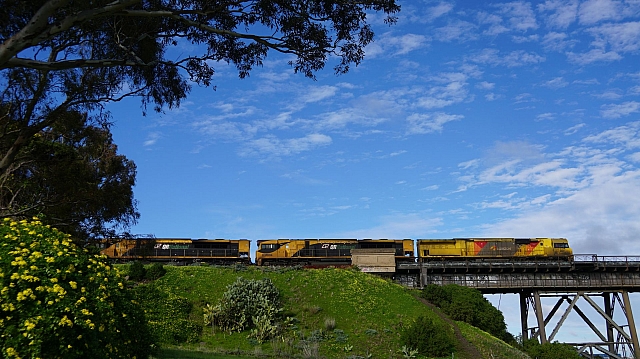 And then Steamrail's A2-986 came through on it's first long run since it was returned to service.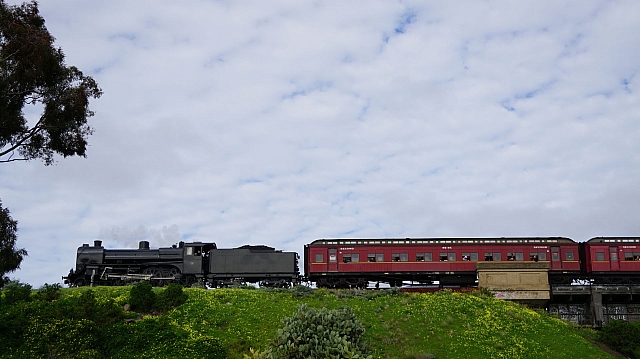 The AK cars were southbound... so I hung around for them as an added bonus.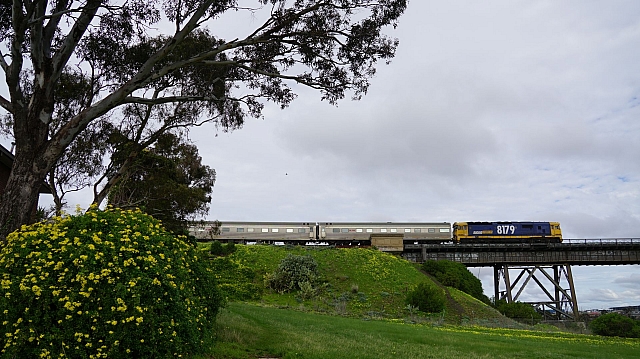 Meanwhile, back in South Yarra
For the first time in a while, a very clean and shiny XR lead the Long Island train south. Seems they were doing work on it as the side-panel on the loco was wide open and you could see the engine working hard as it went past.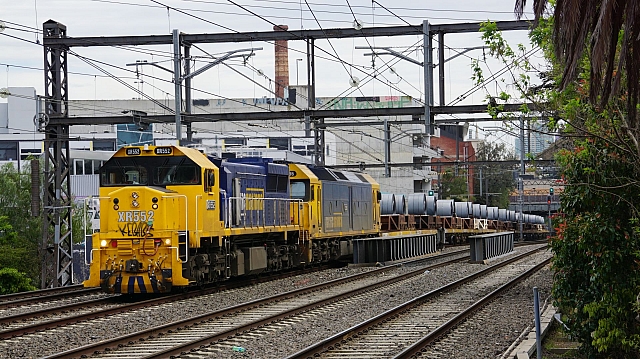 I then tried some new angles from random legal spots trackside.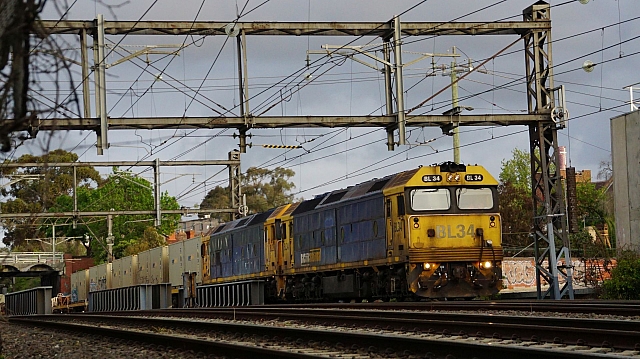 That last one is a new favourite! There's a sound-proofing wall near my place that allows the puppies to play in a park without train noise... Fortunately you can get behind it, still on public land, and grab a really nice angle. Now we just need daylight savings to stretch a little later.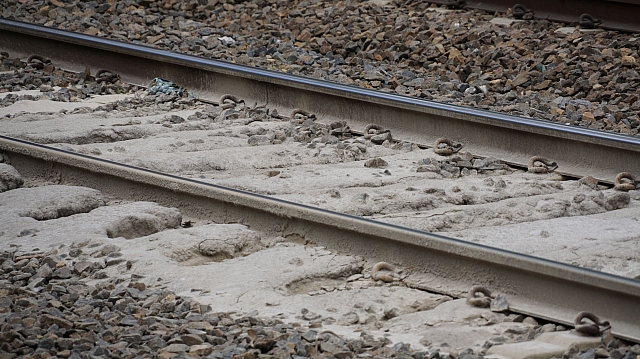 Meanwhile the mud-holes are just getting worse!
R707 to Seymour
R707 Operations took their steamer from Southern Cross to Seymour and I tried to get it at Kensington. If it wasn't the sunlight that was going to ruin the shot then it was to be a bloody spark.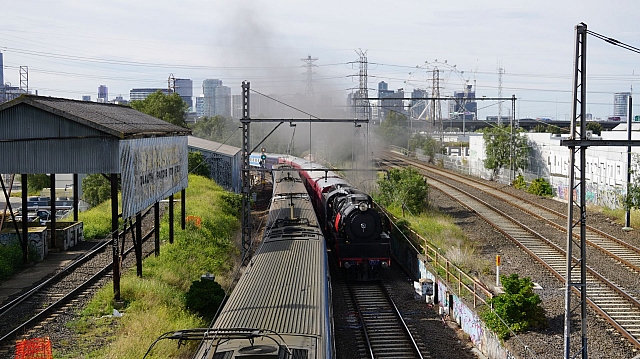 Steamrail's Rail and Sail Tour
This was to go via Werribee, so I thought I'd check out the tracks down that way as it's been a while. I started at Lara in the morning, and then, as that I'd never photographed from it, chose Williams Landing for the return trip.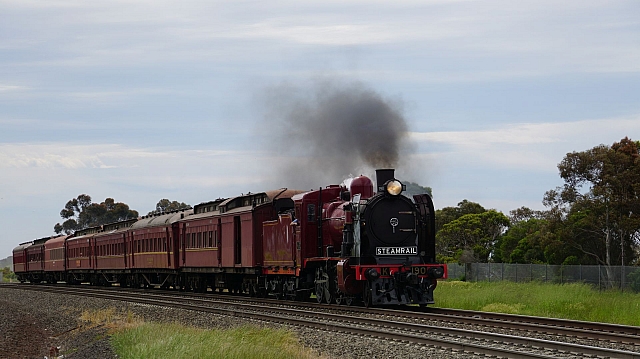 A G-class then bolted east with 4 locomotives in tow. This little blighter wasn't on the radar and snuck through... would've been a great shot! On the return journey, the freighters first put on a show... but then the weather turned to poop.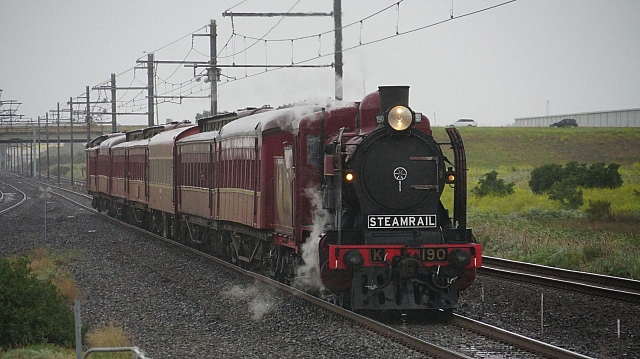 Footscray Vantage Points
Thanks to the Regional Rail Link mentioned above, there were a number of buildings demolished when they added the extra two tracks through. As long as you are careful (seriously! watch out for syringes!) then you can get a good shot from Short Street, just off Albert Street. 42202 just happened to be on its way through with an SCT shuttle. I've never heard such a loud flat-spot on a loco!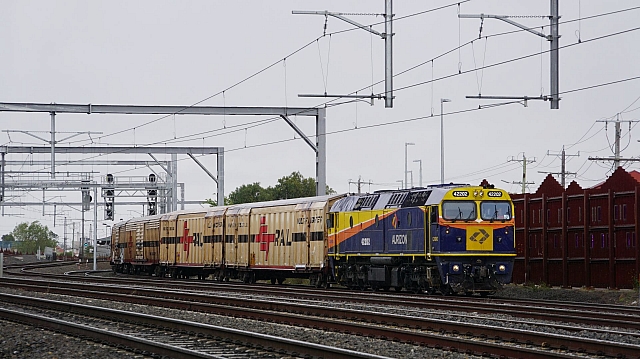 What's next?
Steamrail Victoria are parallel-running two steamers to Geelong next weekend. This should actually be really cool... as long as the drivers lock-step and don't try to race. They'll then parallel run back... via the RRL! Too bad they'll be facing in the wrong direction. Either way, should be a good day out.