I have gotten a little sad recently. My Windows 10 machine now takes 10 good minutes to get to a usable desktop. Sure, Plex is trying to wrangle 4TB of media and ... well ... there's 3 other years of crap on the main partition ... but it's now beyond a joke.
To get anywhere near back to normal, I'll need to re-install the licensed version of Windows 7 and follow the standard sneaky upgrade path.
I therefore grabbed the installation disk and booted from it. Not too far in and I was already at a road-block. Excuse the image quality... my ultra-wide screen doesn't like the installers basic 4:3 resolution!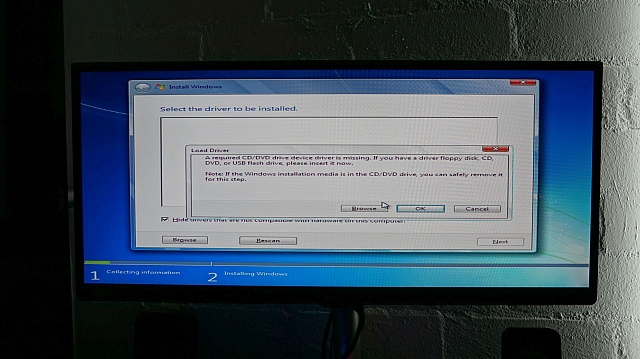 A required CD/DVD drive device driver is missing? Ok.. sure... maybe you don't like the RAID setup in this Dell Precision T3500. I proceeded to kill 20 minutes rebooting to a usable desktop and trying to guess what drivers to download and install... I grabbed a myriad and burned them all to a CD. Rebooting, I swapped this in and tried to load the INFs.
Wait... Windows Setup can see the hard drives it's supposedly missing? Wait... it can also see the DVD drive?... wait... what's going on here? What's it actually complaining about? Ohhhhhhhhh... it hates the installation media? Why didn't you just say that the first time?
I then re-burnt the DVD at a slower speed (as per instructions) and got a little further...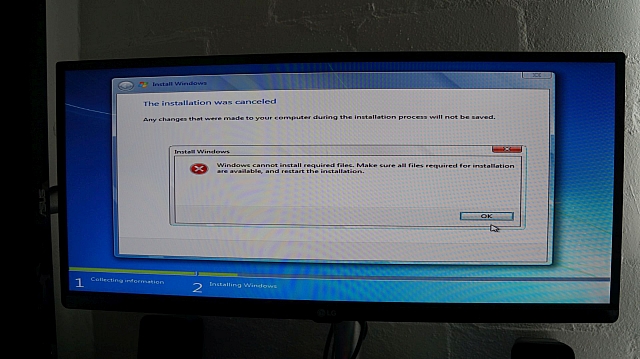 Finally... I found a real DVD (DL RW Disc)... burnt it... all worked. Moral of the story? Use proper DVDs. Maybe DVD+R as the DVD-Rs that I burnt above were totally unreliable!