This little critter arrived in the post a while back after another bout of impulse-eBay-shopping. It was described as having a faulty touchscreen and bad hinges, so I got it for a deal! Of course, buying a broken unicorn is never a good idea, so I had my expectations managed for when it arrived if I couldn't get it to function.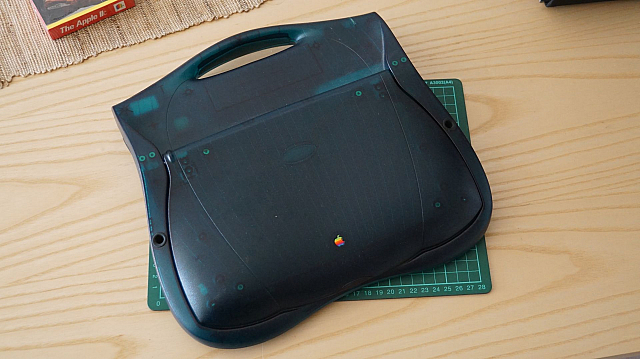 As is always the case, the box was ripped open and the unit inspected on delivery day. It was very clean (albeit a little dusty) and showed very few signs of wear! I plugged it in straight away and was rewarded with a very black boot screen. The contrast can be set by the slider to the bottom-left of the screen. The volume is to the right of the contrast slider.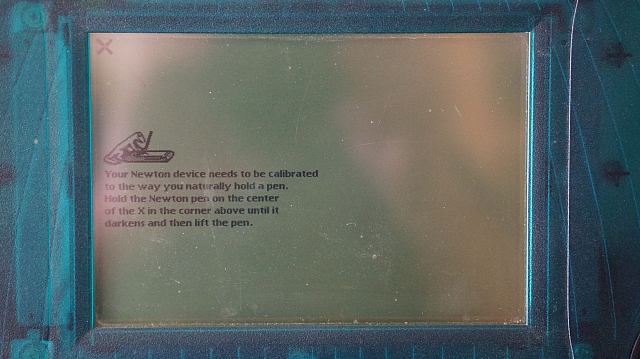 After the boot screen, I was presented with a standard touchscreen calibration program. Clicking the three points worked fine and so did the touchscreen!? I mentioned this to the seller and they thanked AusPost for bashing the unit around in transit. I don't think I've ever had a reason to thank them for such a service! Anyway, turns out this is an intermittent fault as the calibration started failing down the track; it'd get stuck in an infinite loop of calibration and never get to the main menu.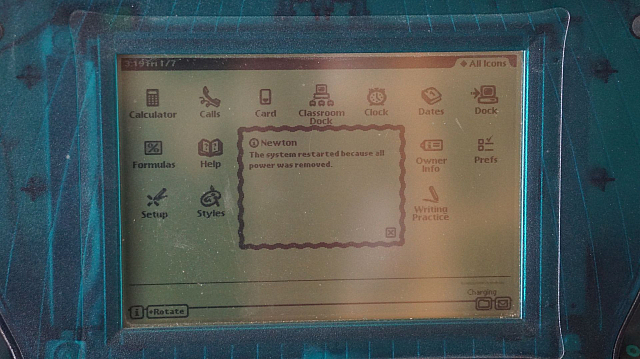 Anyway, with it booted and functional... I tinkered around and checked out what noises it could make... looking for that Eep. From here, it was thrown back in the box and forgotten about as I had the PowerBook Duo 230 to work on and I really needed to manage my time/projects appropriately!
Transferring data
You'll need a Serial Cable and either the Newton Connection Utility for OS9 and lower or the NCX for OSX. I installed the former on my PowerCenter (running OS 9.1) and all was a breeze. Make sure you extract all three disk images and then run the installer. It'll ask to reboot, so do so.
Once back up, connect your eMate to your computer with a serial cable via the printer port and configure Newton Connection Utility accordingly...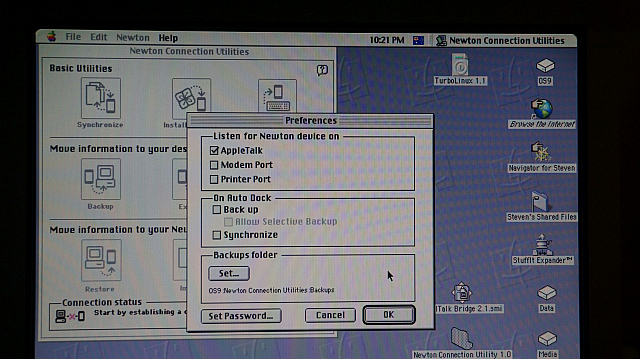 Now on the eMate, open up the Dock application. You'll be prompted to select the transport method and then, fingers crossed, you'll connect to your machine!
And on the PC... Connected!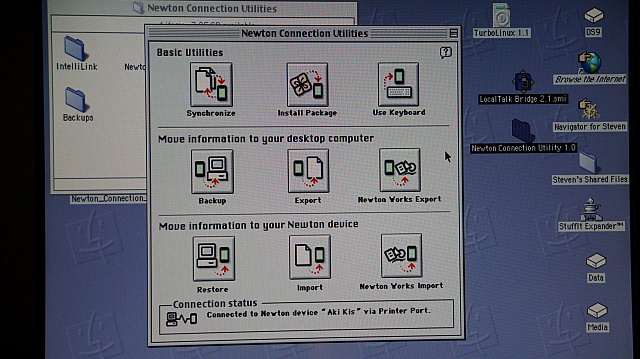 From here, when installing packages, you'll need to use the PackType application to re-add metadata (resource fork stuff) to any PKG you've downloaded. If you don't do this, then the PKG files wont appear in the file browser when you choose Install Package above. Note there's also an article here at UNNA on setting up extension handlers properly so that downloaded PKGs are associated correctly... but they seem to refer to a package installation application which must come with NCX as it wasn't part of NCU for OS 9 or lower.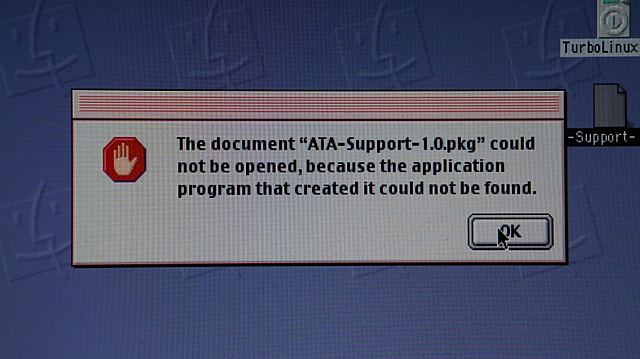 Cool... we can now drop files across... let's get some Mass Storage PCMCIA cards going!
Storage
This unit has a PCMCIA slot on the side, so I wanted to test what devices I could plug into it. I've gathered quite a collection of random PCMCIA cards, so I thought I'd just slap'em in and see what stuck. Straight away there was failures all around as supposedly these eMates only want to use Linear PCMCIA Memory Cards. Linear? Dunno.. but there's some in the USA on eBay and I can't be bothered waiting that long.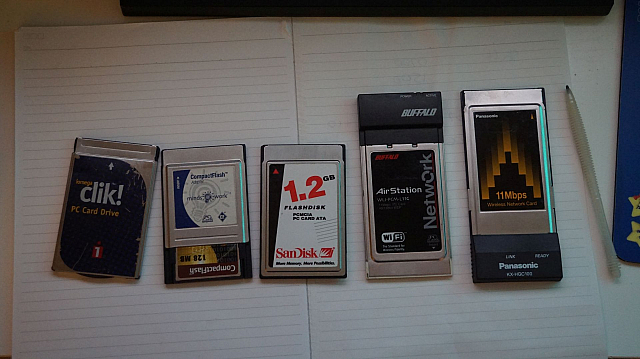 Anywho... turns out that you can install an ATA driver package and just use ATA cards! The driver is over here and is free, whereas it used to cost money when these things were relevant. Download the ATA Support driver and install it.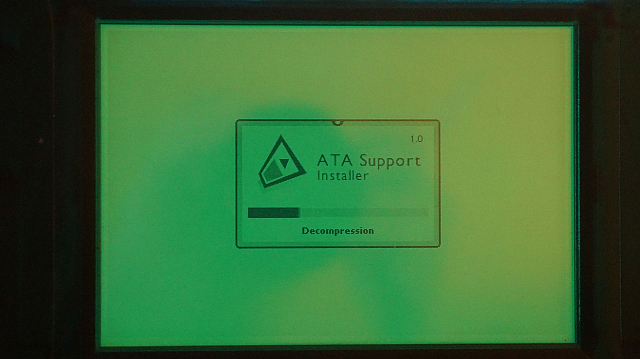 After a reboot, I started trying cards. My Clik card made an awful noise and failed to work...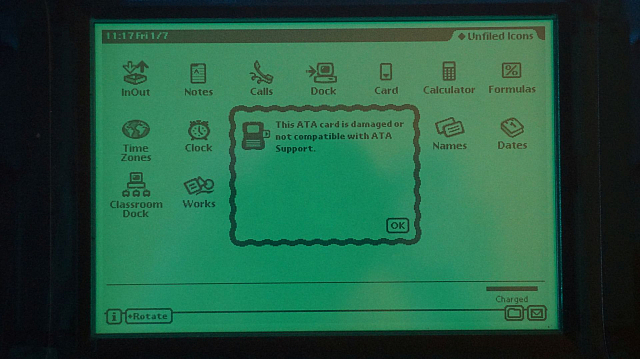 I then tried the CF to PCMCIA with the 128mb card in it and it worked perfectly! There were a few steps to jump through to get the card partitioned... make sure your card has nothing valuable on it!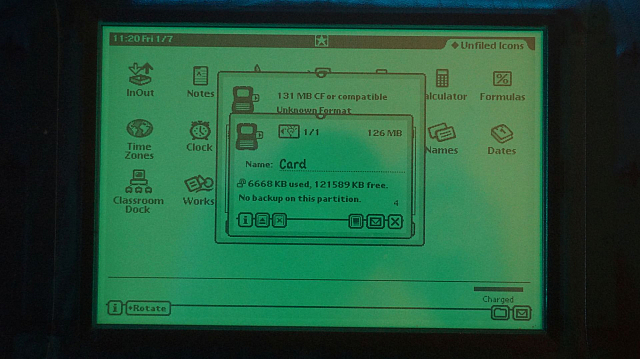 From here, I tried to save my data to the card. That's easy enough, but I tell you what, trying to navigate the system and find where you've saved files is slightly confusing!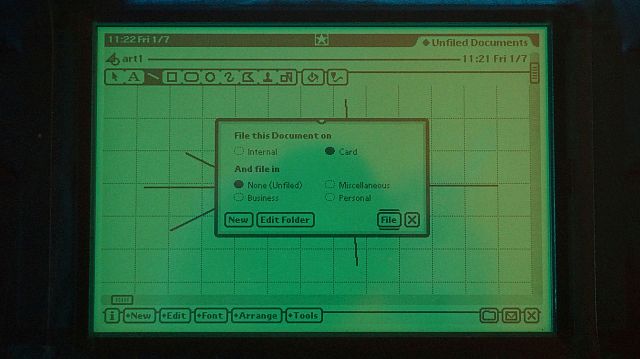 Just to help out... whenever you're in the main menu, you can use the top-right dropdown to select the storage and then find your files.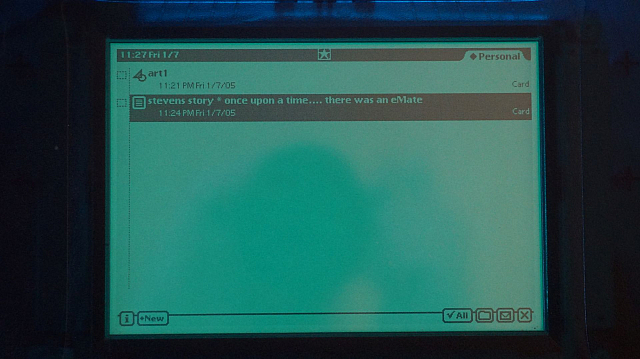 In the main menu, Command-O doesn't open... it switches between a condensed list or back to icon mode. Fortunately, when you're in Works, Command-O does actually bring up the File Open dialog!
Networking with wireless
You'll find a list of compatible cards here and instructions on how to install the software here. Again, all software is downloaded from kallysis.com.
Install the software in the order specified and then insert your card! My Buffalo came up recognised as a Melco? I therefore chose Buffalo in the list when configuring the access point and had failures everywhere. It seems that Buffalo provided a white-label card, exactly as mine, to Melco who slapped their own brand on and hence my confusion.
Selecting the correct card and then turning on AppleTalk got my PowerCenter180 listed... but it just timed out when trying to connect. I then tried NetHopper 3.2 and got limited results...
After a few reboots, I got stuck in a calibration loop and couldn't actually get back into the main menu of the eMate. I initially thought it was due to installed software, but it turned out to be much worse...
Touchscreen Calibration and Hinges
This unit slams shut when you gently try to close it and, thanks to the weird calibration loop above, it was time to pull the entire thing open and check out what was going on. Supposedly these can implode and ruin the LCD data cable, so I didn't want to let the loose springs linger. Following the amazing guide at pda-soft, I set to work pulling the unit apart...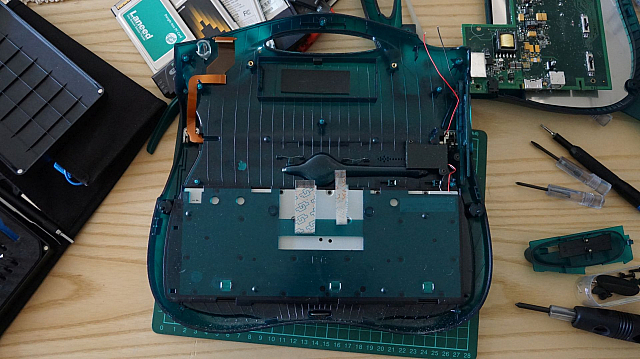 Multi-tasking while waiting for a long-running database query to execute, I found the link at the bottom of the page above describing what to do if the cable is damaged, or the hinges are broken.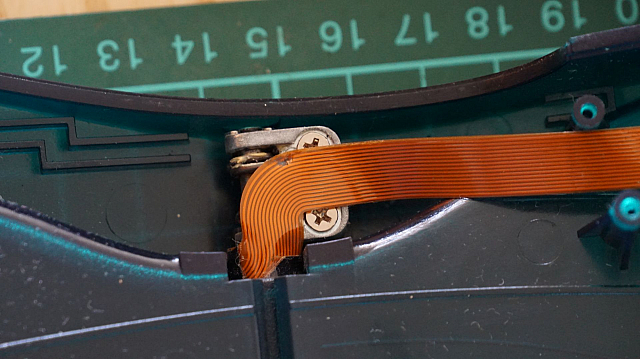 Returning to my eMate, I desoldered the required wires and checked out the hinges... bugger! Not-quite-punctured... but well-damaged. No wonder I got stuck in a calibration loop! Time to continue totally dismantling this unit to extract the pieces that need fixing. Thanks to the instructions.. the culprits were out in no time...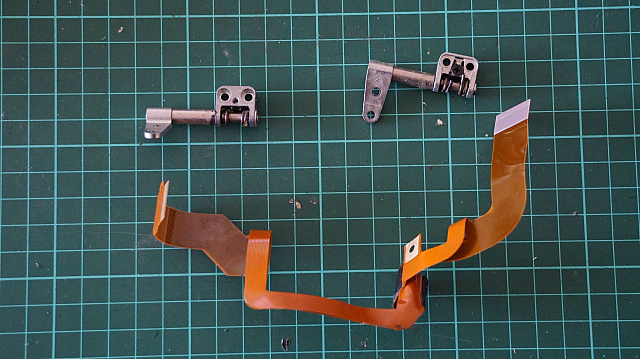 The hinges have now been out-sourced to a friend who is very good with metalwork. I happily punctured a digit trying to bend the springs with two pairs of pliers... so gave up pretty quickly. (But then I finally got around to fixing the hinges!)