This was another lesson in failure. I'd recently picked up a PowerMac 6400 (more about that later) from an impulsive eBay auction and then this item came across the Vintage feed. I couldn't resist and no one else cared for it. The basic idea is that you can route Ethernet over LocalTalk to get a Macintosh, which doesn't have standard Ethernet capability, connected to an Ethernet network. This unit plugs into the Serial port (either Printer or Modem) and hijacks power from an ADB port. The piggy-back adapter is nice as most users still want to plug their keyboard/mouse in!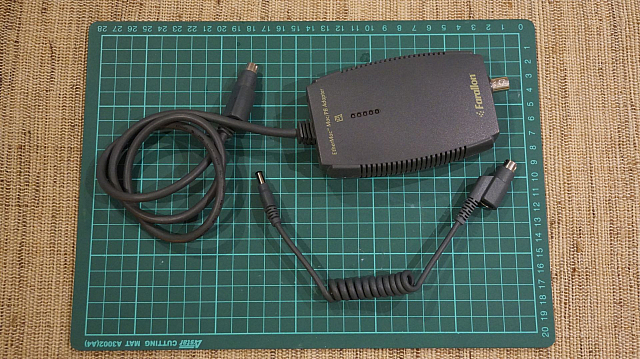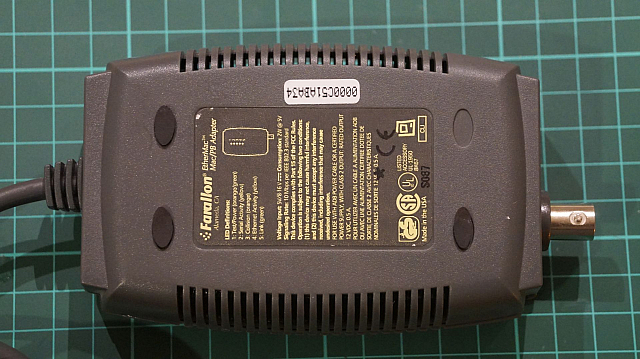 Most forum posts indicate that these units need no drivers installed. I was happy with this and went ahead and connected the unit to my LAN. Most lights came on, but I couldn't get anything to work. If you do have this unit, then you need to use MacTCP (this unit is not compatible with OpenTransport!) and set up your unit to have hard-coded IPs via a static MacIP setup. From there, everything should just work. As that you're using an older System 7.5.3 (or lower), you don't get to search for Servers by IP address in Chooser, so make sure you have a real Mac on the network to test with. A2Server might also help.
Anyway, whatever I tried... nothing worked. I'd plug the unit in to the Mac and the power light would illuminate. I'd open up Chooser and the next light from power (orange) would start to blink... but the final light, the Ethernet Link Light, would just be flashing quickly. I initially thought this was ethernet traffic, but then realised that this light should actually be a solid green and that the 4th light should indicate traffic. You really only had to flip the unit over to work this out, Steven. So, my unit wasn't even getting link! Easily confirmed by no link light on a hub I managed to power up and then doubly-confirmed by the diagnostic software provided in the v2.22 of the Farallon Software.
So, I popped the unit and started replacing capacitors. I then tried replacing the chips that seemed identical to an ethernet card that I had spare... and in the end? Killed two cards and ended up with zero connectivity! Fortunately the PM6400 accepted an RTL3189, although not under System 7.5.5.
Lesson learnt? A Farallon EtherMac Mac/PB Adapter that has a flashing ethernet link light is dead. Don't even bother trying to use it. Make sure you see a link light at the other end of the ethernet cable before trying to troubleshoot any further.
In hindsight: I wonder if the unit just couldn't negotiate the 100mbit hub? Maybe it only works with 10mbit devices. Too late to test now!