I'd seen a lot of photos and videos of this location, but had never been there to see it myself. Biwako-Hamaotsu Station, owned by theKeihan Railway Company, is located in down-town Otsu is the junction of the Keihan-Ishiyamasakamoto and Keihan-Keishin railway lines. Due to space limitations, the railway lines actually run down the middle of standard roads, working in perfect concert with the traffic light signals.
I arrived via JR Otsu Station after watching the last run of the 700 Series on the Ohmi Railway. It's a fair walk down to the Keihan Station, but you can interect either Keihan line to make it more interesting. I chose the Keihan-Ishiyamasakamoto Line just before Shimanoseki Station, heading downhill down Chuo Doori,
Once you hit the level crossing, you'll see a few services as the frequency on the line is quite high. You then get to traverse an elevated pedestrian bridge through to the main station. From here you can view the line into the rear of the station.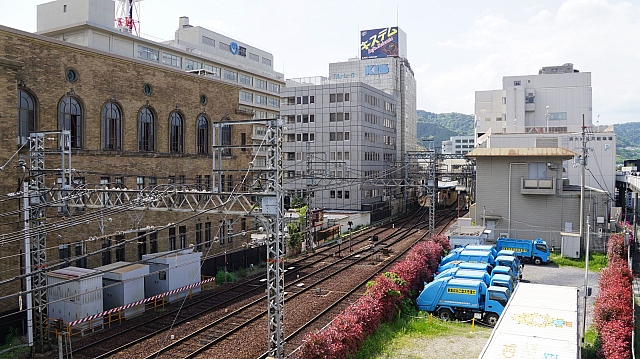 You can also view the boat race arena across the bay!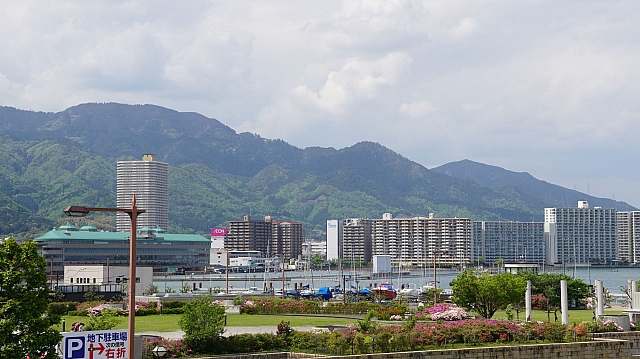 If you look closely enough in that photo above, you'll see 5 boats taking their second corner, closest to the camera. They were non-stop whilst I was there.
The Main Intersection
At the end of the pedestrian bridge is the part I ventured here for...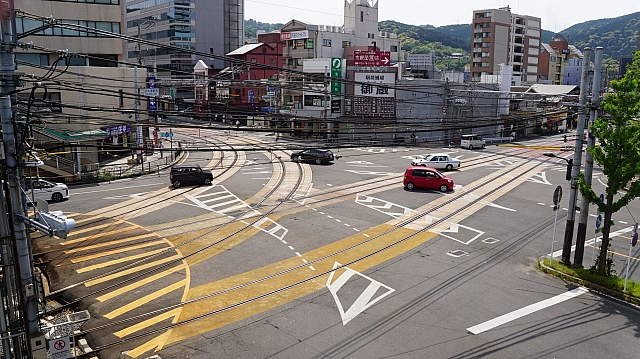 The intersection forms a railway junction between both lines and the tracks are actually quite wide apart. I can't tell if this is to avoid possible trappings of road vehicles, if any were to get in the way, or simply because the station is an island-platform design and requires the tracks to be wider apart. They could have just as easily created side platforms.
The two tracks here venture off in differing directions. From the station, the Keihan-Keishin Line heads uphill to the left and the Keihan-Ishiyamasakamoto Line heads straight ahead before snaking along the roadway.
Before long, there were trains traversing the intersection in all directions.
One of the Keihan-Ishiyamasakamoto Line wore headmarks, but they differed on each side of the train. Heisei in one direction and Reiwa in the other to mark the change of Emperor!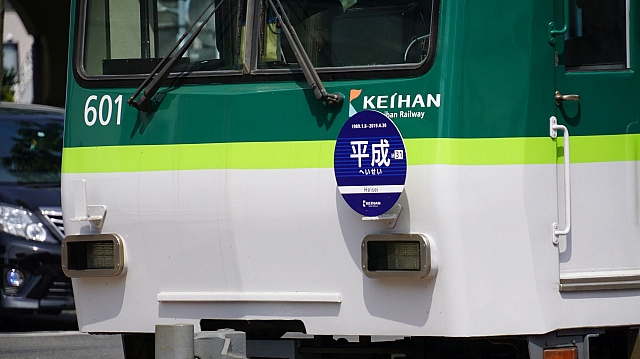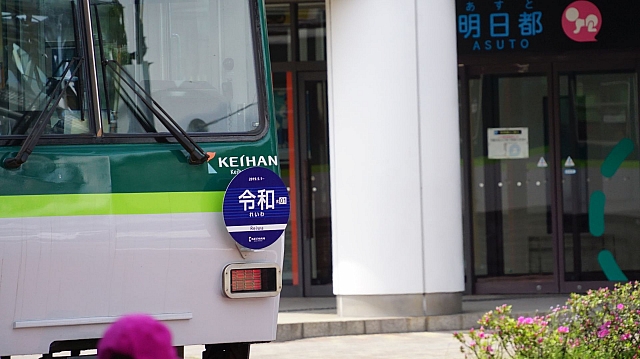 I started to feel a little envious over the local photographers' equipment... but was happy enough with the photos I managed to take.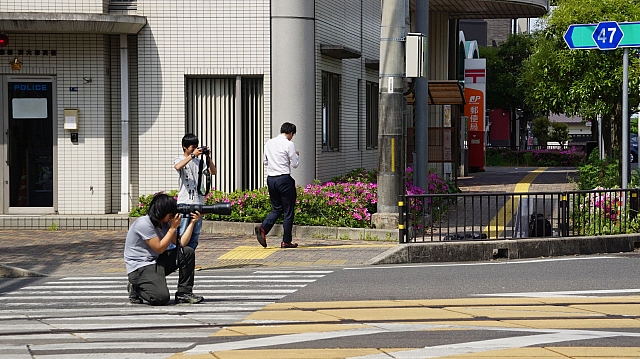 Meanwhile, there's quite a nice assortment of liveries...
After a good hour of watching everything pass by (and digging in to some 7-chiki and coffee from the local konbini), I was off again back to Osaka. I highly recommend this area to anyone interested in street-running!