On a total tagent from recent Amiga stuff, I found this in a box whilst I was moving house. I'd totally forgotten that I'd picked it up from a flea market prior to the Christmas Trip overseas.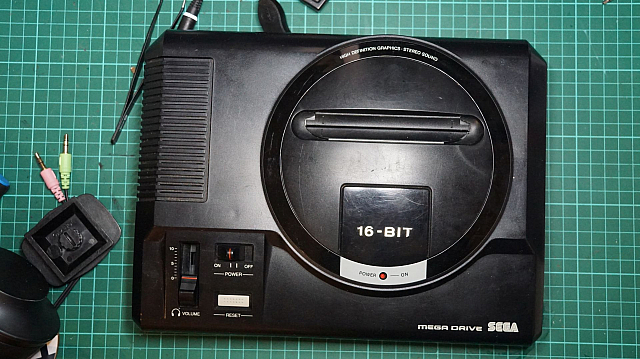 I grew up a Nintendo-kiddie with Super Mario Bros and Duck Hunt, so the likes of California Games (oops, that's master-system-vintage) and Sonic were a weird adventure whenever I went to friend's houses. This unit arrived slightly scratched-up, but in perfect working condition. It came with a power pack and RF switch, but I wanted Composite output... so I started googlin' for hacks. Then I looked at the back of the machine and realised it had an 8-pin DIN for A/V output. A quick search found off-the-shelf cables, as I didn't have a properly degree'd DIN plug available that'd fit the socket. Your standard 8-pin DIN has the top two outer pins at a different degree and therefore wont fit.
Instead I had to make one from a 5-pin DIN as it turns out the pinout of the A/V Output port has all the pins I'll need at 3 o'clock, 6 o'clock and 9'oclock!
I purchased a 5-pin DIN port from Jaycar and hacked a standard stereo composite RCA video cable in half. From there, I joined ground together and soldered that to pin 3 on the 5-pin DIN. I then twisted L+R together, as this unit produced MONO sound and soldered that to the left-most pin, when looking at the back of the plug. Finally, the central wire from the yellow video plug was soldered to the right-most pin.
From here, the unit worked perfectly! Of course, to test I only had one game...
To make this fit, I had to actually gently file the cartridge slot.
Turns out the japanese-release games are square, whereas the Australian (and probably elsewhere) release carts have 2 rounded corners. After making it fit, the game just worked... although it might play slightly faster on a 60hz clock!