Heading to the places in the title of this post when starting from Miyazaki requires a transfer through Kagoshima. I hadn't actually Google'd if Kagoshima had any Hard-Offs on the initial trip through, so I was happily surprised to find one in the vicinity of Taniyama Station. Thanks to departing earlier-than-expected from Nichinan I managed to see Umisachi-Yamasachi again and visit another Hard-Off! Awesome!
Taniyama, Kagoshima
This mini-stopover turned out to be a little bit more effort that I expected. The walk to-and-from the station was pretty tough with an already-heavy bag an some very warm weather for 10am in the morning! Regardless, I made it there and picked up a Densha-de-Go controller for the PC!
The station itself was actually a new build! It's been elevated and they're busy renewing the entire area underneath. I caught my favourite train back towards Kagoshima-Chuo and was presented with another bonus for the morning: passing the Ibusuki No Tamebiko! It's actually a really crazy-looking train with its 50/50 black/white cab!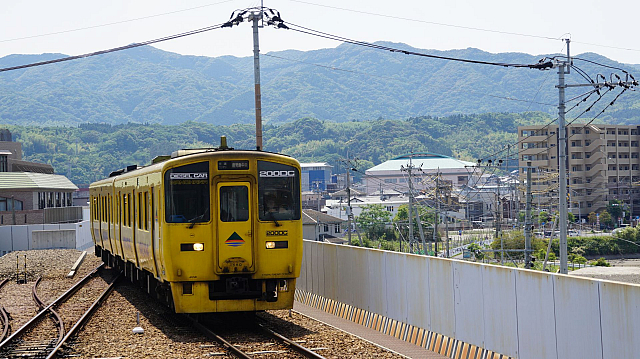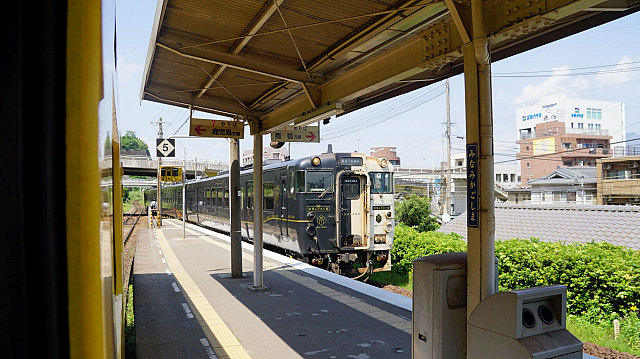 At that point, Kagoshima was totally ticked off the list. It was time to head north and tackle the final blue 200DC.
Tosu and Shin-Tosu
Of course, there's always time for a detour. I'd Google'd the crap out of the Seven Stars In Kyushu tour train and, intially, worked out that it'd be visiting Nagasaki on the Sunday that I was departing Kyushuu. After I'd booked everything, I realised I'd mis-calculated by one day and that the 7-Stars Nagasaki visit was the day before. Instead, the train would be passing through Tosu when I was! A bonus, but the initial plan was to catch it at Kikitsu... oh well.
From Kagoshima, it was a very quick trip north to Shin-Tosu with a just-as-quick transfer to Tosu station. From here, it was just convenience-store lunches and platform waiting. There was a delightful amount of interesting things to check out!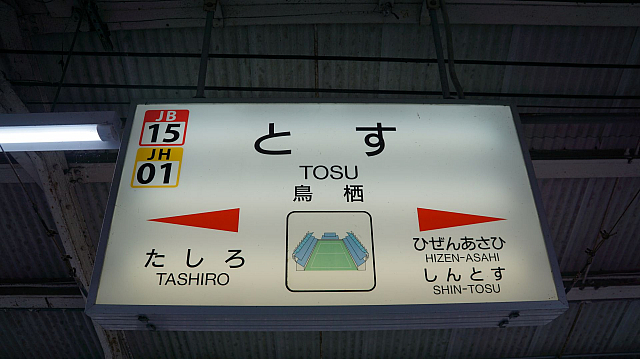 That middle witches hat above is hilarious. 'Pidgeon' in Japanese is 'Hato' and it's warning you not to sit on the bench as you'll get shat on!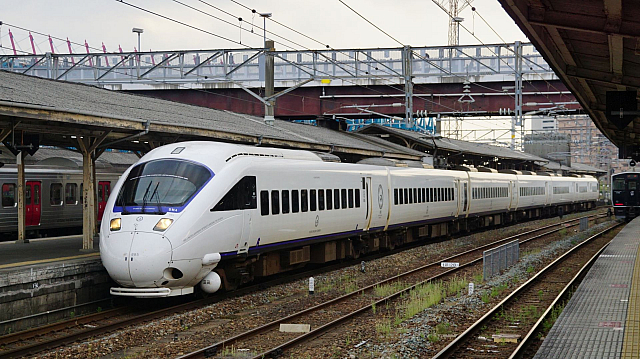 And then the main event...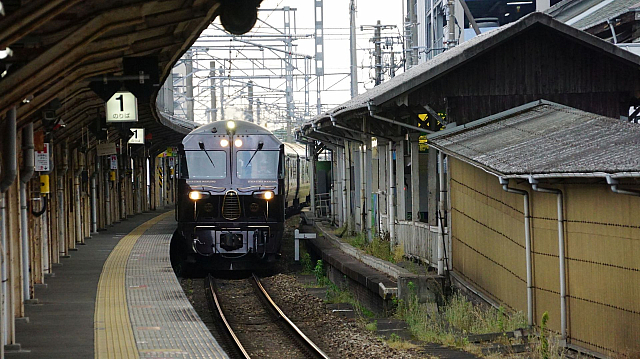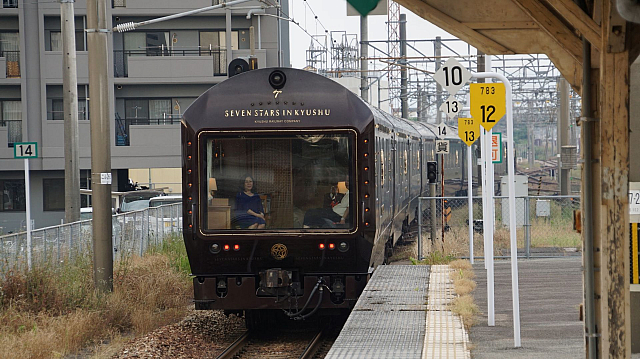 So bloody fancy! I never intend on ever spending that much on a train fare... but it did look overly pretty (shiny)!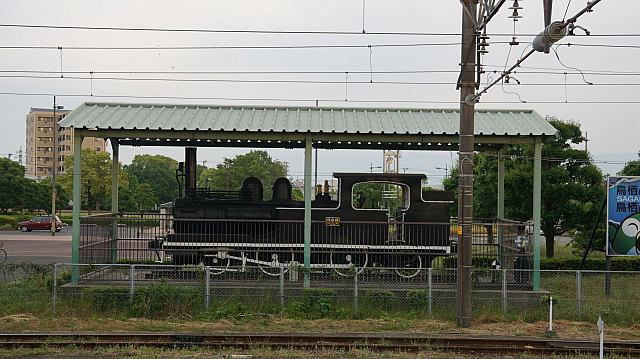 There's also a cute stuffed-and-mounted steamer on the stadium-side of the station. I'll research more to work out what it is.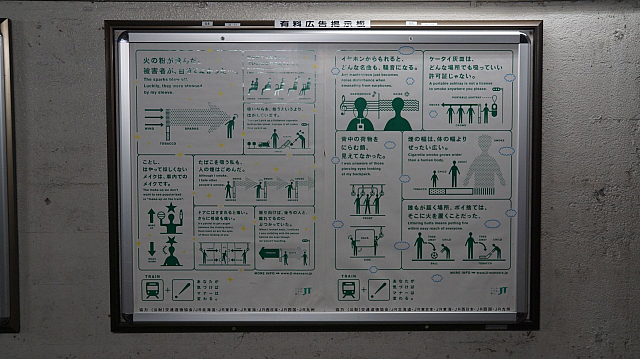 Also a fantastic story describing the impact of smoking... I've seen it before but it's always great to refresh the memory.
I finally boarded a Kamome Service to Nagasaki, transfering at Isahaya to get a local through to Ichinuno.
Ichinnuno
Yup, not Kikitsu... Ichinnuno. I skipped past where I was going to stay as there was enough time to check out a shop... I bet you can't guess which!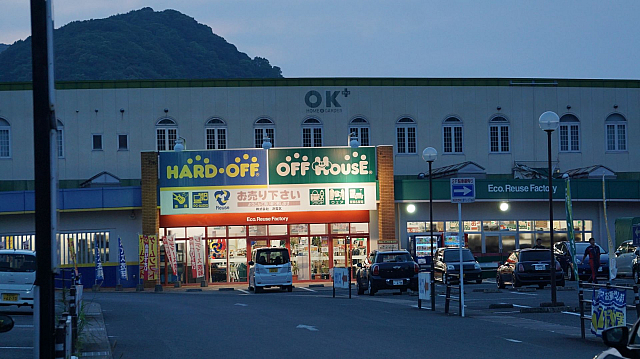 Kikitsu
I then returned to Kikitsu and stayed overnight at the Kikitsu Station Hotel. The hotel was nice and clean... but I got there at dinner time and the restaurant wasn't open in the evenings. The bathhouse was also shut, but I didn't ask if it was renovations or completely closed. Luckily the room had a nicely outfitted bathroom.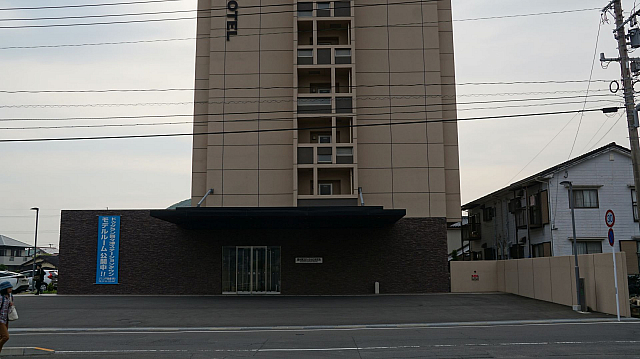 The lack of dinner was unfortunate though, as the town also had zero options at that time on a Sunday. Then again, now that I look at a map, I realised I should have crossed the railway down to the main road and hunted down dinner.. but I was exhausted and happy to sleep.
The next morning saw an early start, taking the first train towards Sasebo. Before that, though, I quickly checked out the Kikitsu Station precinct. Between the hotel and the station was a level crossing. This had a pedestrian overpass...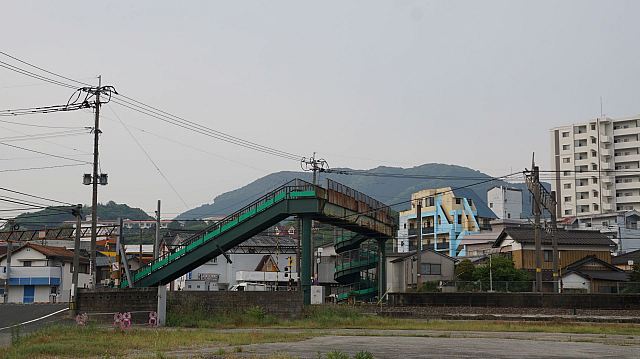 ...but it was actually a ruin! Closed to pedestrians, who then had to perilously navigate the side of the road on the rail-level crossing. Crossing the rails provided a nice treat though! There was an old computer shop which seemed to specialise in junk!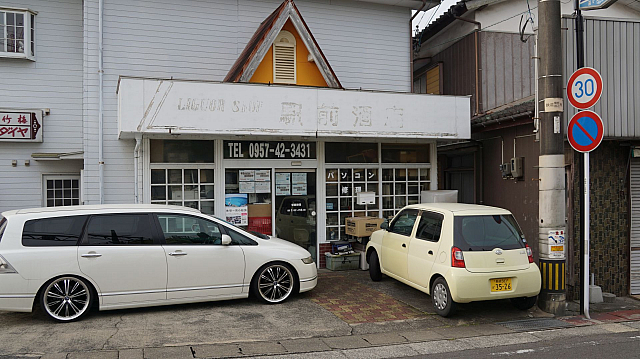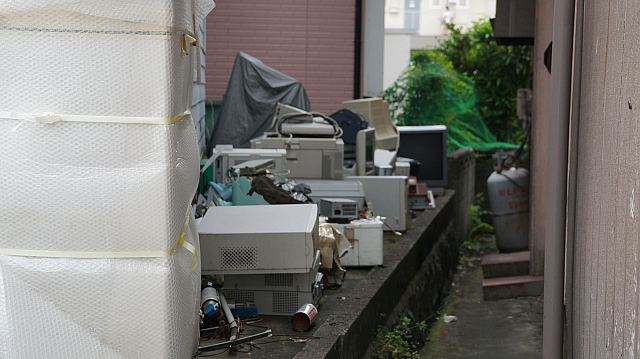 Too bad it was super-early and the shop was shut! I really would have liked time to check out the warez. Would've been very interesting to see what I could fit in my backpack. I think that the proprietor would really be hoping the customers knew what they were looking for, though... as rummaging through that shopped looked nigh impossible!
Haiki
From Kikitsu, it was time to get to Sasebo and tick-off westernmost JR train station! The Seaside Liner actually takes you all the way from Nagasaki through to Sasebo and is a fantastic ride. As I've mentioned before, the 200DC has a beautiful sound!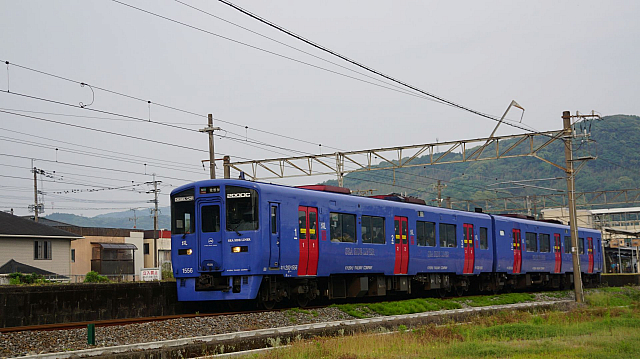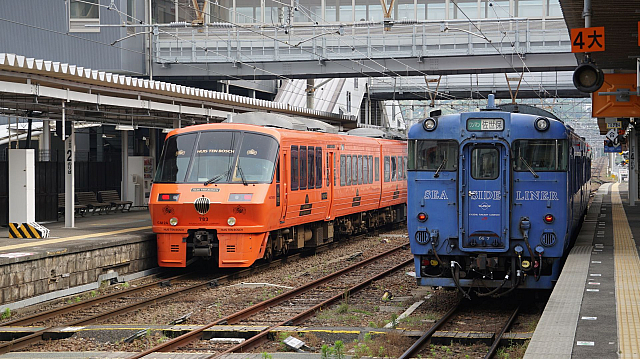 There was a quick stop-over at Haiki to allow the collection of passengers on the Huis-Ten-Boch who had come from Tosu. Here I actually changed to an express... just because I could.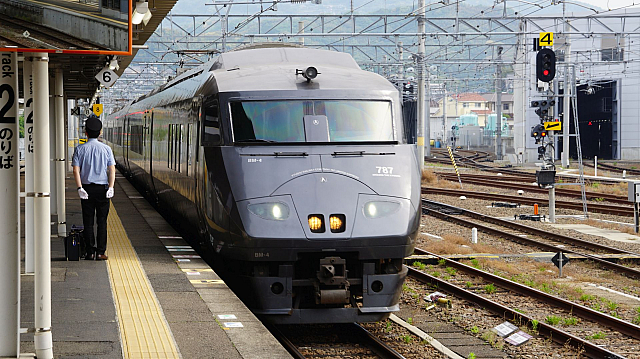 The ex-Relay-Tsubame 787 Series EMUs really are delightful.
Sasebo
It was time to tick off the westernmost extent of the JR network. Sasebo isn't actually the 'westernmost railway station of Japan', but it is the limit of the JR Rail Pass. It was actually pretty hard finding the plaque/monument to officially signify this and I ended up having to ask the travel information desk. They promptly walked me straight the ornaments.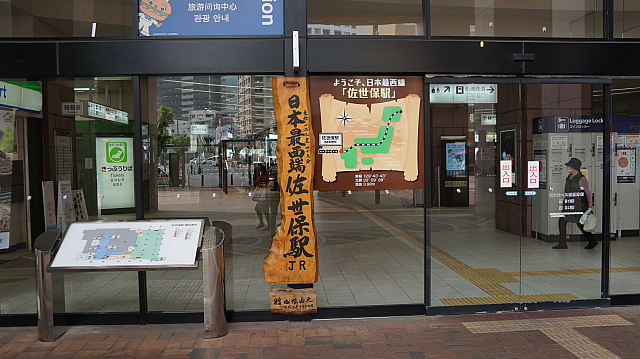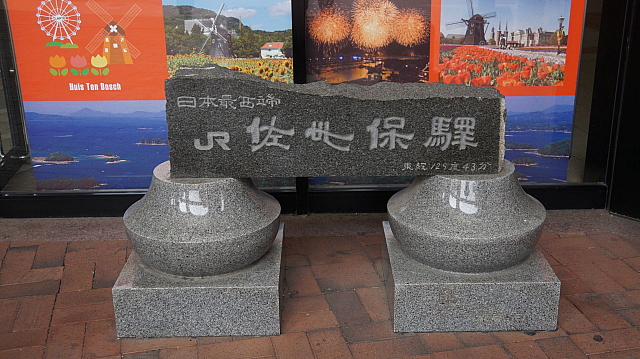 And then you get to check out the cute little Sasebo Railway and, of course, more DC200s... but this time they cheated and also painted a KIHA in the same blue.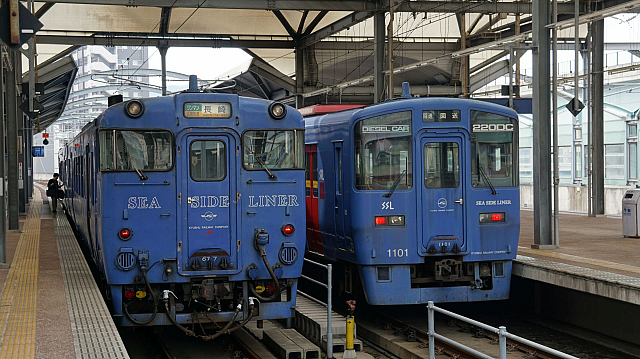 I just happened to ride the KIHA back to Hui and it turns out that they're actually promoting and thanking the unit for its service!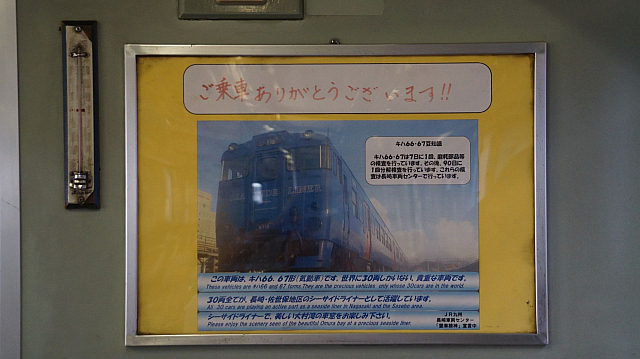 Hui
This is a small stop on the way back to Tosu. You get one guess as to why I ventured there...
On the way to and from Hui station to Hard-Off, there was a beautiful uphill road that crosses the railway where the railway is also crossing a river. It would've been a great spot to grab the blue Seaside Liner passing, if I hadn't wanted to ride the next service! I really need to start spacing out these trips and just taking my time.
Haiki, Shin-Tosu, Home...
The next service was taken out of Hui where one has to change directions to get back to Tosu quicker. The Seaside Liner continued on to Nagasaki, but a Midori Express + Huis Ten Boch came through Haiki not long after. The train actually joins here... one half from Sasebo and the other from the Huis Ten Boch park itself.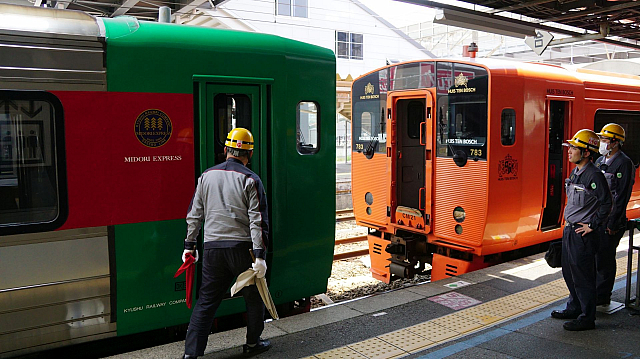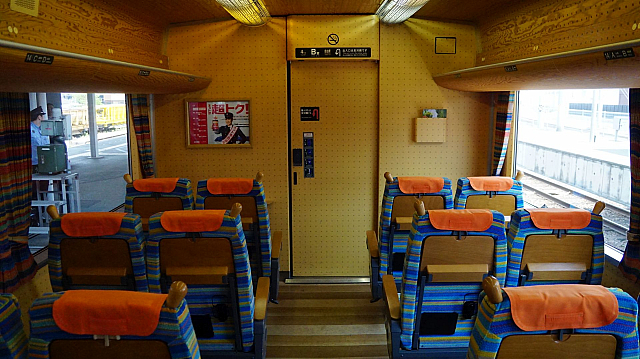 The trains are really quite stunning design-wise. Super comfy and clean too... but that's just Japan, right? Before I knew it we were stopping off and it was time to trek to the next Hard-Off. Actually, this time I hailed a taxi as it was pretty muggy outside.
On the way back I admired the view of the Shinkansen tracks over rice fields... and a stockpile of vending machines!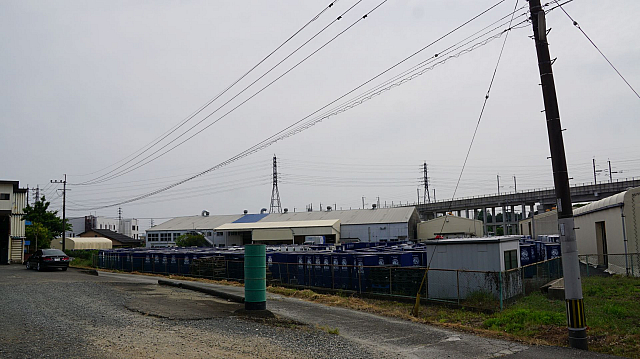 And then beautifully-fluked intercepting the southbound freighter!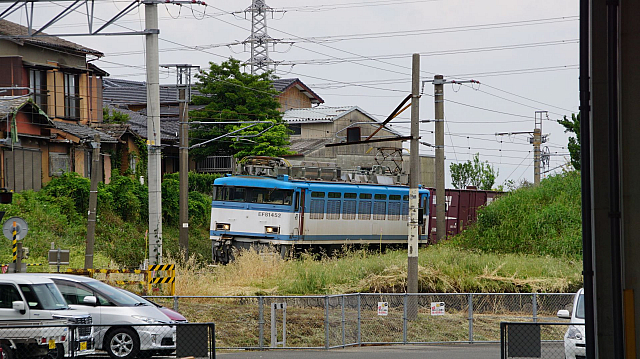 Back at Shin-Tosu I was on the first eastbound Sakura... Thanks again, Kyushu!