Thanks to dirt-cheap fares from Jetstar, I ended up in Hobart for a weekend. The majority of the time was spent recycle-shopping (aim for the rubbish tips!), but I did manage to check out the freight hub in Brighton.
The railway used to run through to the port at Hobart, but have since been truncated back up to a new Freight Hub in Brighton. I had a hire car and it was easy enough to do a lap around the terminal. The sun was hit-and-miss, but the scenery was fantastic.
The servicing/fueling shed is close to the road. Locos were stabled and chocked; the next day the whole consist had left. I had heard that most freight runs during the night, so I wasn't really expecting to see anything active. The forklifts were busy preparing the consist though!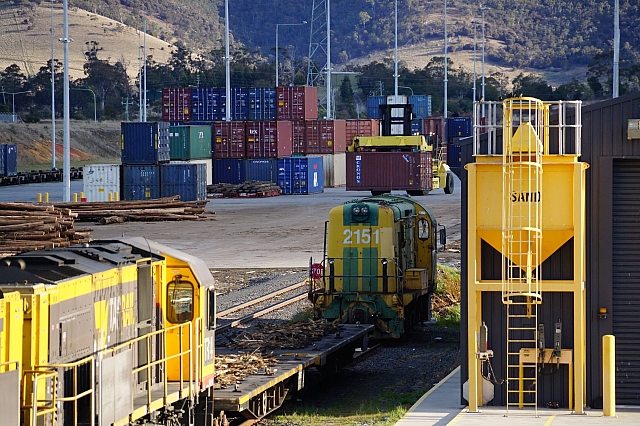 The majority of locomotives were a newer TR class, but 2151 was sitting behind sheds... I wonder if it was the local shunter? Or in storage. Anyway, it was back to the recycle shopping... I'll plan a Tassie-wide drive next time and chase trains up north where they're more frequent.