The main goal was to get to Wakkanai, but before that I wanted to trek through Kansai and check out some smaller operations. The first stage was a voyage across Kansai over to Yokkaichi to check out the super-narrow-gauge lines. I'd been to these areas before, but the freight operations always managed to elude me. Actually, last time I also even totally failed to ride the Yoro railway! This time around I was going to fix those errors.
Kizu Station - Pan O Seeguru - パン オ セーグル
I was off to an early start on the Osaka Higashi Line, transferring at Kyuhoji for a Yamatoji Rapid to Nara. At Nara, if you go one stop further north, you'll end up at Kizu Station. Just a short walk south of the station, you'll find Pan O Seeguru or, in French: Pain Aux Seigle. The name translates to 'Rye Bread'. So I assume that's what they produce? Hah, either way, I arrived way to early and it was still shut! I had plans to get much further east, so a few photos from the outside had to suffice!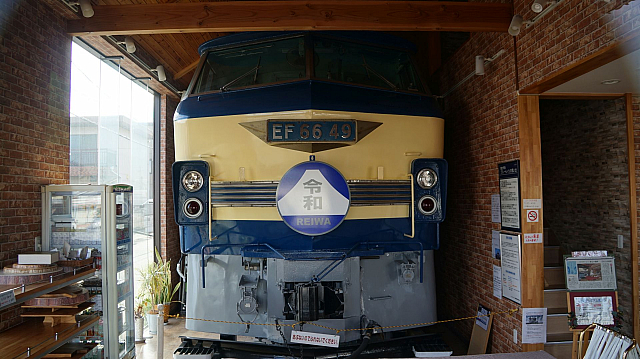 But yeah, they've managed to acquire the front end cab of an EF66 and install it inside the shop. You can see the building is new... I assume they built the building around the cab!
Check their website above for an much cooler interior shot!
Yokkaichi Station
I had initial plans to take the original Kansai Line over the mountain through Tsuge to Yokkaichi, but I'd get to the Nagoya side a little too late for the scheduled freight operations. Instead, it was quicker to bolt up to Kyoto, across to Nagoya via the Shinkansen and then down to Yokkaichi via the Mie Rapid on a beautifully-sounding KIHA 75. All a bit round-a-bout, but still fun... and totally acceptable thanks to the rail pass! I'd also already ridden the Kansai Main Line.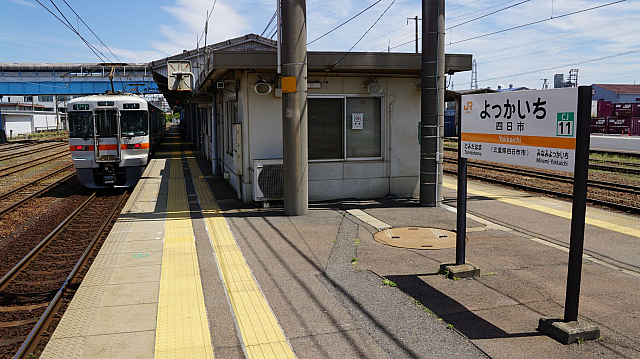 There's a yard on the eastern side of the station where they store/shunt petroleum tankers. A DE10 was hanging around, powered-up but not being operated.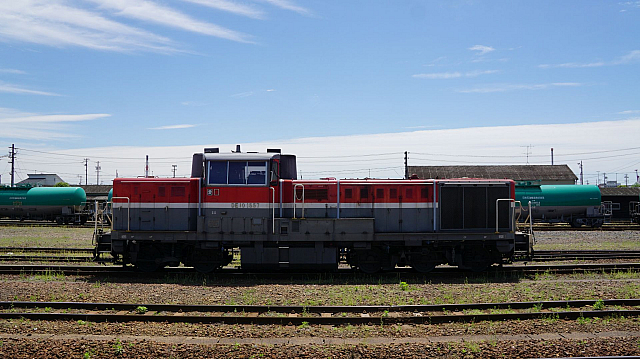 Before-long, the southbound freight I was hoping to see passed through...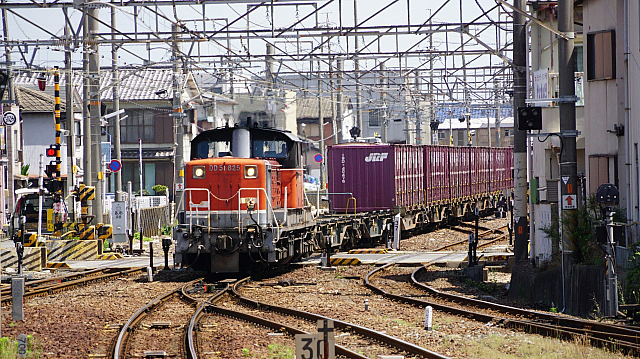 There were a few other locomotives stored in the yard. Recently a DF50 has been moved from Hokkaido to the Yokkaichi to work on the oil/petroleum trains.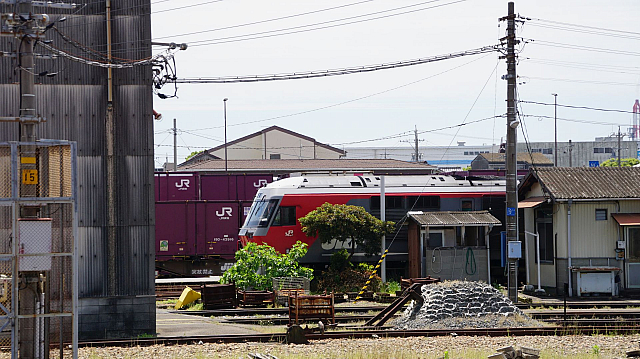 Yokkaichi Station also has a third-sector railway attached. I didn't actually know this and so was surprised to see a different-liveried DMU hanging down the very end. Turns out it's the ISE Railway and it runs from Yokkaichi Station through to Tsu Station. If you check the maps, you'll note that JR takes an inland route via Kameyama, Ise is a little straighter, south through Suzuka and Kintetsu, although not connecting to JR Yokkaichi Station, runs right along the port... probably a better place to see the freight from! Next time!
I'd seen the freight and so took the next service north for a stop-over at Tomida Station.
Tomida Station
This station never disappoints. It's another freight yard, but this time providing a connection to a private operator: The Sangi Railway. Note that it's freight-only here, if you want to ride the Sangi Railway then you need to transfer; but more on that shortly.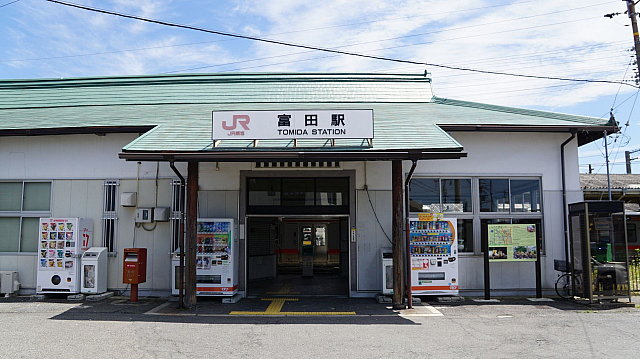 Straight up, the two beautiful EF300 series locomotives of Sangi Railway were idling in the adjacent yard. They had two cement hoppers in their consist... pretty short for that amount of horsepower!
They weren't due to depart for another 30 minutes, so I watched my service depart and another arrive...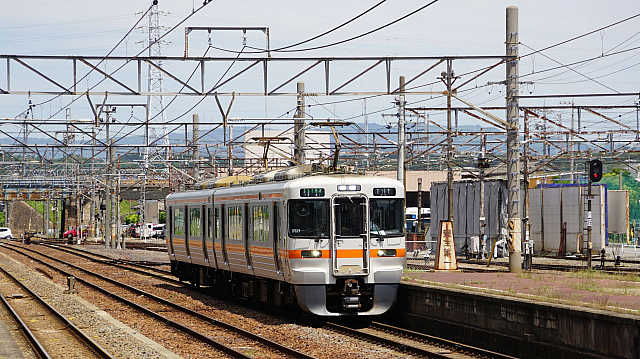 And then the freighter left for the branch! How dare they.... at least 25 minutes earlier. I was meant to be on the branch before this!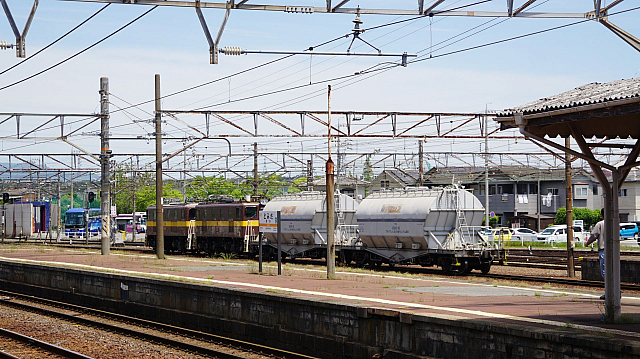 I had time until my Kintetsu transfer, so I checked out Tomida Station a little more. It hasn't changed much!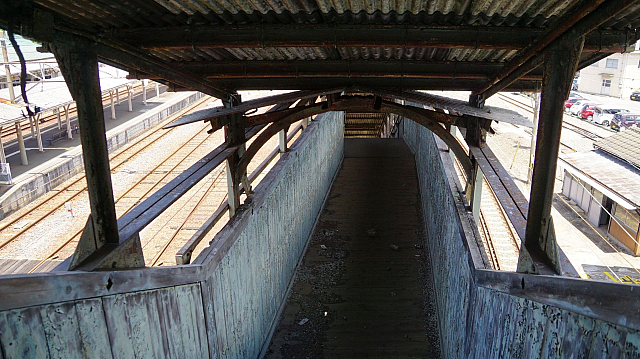 The odd passenger service shot through, but nothing out of the ordinary.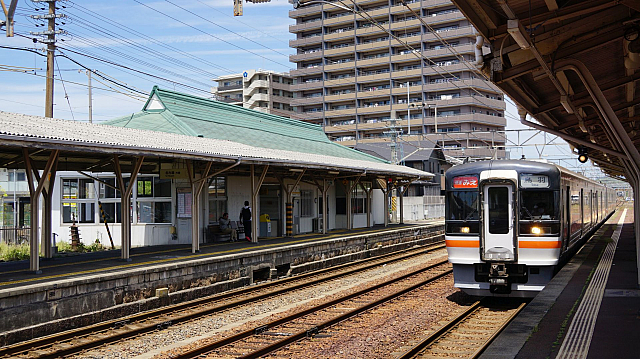 Kintetsu Tomida Station - Sangi Railway Sangi Line
A short walk west gets you from JR Tomida Station to Kintetsu Tomida Station. Here you'll also find the terminus of Sangi Railway's Sangi Line, which, interestingly, used to be owned by Kintetsu but is now totally private.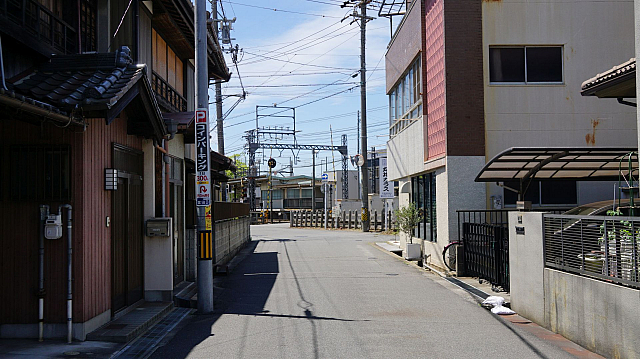 The streets are narrow and cosy and before-long you'll find yourself at the station. You'll actually need to cross the railway to get to the station entrance, which can be a problem if you're blocked by a train...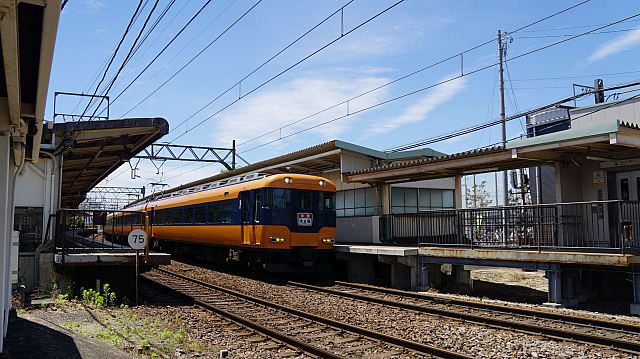 But there's also a pedestrian subway, albeit seeing little use.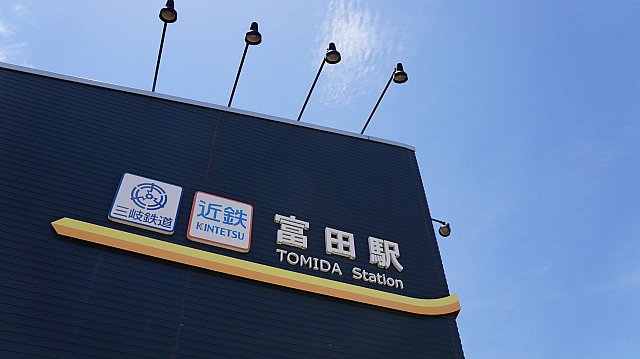 Navigating the ticket machines was easy enough. I arrived just in time for a train-load of students to arrive from a Sangi Line EMU who then all bolted as quickly as possible to the Kintetsu trains. Interestingly they were all going in different directions. It was hardly lunch time, so I thought they'd maybe be changing campuses? It was a little too early to be going home.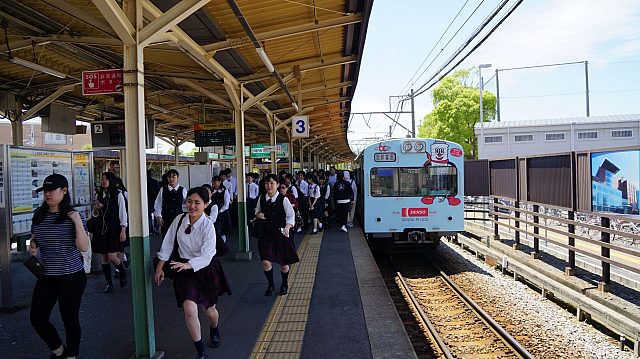 After the rush, I had a whole train to myself!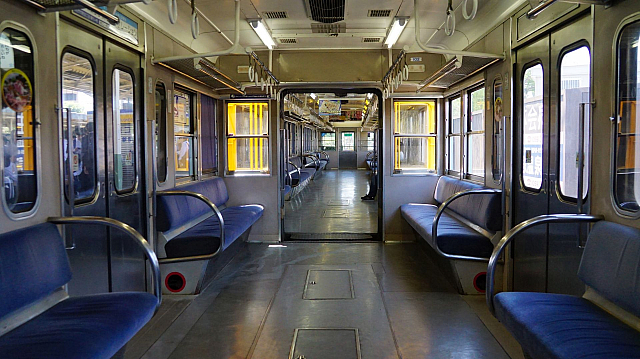 Another Sangi Line EMU then came in, but it would be departing in a later timeslot, so I chose the blue one.
The engines of the EMU had a really vintage low growl to them. Winding along the narrow gauge (the Sangi Line is 1067mm, the Hokusei being 762mm) through the countryside was something else... beautiful weather and lush-looking rice fields!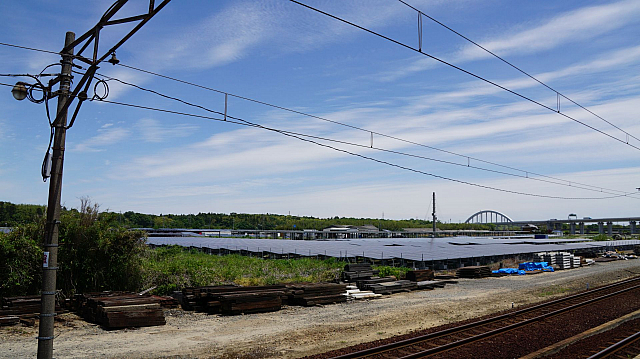 My destination was Hobo Station, the depot for the line.
Hobo Station
The name actually has no real meaning and is just the name of the town, no persons of ill-repute to speak of. Just lots of brightly-coloured EMUs.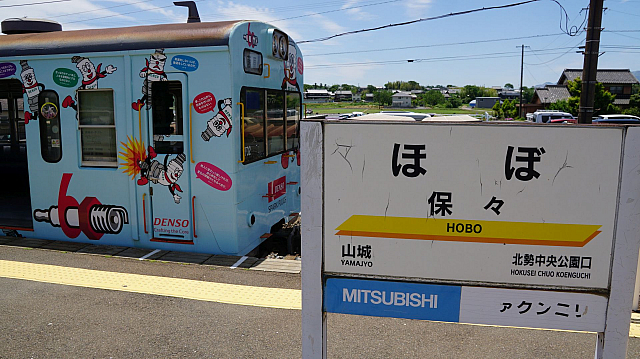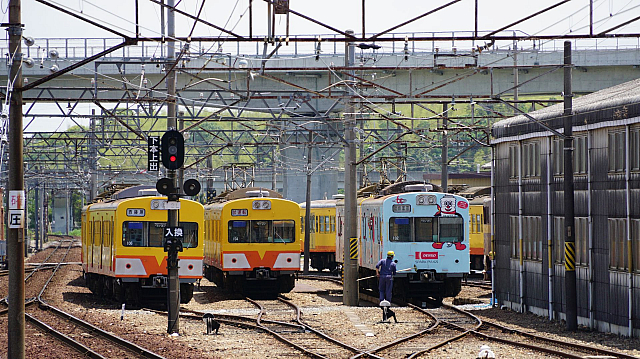 And the odd retro livery!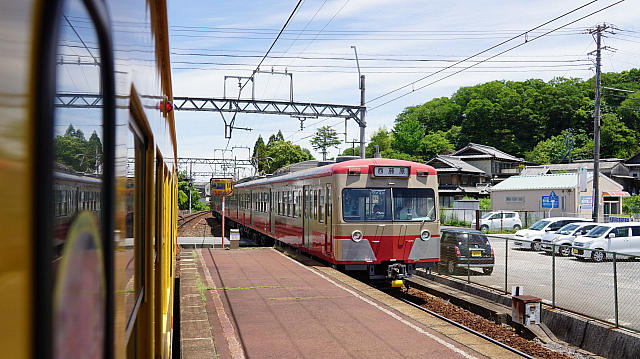 Meanwhile, the Sangi Depot located here is definitely worth travelling to! Straight up, it resembles the Takekawa Yard on the Chichibu Railway, just with brown engines.
Unfortunately... the services I had on my timetable to run through... didn't. I'll get you next time!
Kuwana Station - Yoro Railway
The final leg of this journey was Hobo to Ogaki via the Yoro Railway line. I'd just missed riding the Yoro Railway 9 years earlier when I was hanging around Minoakasaka, so this time there was no option to fail. Getting to the start of the Yoro Railway was easy enough: Sangi from Hobo back to Kintetsu Tomida and then the next east-bound express through to Kuwana Station.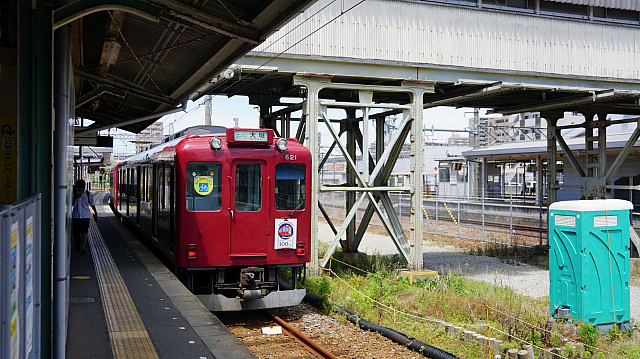 Somewhat reminiscent of the Hankyu livery, the Yoro EMU was sitting on it's isolated platform, waiting patiently to take passengers to Ogaki. Seeing as that we still had around 20 minutes until departure, I loitered around taking photos... first up? Kintetsu...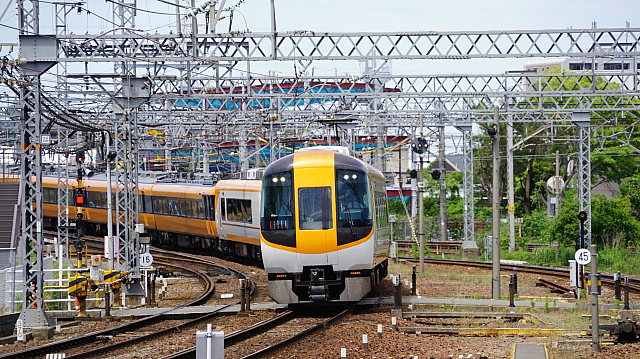 The express services were happily bolting through! Next up, that darned DD51 returned from Yokkaichi!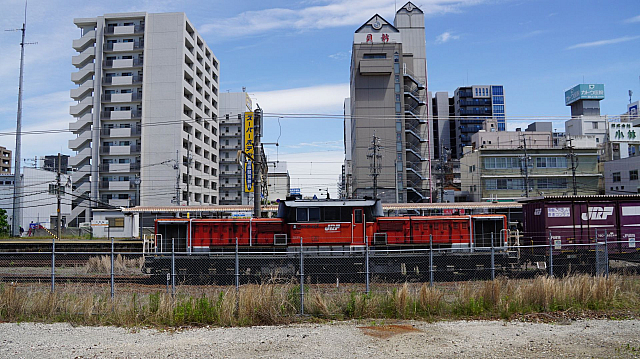 Hang on, what's that... It's a westbound oiler!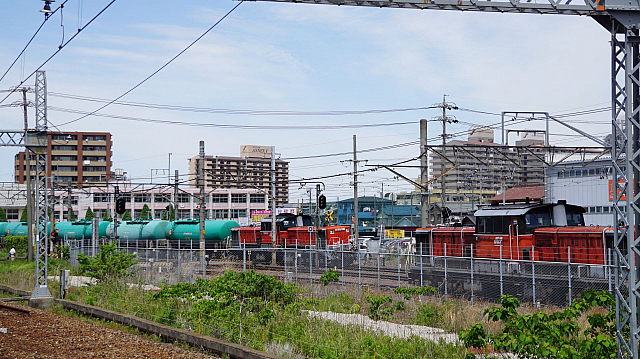 Right-time-right-place... thank you very much. But yeah, maybe a closer platform would've been nicer... To calm my nerves, I went and found an Okonomiyaki Burger. The restaurant is called Don Don and it's in the mall just after the JR station. Omg it was delicious.
After lunch, we were on our way to Ogaki Station. The line runs up the eastern side of the Mount Yoro and the view is splendid along the entire route.
Along the way the train also stops into Yoro Station. The building's architecture is from 1919 and there are a whole bunch of [something] hanging from the station platform roof! Quite a treat and a chinese couple happily took insta-selfies with the low-hanging-fruit.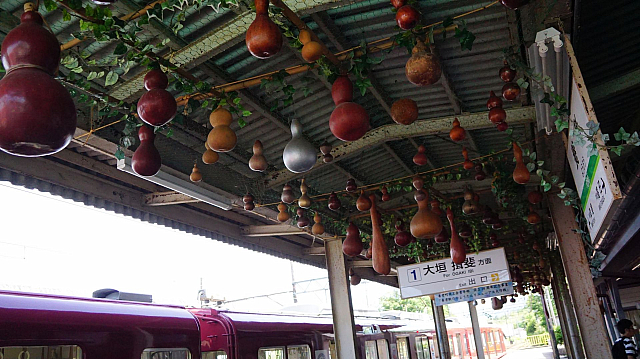 We waited here to pass a southbound and very orangey-brown liveried EMU.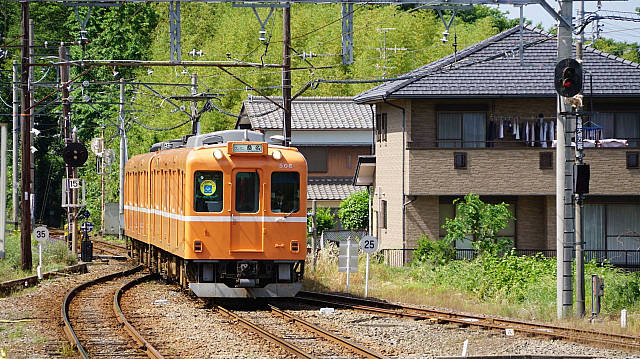 From there... it was a quick final few stops before arriving back at Ogaki Station. Waiting to take the next load of passengers south was the brand new 7700-Series!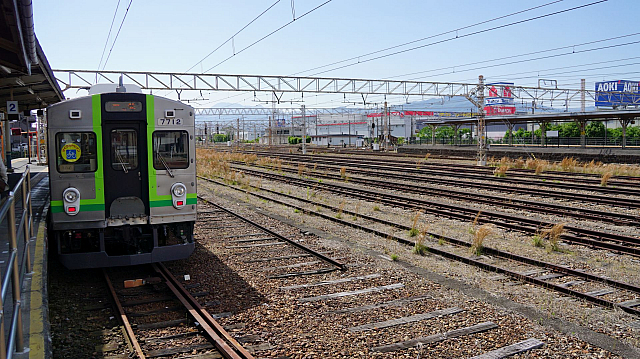 Officially, looking at the map, I'd done a loop-the-loop, as I'd crossed under the Shinkansen line that took me to Nagoya earlier in the morning. Ticking items off the todo list really does take time and effort. Anyway, from here it was a quick EMU to Nagoya and then two Shinkansen, finally ending up in Sendai. The Hayabusa was to leave at 0640 the next morning, northbound.