The final country for the European leg of the world-tour was Spain. I'd previously purchased high-speed rail tickets from RENFE and was looking forward to using them.
Time in Spain was to be shared between Valencia, Barcelona and Madrid. Valencia was visited briefly; the goal there was to head out of town to 'La Tomatina'... I can only recommend that NOBODY bother doing this... ever. Barcelona then received the most time and Madrid got one night.
We landed in Barcelona from Athens and headed straight for Barcelona Sants. We had a connecting train from there to Valencia in 'Preferente Class'. This happened to be first class and was purchased very cheaply!
Before we knew it we were speeding south to Valencia.
Valencia
The rail system around Valencia was quite nice, it seems they had recently extended the high-speed there and built a new station (or were in the progress of converting an old one.) The old Valencia Nord station was also very impressive.
As the main goal was a daytrip to La Tomatina in Bunol, there wasn't much time to check out the freight yards in the south.
Barcelona
I'd seen a lot of freight action near Tarragona from the train to Valencia and wanted to check it out. A day was spent on the rail around Barcelona and, due to a late start, I decided that Tarragona was a little too far. Instead I made it half way south through to Sitges and Cunit.
There wasn't a freight train to be seen and hardly any high-speed stock, mainly just standard EMUs floating around. I therefore decided to go to Martorell in the north of Barcelona where, via google maps, I'd seen that freight, passenger and high-speed converged.
Fortunately I chose to stop through Garraf on the way through. This town is on the coast just above Sitges and has a beautiful old station building. There is a tunnel to the south and it all provides a great backdrop for shots.
Especially when a high-speed consist comes through...
At Martorell I was instantly greeted by a freighter heading west.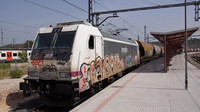 I then wandered from the station to the high-speed line around one kilometre north. I only had to wait 5 minutes to see a train bolt past.
I then returned to Martorell station and was greeted by a SEAT Car Carrier.
I'd also seen via google maps that there was a nice tunnel/castle/vineyard area one stop east of Martorell. The station was known as Castellbisbal and was easy to get to. I caught the next service east and wandered up to the road overpass of the high-speed.
I then wandered back to the station.
When I last expected it a freight came through heading west.
And that was it for the daytrip...
Madrid
The final trip was 'Touriste Class' to Madrid. This was on the ICE-3'looking rolling stock from Barcelona Sants to Madrid Atocha. The service was non-existent compared to First Class, but the train was great. Unfortunately the track condition along the way lead to a few rollercoaster-like experiences. At one point we even had to hold on to our drinks! I couldn't believe they were running the train at 300km/h over the rough patches.
The final stop was Madrid Atocha. This was a newly rebuilt station, full of concrete. At least it was quite clean.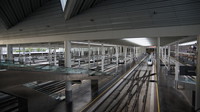 We stayed near a station called 'Principe Pio'. It seems to have two sides, one which they have rebuilt with the other falling into disrepair.
And that was it... the next day saw a flight to Hong Kong. They've since stopped freight to Hung Hom and so there was no real advantage to chasing trains. I vowed to do more upon returning to Oz.