I've recently been in Amsterdam for my Brother's wedding. Whilst over there, the plan was also to celebrate the buck's party in Barcelona. Although a beautiful city, I've previously checked out the freight and wanted to go somewhere different. After a little searching, I came across the island of Majorca and saw it had quite a few railway lines. One of them specifically caught my interest: there was a heritage train from Palma to Port De Soller and I was determined to check it out.
Getting to Palma
Palma has its own international airport. It actually feels a little like Las Vegas when you arrive. The airport is new, and quite large. Out the front you'll find 20-odd coaches ready to take tour groups to their resorts.
You get the feeling pretty quickly that the island is used as a dirty weekend away. There were around 25 drunk (they started on the beer at Schiphol Airport at 6am) dutch students on my plane as we left at 6am. I didn't bother to see where they went after we disembarked.
You'll find flights from all major european airports direct to Palma. It took 2.5 hours to get there from Amsterdam.
From the airport, take Bus Number 1. This will drop you off straight out the front of the Estació Intermodal which happens to be across the road from the Estació Tren de Sóller.
Palma - Estació tren de Sóller
The Tren de Sóller runs from Palma through to Port de Soller. The Palma station is located just next to the main station in the center of Palma city.
This station is at the end of the Palma yard and has multiple platforms. There is a main single platform directly in front of the station building, but this is only for arrivals. Every train I saw leave departed from the loop platform. This involves walking into the yard, across the first track. It seems that the staff are more than happy for you to wander around and take photos.
Here you get to meet the train. It's a single electric locomotive hauling a fleet of around 5 carriages. All wooden construction is seriously endearing. The interior is simple and all windows can be opened. It seems that the Swiss helped build or electrify the railway. Don't expect air-conditioning either; it was 10am and the temperature was already over 30 degrees, so make sure you dress lightly!
Expect to see some shunting in the yard too, and listen to the guards... chances are they're telling you politely to get out of the way. This is a heavily-utilised tourist train; so expect the odd foamer as well.
The first service of the day from Port de Sóller arrived as we were about to leave.
Palma to San Sardina
This first leg of the trip starts with a run down a street in north-east Palma. Traffic is held at certain points and lights are coordinated. The train doesn't muck around either, full speed being met whenever possible through the city.
10 minutes later, the city fades away and you're in the country-side. There's a horse racing stadium on the north side, just after the city, with some interesting stables attached. After this it's farmland and orchards.
The first stop is then San Sardina. A lovely sandstone building that connects the Ferrocarril de Port de Sóller to the main metro train network. After this stop, the countryside really starts to get impressive.
San Sardina to Bunyola
There are other stops in-between; but the train hardly stops at them. Most people are destined to the terminus, so the intermediates aren't overly patronised. Either way, the countryside doesn't disappoint. The backdrop is the mountain range that separates the plains from the ocean. On the other side is Port de Sóller.
About 10 minutes before Bunyola you'll pass the maintenance yard with a rusting old hi-rail that seems to have been made out of an old flatbed truck. There's also a triangle for turning vehicles... I don't know if it's still in use.
From there, it's more olive groves. You'll then start entering a valley just before Bunyola Station. At the station keep an eye out for an older-style hi-rail and other construction vehicles.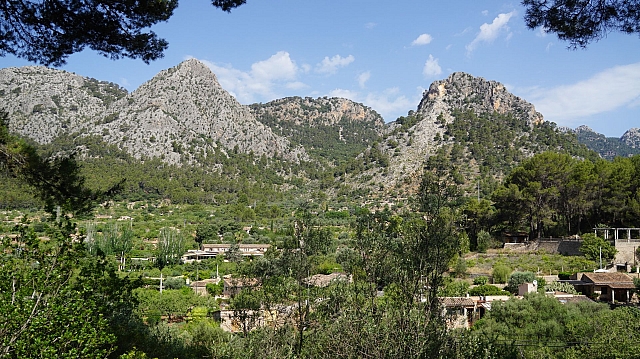 Bunyola to Sóller
The track now dives through quite a few tunnels before breaching the other side of the mountain range. Once on the other side, a large horse-shoe curve is navigated which provides a fantastic view of the town of Sóller. Note that we are still inland; the Port is still a distance away and alternative transport is provided!
There's quite a few loops along the way. Expect to stop and wait for passes; unless the opposing service is already waiting for you.
Before you know it, the train has navigated the descent and has arrived at Sóller Station.
The town of Sóller
Above the ocean, surrounded by a valley, Sóller is the junction between the tram and the train. Spend some time here and check out the architecture and tapas menus!
If you happen to wander behind the station, you'll find a few level crossings for the railway... many of which provide great vantage points. First you'll be able to see the rear of the station yard and then, following the track, all sorts of architecture that has been built to fit the railway in. One house actually consists of two plots, either side of the line, and has a private overpass!
I ventured up to one of the level crossings, late in the afternoon. Lighting wasn't the best, but the shot still turned out OK. I extrapolated the timetable for an educated guess as to when the train might arrive.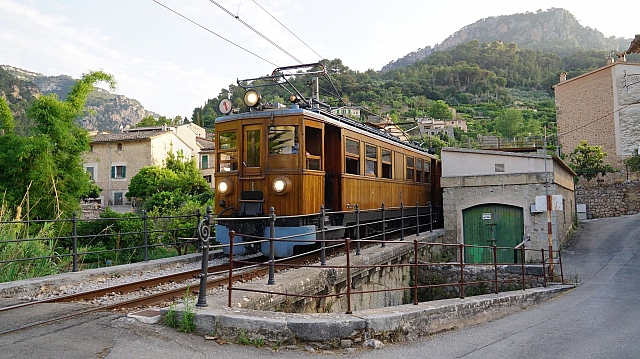 At one point, I walked down from Soller to the Port. This took a lot longer than I expected; but was totally worth it.
Taking the Tram from Sóller to Port de Sóller
If you bought the combined ticket, then jump on the tram here. It's a long way to walk to the port! Unlike Melbourne, the trams from the city to the port consisted of multiple vehicles. The route is primarily single-track and there are loops at most stations. The consists are usually one driving car with two trailers, but the odd service has a driving car at both ends. Where required, the conductors will switch the driving car to the other end of the consist at the end of the line.
The tram digs through suburbia and then descends, parallel to the highway, down to the port. At the bottom of the decent, you arrive through the mountain range into the port. At the bottom it's beach and marina; very different to everything you've just travelled through to get there.
The tram makes its way along the shoreline. There's 2 stops before the end station which has a loop to swap the motor car around when needed. The trams then tirelessly work their way back up to Soller.
Every so often there'll be consists trailing each other, especially after the train has arrived. There's a lot of juggling in the sidings all the way along the tracks!
Exploring the rest of Palma
After you've spent enough time at the beach, you'll find the tram/train service convenient enough to get you either back to your hotel (I stayed in Port de Soller overnight, totally worth it!) or all the way back to Palma. I ventured onto the Metro in Palma the next day to check out the area. There's a nice outlet mall called Festival Park accessible from Es Caullis Station.
On the way you'll pass Marraxti and, if you're looking out the north side of the train, you'll spot a miniature railway just before a highway overpass. Here's a map of the area. I didn't have time to check it out... but it looked to be in operating condition.
The metro itself has a good mix of new and old stock and can take you all the way out to Inca and further. You can get to San Sardina and see the Sóller train pass. Otherwise, I had an early evening flight and heavy bags, so didn't venture far.
Take note of the information signs on the network. They're very good at time estimation, to the point where they tell you if the service has left the start-point or not. Very handy!
And that was that. Amazing island. Highly recommended. Spend a few days out at the remote areas and enjoy the transport in between.
The final country for the European leg of the world-tour was Spain. I'd previously purchased high-speed rail tickets from RENFE and was looking forward to using them.
Time in Spain was to be shared between Valencia, Barcelona and Madrid. Valencia was visited briefly; the goal there was to head out of town to 'La Tomatina'... I can only recommend that NOBODY bother doing this... ever. Barcelona then received the most time and Madrid got one night.
We landed in Barcelona from Athens and headed straight for Barcelona Sants. We had a connecting train from there to Valencia in 'Preferente Class'. This happened to be first class and was purchased very cheaply!
Before we knew it we were speeding south to Valencia.
Valencia
The rail system around Valencia was quite nice, it seems they had recently extended the high-speed there and built a new station (or were in the progress of converting an old one.) The old Valencia Nord station was also very impressive.
As the main goal was a daytrip to La Tomatina in Bunol, there wasn't much time to check out the freight yards in the south.
Barcelona
I'd seen a lot of freight action near Tarragona from the train to Valencia and wanted to check it out. A day was spent on the rail around Barcelona and, due to a late start, I decided that Tarragona was a little too far. Instead I made it half way south through to Sitges and Cunit.
There wasn't a freight train to be seen and hardly any high-speed stock, mainly just standard EMUs floating around. I therefore decided to go to Martorell in the north of Barcelona where, via google maps, I'd seen that freight, passenger and high-speed converged.
Fortunately I chose to stop through Garraf on the way through. This town is on the coast just above Sitges and has a beautiful old station building. There is a tunnel to the south and it all provides a great backdrop for shots.
Especially when a high-speed consist comes through...
At Martorell I was instantly greeted by a freighter heading west.
I then wandered from the station to the high-speed line around one kilometre north. I only had to wait 5 minutes to see a train bolt past.
I then returned to Martorell station and was greeted by a SEAT Car Carrier.
I'd also seen via google maps that there was a nice tunnel/castle/vineyard area one stop east of Martorell. The station was known as Castellbisbal and was easy to get to. I caught the next service east and wandered up to the road overpass of the high-speed.
I then wandered back to the station.
When I last expected it a freight came through heading west.
And that was it for the daytrip...
Madrid
The final trip was 'Touriste Class' to Madrid. This was on the ICE-3'looking rolling stock from Barcelona Sants to Madrid Atocha. The service was non-existent compared to First Class, but the train was great. Unfortunately the track condition along the way lead to a few rollercoaster-like experiences. At one point we even had to hold on to our drinks! I couldn't believe they were running the train at 300km/h over the rough patches.
The final stop was Madrid Atocha. This was a newly rebuilt station, full of concrete. At least it was quite clean.
We stayed near a station called 'Principe Pio'. It seems to have two sides, one which they have rebuilt with the other falling into disrepair.
And that was it... the next day saw a flight to Hong Kong. They've since stopped freight to Hung Hom and so there was no real advantage to chasing trains. I vowed to do more upon returning to Oz.
A few friends and I are heading to Spain over September and we wanted to include a trip or two on their highspeed rail network. After a little google'ing, I had determined the Spanish Rail Company was RENFE and their web site was mildly difficult to navigate and use. The following article lists the notes/issues/warnings that I had gathered from other sites and heeded whilst purchasing online.
Step 1: Create an account
You can do this milliseconds prior to the purchase, but I recommend doing this at the start to raise your chances of a successful purchase. To register your account:
Browse to the RENFE Website and click the Welcome link.
Click the Purchase link, top right.
On the new page, select the Register Me link in the user login window, mid-top right.
You can now start to enter your details. Note that you have to enter a 5-digit postcode (for Australia I just added a zero to the front) and you also have to have at least one symbol and one number in your password. You'll also have to select a fake Spanish Province as it doesn't hide that selection when you choose another country. This doesn't affect your ability to purchase tickets as you do not receive anything in the mail.
Meanwhile, don't be alarmed if the 'Check User' link doesn't work... it didn't work for me, but I continued through and my account was created.

Step 2: Find the timetable
Firstly, visit RENFE's Website and choose the "Welcome" link just below the title image. This link will take you to the 'English' version of the passenger timetables page. From here you can now input your departure/destination stations and a date to travel on. Note that this is for inter-city travel across Spain; you can find suburban stations on the Renfe Cercanías - Communter trains page.
Note: You can only purchase tickets 62 days in advance... be warned though, the site doesn't always have the tickets available. You may have to be 50 days or less in advance before they will appear.
Once you've worked out a good departure time, select the Query and Buy link. This will show an extra table stating the 'off the shelf' prices for each class of travel. Don't be scared by these though, you're about to head into the purchasing system where you'll be presented with the 'web fares'. Click the shopping trolley icon and a new window/tab will open with the purchasing website.
Step 3: Starting the purchase
You'll now be in the purchasing area of the RENFE site. Wait for the initial purchasing page to load; a script will change the departure/destination stations and travel date to what you had previously selected. You can then update this if you want a return journey and can also choose the quantity if you want multiple tickets.
Confirm at this point that you are still actually logged in. The panel in the top-left of the screen should show your full name, as you registered it.
After selecting the relevant details, hit the Search button.
Step 3: Choosing a service
Right, there's quite a few different services offered by RENFE available online. These range from Overnight sleeper "Train Hotels" to the latest and greatest highspeed AVE Trains.
Note that "Estrella" is both a name for the Overnight Trains (if it's in the left-most column) and a 'Travel Class' (if it's in the right-most column) literally translated to "Star Class".
If you see the service you want, but it's marked as "Train Blocked", then don't despair! Chances are RENFE are taking their time with the timetable updates and you are too 'early' (although you may be within the 62 days prior to travel.) I had this for my tickets in September and persistence paid off. The tickets became available around 58 days prior to my travels.
You can find the full list here, but below are the services you'll probably want to purchase:
AVE (300km/h)
'State of the art' highspeed network in Spain. Currently servicing: Madrid–Barcelona, Madrid–Valladolid, Madrid–Levante, Córdoba–Málaga.
Euromed (220km/h)
The Euromed is a slower train with Turista and Preferente classes. You'll find these services between most major cities and they usually come with very good discounts.
Alaris (200km/h)
Again, a service between most major cities which usually stops at a lot more stations than the Euromed.
Talgo (160-200km/h)
Looking quite like a duck/platypus, these relics have been refurbed for smoother rides. They also travel between most major cities, filling in the stations that the faster trains don't stop at.
Estrella
These trains are the overnighters. NOTE that you cannot purchase a bed online! Of three levels offered, Turista and Preferente are seats and Litera is a cabin with 6 reclining seats (potentially into 'beds', but I wouldn't count on comfort.) Other sites have indicated very little sleep had on these tickets. I imagine you can purchase the sleeper cabins over the phone?
TRENHOTEL
These are the real overnight trains... all classes starting with "cama" indicate that you are purchasing a bed. It's been mentioned that RENFE will not mix strangers in a cabin, so purchasing two tickets for a 4-berth cabin will give you space and privacy.
Step 4: Choosing a class
One note here... I tried to purchase "Preferente" class on a Barcelona to Madrid service and I got the error to the right. I was interested in what I expected to be first class but wanted to get the tickets purchased; instead I opted for "Turista".
Turista
This seems to be equivalent to 'economy class' or 'coach'. All trains have this and it's the lowest (and cheapest) option available. All trains I checked out still had 2+2 seating though... so it can't be too uncomfortable?
Preferente
Don't quote me on this, but I think these are 1st Class seats with a discount... I wasn't able to purchase any though.
Club
Bloody expensive... seems to be first class with no discount and all the options (drinks, food, etc..)
Butaca Super.
No idea... if anyone can provide information on this then please do!
Cama Turista
No idea... if anyone can provide information on this then please do!
Cama Preferen
No idea... if anyone can provide information on this then please do!
Cama G. Clase
No idea... if anyone can provide information on this then please do!
Step 5: Confirming ticket details
The next screen is one of the most confusing. At the top of the screen you will see the trips you wish to take with the classes you have selected. At this point you can choose to switch to another class type if required. Switching between the types and pressing "Recalculate purchase price" will show you what each of the tickets are worth. Chances are you already chose the ticket type in the previous screen and you don't need to adjust this.
There is also a family discount option ("Descuento F.Numerosa") which allows discounts to parties travelling as a family. I don't know exactly how this applies and don't recommend touching it.
Select your final options (seat selection, meals, etc...) and then choose Continue.
I usually don't bother with seat selection for any tickets that I purchase (on any mode of transport...) ...but... for the purposes of this post I'll show you what happens when you tick that checkbox.
Step 7: Credit Card Details
Ok, the first thing that scared me on this page is the lack of a credit card 'type' selection. You cannot select 'Visa', 'Mastercard, etc... I assume RENFE just knows how to decipher this from the card number you've entered.
You'll notice at the top of the screen that there is a 'Select a card' button... this brings up a blank list (I first expected to select my card type via this.) I freaked out during my first purchase but then realised that it's for storing your credit card details so you don't have to type them in each time. I chose not to do this.
Go through and fill out your details... Skip the 'TEMPO Card' area as that seems to be their loyalty program. You'll need to make sure the number has no spaces, your name is correct and you have the CVV number from the back of your card (it's the last three digits on whatever number exists.) If you don't know any of these details then contact your bank or ask someone who's paid online with a credit card before to help you.
Finally check the 'I agree...' checkbox and hit continue.
Step 8: Seat selection (optional)
If you didn't choose seat selection then you can skip this step; otherwise, choose your seats...
At the top of the page you'll see the entire consist of the train you'll be travelling on. The buffet car is noted and so are the classes of travel. RENFE will select a car for you to travel in by default, but you can choose another as long as it's marked as the class of travel you have chosen.
Once you've chosen a car you can then select a seat on the bottom half of the screen. Note that anything marked 'X' has already been booked by someone else. Work out where the amenities are and choose the required amount of seats simply by clicking on them.
After selecting all required seats, press continue to start the card verification process.
Step 9: Credit Card Verification
Now comes the tricky part... you'll have a few hoops to jump through here depending on your card issuer/bank. If you've ever bought anything online (not via Paypal) and have seen your bank's "verification screen" then you can expect to see it here too. RENFE, at this point, will attempt to contact your bank and will then hand control over to the bank's verification system. My bank here in Australia presented it's verification screen where I was to click a button, receive an SMS and then type in the code given.
NOTE: The first time I did this my bank's verification screen did not appear! Something timed out somewhere and I got a "This website is not responding..." error. I ended up just hitting refresh (as I knew I hadn't verified the initial payment) and everything then just worked. It's always daunting when dealing with your own hard-earned dollars... but be persistent and it should work.
Step 10: Review and print your confirmation
If you've made it this far then you're in! Congratulations, on this screen you'll have a booking number and trip details. You will also receive an email (if you typed the correct one in whilst registering) with all the details too. There's no need to print this screen; print the email instead.
I never tried the SMS option... there's a radio button that you can select... I imagine you then press the "Print Tickets" down below. I didn't even click that button; I was happy with the email as proof of purchase.
There is a link at the top left to view your 'Journeys'. Click this and it'll show you a short list of your confirmed tickets.
Step 11: Travel.
I'll get back to you on this in August/September 2011.