Thanks to Jetstar, I've been frequenting Narita International Airport lately as there is a great Melbourne to Tokyo direct flight on the Dreamliner 787. Sure, it's Jetstar, so you know what you're getting, but the red-eye timing is great on the way there and it's also not too early in the morning on the way back. Unfortunately, it seems that Qantas has seen how lucrative this leg is and will take it back early in the new year?
Getting to and from Narita Airport quickly means taking either take the JR East N'EX or Keisei Skyliner. On the way, other small towns flick by in the windows... these Limited Express trains don't bother stopping when it's not convenient.
Thanks again to Jetstar, we suffered a huge delay when returning to Melbourne. Well, actually, it wasn't Jetstar's fault. Melbourne Airport received a bad batch of aviation fuel and any plane loaded with it had to dump its tanks. Other planes waiting for fuel had nowhere to go and no fuel to receive.
Due to this, our operating aircraft was delayed. I received an email at midnight (before a midday flight the next day) telling me that my 12:50 would leave at 14:45. That's awesome when you're in Tokyo, as there's no end of stuff to do. Unfortunately, the email did not mention what time check-in was. Since the plane was suffering a 2+ hour delay, could I go to the check-in 2+ hours later? This was non-refundable-cargo-hold-style Jetstar and so I wasn't going to take that risk. I made it to the check-in desk at 10am for my 14:45 flight and the attendant happily checked in my obese bag! (Famicom + Games, MSX + Games, Model Trains, Pla-Rail, etc)
Now, thanks to Jetstar being an LCC, I was in Terminal 3 in Narita Airport with not much to do. I really like the terminal; the 'running track' is great to get people into the orderly fashion of Japan straight away and the food court is nice. But ... once through security (and they even warn you with signs stating so) there is nothing do to but sit in massage chairs.
It was 1030, the flight wasn't boarding until 1420. That was ... nearly 4 hours! Let's check out the closest town.
Narita
Yes, there is actually a town called Narita. It's located just south-west of the airport and isn't huge. The limited express trains of both companies (they have individual stations) often don't stop here. Therefore I jumped on the next Keisei local train (I no longer had a JR Pass and I wanted to test the competition) and travelled one stop.
So far, 15 minute walk to the station from Terminal 3, 2 minute ticket purchase, 5 minute wait and then 10 minute transit. We're here! McDonald's is out the front of the Keisei Narita Station. I had my last binge on delicious Japanese-style western food.
A quick walk north-east along the Keisei route saw a vista of a sweeping curve, but the elevation to take a shot from the road was too low. I intruded on a building's fire-escape and was quickly asked to move on.
It seems that, although it's a small town, I'm not the first Gaijin here and other intruders have done the same thing. If so, I'm not surprised; it would've been perfect to have the Skyliner bolting in with the sun where it was.
JR Narita Station
Oh well, time to check out JR. Wandering along any road north-west from Keisei will get you to the JR Narita Station. It's a lot larger and has a nice yard to the south. The N'EX trains come through frequently, but I was never in the right place at the right time.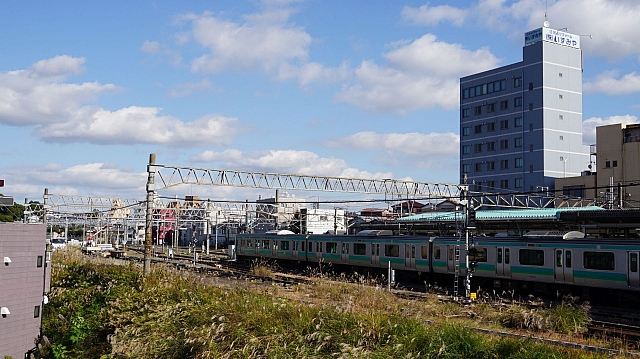 There's a viewing deck on the far side, near the bicycle parking. After this, I circumnavigated the yard to the south-west. At the time, this seemed like a great idea. I was wrong though... it's a LONG walk and it was already hot with the sun in your face most of the way. The road also doesn't provide any vantage point to the railway below. Once you get to the south-eastern side of the tracks, you're then too elevated to get a good shot without catenary. It was still nice to check out the sleepy town though!
Keisei Narita Station
After dawdling further around, you'll start intercepting level crossings for Keisei. This doesn't happen with JR, as their tracks are all grade-separated. From the south-west, where the companies rails cross (oh crap... if I'd looked at a map then I would've gone down to check out this over/under!) you can walk up the main road between both companies. You get a good view of Keisei to the right and the odd view of JR between buildings.
Further down the road, on the right, you'll hit some level crossings.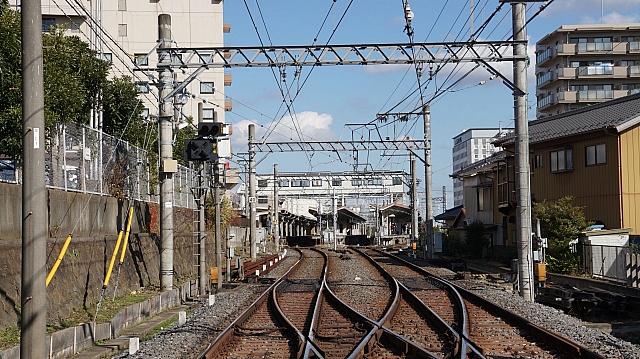 And then... if you hang for longer than 20-or-so minutes, you're bound to see the one we're all waiting for.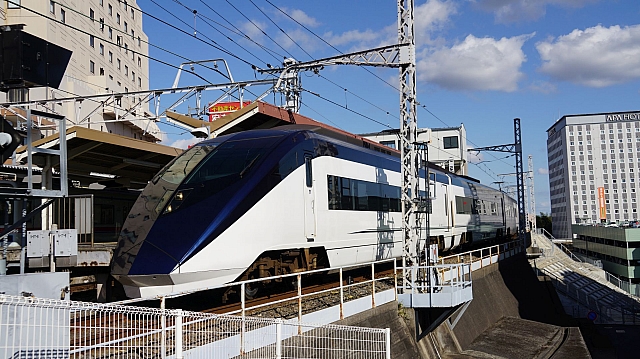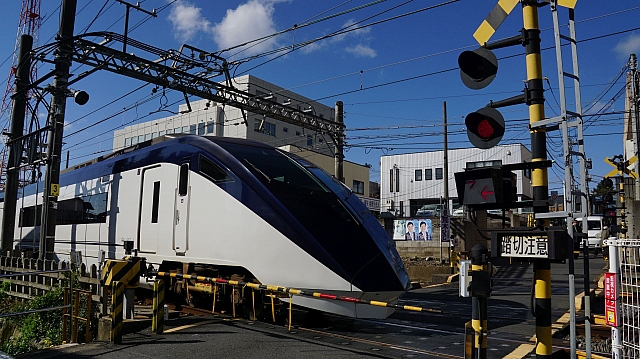 Now that I look back; waiting down at the area where JR passes over Keisei, regardless of the incorrect morning light, would've been a great opportunity. Oh well.. gives me something to go back for!
From here, it was a quick local trip back to the airport for a second and then third lunch.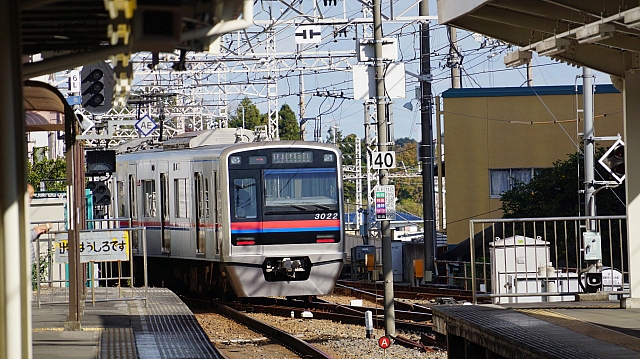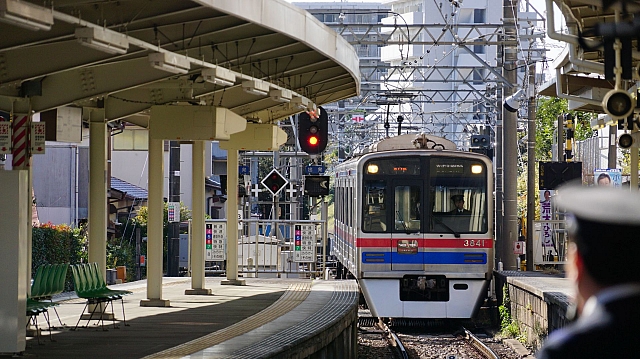 Is it just me or does Keisei have an Amtrak feel to their livery?
I'd never been to Japan in summer and therefore never been to the beaches. This area just west of Tokyo is stunning. The only issue at this time was a typhoon off the coast, preventing us from swimming. Fortunately we did get to get our feet wet.
JR East runs the line from Tokyo through to Izu, half way down the peninsula. From Izu, the Izukyu Corporation runs the Izukyu Railway which takes you right down to Shimoda. Fortunately, the JR (Super View) Odoriko services run on the private lines and will take you to the very end.
Odoriko Service
These are great trains, fast and efficient... clean too. If you happen to get a Super View, then the scenery is fantastic. They book out in summer though, so be quick. When booking you'll be able to choose the mountain side or ocean side. The ocean side seems popular, but the mountain side is fantstic also!
The beer on tap was a nice touch!
Shimoda Station
Once at the station, it's the end of the line and most passengers disappear off to seaside resorts for well-deserved getaways. I hung around for a little to soak in the view.
The corner before the approach to the station provides a nice view of an evening. As per usual, the Japanese scenery is lush and green. An easy choice to model a railway on!
I even happened to find an exact model of my car! This is the first functional instance I've seen in Japan. Not bad for ~30 years old.
Back at the station, the yard had a few interesting things to see. There was an inspection vehicle resting on tracks perpendicular to the actual line. Do they use a crane to get it on?
Not the best lighting, but most days were spent out at the beach! Still, the yard was quite picturesque with nice sized EMUs waiting for their next gig.
Marine Odoriko
On the last day, the plan was to ride this home. It's the Odoriko service run by the N'EX consist. Has a special headmark and all. Turns out that I got Hyperdia wrong and we turned up to find the old-school 185 series (not complaining!) to take us back... so much charm. Fortuantely, on the day before I managed to see the Marine Odoriko shunting for its next service.
The photos are of poor quality... I'd not had my camera on me. But you can just make out the 'anchor' headmark on the front.
And that was a wrap. Great location for a beach holiday!
It was to be one night in Tokyo, whilst in transit from Hakone to Izu Peninsula. What's the quickest path? Probably a change at Odawara or Atami? Suuureee... but there's also an express train to Shinjuku from Hakone and an Express to Shimoda from Shinjuku. So, why not do it in luxury?
Hotels in Shinjuku aren't cheap... so you might as well make it count. Turns out that Odakyu has a hand in this hotel and this hotel has some stunning rooms! Check out the view from the Panorama room I stayed in!
Trains, trains and more trains... Yamanote, Express lines, Chuo line and even Odakyu!