I'd picked these up a while back but never thought I'd get to test them. I don't have any monitors that support the old standard and haven't actually seen any available on eBay for a long time. I was quite surprised when I realised that the GBS-8200 that I picked up for my MSX would work to convert the frequencies! I'd only ever expected to use it for the MSX RGB signal.
V7 VEGA 8-BIT VGA
This card (thanks, stason.org!) has the ability to output both EGA/CGA and VGA! It's 8-Bit ISA and it a little worse-for-wear...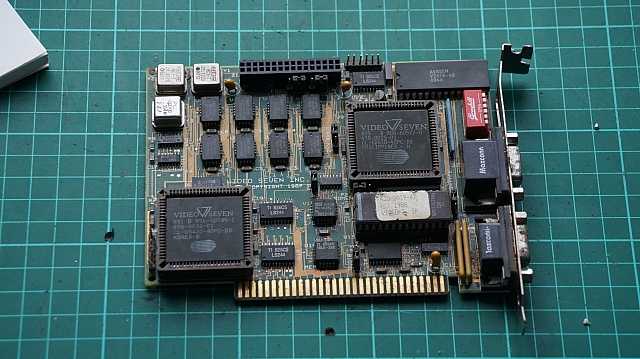 This seems to be quite an advanced card of its era. Happily outputting to the monitor you happen to have and allowing for future upgrades! It also even seems to have the VGA auxiliary header?
VIDEO SEVEN V7 VEGA EGA
This card (thanks again to stason.org!) is a little older. It has a header for a light-pen and suppsoedly two composite video inputs!?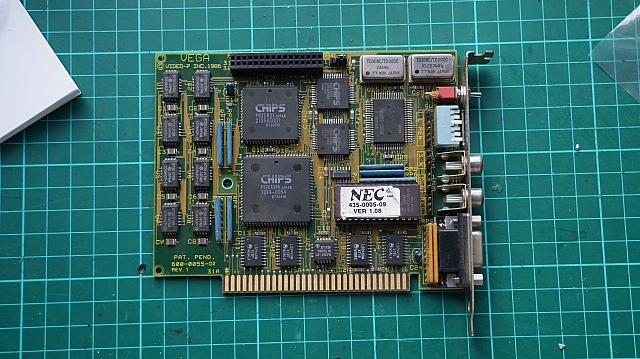 GBS-8200
I had purchased the bare-bones board and never tried it. Thanks to my new desktop power supply, getting it going was really very easy. The board comes with a standard DC jack, but also a pin header for the input voltage. Instead of using a crappy wall-wart, I instead powered it on the supply, having the additional benefit of knowing the current requirement!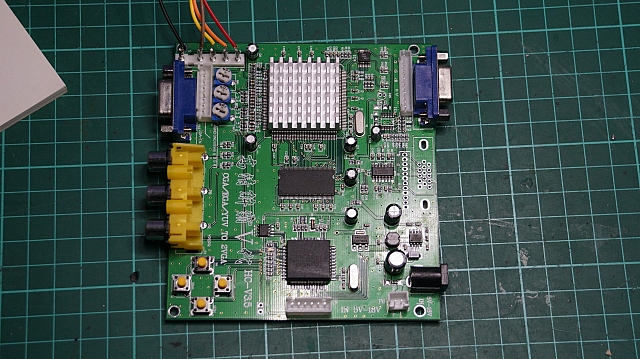 Ian Stedman thoroughly reviewed this board. His outcome was that there were a few issues, but a strong power supply is not needed. It turns out that my testing below shows that it hardly needs 5v at 400mA!
You can see where I've soldered on to for the EGA/CGA input. It's the bottom-right 5-pin header and I couldn't find an acceptable plug. In the end, a quick bit of tinning worked. There's 4 wires: R,G,B, Sync and Ground. The EGA Pinout on Wikipedia (CGA is nearly identical) shows that there are two sync lines, but we only have one on the GBS-8200! As mentioned above, we'll use the bottom-left connector on the board.
Combining HSync and VSync
We'll need to combine the Horizontal and Vertical Sync outputs from the EGA signal as the GBS-8200 requires a single Composite Sync signal. To do this, we can use an XOR or OR gate. Ian is our saviour once again and has provided a circuit to combine the signals.
Build the circuit as he's described. I actually found that either XOR or OR worked fine with the GBS-8200!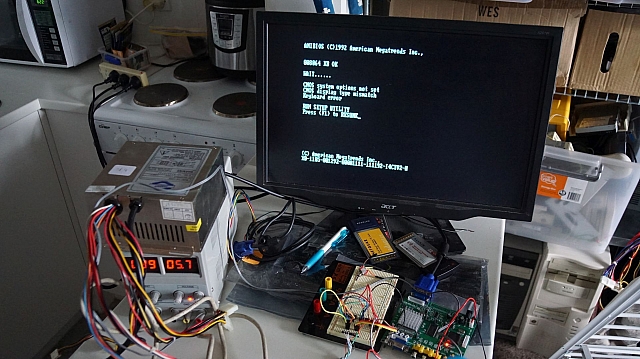 I probably should've tested some games...
Hercules?
No such love. Same connector, but a very different video signal. Turns out it's actually a digital TTL signal that this unit cannot process. If you really want yo convert it then you'll need to buy a GBS8219.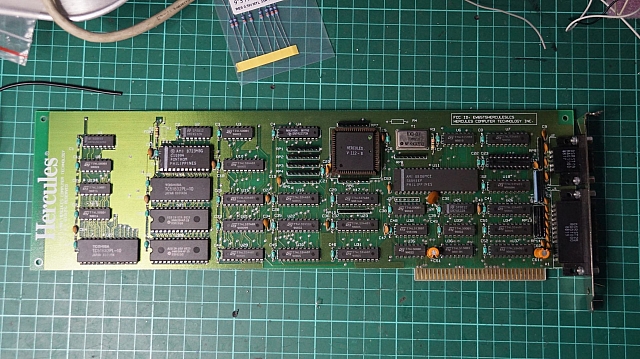 Is that a printer port? Space saving tech! I don't have any plans to pay for a Hercules monitor or an 8219, so this is going straight on eBay.