After being delayed on the return trip from Belgium, I'd chosen a hotel in Amsterdam that I'd always wanted to check out. The Ibis Amsterdam City Centre Hotel is located both adjacent and on-top-of Amsterdam Centraal Station.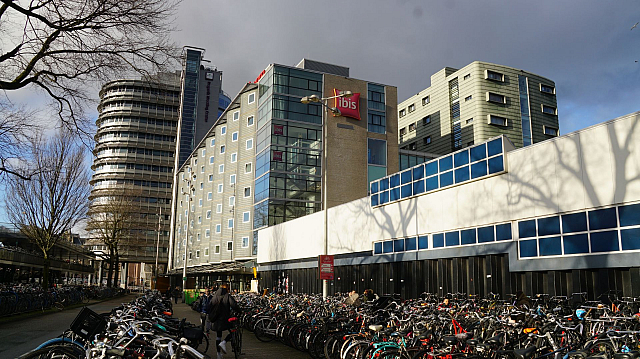 In the shot above you can see the main building to the left and the above-the-rails building to the right. Just like the Wuppertal Schwebebahn, the building is suspended above the platforms by large 45-degree legs. Note that one of the floors in the annex, as the extra building is called, is being refurbished.
..but don't let that stop you as there was absolutely no noise during the stay. You'll find views from all windows of the building as you transfer between lifts to get to the 'upper' floors in the annex.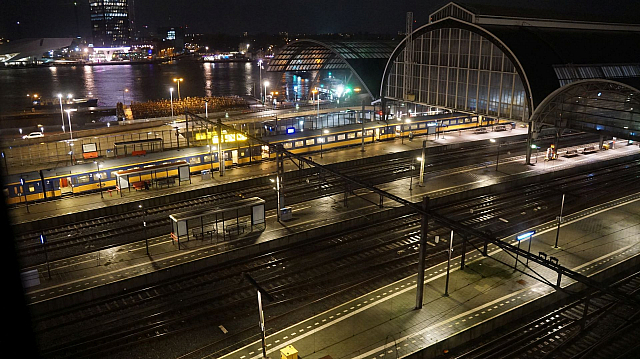 And then the view from the room. Don't forget to ask for a room with a north-facing view!!
Almere Poort
During the holiday, we'd gone to meet family in Groningen. The trip north consisted of a fast-paced ride through the country-side on a Koploper. As this was my most-favourite NS train, I'd made an effort along the way to determine the easiest station to take a few videos from, where I could capture these trains at full-tilt. I also wanted to make sure it wasn't too far from the city. I chose Almere Poort as it was the first station from Centraal that the service didn't stop at, whilst going at a good clip.
The weather was miserable, but it was the last day in the country and I was determined to check the place out. The station provided good visibility in both directions, but was a little 'urban' with lots of concrete and glass for framing.
Multiple services passed through with Sprinters, as above, stopping to pick up the college kids and residents. No one minded that I was there to take photos of trains. Actually... that's a good point: the NS staff even asked how my train photos were when they saw me with a camera. Anyway... here's the resulting video.
We'll declare it as historical, rather than a work of art. I REALLY love those 3-car consist Koplopers!