It's been a while, and there's a lot to post, but for now I'm catching up on trains. Actually, this isn't catching up at all... this train is touring Hokkaido as we speak. The Royal Express is a ridiculously beautiful electric set train that runs (usually) from Yokohama to Izu-Shimoda on the Izu Peninsula, but, due to Tokyu Corporation being perfectly adventurous, is running on non-electrified lines in Hokkaido!
It's an ELECTRIC TRAIN! You say? There's very few overhead wires in Hokkaido, you exclaim!? You'd be correct! To run this tour, they have employed two freshly-painted DE15 locomotives and a mail-car-come-generator-car painted in white, to (literally) tow the electric train through the beautiful pastures of Hokkaido.
Thanks to the current world order: we can't travel from Australia to Japan, but thankfully we can watch! Japan has a fantastic acclimation to rail-side webcams and a hotel in Obihiro has actually mounted one on their building with a perfect view of the station. The same team have also provided views of the airport and a famous bridge. Note that these links change all the time, so please just browse to their channel to find what they're offering!
Anyway, where was I? Oh yeah.. the tour train has actually already operated this route twice this season. Thanks to lockdown, I haven't been in any correct frame to be alert to its movements. Or maybe I was just working? The train passes the Obihiro Station webcam just after 4pm Australian Eastern Time and, well, it's knock-off for anyone starting on-or-prior to 8am.
Fortunately, I set my alarm today and caught it!
So yeah, double-DE15 + white power van + Royal Express EMU. Who would've ever thought to tow an EMU on 'genny'-power with two very light-weight diesels!? It's actually amazing on a many levels: reliability, engine-weight, loading-gauge... the list goes on.
Anyway, for those playing at home, Obihiro Station is a major freight-accepting town (the yard is further to the left/west of the camera), but has single-lines on either side. This means that, if you see a train, regardless as to whether it's meant to actually stop at Obihiro, it'll at least pause on the camera as there's line-working preventing it from proceeding. There are freight, Limited Express Tokachis (to the west) and Limited Express Oozoras (both directions) on the line at all times and there's always another service to wait for.
So yeah, it waited... and the westbound Oozora from Kushiro arrived.
Not long after, The Royal Express departed for Ikeda and the Oozora went onwards to Sapporo. From here it'll do a full loop, turning north at Kushiro (I want to do that next!) to Kitami and then back through Asahikawa. When this current world situation is over, I'll be doing the same!
Update: 04/09/2021
The Express De Royale has left on another lap, in delicious sunshine: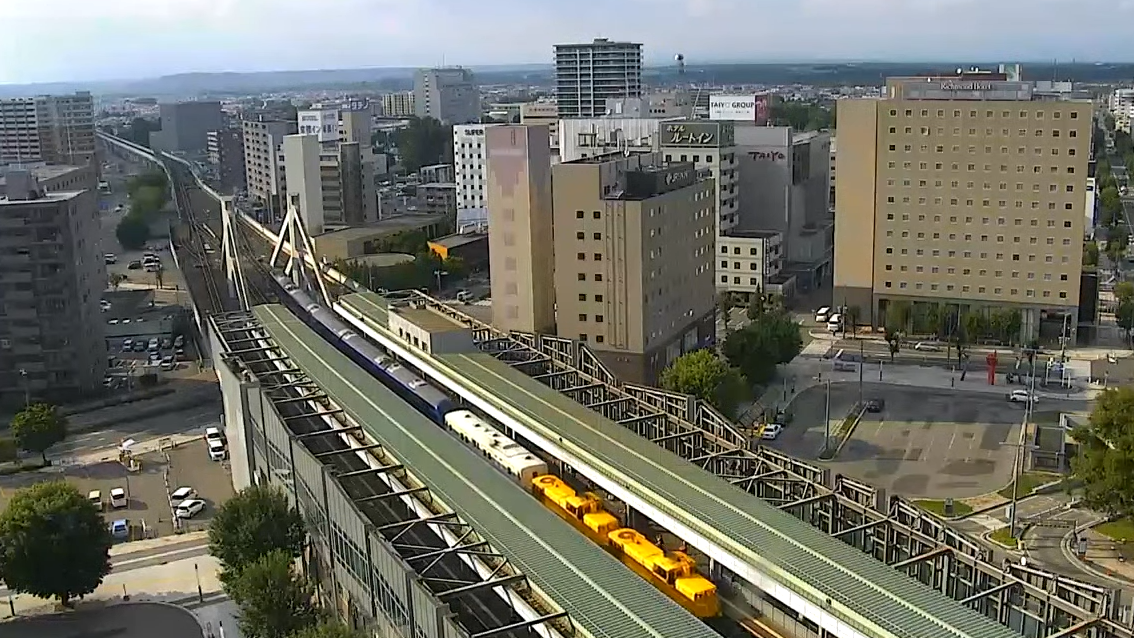 Enjoy patrons, enjoy.