Who would've thought you'd be able to get a machine this old onto a WPA2 network? Not I. Either way, it's totally doable and makes getting files onto the system a LOT easier!
Requirements
You'll need a 16-bit Wireless PCMCIA card that's supported. You'll usually find one around the Amibay forums or on eBay. 16-Bit PCMCIA cards are recognisable via their difference in connector to newer PCMCIA cards.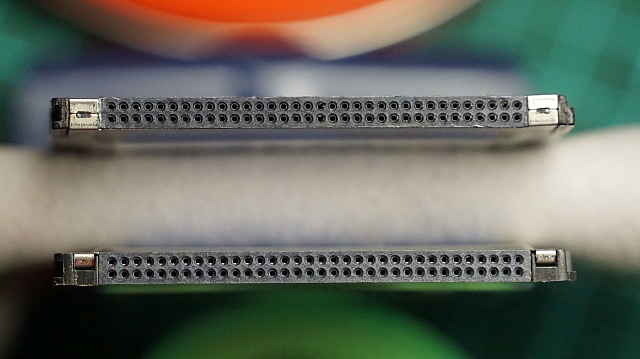 As you can see, the little line of plastic that guides the card into the slot is thinner on the 16-bit card. This guiding line is on the right in the picture above. It's twice as high on the 32-bit card. Make sure that your cards are 16-bit and never try to force them into the slot!
Instructions
There's a great video How to set up a PCMCIA wifi card on a standard Amiga 1200 over at Daily Motion. Watch that, or follow the steps here.
First thing to install is the wireless driver. My cards are based on the Prism Chipset and therefore the Prism2v2 driver over on aminet is the best choice. The 'v2' version supports WPA (as long as your card does!) and is very easy to install. Click through the steps and configure your card. Make sure you have a 2.4ghz network available as, chances are, your card wont be doing 5ghz any time soon!
Once configured, the wirelessmanager will have been added to your user-startup. Restart your Amiga and watch the blinkenlights on your card to see if it associates. I'd recommend checking your router also, to see if your card is listed as a connected device. It won't have an IP yet, but the MAC address should be recognisable.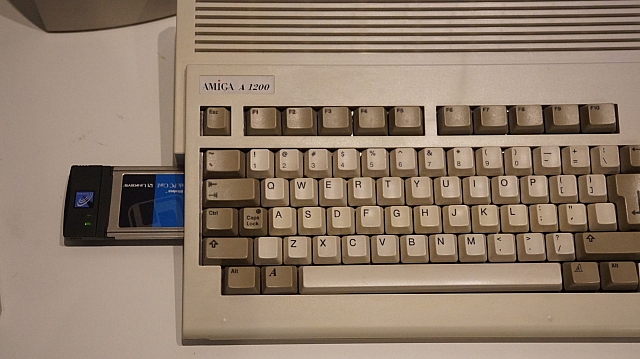 From here, you might need to install CardPatch and/or CardReset. These are useful if you have trouble restarting your Amiga with an active PCMCIA card installed.
TCP/IP
I've recently learnt that the Amiga OS 3.9 CD comes with TCP stacks included... but I haven't tested them. Instead I went ahead and used MiamiDX. Make sure you have MUI installed first and then go ahead and install MiamiDX and it's MUI support library. Throw it in the System or Utilities folder on your main drive.
Reboot your Amiga and then open up the folder where you installed it. Run MiamiInit. We're going to install a SANA-II driver and manually enter prism.device. Note that this is prism2.device and not prism2v2.device. Although we're using the v2 driver, the filename is actually just prism2.device.
Once added, tick through and make sure that DHCP is configured. Save the configuration as default.
Now go back to the folder where MiamiDX was installed and run MiamiDX itself. From the menus, choose to import a MiamiInit profile. This should then populate MiamiDX with all of your hardware configuration. Go to the Ethernet tab, highlight your device and hit 'Online'... within a few seconds your device should be ready to go! Finally, choose Save as Default from the same menu... then you wont have to go importing every time you open up MiamiDX.
Browsing the Web
You pretty much only have a choice between only two browsers. AWeb and IBrowse. I tried AWeb and was impressed. But it doesn't do SSL. Note that the installer mentiosn that you'll need ClassAct2 installed. DO NOT INSTALL CLASSACT2 on Amiga OS 3.9! It'll trash your 'classes' files and prevent even simple dialogs from appearing. Someone else learned the hard way here and had to re-install OS 3.9. AWeb will run fine on OS 3.9 as-is.
Here's an animation of AWeb trying to load Aminet. It actually loads the site 3 times before finally settling and loading images.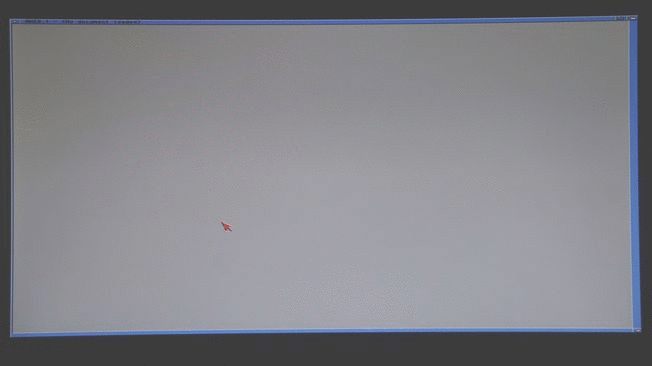 IBrowse has addons for SSL and Flash! The basic version installed perfectly well and loaded aminet a lot quicker than AWeb.
I'll try the add-ons shortly!