I'd recently picked up a PC Compatibility Card for my Power Mac 7220 and thought I'd see if it worked. It seems to be the P166 variant and, unfortunately, didn't come with the required monitor cabling.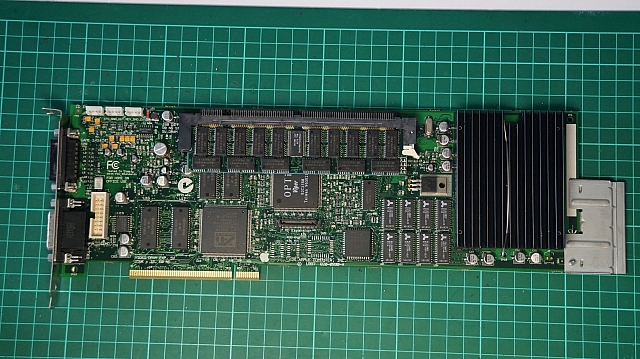 The card itself is huge. Being an entire PC on a card, you'll find graphics, RAM, sound and, of course, the main CPU all crammed on-board.
Basic Installation
It fits neatly into the 7220 case and has a metal tab at the far end that may well need to be adjusted to allow a secure fit.
You'll see in the first two shots above that the metal tab was in the wrong spot and didn't slot into the case. I had to shift it to the other position to provide a proper fit. Otherwise the weight of the card actually allowed it to start bending down!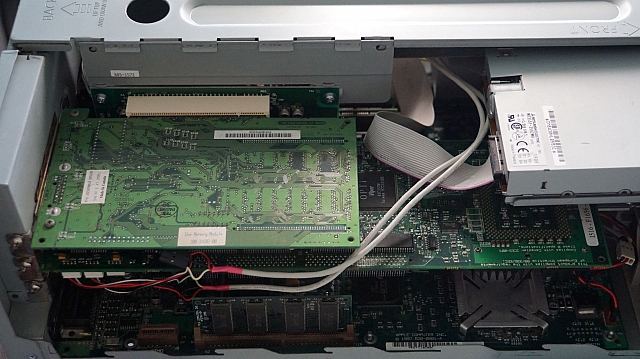 There's also a CD Audio cable that needs to be fitted. Previously the 7220 simply had the audio from the CD drive plugged straight into the motherboard. Now, the audio runs from the CD drive to the PC card, then another CD Audio cable runs between the card and the motherboard. This effectively means that the PC Card is mixing its own audio output with anything from the CD drive and sending that to the Macintosh hardware.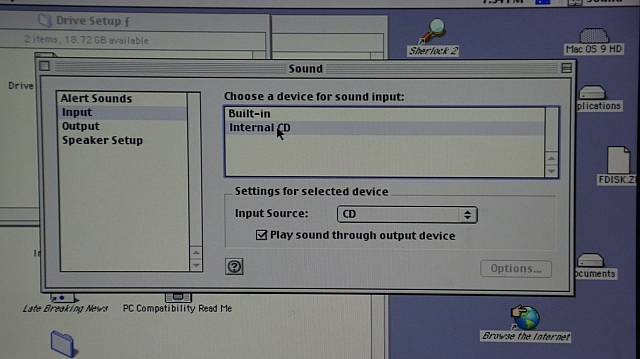 Note that you'll need to set your input device to the internal CD Drive to have the sound come through!
Software is simple enough, see my post here for all the relevant downloads. Install PC Setup 1.6 prior to 2.14. The disks from that post work fine as well!
Hacking a cable together
I expected that the 26-pin 3-row D-sub plug required for this would be apple-proprietary, but it turns out that it's available on eBay! I purchased one, along with two 15-pin already-cabled plugs to hack up.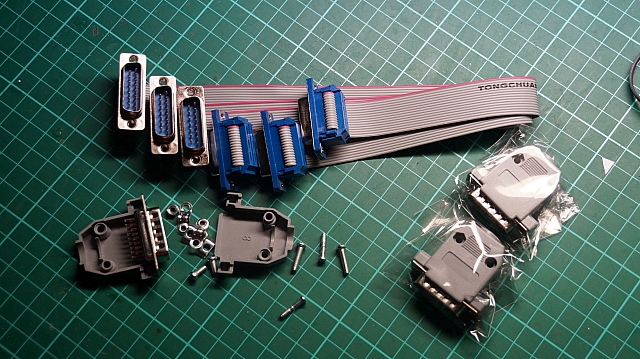 Nothing like buying in bulk in case of emergency! The wiring information can be found here, but I've provided it below for safe-keeping.
3-row 26-pin
Compatibility
plug
Macintosh
Video Out
(male)
Monitor Plug
(female)
Purpose
Direction
Pin 1
Pin 15
Horizontal Sync
In
Pin 2
Pin 11
C & VSync Ground
In
Pin 3
Pin 9
Blue Signal
In
Pin 4
Pin 13
Blue Ground
In
Pin 5
Pin 4
Pin 4
Sense 0
In/Out
Pin 6
Pin 13
Blue Ground
Out
Pin 7
Pin 9
Blue Signal
Out
Pin 8
Pin 14
HSync Ground
Out
Pin 9
Pin 15
HSync
Out
Pin 10
Pin 3
CSync
In
Pin 11
Pin 11
C & VSync Ground
In
Pin 12
Pin 5
Green Signal
In
Pin 13
Pin 6
Green Ground
In
Pin 14
Pin 7
Pin 7
Sense1
In/Out
Pin 15
Pin 6
Green Ground
Out
Pin 16
Pin 5
Green Signal
Out
Pin 17
Pin 11
C & VSync Ground
Out
Pin 18
Pin 3
CSync
Out
Pin 19
Pin 12
VSync
In
Pin 20
Pin 2
Red Signal
In
Pin 21
Pin 1
Red Ground
In
Pin 22
Pin 14
Cable Detect
In
Pin 23
Pin 10
Pin 10
Sense2
In/Out
Pin 24
Pin 1
Red Ground
Out
Pin 25
Pin 2
Red Signal
Out
Pin 26
Pin 12
VSync
Out
I cut the cable between the two 14-pin plugs and stripped the wires back. Intially, I started soldering these onto the main 3-row plug, but this became tedious and my soldering was unreliable. The requirement of joined pins also meant that I had to create intentional bridges and wasn't quite happy with this.
Instead, I found some spare 'tough' copper wiring and soldered 5cm leads onto the 3-row plug. From here, I then joined and soldered the correct wires and heat-shrinked it all together.
Resolutions were a little weird. There's notes in the PC Compatibility Card FAQ here that mention how you should install correct drivers and use a proper multi-sync monitor. I initially used my hack-job wiring and attempted to switch to the proper MAC to VGA adapter...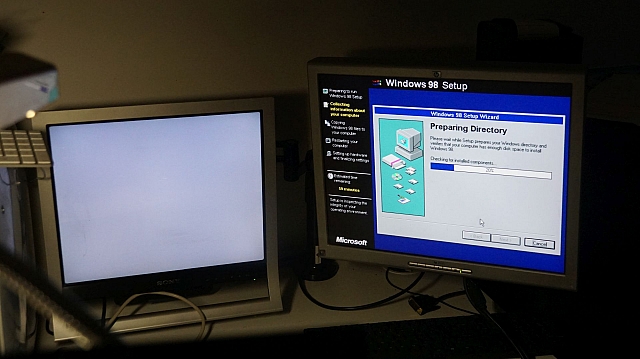 With the adapter in place, the resolution was mapped correctly. I then 'solidified' the cabling... hahahaha...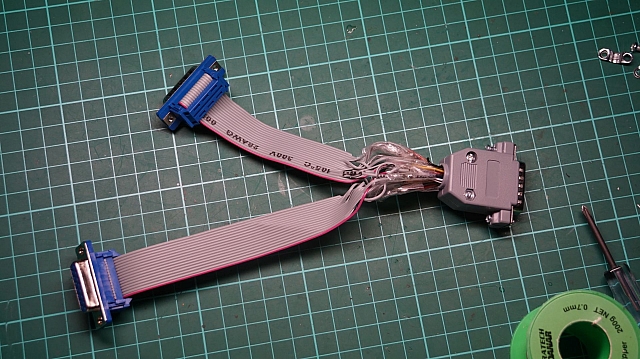 Installing Windows
I'd previously done this via the 7" Card on my 7200. Unfortunately things weren't to go as easy this time. In that post, you can find the Tiny Boot Disk hard-drive file that has a nicely bootable Windows 98 SE drive. Windows isn't installed on that, but it'll at least get you a booted 50mb harddisk. From here (or so I thought) you can then build another D: drive and make that bootable.
The goal was simple: Mount another hard-file, format it and copy the contents over. FDISK was used, format d:/s worked and then the full copy was done. On a reboot (after switching the disks so that the new drive file was C:), I was presented with NO ROM BASIC. I've never seen this error before! I switched the disks back and realised that the partition wasn't set as active. Unfortunately, DOS 6.22 FDISK can only set active partitions on the primary drive!
I therefore had to borrow FDISK from FreeDos. The best part of the PC Compatibility on Apple is that you can mount the hard-files on the Macintosh desktop! Make sure your PC side is shut down and just double-click the hard-file. After extracting FDISK, I copied it over to the DOS drive. I then unmounted the drive (drag it to the trash, as scary as that may seem) and then booted the PC side back up.
I now had an FDISK folder. Switching to this and starting FDISK gave me an error on line 2 trying to read FDISK.INI. Turns out that the file has UNIX line-breaks and DOS 6.22 hates this. I could've converted these on the Macintosh side and re-copied... but instead I took a punt and deleted the INI file. It worked! I could now set the active partition on D:.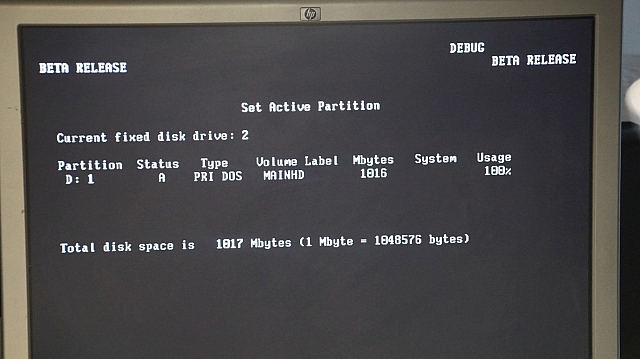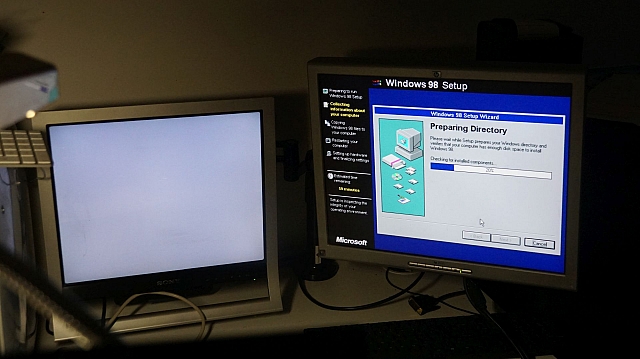 And then... it booted... from here I copied the WIN98 folder off the CD to the HD as an installer folder and then brought Windows 98 SE to life! I still wanted to make sure CD Audio was correct, so I tested out Screamer which uses the CD for its soundtrack.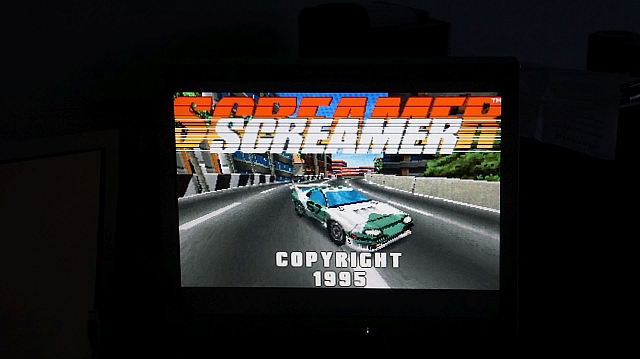 It then froze... each time... the entire machine... couldn't even get to the main menu!