The goal was simple: take the Sunrise sleeper train to Takamatsu and drive across Shikoku, returning on a Shiokaze from Matsuyama the next afternoon. Starting from Tokyo, this would have worked... but starting from Osaka it doesn't. From Osaka, the Sunrise's timetable lets you get to Tokyo easily, but doesn't let you go west as it passes through around 4am and they don't actually let anyone get on. Conversly you can easily get west from Tokyo!
So, the plan was changed to an afternoon Shinkansen to Okayama and an easy transfer through to an onsen in Kotohira!
Kotohira
This sleepy river-town is more-or-less due south of Okayama. You get to cross the amazing Seto Bridge to get there and, although the express trains are cool, doing this on a local service will make the experience better. The view is amazing ... and I totally failed to take photos. Anyway, back to Kotohira. It seems to be known as a, uhmmm, brothel (companion) town? It actually really reminded me of Spirited Away's onsen town.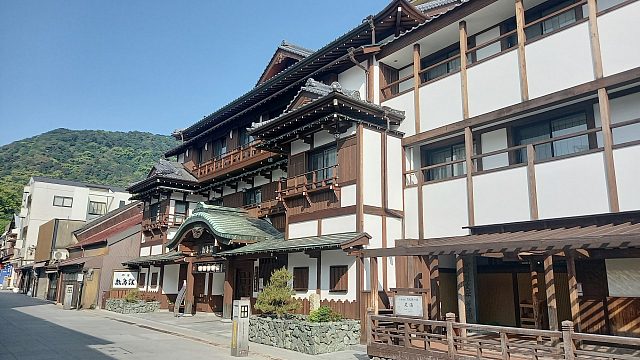 We stayed at Shikishimakan with the lodgings, food and onsen being perfect! I don't think I've eaten that much in a long time. The next day was a trip to Takamatsu to pick up the rental car and I totally failed to take any photos of Kotohira Dentetsu, the cute little third-sector railway linking Kotohira and Takamatsu. Of course, we could've taken JR back and around, but that would've actually been 20 minutes longer!
Takamatsu
All of 5 minutes was spent in-town, traversing from the Kotoden Station to the Renta-car on-foot. The car was easily picked up and, I must admit, booking one-way rental cars in Japan is super easy and doesn't cost more than a return trip! How dare they understand customer service. I looked at my train timetables and realised a freighter was bound for Niihama, so the first goal was to pick a picturesque area for a photo or two.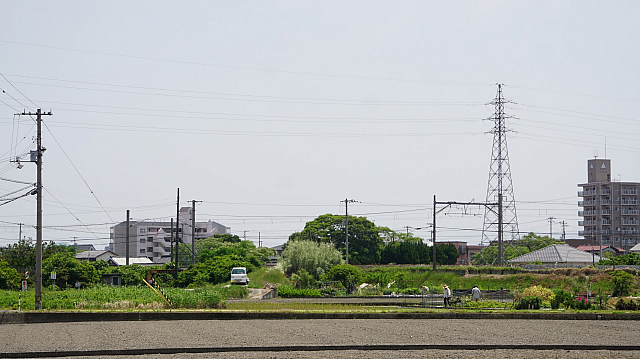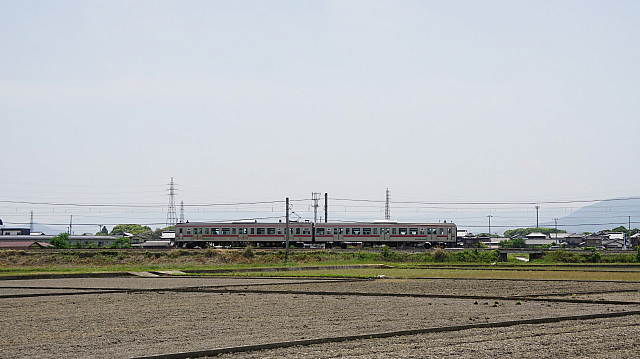 Unfortunately, it seems that the freighter had already slipped past. Thanks to the timetable only showing major arrivals and departures, it's hard to know where-else a service will stop. They could halt in stations or loops to let the priority passenger services pass. This means that you can't ever get a 100% fix on a train if you only interpolate the speed over the time to travel between two known points!
Iyo-Mishima
I'd always liked the look of this level crossing between two factories. The whole area is an industrial port-town and, although the freighter was well-and-truly ahead of us, there were still a few limited express trains to see!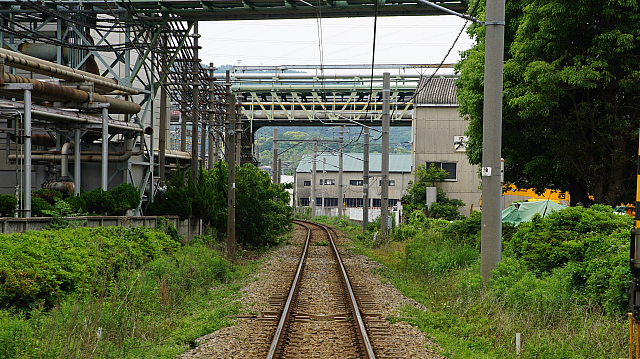 It's a bit dicey to get in the right position as the roads are narrow and a continuous procession of trucks are ready to take you out. The guard rails are also covered in powdery old paint, which happily rubs off onto your pants.
Niihama
After a few other Hard-Off stops along the way, we ended up in Niihama just before the departure of the freight we'd initially tried to chase in the morning. It'd spent its time in the yard already and was about to hook and pull back east.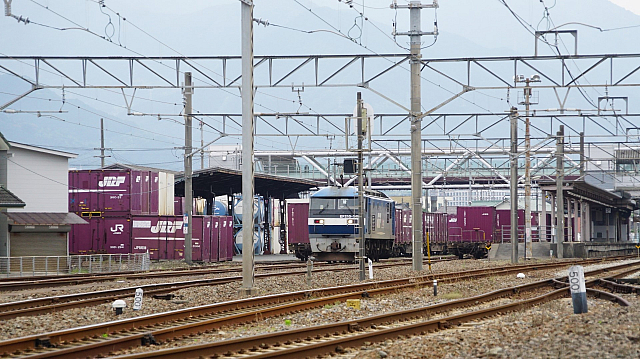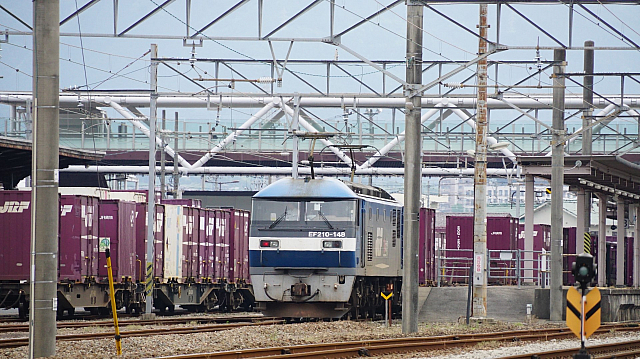 It then sat for a while with it's markers on, as it had no clearance to leave. There was still a Shiokaze to come from the east on it's journey to Matsuyama.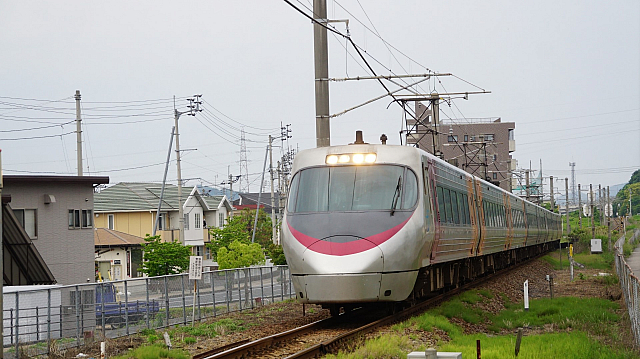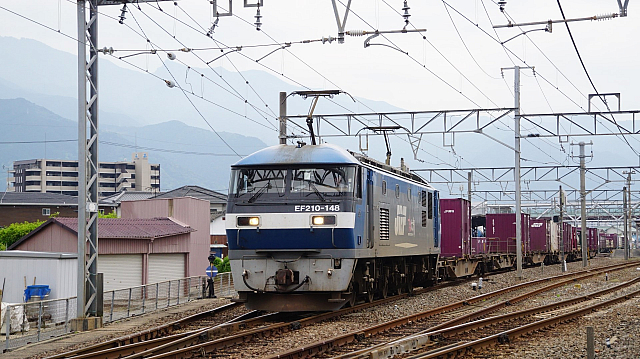 Three seconds later and the freight was outta there!
Matsuyama
The land of red trains! I had always thought this diamond crossing was in Kochi, but I was happily proven wrong. A hotel was chosen near-enough to this infamous crossing and a morning was spent taking wayyyyy too many mikan/tangerine/persimmon/vermillion coloured vehicles. Of course, the goal was a photo with all three modes of transport in one shot. But first, I had to dawdle to the intersection.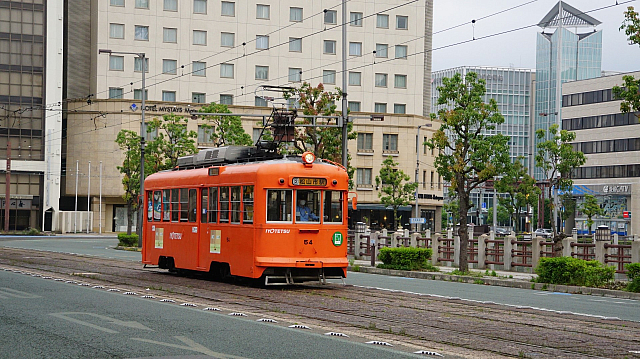 There's a beautiful mix of street-cars to view, even at 6am in the morning.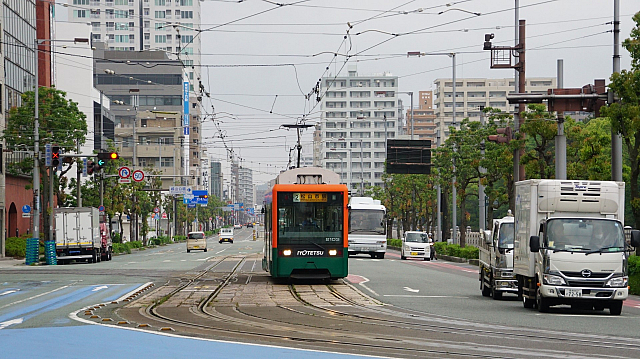 But just around the corner, the intersection came into view...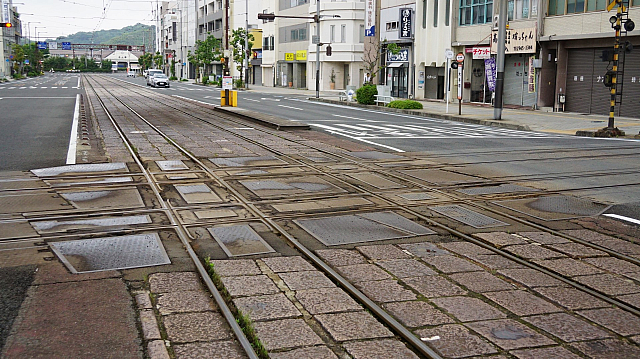 And my first 2-out-of-three vehicle shot was taken!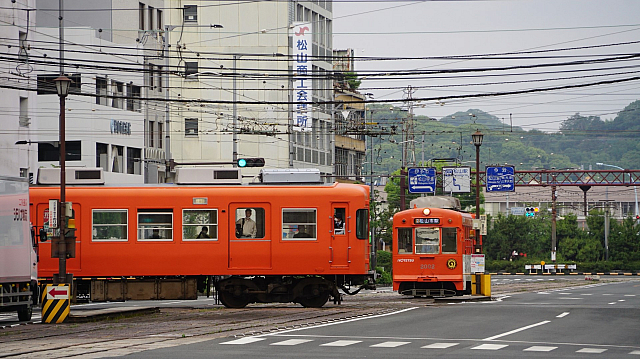 And then more random shots...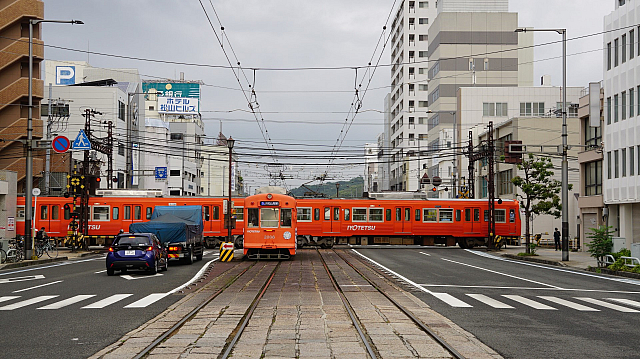 At around ~7am the buses started to appear, running more-frequently on their schedules. Game on! Time for a three-vehicles-in-one... but working out the best vantage point (with the lens I had on), without getting hit by bicycles, or traffic... or annoying the authorities... was going to be tough. Also, it would be very easy to be stuck on the wrong side of the level-crossing!
There were actually also a lot of dead-head movements, so using Google Maps for the heavy-rail timetable wasn't always the best idea... there'd often be 2-3 deadheads in between real services!
More trams came and went... older heavy-rail consist came and went...
And then it happened!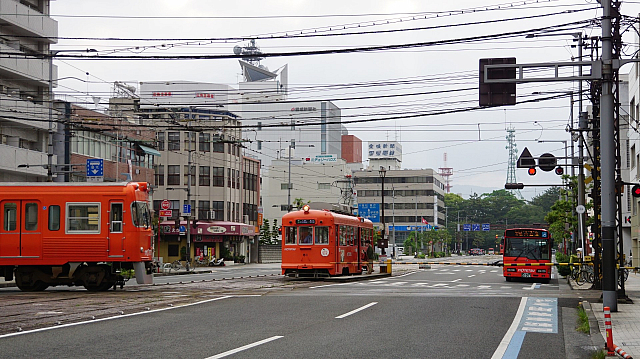 Three-in-one! But not overly-well framed... still... done! I stayed longer to see how many more times I could do it.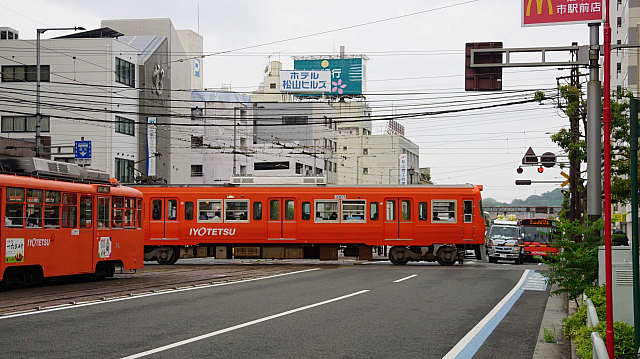 Oof... that one was nicer.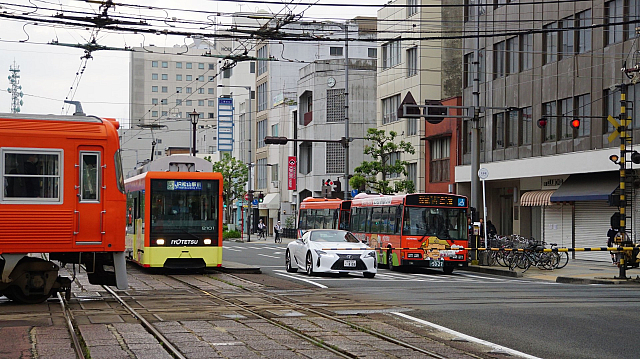 And that isn't bad either! I had spent three hours loitering... I was happy with the shots and that no authorities came to tell me to move on. It was time to be a normal tourist!
Matsuyama Castle
After telling friends we were doing Shikoku, they nearly spat out their food when I said this castle wasn't on the itinerary. It's easy to be spoiled by castles in Japan and after seeing Osaka and Himeji, I hadn't really considered that I'd needed to see another. They all said it was a must-do and I'm glad we listened.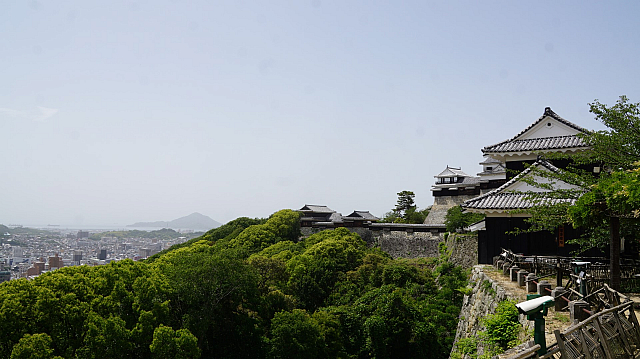 That angle is very Kiyomizudera-esque, just without the religion. This castle is built as a stronghold and, although I'm sure they were praying inside often, it's totally built for war.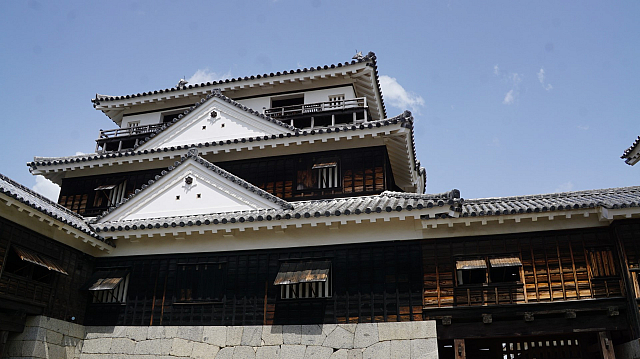 The view from any point on the grounds is stunning. Make sure to always be looking through port-holes, gun-holes, cannon-holes, windows, etc...
And, although the usual rule is to look-up, make sure to look down! On all sides of the castle.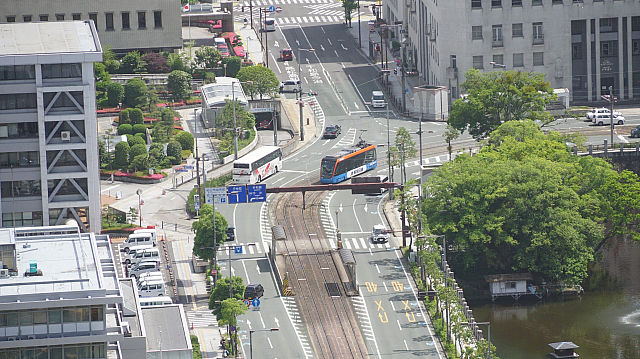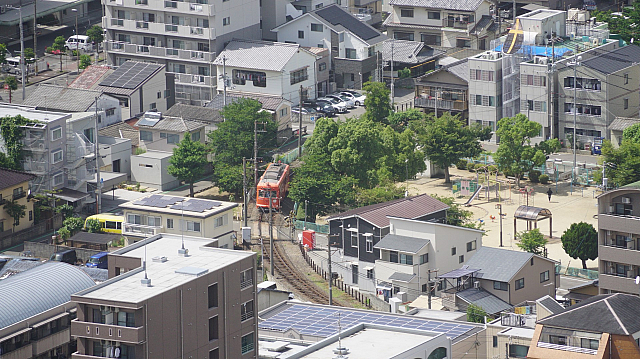 And then, when done, take the chair-lift or cable-car back down the hill.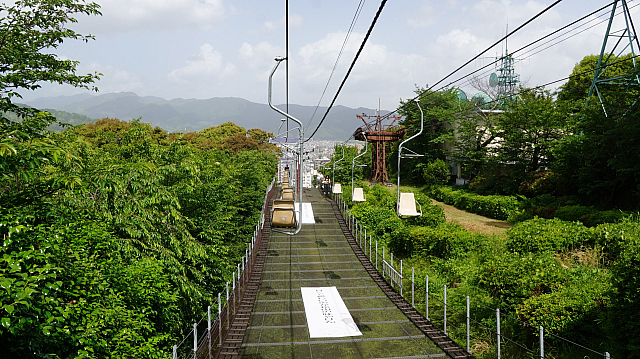 Thank you Shikoku!