After visiting Geldermalsen, a station near the junction with the Betuworoute in the south of the Netherlands, I decided it was better to find the very start of the line. Sure, not all freights would traverse the entire length of the line, but at least some would have to enter/exit from the German side?
The line starts at Zevenaar, an eastern bordertown in the Netherlands that sits next to the locality of Emmerich in Germany. Getting here from Amsterdam was easy enough with a few transfers along the way.
Amsterdam Centraal
Whilst waiting at Amsterdam Centraal, the usual thing happened whilst waiting for my train; a freight passed when I wasn't ready. Even funnier that it happened whilst I was discussing the fact that there's lots of freight movements in europe, just not when you want them. It was also too bloody dark to take good photos.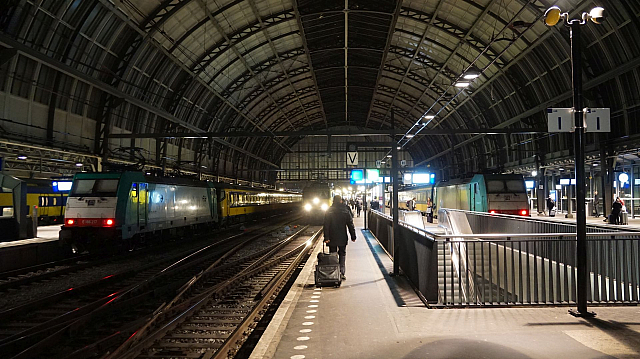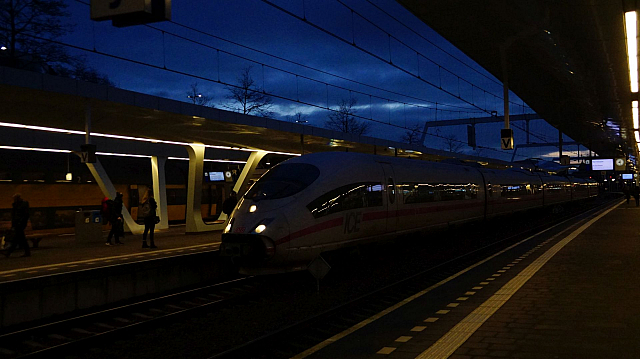 From here, an Intercity was caught to Arhnem Centraal. It was still dark for the entire trip, with the sun rising at around 0830 each morning in Europe in winter. Something I'm still really not fond of!
At Arnhem I needed to change to a private railway. Thanks to the great setup of the ticket machines, this is a very easy task. Below you'll see the ticket validators for both companies sitting side by side. All one has to do is touch off NS and touch on Arriva to transfer. No need to exit the station!
Before long the diesel was humming away and we were heading east to Zevenaar. The transfer here wasn't as easy as above as we were now crossing international borders. Of course, being all in fhe EU, there's no actual passport checkpoints... You could just walk across if you wanted to. I did need a new ticket, and this was as simple as going to the DB machine. Emmmerich-Elten wasnt a valid destination, for an unknown reason, so I chose Emmerich itself.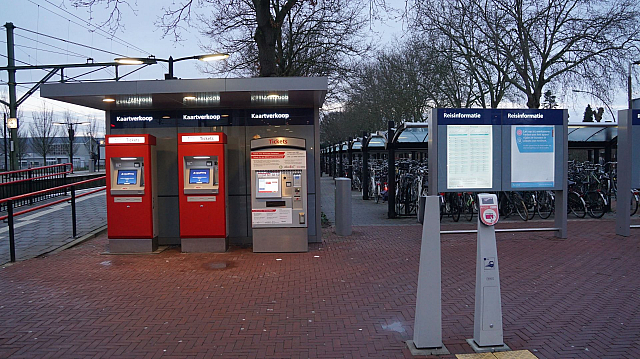 I then had to turn around and bolt to the train as it had just arrived from Arhnem Centraal, ready to take everyone into the Motherland.
Emmerich
There's a big bi-directional staging yard here where freights lay over before or after crossing the border. A lot of westbound freights lined up side by side whilst I was loitering, with the german drivers alighting to let another pair take the consists further on their journeys.
From the platform, the views are therefore very side-on and, honestly, not the best. Every so often a freight would pass straight through, but most of them went into the yard. Fortunately, there was a diesel shunter that had just detached three tankers from a freight for delivery to a local factory. I'd arrived just in time to see it run around and take the tank wagons away.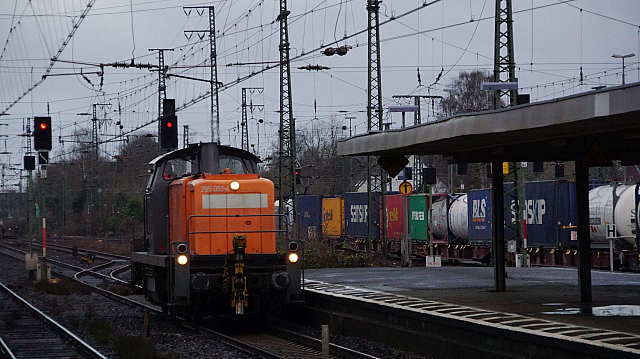 Something interesting then happened. A coal (or possibly any other commodity) train passed through... though the carriages were eerily familiar. Was this the same train that passed me in Amsterdam Centraal? It sure looked like it... but there's probably 100 trains of similar consist on the line at any point.
A few ICE trains passed through...
And then I was off to the next destionation.
Emmmerich-Elten
My initial plan had always been to get to this station as it looked, from google maps, that all trains would pass through at full speed. I caught the next train westbound to check it out.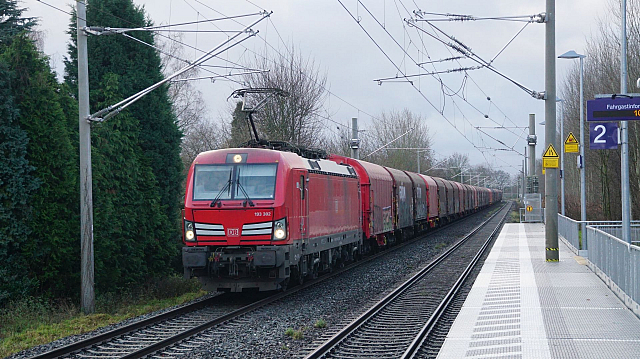 Unfortunately, the sun chose to come out just as I arrived, so all the westbound freights were hard to photograph. There were also no eastbound freights to be seen, so I quickly headed off into the small town for coffee and a pitstop.
Praest
With the initial plan not proving effective, and seeing that all the westbound freights were coming through to the yard, I chose then to head east past Emmerich to Praest.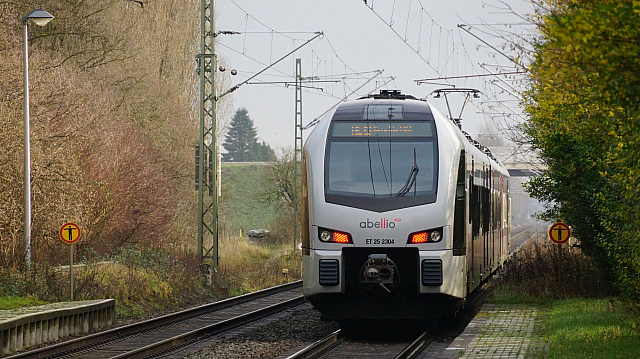 It didn't take long for freights to pass... but I must say there weren't as many as earlier in the morning.
This little side-platform station was beautiful. Lush foliage with tiny platforms and a level crossing to provide forewarning of impending trains. Actually, on that note, there were three level crossings in the vacinity and they all went down at the same time... At least 8 minutes prior to a train coming! I'm not exaggerating... 8 bloody minutes!
After an hour, I was ready to head back to the big smoke, but I hadnte realised the obtuse timing of the crossing gates and ended up stuck on the wrong platform right when my train passed through! Blessing in disguise though... The shunter I'd observed earlier came in the opposite direction and in perfect light.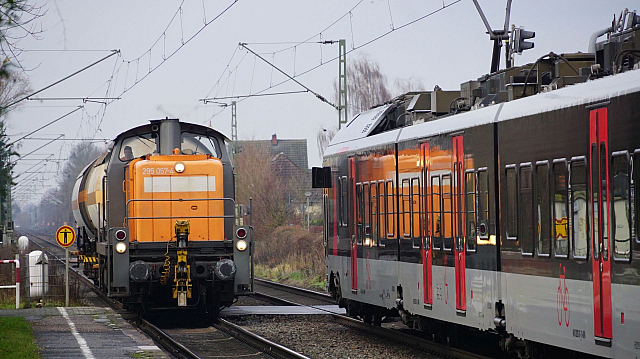 With the light coming from the south, I chose the southern platform where possible to take photos, but the trains all seemed to be coming from the west, meaning they were easily too close to the lens.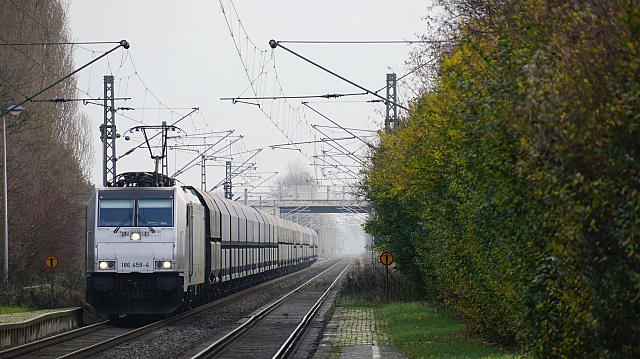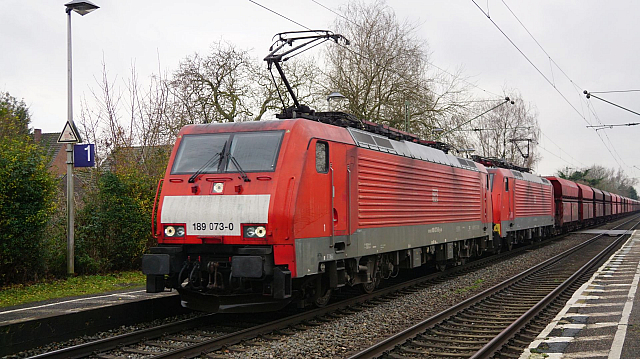 Thanks to missing my train, I had another hour to kill. Pretty easy though as there were numerous freighters and ICE trains passing.