South Yarra is a suburb of Melbourne located to the south-east of the city grid. It is a junction for the Sandringham line which splits from the Cranbourne/Pakenham and Frankston lines. Being two stops from Flinders Street Station (which may as well be known as 'Central' for suburban services) it sees a lot of traffic.
The next stop down the main line is Hawksburn and there's some fairly scenic spots along the line between these two stations. There's also a lot of traffic to be seen during daylight hours.
Most of this traffic is Metro Trains Melbourne's standard suburban stock of either the Siemens EMUs or the refurbed Comeng EMUs. Every now and then a V/Line V/Locity or N-Class hauled long-distance passenger service will come through.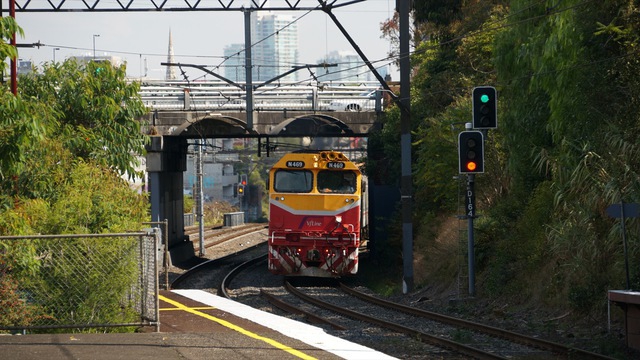 Every so often, you'll see a freight train. There's currently four services that frequent the area:
Long Island Steel Train
The first off the list has a scheduled path daily around 11:30am. It doesn't often hit this mark, usually much closer to 10:30am on weekdays and then midday on weekends.
Apex Gravel Train
I've sighted the gravel train infrequently. It usually appears at around 8pm on weekdays and I've not successfully captured it during any daylight hours.
Morwell Paper Train
The paper train has made an appearance in the steel train timeslots once or twice. I don't know it's exact schedule and that makes it even harder to spot.
Kensington Grain
This train reverses via Caulfield or Pakenham every so often.
South Yarra Station
Everything south-bound comes through here. Heading north, you get 8 tracks towards Richmond. These tracks all cross the Yarra River at the same time on a very plain concrete bridge. Not very picturesque from afar, but there is a nice pedestrian bridge parallel to it on the east side. This bridge puts you within 2 feet of the bogies of anything southbound on the Pakenham/Dandenong line.
The platforms also provide a vantage point in either direction due to their length. There's a signal box and gantries that can provide good framing. The condos that are going up around the station also help.
Hawksburn Station
This seems to be another one of Victorian Railways cookie-cutter station templates. 2 bi-directional lines pass through Hawksburn Station, one servicing Frankston and the other Cranbourne/Pakenham. The station was opened on the 7th of May 1879. You'll find that it is very similar to all other stations towards Caulfield.
Locations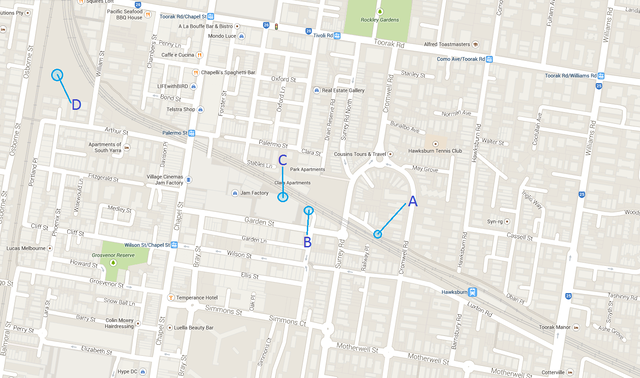 See the map above for some great locations around the area. I've just realised I've left the bridge north of South Yarra Station off. Not too hard to find though.
Location A: My new favourite spot
Turns out there's a really nice S-Bend between South Yarra and Hawksburn which provides some great locations for capturing these services. The approach towards Hawksburn just before the Cromwell Road overpass provides a great angle to capture traffic from South Yarra with a good amount of scenery for framing. It's also very accessible, legal and, when it's not raining, has heaps of natural light.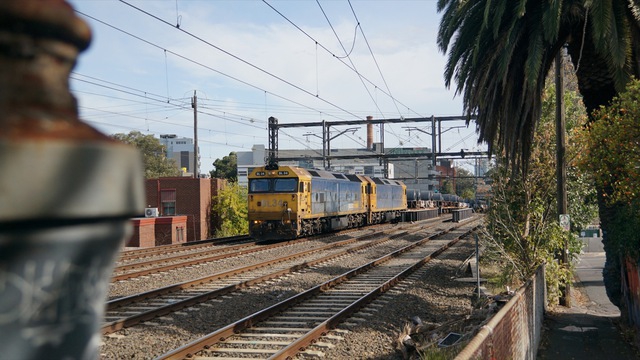 Wide shots allow great framing...
Whereas the 200mm zoom on my NEX-5R nearly lets me get a good frame on the Jam Factory tunnel...
Portrait shots work too...
And if you're feeling game... you can also shoot backwards...
Location B: Another spot on the way back to South Yarra
And, just in case you've been hanging for a service that hasn't arrived... you can follow the line back to South Yarra and, hopefully, not miss out on any shots. There's a little lane-way named Palfreyman Street. You'll want to be at the northern-most end of it. Once there, you're on the right-hand curve heading out of the Jam Factory tunnel. Depending on the time of day, the lighting can work here too.
Location C: View from above
The Jam Factory carpark provides quite a good point for photos. You get to choose the elevation. Lighting is an issue though, especially at this time of year. As you are effectively looking east-west the sun will always be shining at you. Fortunately the condo in front of you can block the light (especially around freight-train-o-clock) and help with exposure.
I happened to catch the steel train here on the 17th of May 2014.
Location D: No photos yet.
There's a few park benches on this grassy knoll; perfect for reading a book or a railway magazine and watching all 4 railway lines heading out of the city. You'll hear all the trains coming from the east as they approach the Jam Factory tunnel and slow down for the curve. You'll also hear anything in the other direction as they alert passengers via South Yarra Station.
I've not actually taken any shots from this location and have nothing to report. I'll do so at some point in the future and update this post.
Location E: Half-way between Hawksburn and Toorak Station
There's a pedestrian bridge half-way back between Toorak and Hawksburn Stations... The stairs on the north-side provide a good view of the rails coming from Hawksburn.