The initial plan had been very different; after two good nights in Barcelona for NYE, there was to be a sleeper train to Paris and a Thalys to Amsterdam. Thanks to SNCF going on strike, the sleeper was cancelled! I'd wanted to take a sleeper whilst on this trip, so I scoured the web for options via thetrainline.com. It seemed that the best path was to find a cheap flight to Venice and then take OBB's (Austrian Railways') Nightjet to Munich.
Venice
Vueling got me there painlessly from Barcelona. Getting into the city was a little more difficult! There are ferries that take you from the airport to the 'island', but make sure you take the right one. You'll find both an orange line and a blue line, with the former getting you to the main train station the quickest. I had no reason to get to the station quickly (2105 departure), and the sun was already setting, so I chose the blue line. This would allow me to arrive at the easternmost point of Venice and wander across to the station. Do your research on this leg early! It's a little confusing when you're there.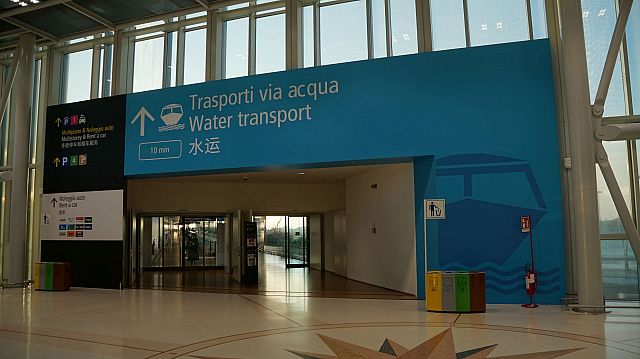 Follow the signs to the water transport... and pay attention to the lack of advertising...
Once you're down at water level, walk all the way to the far end. You'll find ticket booths and you'll want to buy a ticket to the train station. To the right you'll then find the boats, waiting, hopefully.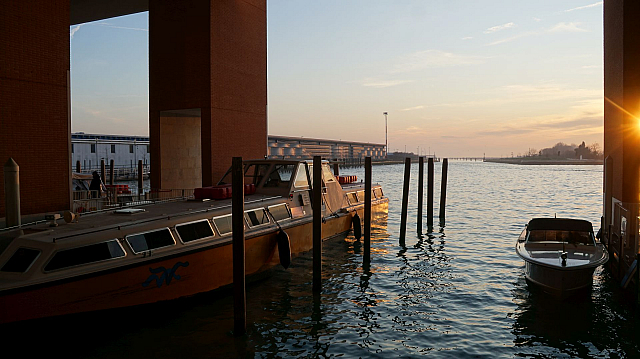 Taking the blue line mean a slight detour. Firstly, the boat has to (absolutely) dawdle through the shipping lane as it departs the airport. You'll find the private speedboats bolting past, leaving your ferry in their wake, throwing you around! Just as you're about to get to Venice itself, the boat performs a huge left turn and takes you to Murano. After this delay, you'll then end up at the first station on Venice: Nove.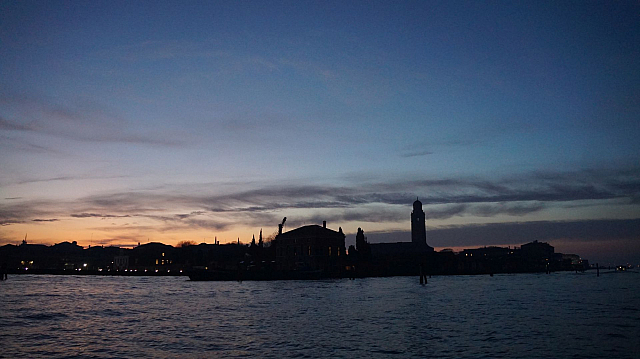 Turns out this was totally advantageous. If you get off at the popular spots, you'll just get sucked into the tourist trap areas and end up eating McDonalds. Going via the backstreets allowed me to really capture the real feeling of Venice.
Of course, you then have to traverse the market streets to get to the station.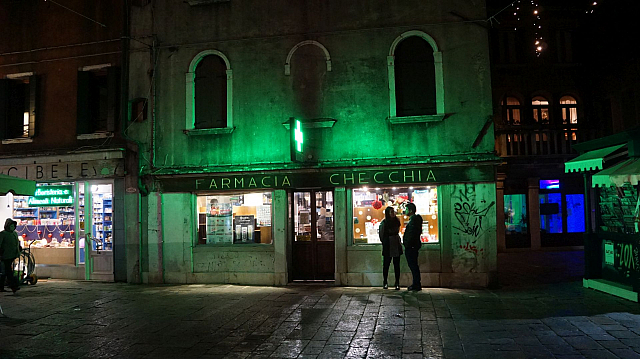 But once through it all, you'll find yourself at St. Lucia.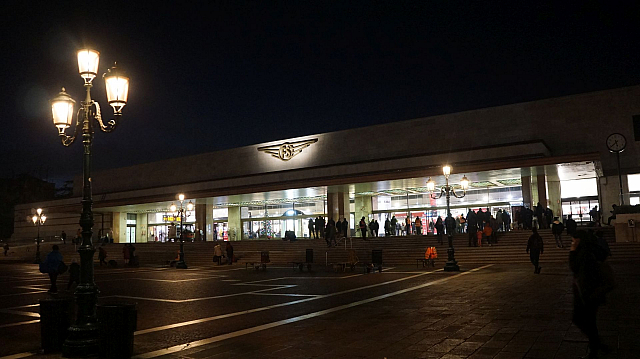 I first went to the departure board to check for my train. There was one for Weins at 2105, but not Munich? For fun, I checked google maps and it still showed that there were two trains, both departing at 2105, for Munich and Vienna.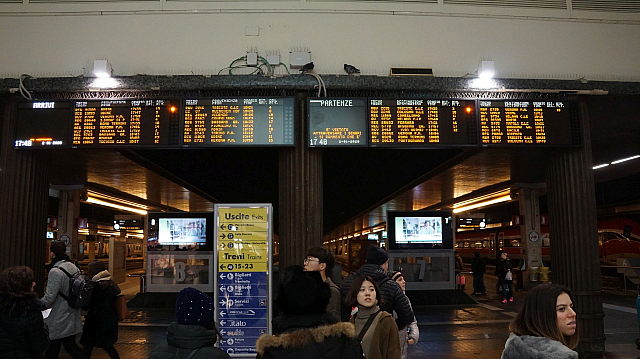 I quickly realised that Weins was the Italian/Austrian name for Vienna, but I was a little disconcerted that Munich wasn't showing! I then realised that my phone ticket told me that I needed a paper print-out of my ticket... but I hadn't had one and there was no kiosk/information desk at the station to provide assistance. In fact, there were no OBB representatives at all. I quickly googled and found an internet cafe back on the main street, so I took some cash out and went to the store. The proprietor happily printed out my ticket and asked for 70 Euro Cents. I only had a $50 note, so he yelled "FREE!" and told me to get out. Ooops... I promise I'll be back to make it all worthwhile!
Back to the station... I dawdled around to check out the sights.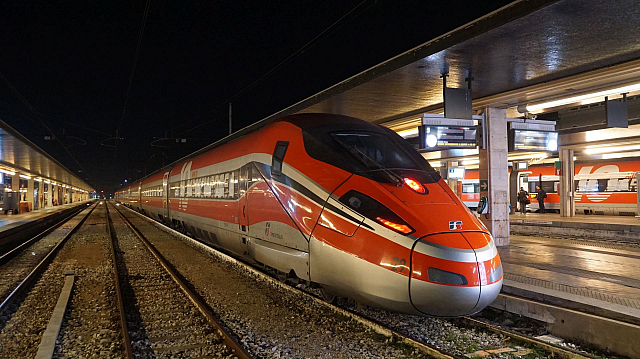 There were some beautiful Italian trains here. But none that I understood... and lots of graffiti also. St. Lucia is a terminus station and so all trains were either coming in and terminating or propelling in empty to then run a fresh service.
I still had a few hours to burn, so I wandered back through town.
And then wandered back to the station and had pizza at the restaurant at the eastern end of the platforms. Turns out all of the train staff loved this place too!
More trains came and went, more software errors on computer displays and even more OBB services... but no changes to the Weins service and no staff to help out. As the departure time was getting closer, a different type of tourist started arriving at the station...
All was looking good that a nighttrain would arrive, but I was still a little sceptical as to where I'd be waking up in the morning! I didn't bother asking... I just ran with it to see what would arrive.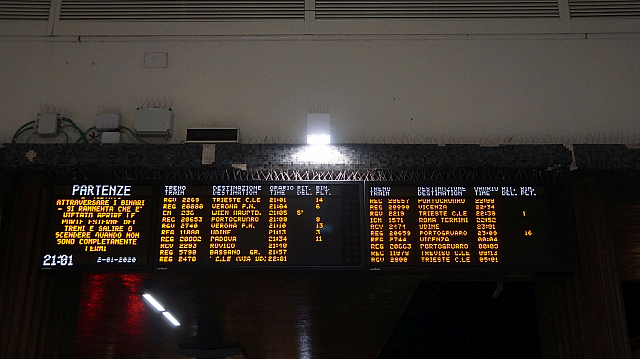 Just before the 2105 service was due, a little 5' appeared in the delay column! And then... the whole train arrived.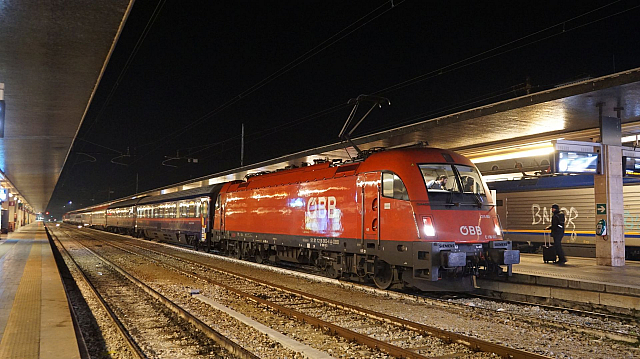 The train wasn't going to run around quickly... and the sign then decided to update and get a little more realistic.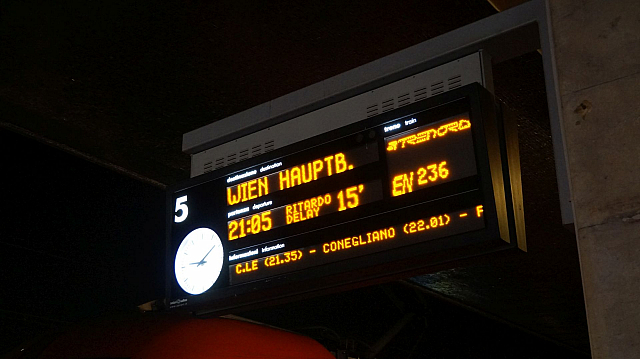 I walked to my carriage, based on the number displayed on my ticket and was pleasantly surprised to see the destination board showing Munich!
The rooms were very similar to night trains both in Japan and Thailand. I'd opted for a four-person berth, but this was really just a six-person berth with the middle bunks 'booked out'.
Before long, I'd met my room mates, we'd all then met the conductor, the train had departed, we'd ordered the first round of beers and an introduction to the nights expectations was provided: the train would proceed to Tarvisio Boscoverde, the last stop before the Austrian border, where there'd be a quick police check. We'd then proceed through to Villach where there'd be a 30 minute stop as we split the front half of the train, which then continued to Austria, and coupled to another half which had come from Budapest. Once connected, we'd proceed to Salsburg where we'd be rudely awakened by Austrian police to have an identity check. Thanks to this awakening, breakfast would also be served... as we'd then hardly have an hour before arriving at Munich.
At Udine, we picked up passengers and dumped the rear engine.
Right before Tarvisio, after a long, flat trip through north-eastern Italy, we proceeded through a tunnel, which allowed me to grab a nice video out the rear of the train.
At Tarvisio, there was enough time to quickly jump out and giggle at the snow.
Once at Villach, and quite a few beers later... all from my cabin got out and stretched our legs. There was snow on the ground and it was freezing... it was also 1:30am, but whatever... there wasn't much room for sleep on the trip anyway! We were then alerted that the train from Budapest was an hour late... so there was no rush! A freighter passed through, but I was too slow for it.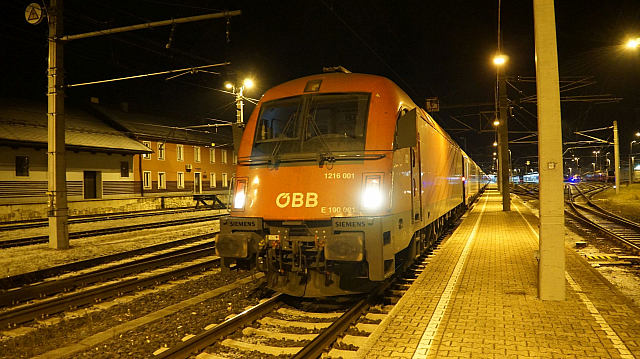 After realising how cold it was, I jumped back in bed and passed out. I vaguely remember the coupling of the trains... but that could also be fictitious. What wasn't fictitious was the border patrol and the torch in one's face. I had slept with my passport in my pocket, so I presented it very quickly. Before long, breakfast was served, and well, it was a bread roll and a packet'o'jam.
Munich
This was a very brief stop-over. I'd considered checking out the sights, but it was 0615 and there wouldn't be much happening for a few hours. I was also pretty tired, so I wandered over to the DB booth to get tickets on the next ICE... which was in all-of 10 minutes. The queue was around 20 people long, as our train had arrived 45 minutes late, with everyone trying to re-adjust their connections. I must admit, the service was fantastic and the conductor on the night train kept telling us that if connections were booked on DB trains then they'd be easily transferred to the next service at no cost.
I didn't feel like waiting in the queue, so I jumped on thetrainline.com and booked a forward-facing seat. It came through within a minute and I was set. I did this as I was standing next to the ticket queue, watching that I'd beaten the person at the front of the line. I then wandered and checked out the station.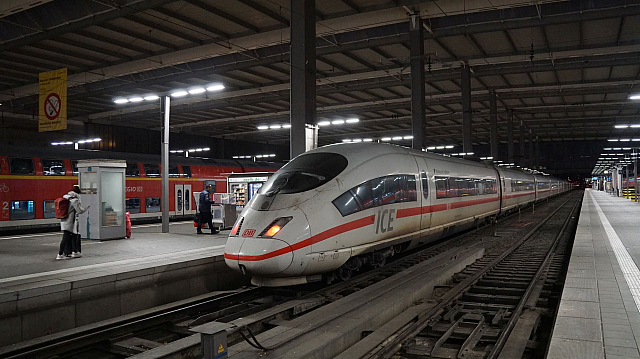 There was a weird carriage in a stub road, seemingly doing nothing?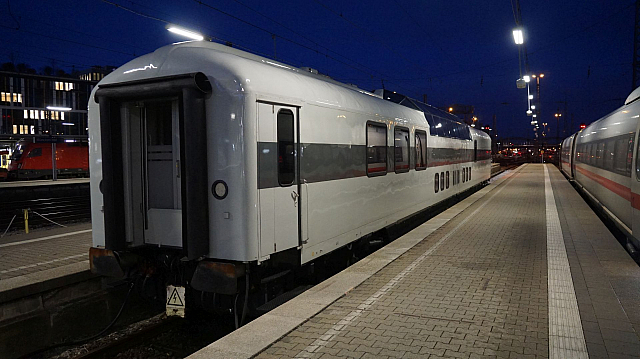 And then we were off... The on-board bordbistro was delicious... beer and currywurst, what more could you ask for!?
It was a beautifully quick and seamless trip. A quick transfer at Frankfurt saw me get to Wuppertal in no time!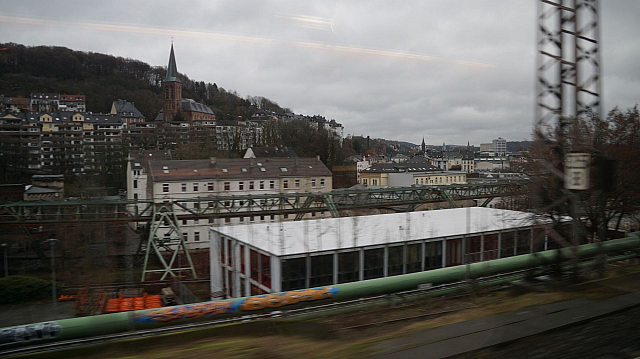 What weird contraption is that, built on top of that river, down there? Oh, of course, the Schwebebahn!