This beast was AUD$30 at the local tip and (after failing with two of them months back and selling them off as parts) I thought it looked like a good challenge.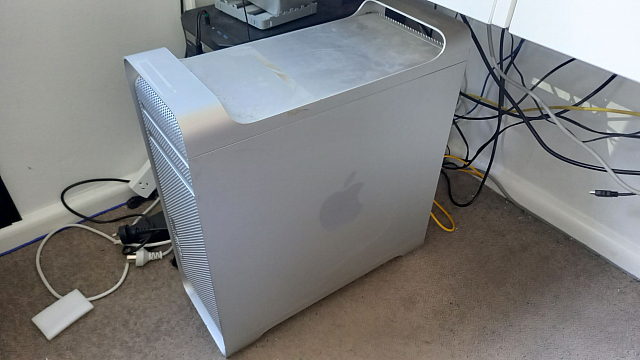 I got it home and checked the guts (you're not allowed to open things at the tip!), noticing no drives, no drive sleds and no RAM. This is all fine... except the RAM... those FB-DIMMs are proprietary hell. I tried to power it on anyway and got the slowly-pulsing power light, as expected when there's no RAM installed.
RAM must be installed in pairs, in a specific order. I scoured the web for the cheapest pair (or two) as I didn't want to sink too much cost into this thing, until knowing it'd boot. The FB-DIMMs arrived ... slowly ... darn Santa! ... and one pair was installed in the first two slots of the top RAM card.
Power was applied... and... a solid power light! No bong? Do these Mac Pros even go 'BONG'? Power was quickly removed and the second pair of RAM was installed into the first two slots of the bottom RAM card. This is, of course, following the installation order as expected. Power was applied once more and ... another solid power light!
Next up was disk. Without the sleds, the drives would be suspended in mid-air from the fixed SATA connectors. I therefore chose a very light-weight SATA SSD drive, anything heavier would apply way too much pressure to the SATA sockets. I'll install more drives later, once I print some sleds. For now, the goal is just to get an OS installed and booted.
So yeah, an OS. Let's not get too tricky, too early. This is a Mac Pro 1,1 and it's only good for OS X 10.7.5, so let's start with anything I have, bootable, lying around that keeps below that maximum. Yes, this unit can be flashed to pretend to be a Mac Pro 2,1 and can even run up to OS X 10.11! It can also run Linux and just about anything else, with the caveat being the 32-bit EFI vs. 64-bit CPU. This machine was born during the world's transition to 64-bit EFI, and so is quite a hybrid.
You'll find OS X 10.5 Leopard here, if you don't have media lying around. Fortunately, I had a DVD of OS X 10.7 Lion in my box'o'junk from previous eMac/MacMini tinkering. Of course, it wasn't legit... it was bought from a computer fair for the exhorbitant price of AUD$20 and is merely a 'restore' disc. Regardless, the bloody thing booted... and installed... to 75% and kept stalling.
The stalling was from a scratched DVD. Not the best investment. Realising this was never going to work, I instead burned a random ISO of 10.6, which I had on my NAS, to a USB key with Balenca Etcher. Balenca might warn that there's no bootable yada on the media, but please disregard this warning! Hit next-next-finish, slap that USB in the front of your Mac and reboot! Pray that the flashy-flashy-folder icon pisses off and that the installer starts.
It worked!
Fake MacPro2,1
I have a plan to upgrade the CPUs to X5365s, so I followed this video to upgrade the BIOS, using this file and this file. This all worked splendidly, even though it required a little mucking around. I'm sure you could just extract all required files from the mounted DMGs into a single folder and make the process a whole lot easier.
More RAM
The next two 2gb FB-DIMMs arrived and simply just-worked... Mac OS 10.7.5 displayed 6GB!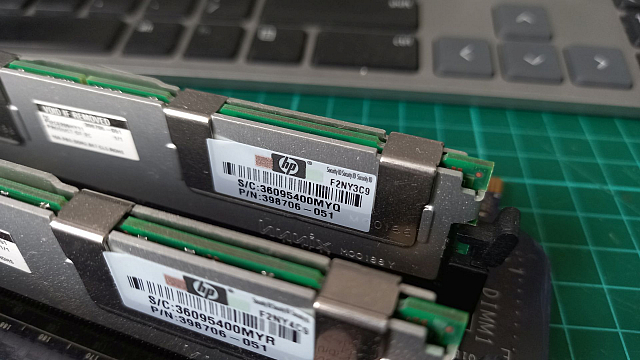 Yay... but not enough for 10.11... so... buy more. I found a bargain on generic Samsung FB-DIMMs and everything worked perfectly... 22gb baby! I have all slots full now, but it seems you can install 64gb of RAM if you really desire!
OS X 10.11
Follow this Youtube video to get OS X 10.11 on the machine. It seems it'll be the last ever version that'll work. Make sure to never run the software updater. I did this and it stopped the machine from booting up again.
Note that this was still running on the stock NVidia video card. You can now probably guess what's being replaced next.
Better Video
First I tried a Radeon 6870 and it was nice... but then I browsed to MacVideoCards and determined the 'final' best card for this machine: R9 280X. This thread about the card had ultimate success with the MSI Gaming 3GB version. I checked eBay and they were going for quite a lot of cash, so I scoured FB Marketplace, grabbing one for a nominal fee! You can use ATIWinFlash on Windows 7 (no idea if newer windowses will work!), or amdvbflash on linux. The latter was MUCH easier. I put the card in as my primary video and booted to MX Linux.
$ chmod a+x ./amdvbflash
$ sudo ./amdvbflash -s 0
$ sudo ./amdvbflash -p 0 MSI\ R9\ 280X\ 3GB\ Mac\ EBC.rom
AMDVBFLASH version 4.71, Copyright (c) 2020 Advanced Micro Devices, Inc.

Old SSID: 2775
New SSID: 2775
Old P/N: 113-C3865000-G77
New P/N: 113-C3865000-O77
Old DeviceID: 6798
New DeviceID: 6798
Old Product Name: 113-MSITV277MH.300 TAHITI B0 XTL C38650 GDDR5 3GB 
New Product Name: 113-MSITV277MS.350 TAHITI B0 XTL C38650 GDDR5 3GB 
Old BIOS Version: 015.039.000.001.003331
New BIOS Version: 015.041.000.000.003435
Flash type: W25X20
Burst size is 256 
20000/20000h bytes programmed
20000/20000h bytes verified

Restart System To Complete VBIOS Update.
So yeah, after downloading, make it executable and then save the current ROM with -s. Use -i to get the ID of your card if you have mutliple installed. Finally, write back with -p followed by the card ID and the filename of the ROM.
Note that in the MacPro you'll need one 6-6 and one 6-8 PCI-E power cable. I only had two 6-6 cables, but a random ATX 6/8 cable on hand, so I rigged it together!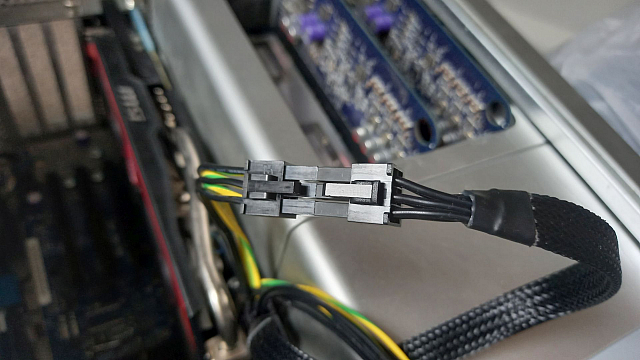 I tried all ports, but the boot only seemed to show on the mini-display-port closest to the DVI port!
The resolution options in OSX were fantastical. The best resolution, I found, was 3840x2160 (2160p).
More Disk!
Whilst screwing around with the video card, I had the 3D printer working overtime on a drive sled. The STL was actually pretty detailed and Cura demanded a 4.5hr print. Whatever, better to make it strong and safe so disks don't drop onto the newly installed video card!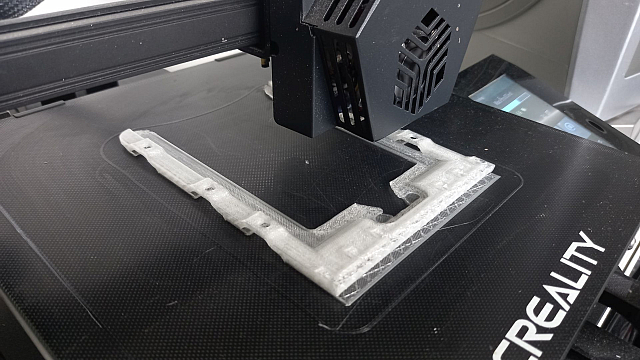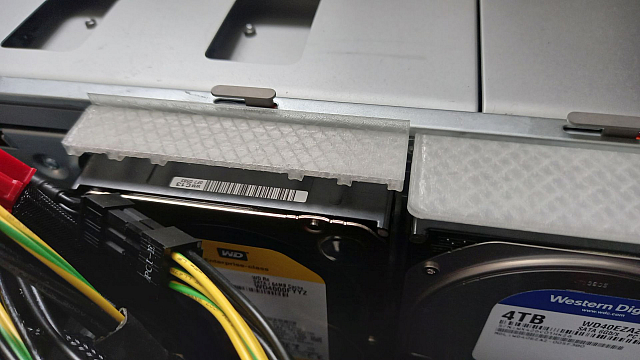 Once printed, I grabbed a 4TB from the ex-NAS pile and slapped it in. I had no need for any of this space, but maybe I can just install a ridiculous amount of OSs on here for a museum-esque experience.
What first?
Max CPU?
That plan to upgrade the CPUs came true and was very easy!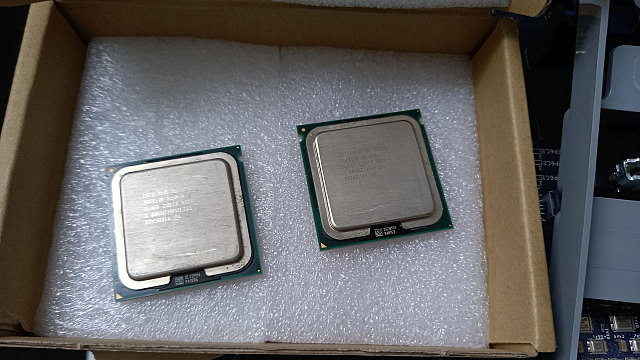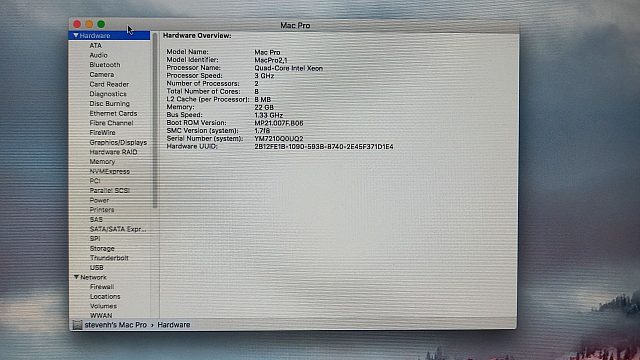 So yeah, the final answer/question is... now what? A-Train?