Turns out Microsoft, in their infinite wisdom, decided that InfoPath Designer 2013 will only work with one specific version of Visual Studio. If you don't have the correct bits installed, you'll get this: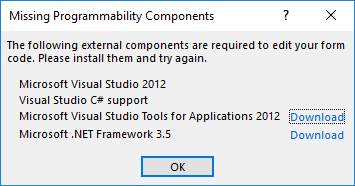 Browse over to here for downloads. Note that there's around 16 versions of Visual Studio 2012 to choose from. Do not choose Visual Studio 2012 Express! Also do not choose the standard 2012 version as it seems to be a link to some other random installer. Instead, select Visual Studio Professional 2012 and install it... You should then get the following error:

From here, just hit download (direct link here to Visual Studio Tools for Applications 2012) and then install/repair. I had tried to install it first and so had the extra message that it needed repairing.