After getting the PC-9801VX up and running via the monochrome output, it was time to get the RGB signals properly-connected to a real monitor. Thanks to previously playing with Amigas, I actually have an LCD on-hand that can do 15khz via a standard VGA cable. What to do? Hack together a cable that would interface with the DB-15 port on the PC-9801.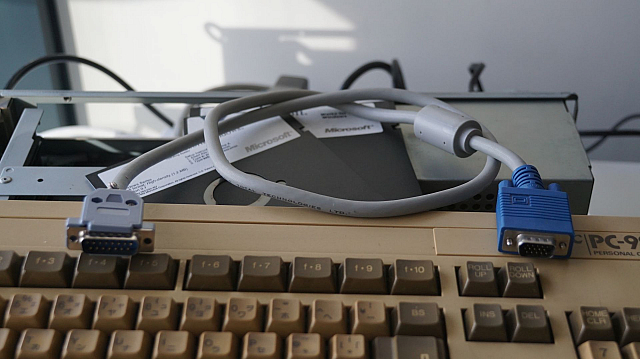 As mentioned, this unit uses a DB-15 Analog port which looks exactly like a Macintosh Video port. Of course, it's not, so you can't just use a Mac adapter, but you can refit one, thanks to this blog. You can also just roll-your-own-cable, using the pinout here. Jaycar has the necessary DB-15 male port with housing and the cable above was built.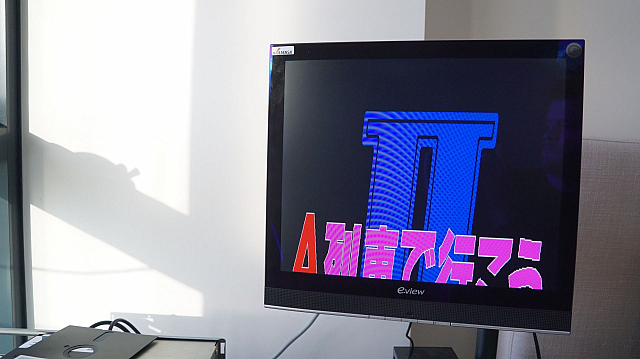 Plugging it in saw the picture work beautifully... but the fonts were still out. A-Train was also still scaling off the bottom edge?
Front-Panel Dip-Switches
Turns out there's display configuration options on the front-panel to configure resolutions and font-sizes. As seen above, the DOS installation screen looked OK for the most part, but the selectable menu options showed stretched/cut-off fonts!? A quick read of the the dipswitch descriptions pointed to items that may help.
SW1-1 sets the output resolution from 640x200 to 640x400 and this helped a bit, but the fonts were still wrong. I then also toggled SW2-3 and SW2-4 to enable both 80-character screen width and 25-character screen height. After this? Perrrrrfect!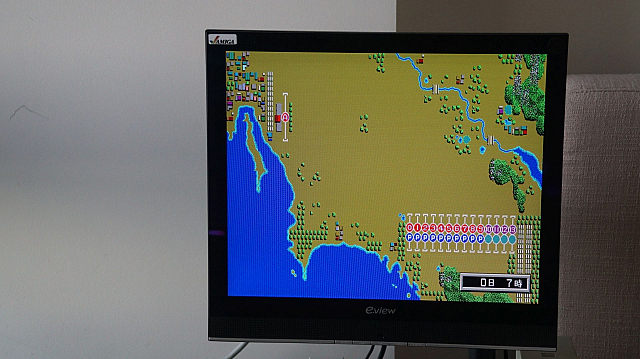 Very similar to the version from the MSX.
You don't have a 15khz monitor?
No fret! This is the internet and someone has already done this before. To make this work, you'll need a GBS8200 video adapter. Once you have this in-hand, you'll need to either wire things in directly, or build a circuit such as antarcticlion's GBHV_RGBS_CONV adapter. I've had a few PCBs printed for me...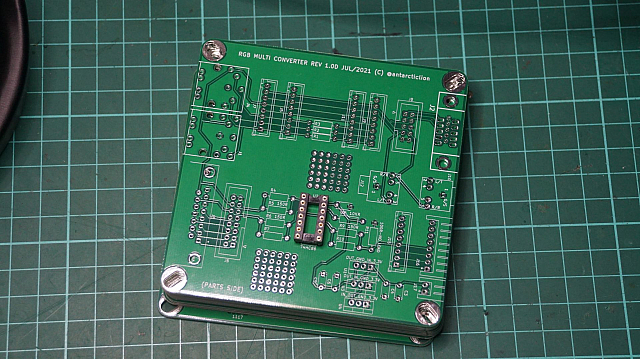 ... and I intend to build them up and test them. If anyone wants one, then contact me here. I'll post again once I've built one and got it going.
Whilst still stuck on the wrong side of the globe, having to watch borders closing again thanks to new variants, I decided I'd make the most of the plethora of live cameras popping up in Japan to chase the Twilight Express Mizukaze on one of it's current round-trips. It's actually really sad to think that I first virtually chased this in 2017, saw it in 2019 and then haven't been able to go back since!
But enough of the whining, we're here to chase it virtually. The official journey starts at Shin-Osaka Station, but since the consist is stored in the yards just south-west, there is no direct route to the platform it's meant to pick up passengers on. Instead, it runs a huge loop via Osaka Station! This is a bonus for us as it means it passes more cameras.
Shin-Osaka: Dead-head to Kyoto
As mentioned, the train has already done a loop via Osaka Station and can be first seen exiting Shin-Osaka Station at 0933, heading north on the Shin-Osaka Webcam.
Mukomachi: Dead-head to Kyoto
Instead of turning at Suita, or even at Mukomachi?, they run the service all the way to Kyoto! Is this some kind of shake-out? It passed the Mukomachi camera at 0952 heading north.
Kyoto Station: Dead-head back and forth
Thanks to the Kyoto camera just to the east of the station, it's easy to watch it bounce back and forth. Here it is passing at 1010...
And then back again at 1023...
Mukomachi: Dead-head to Shin-Osaka Station
The goal is to arrive at Shin-Osaka at 1114, for a 1147 departure. The train is seen passing back past the Mukomachi camera at 1032.
Arriving at Shin-Osaka for departure
Finally, the train is seen on the Shin-Osaka Webcam one more, arriving back in to Shin-Osaka Station at 1113 on the correct platform.
Nishinomiya
Another user has set up a webcam in Nishinomiya and the train can be seen passing at 1202.
Base of the Akashi-Kaikyo Bridge
There's some amazing cameras mounted on one of the supporting piers of the bridge to Shikoku. At least one of these point towards the railway and the train is seen passing at 1225.
Okayama (x3)
The train's route is quite random this time around... it passes Okayama to Nakashou, goes back to Seto via Okayama, then westbound once more to Kurashiki. It therefore passes the Niwase webcam three times! Here it is on the way to Nakasho at 1432...
And then back to Seto @ 1550...
And then back to Kurashiki @ 1733...
Unfortunately the Okayama Freight Terminal webcam is offline. There was also the meant to be a camera overlooking construction at Hiroshima Station, but that's now changed to a view over Kure Port and Pachinko Parlours.
Amarube Viaduct
I haven't been able to find any other webcams for the train's western leg, so its Day Two journey around Matsue and Shinji will be if-a-tree-falls-in-the-woods style. Fortunately, on Day 3 it passes the Amarube Viaduct at around lunch time. The viaduct's camera is some kind of older security camera and only produces singular frames. Fortunately it does refresh relatively quickly! I wrote a bit of code to continuously poll the image, check if there's a difference and then save the files. From here, I then filtered out the boring parts and turned the rest into an animated gif.
Above you'll see some beautifully-orange KIHA 40s running the local services, tour buses delivering hoards of ants, KIHA 189s running the Hamakaze and then finally the KIHA 87 Twilight Express Mizukaze bolting through, heading east.
Back via Kyoto
After meandering back through Fukuchiyama and Funaoka, the train passes the Kyoto Railway Museum and arrived into Kyoto Station. Thanks to the Kyoto Camera, we get it heading in...
And then heading back out on its final leg to Shin-Osaka...
And then, via the Mukomachi camera...
And finally back via the Shin-Osaka Webcam...