Just got my car back from the mechanic... he does a really good job, but I'll leave the name out of it for all intents and purposes.
Turns out I'd done too much off-roading in my poor little MR2 and had filled the engine bay with dirt/dust/grime. Mechanic took the liberty to wash it all out... looks great!
Unfortunately, it didn't run so good anymore.
Symptom
Upon acceleration, the tacho would get to 1,500rpm and then it felt like the rev-limiter kicked in. The engine would burst about 100rpm, then drop back to 1,500, then back up and down, on and off.
It felt terrible to drive... if you timed it right, you could stop accelerating at 1,459rpm then gun it and it'd jump to 2,000rpm and continue... BUT THE SUPERCHARGER LIGHT STAYED OFF.
Something had gotten into the wiring and was going haywire. Stopped the car, got a torch and checked everything. All was connected apart from a cracked up vacuum tube. Thought it was the culprit, but upon sealing the connection it was still failing.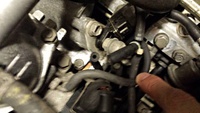 I could see the supercharger clutch engaging when I feathered the throttle, but it would pop back out just as quick when the engine dropped revs.
So... resorted to Google and found this: http://forums.club4ag.com/zerothread?id=89527
Reading the second post, the user indicates that the TPS was causing his engine to start/fail/start/fail... same symptom as mine.
So, went back to the engine and popped off the TPS connector.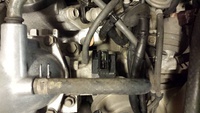 FULL OF WATER.
Solution
Dried it up and ... the MR2 is back to bat-out-of-hell status... I love my little green Supercharger light!
I'm only posting this so that other people can find this information easier.