If you search any Japanese Hobby Store online, you'll find that Rokuhan dominate the market when it comes to Z Scale track. It seems that, back in the day, there were a few other manufacturers, but they aren't that popular anymore.
Whilst going crazy-shopping on Buyee lately, I bid on some random auctions of track, not really paying attention to brands and getting it all for cheap. Turns out it's cheap as they're literally piles of junk track from companies that no longer exist. The only real exception was a stash of Micro Trains track which seems to have come from America to Japan and now into my hands in Australia.
Rokuhan
As mentioned, currently the leader of the hobby in Japan and widely available. It's very much the Kato Unitrack of Z Scale. I've invested heavily in it and will use it as the core of the layout.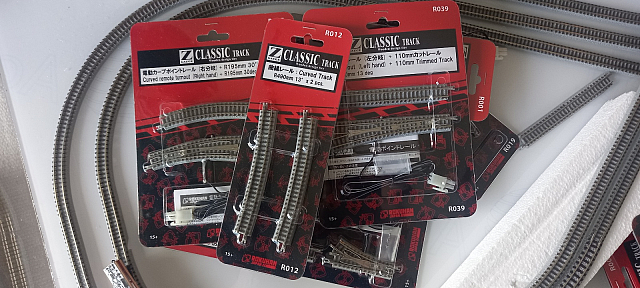 You can get insulated joiners and power feed modules to segment your track as required.
Akia ZJ Gauge Track
This seems to be a real relic and was purchased in a bulk set of track from Yahoo Auctions.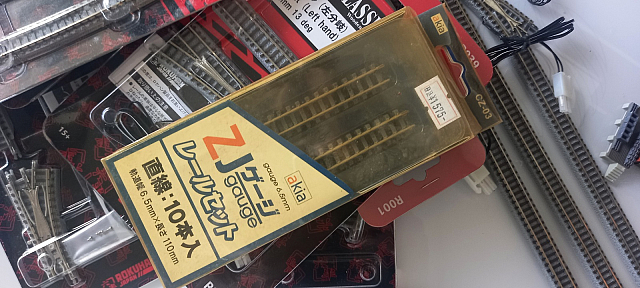 I don't think I'm even going to open the box. It looks as bad as the track that came with the Akia trains... and well, that makes sense.
RealZJ Real Track
Simple name, but quite nice track! The sleepers are further apart than Rokuhan and that makes it look more like cape-gauge.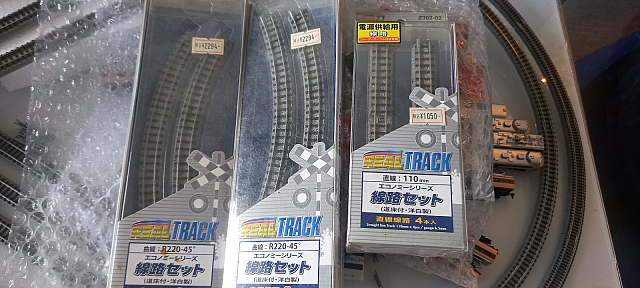 I happened to need a piece of this as I had failed to order the correct parts list for my intended layout.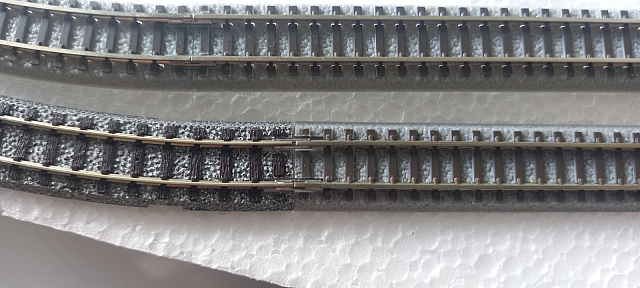 With the plastic clips removed, the track happily joined together. The Real Track is the bottom-left piece. As you can see, the sleeper difference is obvious, but could be disguised with enough scenery. I don't intend on keeping this piece in place though.
Micro Trains
This USA variant is immediately obvious. The ties are much thinner and the spacing is might tighter. It makes sense as it's trying to emulate standard gauge.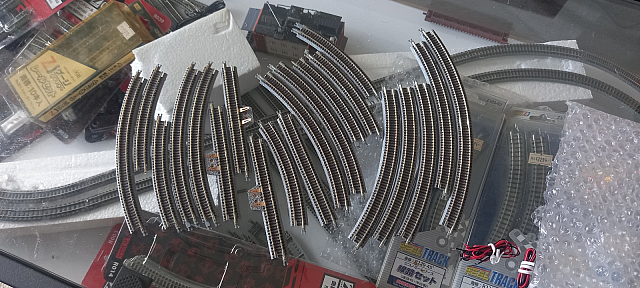 Again, as that I'd failed to order enough of the track I needed, I swapped in the larger radius curves from this accidental purchase.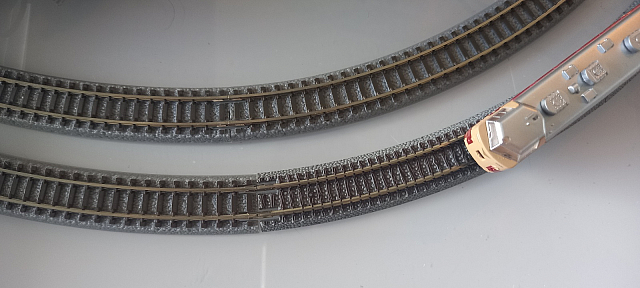 The differences are immediately obvious and really only good for areas that can't be seen; inside a tunnel or somesuch. I'll fix this bit in the future with a proper order of the remaining required track.
Layout Update
It's looking good. Regardless of my mismatched track, the layout fits and is starting to come together!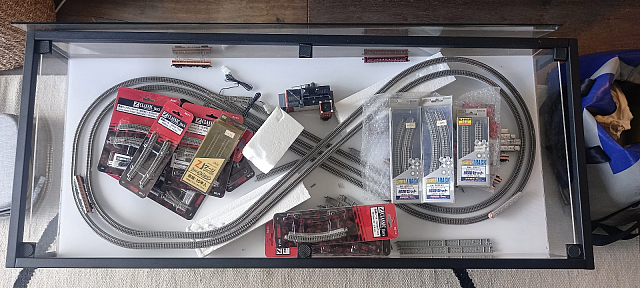 As usual, I've left next-to-zero space for scenery, so I've been mulling over the plan to see how I can fit more in. I'm really happy with the height available in the table. It could nearly fit three layers of trains!