Due to having a lot of friends in the Kansai area, I'm always found basing my holidays in Japan from Osaka. Sure, the trains have less colour and there are no where near as many networks as Tokyo, but there's something about the city, it's warmth and, of course, the people. Did I mention trains? Also the trains.
I'm usually found loitering around Shin Osaka station (both photographing and residing) as it's the only place to get on the Shinkansen and also has a lot of limited express services stopping through. I usually stay in the same place; a room rented out by a Japanese citizen for a very good deal, but this time his apartment was booked. I instead ended up near Noda Station (on the JR Osaka Loop Line) and had to, more or less, start my learning of the timetables and networks from scratch. Of course, due to JRs punctuality and level of service, I really had no issues getting around... It just meant getting up 30 minutes earlier if I wanted to jump on a Bullet train.
One good bit about the Loop Line is that it's not all just boring local trains. It so happens that I was in the 4th quarter of the line (counting clock-wise from Osaka Station) and therefore only 2 stations from Osaka itself. This was really convenient, but also meant that I was on the Limited Express line (that bypasses Osaka and goes direct from Shin Osaka to Fukushima) that is also used for freight!
Of course, it wasn't until my last day that I actually saw freight on the line, as you either have to fluke it and see standard container trains to the port out near Universal Studios Japan or wait until around 11pm to see the M250 Super Rail Cargo leave. Since I'd found out the timetables of the M250 prior to this trip, I'd known what to do this time (instead of just seeing it shoot by when stumbling home from karaoke) and got in position to get a photo of the damn thing.
M250 Super Rail Cargo
My first attempt to see this train was on a weeknight from Noda Station at 10pm, heading to Ajikawaguchi Station (which is right next to the yards where the M250 is loaded.) Upon arriving, I saw the M250 cab lit, but also noticed that the Sagawa Transport trucks were still speeding into the yard in quick progression. I watched (walking from Ajikawaguchi Station up to USJ Station) as the trucks drove in, lined themselves up in a queue and then were unloaded by forklifts. They all knew exactly which car number (flat wagon in the consist) to drive up next to. The forklift would then pick up the container, the truck would drive off and the forklift would place the container on the train.
I soon realised, as I walked along the yard towards USJ, that there were only about 3 or 4 more containers left to load... and those trucks were already in the queue waiting to be unloaded! Hence I started speeding up my return, on foot, to Ajikawaguchi, as this is where the M250 would join the Yumesaki line (the line from the Loop Line to USJ/Sakurajima), as this would provide a good vantage point for a photo. Turns out I couldn't get a clear or steady shot without a tripod, so a movie was to be it.
All of a sudden this random music started playing (turn the volume up on the movie, you can hear it at the start) over ALL speakers in the yard... I thought the Thunderbirds were about to arrive. Then I heard a very feeble train horn and, before I knew it, the M250 was departing. It was 2304 and I looked at the timetables on the platforms at Ajikawaguchi... there were to be no trains for the next 4 minutes, a perfect time for this high-speed freight service to depart. And it did! It accelerated quite quickly, passed onto the left line and then disappeared out of sight.
Of course, I then wanted to get this train at another station along the line. I tried again the following Sunday and but I only got to see the consist shut down in the yard and partially loaded. As I arrived at Ajikawaguchi Station, the lights in the yard started shutting down row by row (around 2250) and I could tell that an employee was walking along the yard, manually switching them off. Fail for this night to get a movie.
I then ran out of time in Osaka to get another shot. The train departs at a bad time, as its always when you've had your fill of shabu-shabu, you've sung a few songs at karaoke and you're just not ready to leave the booth! Of course, the last loop line train is also sometime just after midnight, meaning a run to get a video of a train is usually always out of the question. The only real vantage points are at Nishikujo, Noda and Fukushima Stations which are out of the way from where the nightlife is.
Hence I only have the above video... but I'm glad I saw the train, finally... functional.
Umeda Freight Yards
Another favourite place of mine is the Umeda Freight Yards north-west of Osaka Station. This yard seems to be shrinking everytime I go there (due to construction of new buildings), but is often receiving traffic as the west-most lines are dedicated to freight from Shin Osaka and further on to Kyoto. These lines are also shared by the limited express trains that bypass Osaka Station. This includes the Ocean Arrow, Kuroshio and Haruka (to name a few.) Seen below is a Haruka service returning from Kansai International Airport to Kyoto via Shin Osaka. The lanes are also used by the M250 on it's way to Sakurajima.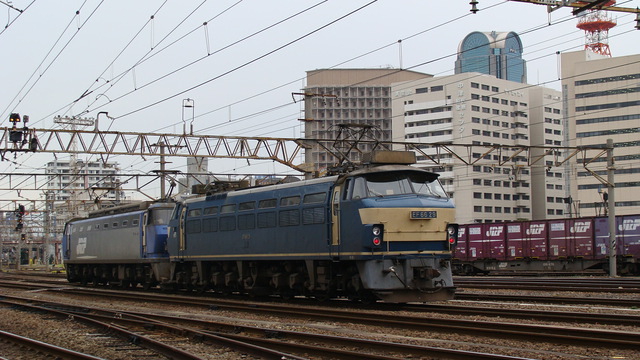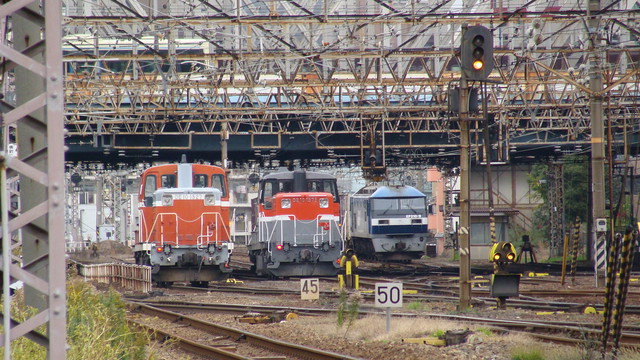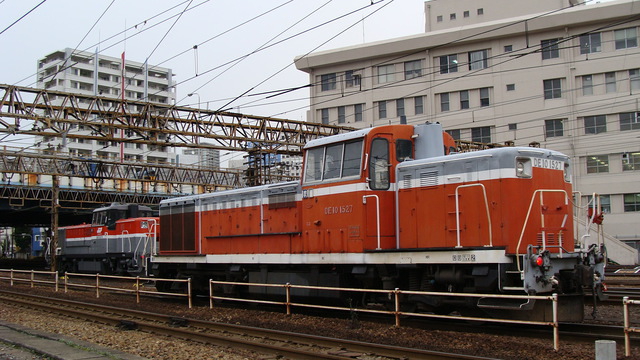 Noda Station
This station on the loop line has meant nothing at all to me before; infact I resented stopping at it on local trains as I would have been able to get to Osaka quicker if it hadn't existed. This trip was, of course, different as it was my closest station. I also had Noda-Hanshin but my JR Railpass dictated a lot of travel paths.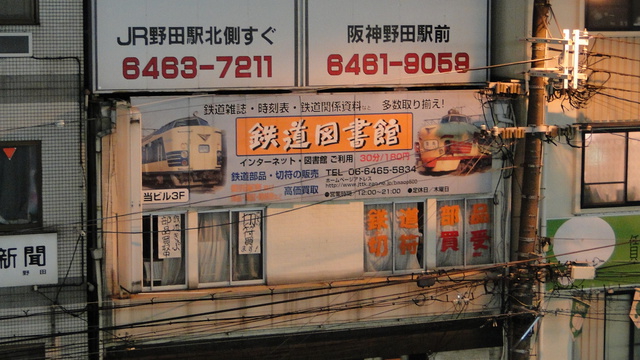 On the south side of the station is a "Tetsudou Toshokan" or "Railway Library". It turns out you can pay 180yen for 30minutes of access to everything they had available. I snuck a peek from the stairs and saw shelves of maps, diagrams and manuals... but didn't enter. They'd only be picture books to me! (Unfortunately..., this shop has now closed as of 2017)
On my last day I took advantage of the sunset and photographed everything coming towards the station (actually, I lie, most of this was from Nishikujo, but the effect is the same.) I was impressed to see a freight locomotive coming towards me and laughed when I saw it towing only 2 flatbeds to Sakurajima.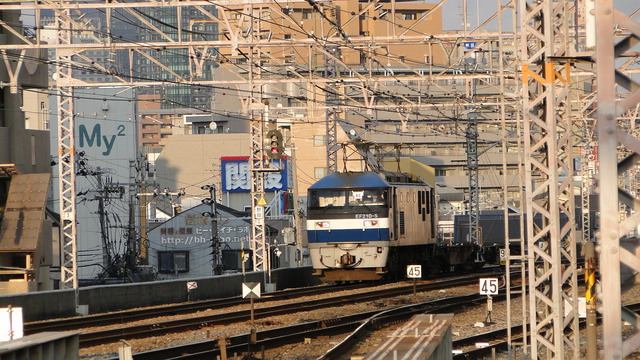 Sakurajima Station
This is the end of the Yumesaki line, whose main purpose is to serve Universal Studios Japan. I just thought I'd add in some photos of the USJ liveried loop line EMUs.