There was a model railway show on in Ararat... sure, I could've taken the MR2, but I'm getting old and lazy and therefore shouldered with the geezers onto vintage trains instead.
Getting to Ararat via The Overland
OK, I lied about vintage... well... nearly. The Overland could nearly be defined as vintage. The carriages are from the 1960s, but have been kept reasonably up-to-date. It's an easy trip from Melbourne to Adelaide on this service, or so I believe... I've only been as far as Ararat on it. Ararat needs 3.5 hours, whereas it's a whole daytrip to get to Adelaide.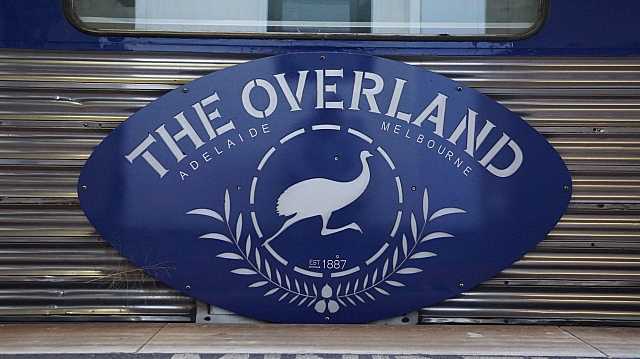 The consist is loco-hauled and Pacific National gets the honours. Unfortunately, The Overland is provided with a standard NR Class locomotive and isn't offered a livery of its own (unlike The Ghan and The Indian Pacific.) So, due to loco-hauled-goodness, the rake of passenger cars is pulled from the freight yards by a wrong-way-round locomotive into Southern Cross Station. From there, the loco detaches from the rear-end and runs around to the front-end.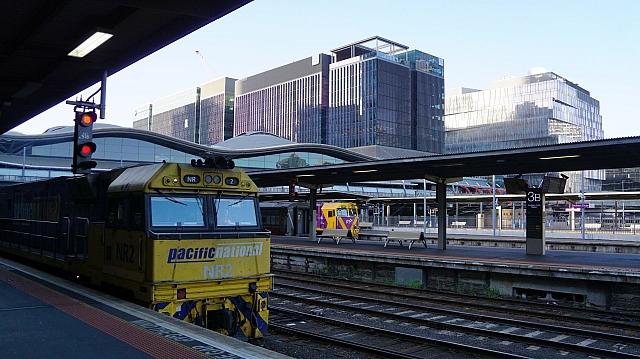 From here, we just wait for the XPT to slug off to Sydney prior to receiving a green light. Inside the train, you're presented with a very run-of-the-mill economy class cabin. It's not ugly, it's not uncomfortable... and it's not modern. Actually... with the standard gauge track to Adelaide being what it is (a freight track) the seats really do help! Unfortunately, the carriages are leaf-sprung and so I can only recommend holding on to whatever you can if you're trying to get to the dunny or the bar car.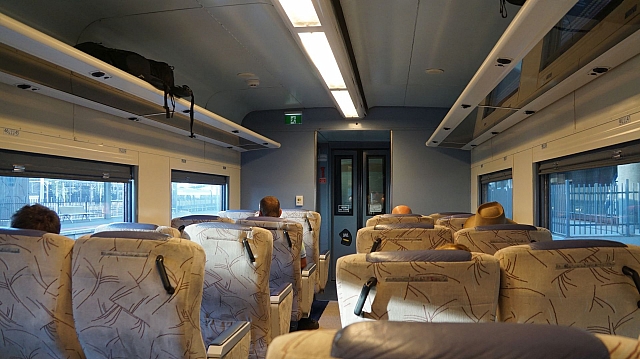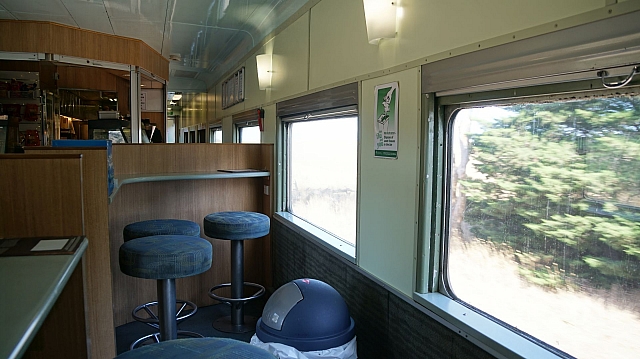 And yes... I said bar car! Unfortunately it was 8am... so I didn't bother sampling the great wine and beer that Australia has to offer. I did enjoy the view though... it's looking very dry out west!
Ararat
We arrived a few minutes late into a very warm Ararat. The Overland doesn't hang around after dropping-off/picking-up... the engine revved nicely and got out of there in no time.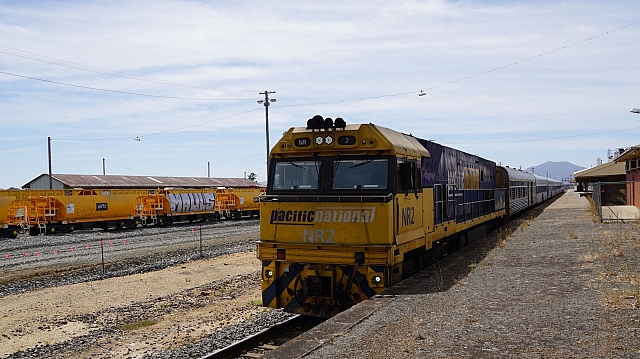 Straight away there were things to see as VicTrack is currently upgrading the line between Ararat and Maryborough to Standard Gauge. Actually, as I write this, both a grain and a fruit train have traversed the line (at around 20km/h) with revenue services! Two ballast trains were in the yard, but we weren't too sure what they were going to do.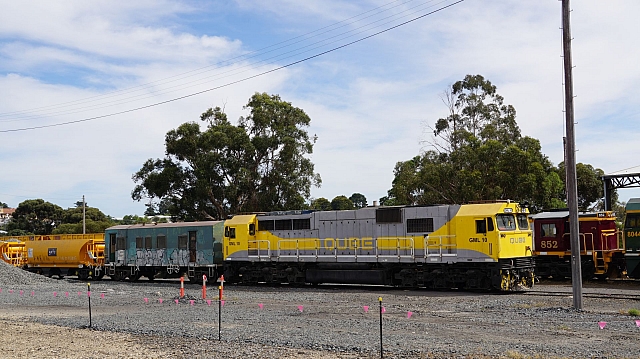 Oh yeah... we were here for a model railway show... it was dismal. I mean, credit where due, thank you to Ararat for putting on a show! But there were only 4 layouts and a few shops. Still, one of my favourites was there!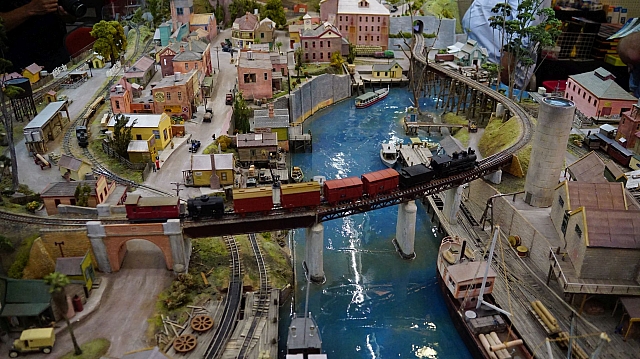 I need to work on model railway photography! But anyway... what else to do in Ararat? Well... we brought a DJI Phantom with us...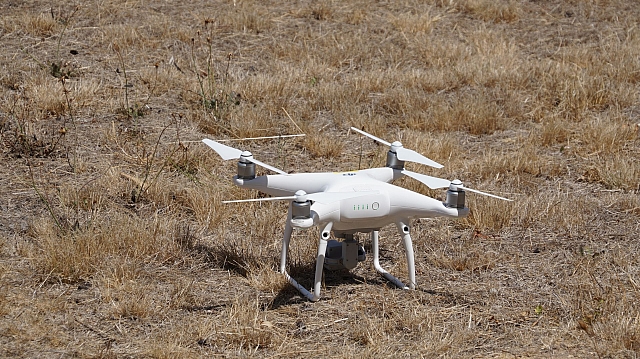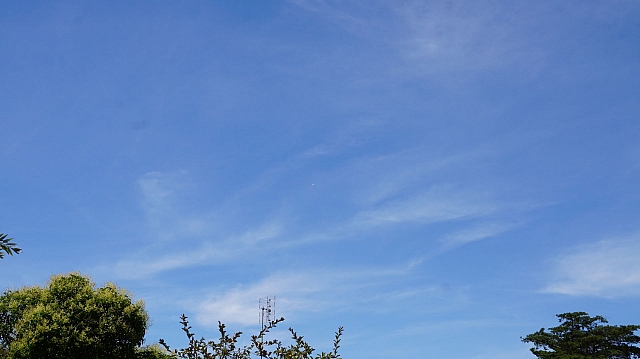 And wanted to catch both BG and SG trains... but we chose a stupid position as I'd gotten confused with the BG and SG and the new SG to Maryborough! Either way, the trains came in and were captured.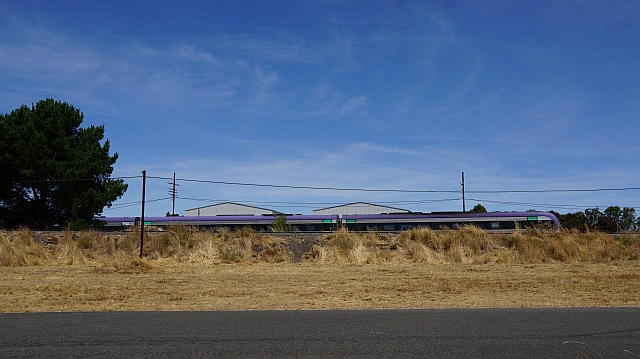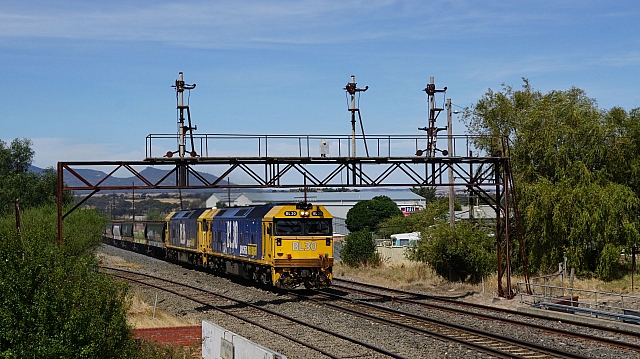 Getting Home
That V/Locity that rolled in above took us home at a leisurely rate of 160km/h when possible and on very smooth track. It even sounded a lot healthier than the NR class that towed us in on the more-narrow tracks. There's actually nothing to mention about the trip as V/Line do an amazing job with regional Victoria.