The irony... or, at least I think it's irony? I don't know anymore. But, whatever, I didn't need an excuse... what a great reason to return to Canberra for the weekend! 6029 came back to the place where it had been stored for decades and then rebuilt (to then assist in causing the failure of the railway museum) to run tours to Queanbeyan and Bungendore.
Here's the event link, but I can't see that link lasting long at all. It's not overly unique? Anyway, the basic idea was 4 shuttles to Queanbeyan on Saturday morning, followed by a single afternoon return trip to Bungendore. Then sunday was three full return trips to Bungendore.
The Line
It turns out that Canberra was an afterthought. To get to Canberra, railway vehicles first traverse the logging line to Bombala, but only until Queanbeyan where the Canberra branch actually starts. Railways were always about freight... and Canberra hadn't been invented yet... so the line that exists between Goulburn and Bombala was actually due to the need for wood, with an extension to Canberra built later.
It's a very short trip between Canberra and Queanbeyan, hence why they managed to schedule in four shuttles on the Saturday morning. There's not much along the line as it's quite flat between both stations.
Getting to Canberra from Thirlmere
It turns out that this was part of a larger rail cruise. Cruise Express ran their Southern Rail Spectactular event from Sydney to Melbourne and return. It included branchlines, steam engines and multiple consist changes. SRHC even got their standard-gauge consist set up for this specific event! It was also fun watching the consists hold up traffic in either direction...
And again Northbound...

Saturday, 1st September 2018
GL112 was attached on the rear and the train made it into Canberra Railway Station (Kingston) for it's first trip at 0900. All went well and I was waiting on the northern side of Jerrabomberra Creek. Beautiful sunlight and only 2 other onlookers.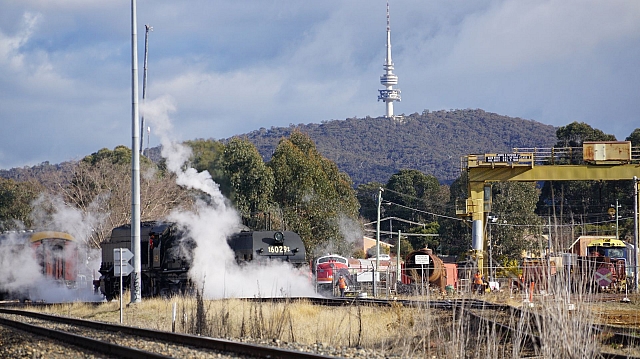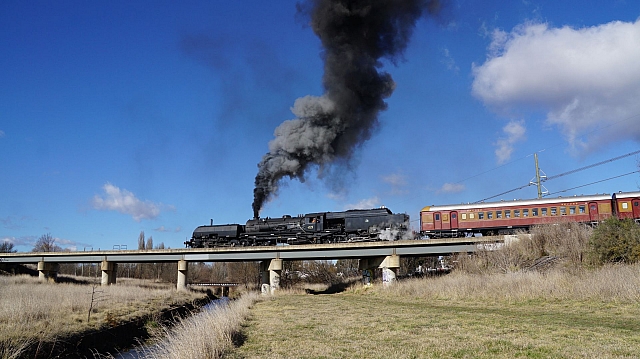 From there, I attempted to get the return from the back of Bunnings in Fyshwick, but there were no good vantage points. The carpark at DFO would've been on the wrong side, with the sun directly in ones face. A quick shop at Jaycar for a DB9 socket for a mouse rebuild and then off to the back of Nick Scali furniture to catch the 10am outbound.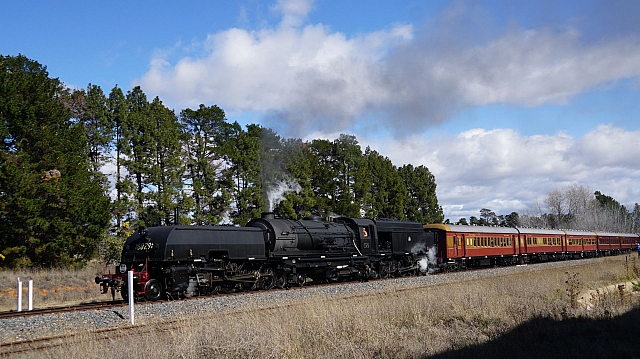 Another two onlookers... one being naughty on the wrong side of the fence... and then it was off to Queanbeyan to watch the return shuttle.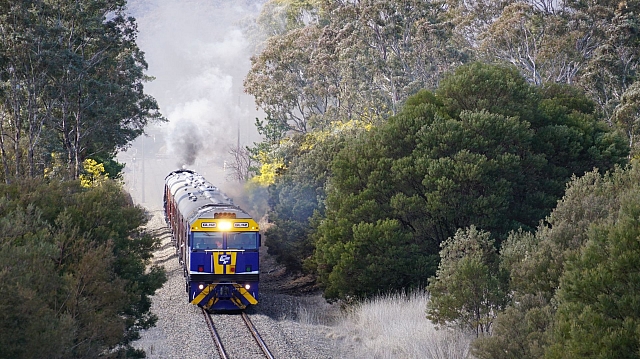 From there, it was family time for lunch. I managed to watch the 12pm shuttle depart before this... not before seeing a whole range of stupidity though... people just seem to think that crossing a yard is appropriate? They were quickly told to move on!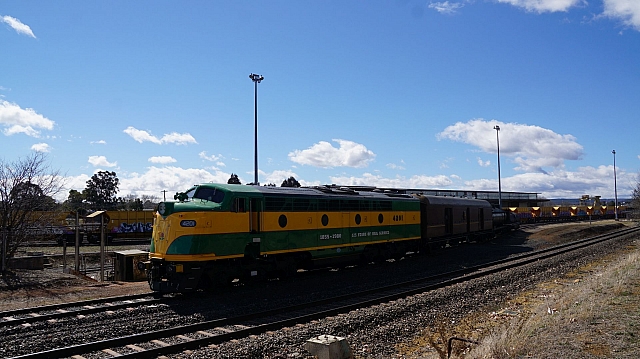 4201 then rolled in with a NSWRTM water gin!? I love unexpected surprises! 6029 then departed.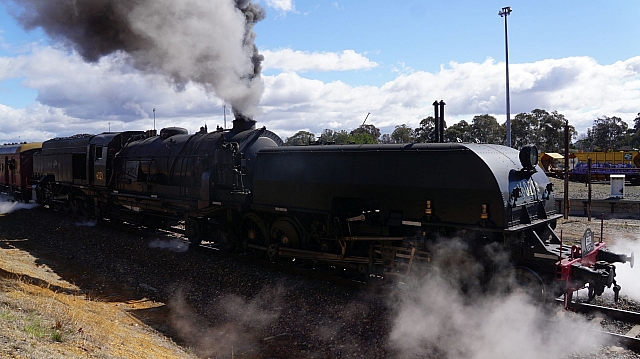 Later in the afternoon, I found enough time in the afternoon to watch the Bungendore return trip at the bridge just past Queanbeyan station. Lots of interest here this time and great sunlight. It's an awesome spot for inbound movements.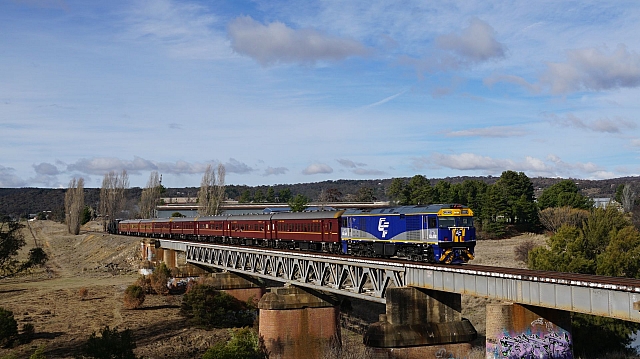 Sunday, 2nd September 2018
First-things-first on a Sunday morning in Canberra: Jamison Trash'n'Treasure, Mitchell Tip Shop, Woden Trash'n'Treasure and then Mugga Tip Shop. Found a few tid-bits, but nothing to call home about. Actually, Mitchell Tip shop was a bit out of control: they wanted AUD$25 for a monitor and set of computer speakers... what kind of 'gourmet' do they think they're selling? It's literally rubbish!
Made it back home to switch cars and then to Kingston railway to catch up with friends to grab some aerial video of the Bungendore shuttles. In the yard, 42103 and 4201 were hanging around, keeing the crowd entertained.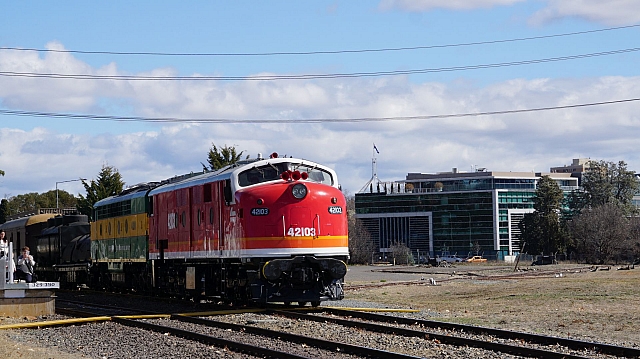 First stop was to be the bridge at Burbong, NSW. It's a great location, amazingly scenic, but the sun isn't always in the best location!
Fortunately, for a drone, the sun is absolutely no issue. Line-of-sight with too many trees can be... but we managed to find a great location. Nathan even had the 'VR' headset so I was watching the drone's viewpoint as he was flying it... pretty damn amazing!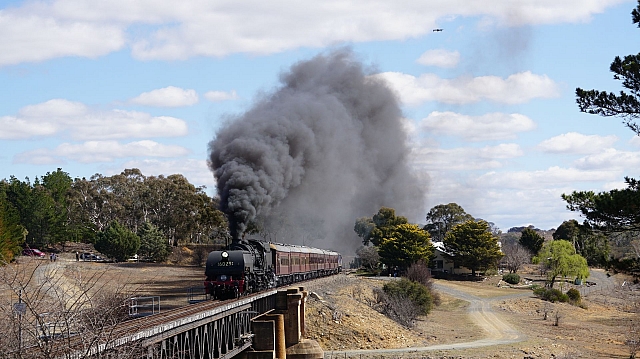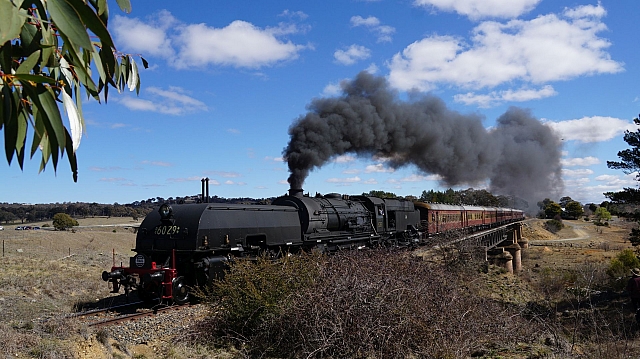 The train came in due course and ... it was beautiful. The locomotive was at full-tilt (the exhaust may well exclaim that) and the sights and sounds were awesome. It passed quite quickly but we caught further footage whilst everyone else was packing up.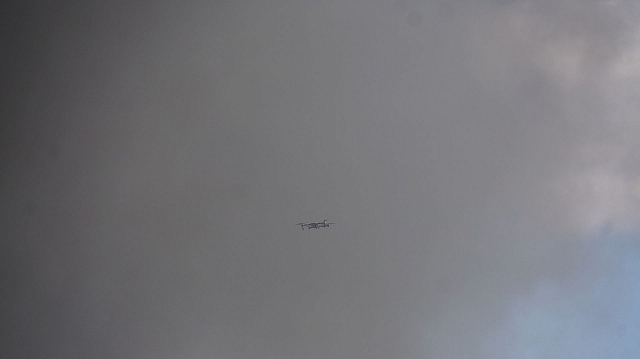 And now, the best part... the drone footage! (Make sure to turn the quality right up!)
The next spot was in the Molonglo Gorge. I'd actually never been here... even though I'd lived in Canberra for ~28 years. Seriously disappointing actually, as it's an amazing location! The railway line snakes along the gorge hill-side through two tunnels and there's a few spaces along the access roads to get some great shots.
Another pilot had a drone out (exactly the same model) and our flight paths were negotiated to not get in eachother's way. Not exactly an easy thing to do as your viewpoint from the drone can be based on the film you're trying to take rather than the drones around you... and they can also have the same idea... so we had our wits about us. There's also a no-fly-zone towards Queanbeyan, but we were far enough away from it.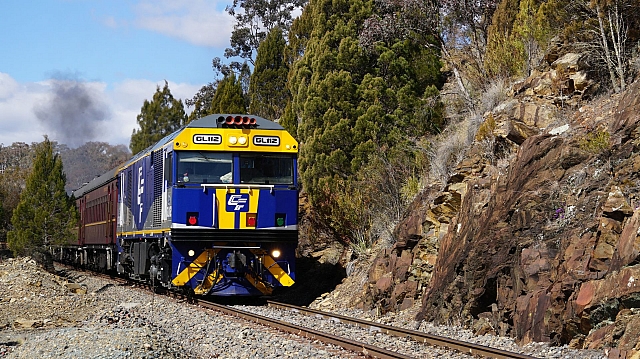 After that, it was back to family time before jetting back off to Melbourne. Usually my weekends are pretty quiet in Canberra, but this one was fantastic. Can only thank the NSW Rail Museum for the entertainment!