Well, after a successful Decoder + Headlight install I thought I'd attempt to get the reverse marker lights going as well. I'd been told on the JNS forums that these lights are used very rarely in Japan and that explained why the model manufacturers (in this case Tomix) didn't bother to put lights behind them. Despite this there is a 'tube' of clear, but red, plastic behind the marker lights and this means that I would only have to get an LED lined up behind it to get them to work.
So, I went down to the local electronics store and looked for the smallest LEDs I could find...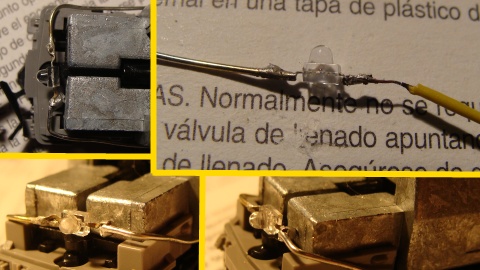 ... and I tell you what, they're tiny... I used the 'helping hands' aligator clips to get the soldering done and initially attempted to wire in one LED behind the lights.
The next issue was wiring... I first used thin insulated wire I'd stolen out of a broken toy shotgun (with laser sight)... and this was OK, but there was starting to be too much piling up on top of the chassis and causing headaches when trying to put the shell back on.
Then I found 'winding wire' for building electromagnets and transformers and this stuff did the trick perfectly! This worked OK, but I could only ever get the brightness I wanted behind one of the lights. Since I wanted to be even I chose to put two lights in there.

After a little electrical tape for insulation and some blu-tac for positioning I had what I found to be success :)
There's a few issues... like the lights moving when you remove/replace the shell... but once it's all together they look great...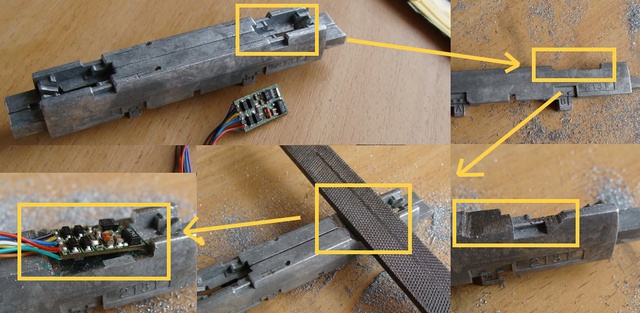 ...the light seen on coming through underneath isn't really visible in normal conditions... my camera just decided to extend the exposure. Anyway, one end done... the other is still to do.