Such a crazy country. I always love visiting this place, having a few more items on the todo list this time around. Most of those were railway-related, but there was also a craving to find vintage computers, where possible. I really did take tooooo maaaannyyyyy photooooosss.....
Maha Chai Railway
The Maha Chai (or Maeklong) Railway runs south-west from the center of Bangkok to its name-sake, a fishing village and seafood market. A second part of the line then continues (after a ferry ride) through to Samut Songkhram. At the end of the first segment, the seafood market actually takes over the railway line when there are no trains. You'll find the timetable here for the line and I do have to admit that, for a single-car DMU on rotten tracks, it's actually quite convenient! ... just not high-speed :)
This was the first target on the first morning in Thailand. Due to a very early arrival from Australia, check-in was impossible and so coffee was skulled prior to public transport navigation. I'd originally attempted to get a taxi to take us to the eastern-most terminus, but they all suggested we take the BTS/MRT. Supposedly it'd be quicker. From the hotel opposite Hua Lamphong, the MRT was taken to Si Lom where a transfer was made to the BTS. We then traversed all the way to Talat Phlu (BTS) before walking north to Talat Phlu on the actual Maha Chai Railway.
The goal was to just check out the area and the local markets. Of course, it was way too early for those also, but fortunately the train was running! There's two level crossings to the west of the station and both are manually activated when a train approaches.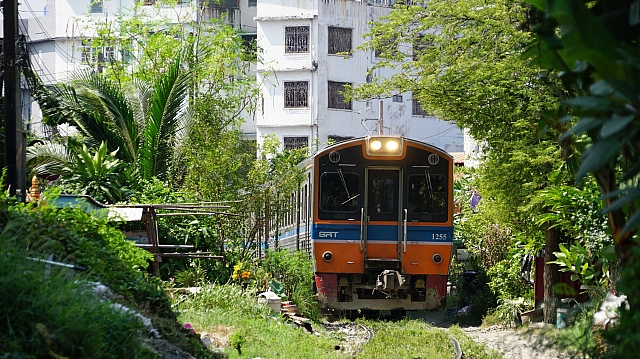 The DMUs are quite stunning. Built of an assortment of carriages, they trundle along some a precarious-looking railway.
We then wandered back to WangWian Chai BTS station... stumbling across a very mean looking local! (I'm guessing he was around the 2-metre mark.)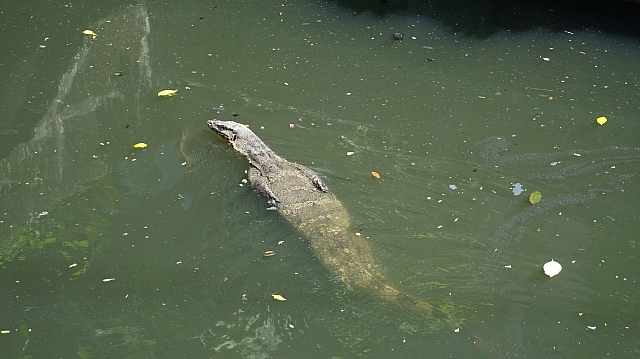 He was happily lazing around in a canal... probably cleaning up all the vermin that also try to go for a swim.
Hua Lamphong Station
Thanks to Bangkok Center Hotel being across the way, it was easy to visit this grand establishment and check out the scene. There's constant rail traffic in and out of the station and also a serious amount of shunting in the yard to the north as they build the daily/nightly consists.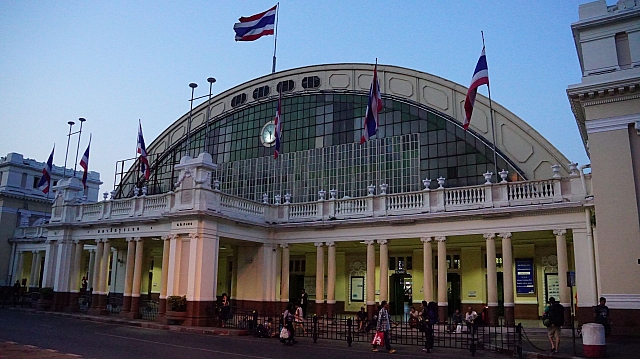 And so on that note, before we go inside... I loitered and did a full lap, twice, of the area. Best sides are east and north. There's a nice road bridge at the very north to watch the entire yard.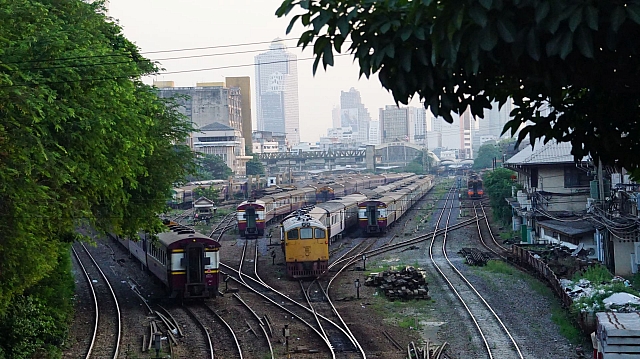 There was hardly a minute of silence from this spot. I tried both AM and PM and always saw something being built up, arrive or depart.
You can also look over the other side of the bridge... if you can sneak between the traffic! It's always fun to watch how people happily inhabit the lines when there's no trains.
When doing a lap of the station... you can see a lot of the staged consists from the eastern side.
Above is the SRT Prestige... but it seems to have been stored in the station platform for a while... I wonder if it was for the King?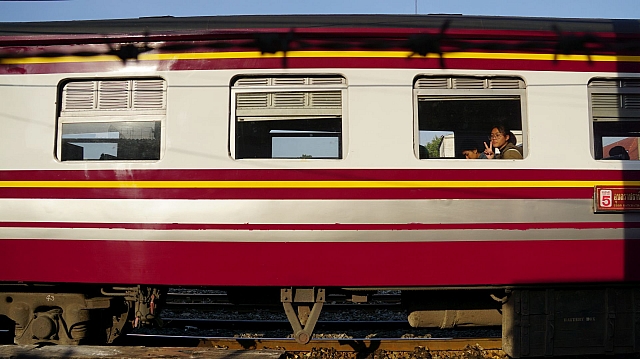 A BKK-bound train then rolled in and I was successfully bombed by a passenger! This is only a small section of the photos taken; there's a crapload more photos in the album.
Overnight to Chiang Mai
Why waste time going to airports (especially in Thailand traffic!) when you can sleep on the train? Well.. that was the plan... the air-con northbound service was really quiet, neat and tidy... but then southbound not-so-smooth. The tracks really didn't help!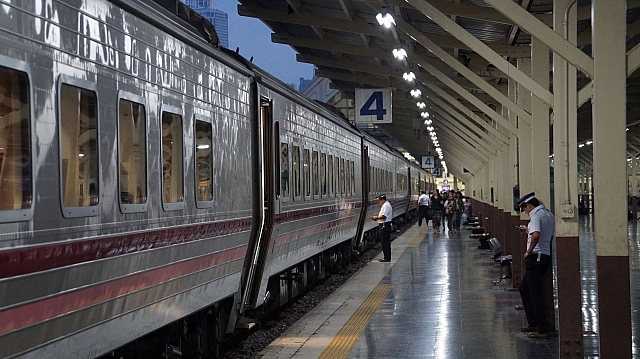 The polished stainless steel carriages were built in 2016 by China for Thailand. They really are quite modern and are still very clean on the inside!
There's the usual amount of space to (nearly) stretch out. Unfortunately, they left the lights on ALL night? There didn't seem to be a 'dim' setting and the curtains didn't block much light at all.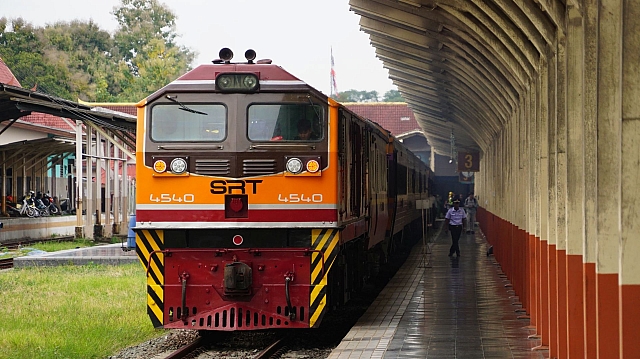 The return service was a little more vintage. A much older consist, but still very clean for its age.
Both trips were very enjoyable. No trolley-dollies... but there was always a restaurant car within reach.
Chiang Mai
It was nice to finally see the country-side. I'd done Krabi and Surat-Thani in past years, but so far had only seen Bangkok on this trip and was ready for some peace and quiet. Of course, Chiang Mai is hardly that... it's been slightly taken over by tourists and all the baggage that follows from that. Yet again, thanks to the overnight train, we arrived way too early and stashed luggage at the hotel. From there it was off exploring the town. Muay Thai fights, markets, shops... all very cool to see. Not much in the way of vintage components though. Although, Pantip plaza did have a 3dfx Voodoo 2 ... of which I had to fight for as the seller didn't expect it to work. It did.
Anyway, on the last day, before the train back to Bangkok, I walked a lap of the station area. Fortunately a passenger train was being built!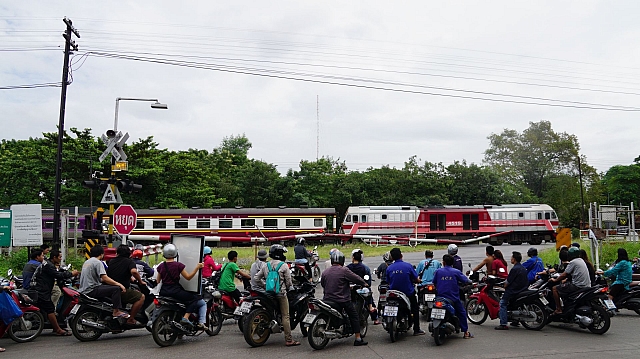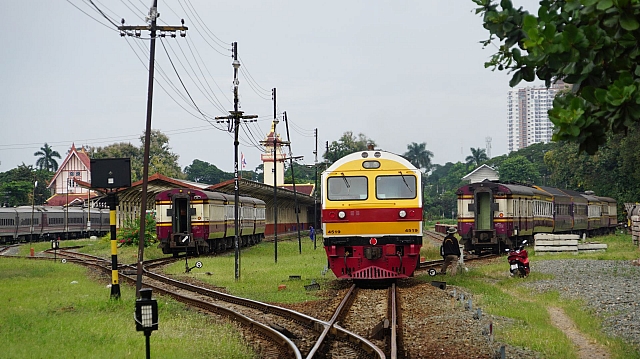 We crossed the crossing and then did a lap of the yard. On the eastern side there is a siding for fuel tanks and a depot. You can then continue round and view the loco sheds. It's a really easy walk, despite the humidity. Actually, on that note, Chiang Mai was much more mild than Bangkok!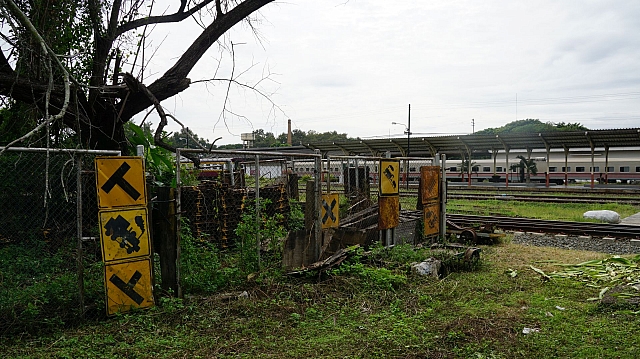 The station itself has a small bit of infrastructure and some scary-looking hotels.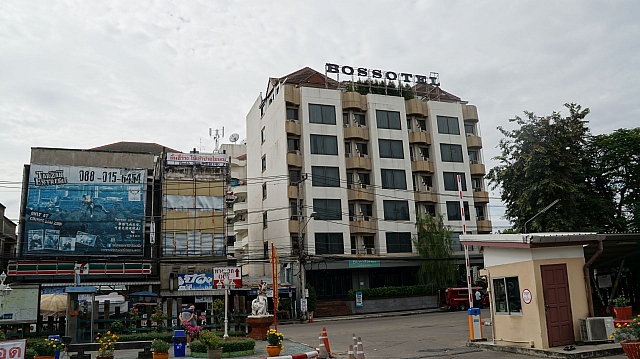 There's even a cute little S-Scale diorama in the foyer!
BTS/MRT/SRTET and other newer transport modes
Trying to get around town via road is frustrating. The best method is to pillion on the back of a motorbike 'taxi' which will weave you through traffic. Next best is a tuk-tuk, but these (as much as they try to dodge and weave) will still get jammed. Taxis are another option, but they cause most of the traffic jams. Somehow the buses still manage to get through the jams, but in peak hour (which is 90% of the day) it's impossible to cross town quickly.
Due to all this, both above and below-ground railways have been built. The BTS lets you float above the traffic jams in air-conditioned comfort and the MRT allows you to sneak around sub-terraneously. Both are great... until you have a suitcase and it's peak-hour. Then you're in just as much of a jam... this time with human traffic!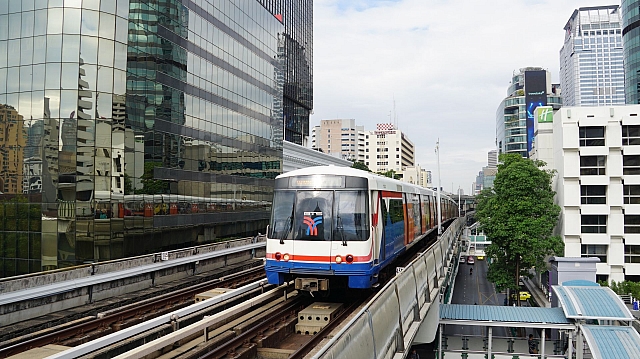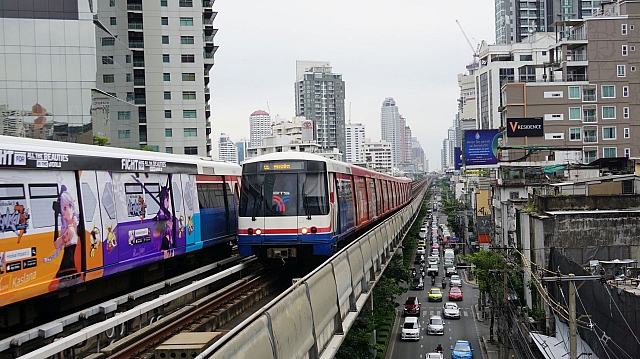 The BTS pretty much does a lap of the main BKK city area and will get you from mall to mall very easily.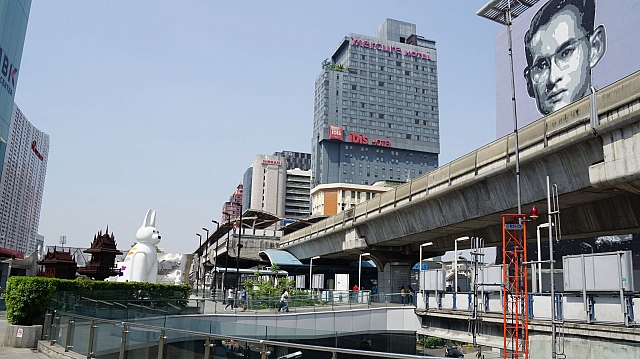 The MRT will then get you further north to, say, Chatuchak Market. Just be prepared to battle the busy periods! We arrived at 0530 on a Friday morning, jumped straight on the SRTET Airport Railway Link and tried to transfer at Makkasan to the Petchaburi MRT station to get to our hotel opposite Hua Lamphong. First attempt (it's an easy transfer) saw us held back from each approaching MRT consist as they were all jam-packed. This was at 7am, so everyone was heading in to town to work. A brief light-bulb moment turned bad when we tried to get a taxi above-ground... they all just told us to go back down and take the train; traffic into the city center would be worse.
Anyway, pushing and shoving ensued and we made it to the hotel.
Makkasan Mercure Hotel
A bit out of the city, but still close to transport. This is a great hotel with a great pool and a really nice view! Good prices also. It's just west of the Makkasan station of the Airport Rail Link. It's also just west of Asok Station on the main southbound line from Bangkok of the SRT. Therefore you get to see all types of trains.. including freight!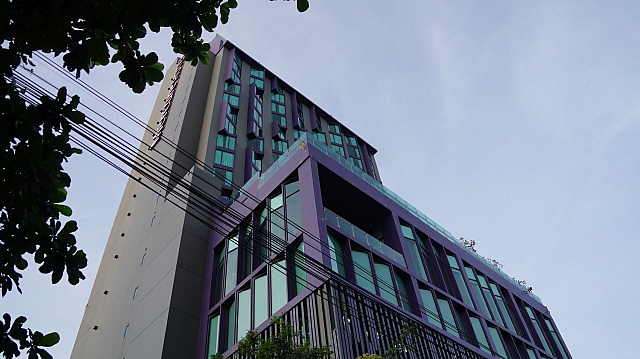 From the pool deck, the view is also good!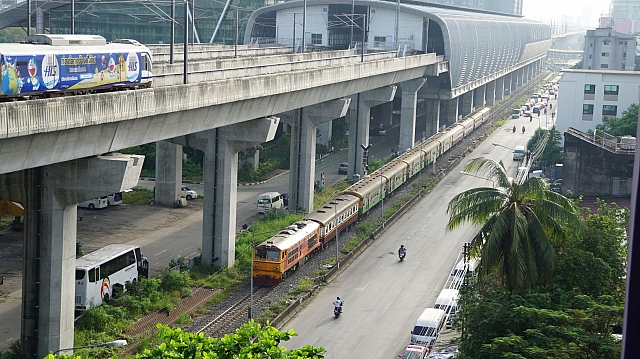 Makkasan Area
There's connections here for the SRT, MRT and SRTET. You'll find trains coming through on the SRT quite often... and if you're staying in the hotel above, then you'll probably be able to see them from the comfort of your own room! Either way, if you're downstairs on-foot, then there's always something to see.
DMUs were interspersed with loco-hauled passenger and freight. Lighting wasn't always the best, but there were no restrictions on where you could take a photo from. Within reason, of course... don't go getting too close.
The crossing up near the stations was fun to watch. People hardly cared when a train was there and the poor traffic cop really didn't have much of a chance of stopping those willing to take a risk.
And again.. the view of traffic from down the road when a train was trying to cross...
And freight... the best part...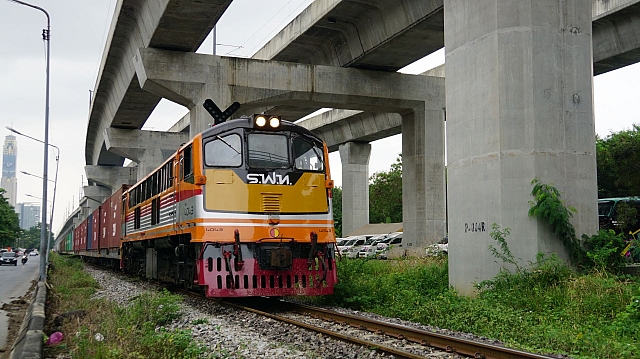 Chinatown Markets
In search of vintage/junk goods, one recommendation was Klung Thom Center in Chinatown. This building turned out to be a let-down, mainly consisting of phone covers and protectors. Around the area were shops dedicated to all sorts of power tools, fasteners, hinges, car audio, car suspension, etc... but nothing really computer and nothing old. It wasn't until we stumbled into two seemingly random street markets that we started finding the more interesting wares.
This u-shaped road, which was actually the entrance/exit of the carpark that it wrapped around, turned into a flea market in the early afternoon. People spread out their wares on tarpaulins and it was really easy to get a good deal. I found quite a few random ISA cards and 30-pin SIMMs. All in varying states of decay!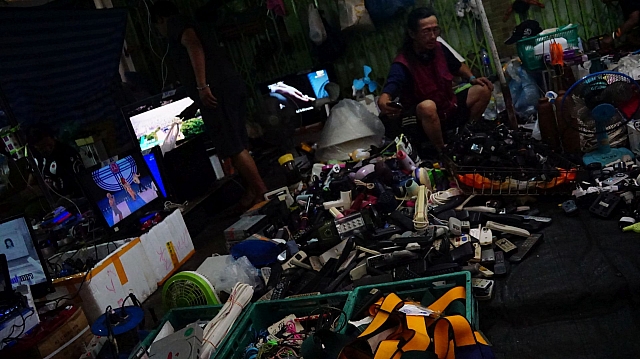 The next area was grottier. Nested in a chinatown block, each alley was hardly wide enough to walk down, let alone spacious enough to spread out your mats and splay your bits and pieces. Regardless, there were all sorts of home appliances, projectors, jukeboxes, phones, ipads, tablets... but not so many computer-related items. It was still amazing to browse through it all.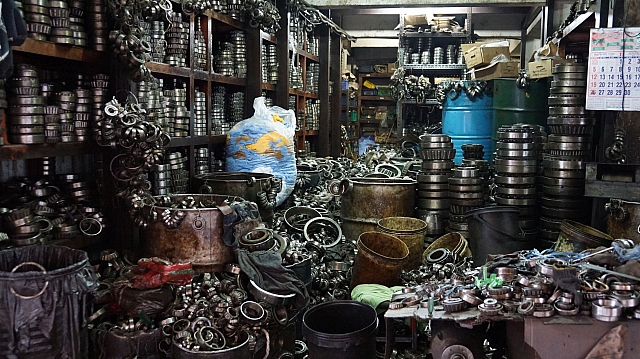 And then, of course... don't forget to ask before taking photos of store-fronts!