It's off to Europe for christmas and I intend on hunting down the odd train. The first on the research list is reminiscent of Dr Yellow from Japan: TGV La Poste. This service is an express freight EMU (not unlike the M250 of Sagawa Transport) for the French Postal Service based on the TGV series.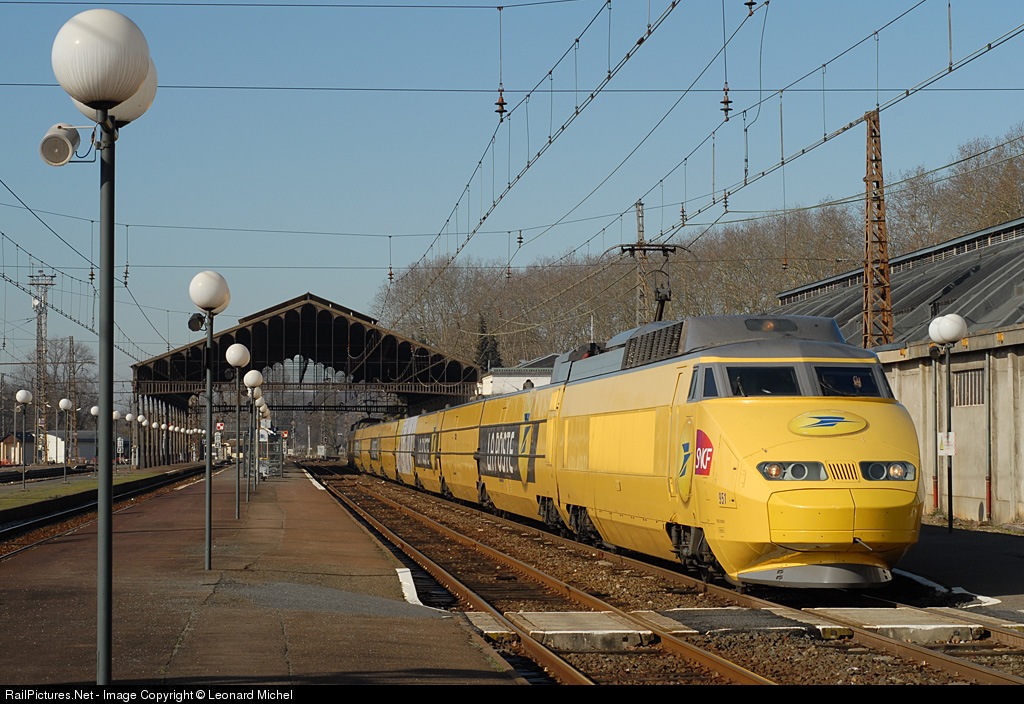 Source: RailPictures.net: Special TGV La Poste "Operation Pieces jaunes" Blois - Tarbes. [Author: LM]
I'm going to use this page as a thinking-out-loud scratchpad to record the information I'm able to obtain. The goal is to grab a shot of it in action down the line and then one (at least) in the depot near Gare De Lyon in Paris.
NOTE: It seems this effort will be futile... the sun won't rise until around 8am and the train is due to run only during the dark-hours. this link has the timings for 2015.
Web References
Timetables
From all of the above data, I've managed to scrape together the following timetable of the services. From the links, you can tell that this data is old... really old. I am under the impression that the service will be wound-down in 2015, but hope that one or two of the services below will be running in January.
There's a double-up on times around Macon for most of the services. It seems that the train arrives at Macon-Loché, heads in to Macon-ville and then back out on it's way via Macon-Loché once more.
TGV La Poste
6990
6991
6992
6993
6994
6995
6995
6996
6997
6998
T = Tuesday
M-F
M-F
T-S
M-F
T-F
T-S
T-S
T-S
M-F
SAT
Paris-gare-de-Lyon (parc postal)
0137
2006
0748
2242
1806
0330
0518
0758
1932
0604
Bifur-de-Créteil
2016
1756
0748
Yerres (bifur de Massy)
2017
1754
0746
Bifur-de-Chevry-Cossigny (pointe Ouest du triangle de Coubert)
2024
1748
0740
Bifur-de-Solers (pointe sud du triangle de Coubert)
2025
1747
0739
Moisenay/Crisenoy
0103
2028
0719
2301
1744
0535
0736
1951
0526
Montereau
0045
0504
Sens
0029
2044
1728
0720
0446
Laroche Migennes
0012
0439
PRS Pasilly
2354
2102
0638
2338
1710
0616
0702
2028
P.R.S n° 18 de Toutry (viaduc A 6)
2106
1705
0657
Le-Creusot-Montceau-Montchanin
2328
2127
0554
0010
1645
0648
0637
2057
P.R.S n° 24 de Cluny
2138
1635
0627
Col-de-Bois-clair
1634
0626
Viaduc-de-la-Roche
1633
0625
Dijon-ville
0554
0556
0320
0322
Chagny
0251
Macon-Loché-T.G.V
1628 << 1622
Merges with 6624 @ 1600 from Lion-Part-Dieu
0711
0620
2111
Macon (parc postal)
2307
2149
0527
0032
1550
1624
0556
0616
0214
Macon-Loché-T.G.V
2144
1528
1536
0545
0552
0146
0207
TGV Lyon St Exupéry (TGV)
1514
0739
2128
Valence TGV
1446
0800
2202
Bif Lapalud
0820
2135
Pierrelatte
1416
0821
2224
Avignon Fontcouverte
1352
0846
2244
Cavaillon
1325
0901
0907
0324
2253
Plotting the path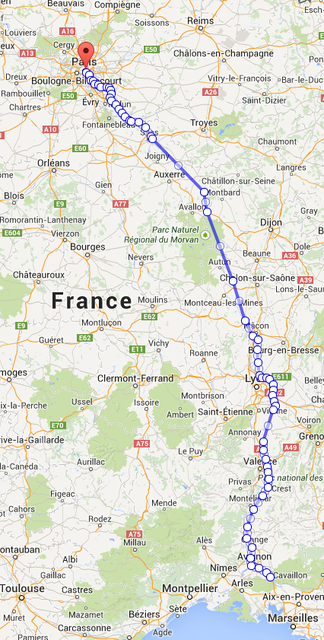 This wasn't easy... I have no idea if the map to the left is the correct path... it seems that the train travels on the highspeed direct line in some places and then diverts to the local SNCF lines in others?
From what I can tell, the train travels further south than Cavaillon. But all timetables only reference it to there.
From the YouTube link at the start of this article, you can tell that the service seems to travel all the way to Nice? Or at least past Cavaillon?
If anyone can help, I'd love to get this map correct for anyone else wanting the information.
The plan...
Based on the timings above, it's going to be really hard to see this thing in daylight, moving, whilst being based in Paris. My best bet will probably be to head down to the RER stations 'Maisons-Alfort Alfortville' or 'Le Vert de Maisons' early in the morning and hope for the best. It'll be mid-winter, so lighting will be low.
I'll post again once executed.
Update: Paris, January 2015.
Only two months behind... here's the highlights from South Yarra over August/September this year.
Metro's Inspection Train
Metro have converted an old passenger car into an inspection vehicle. It's known as IEV102 has equipment for monitoring the lines it is dragged over. You'll always see it top-and-tailed by T classes.
BG Steel with Green G
A green Pacific National G spent a weekend on the steel train.
Steamrail to Eltham
Not quite South Yarra, but venturing out to see a steamer very early was rewarded by a surprise sighting of the other Metro inspection vehicle: IEV100.
Railside in Cremorne
There is a pretty cool spot just before the Yarra river in Cremorne to take morning photos.
Batman St Overpass: Cremorne
And then there's the Batman St overpass, but it's a little too under-the-level.
Carpark ramp at end of Palmer Parade
If you keep wandering down Batman St and take a right on Palmer Pde, you'll find a carpark (that looks abandoned.) It has a ramp that gives you an elevated view towards South Yarra Station. Of course, you're then stuck in the wires and the shot Northbound gets a lens full of sunlight in the morning.
Y class to Long Island
But then, something cool happened... BL Steel with a Y Class loco transfer! This supposedly happens once a year.. the loco gets swapped out for routine maintenance back in Dynon.
Between Hawksburn and South Yarra
Turns out that you can get some pretty clean shots facing towards Hawksburn... although you really have very little time to get ready. Zero visibility doesn't give you too much warning.
And the final steel for the month...