I'd purchased two controllers from Holland (Game Over? in Amsterdam) and had received two more when I picked up this Atari from the rubbish dump. I have finally gotten a game worth playing and thought I'd test them all out.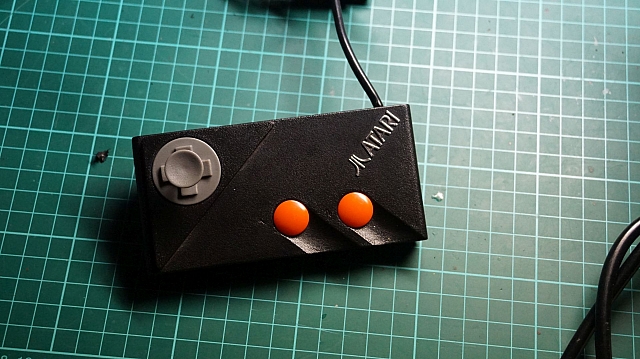 The game is Bezerk.. and it literally is just that. Think of a 'top-down' Space Invaders. You're a human, you're in a maze and there's robots who want to shoot you. If they (or you) touch a wall then you're dead. Your goal is to knock them all off and enter the next room. It's really quite challenging for such a simple concept.
This game is only playable if your controller works! It turns out that only one of mine had problems. This specific controller would not happily move left/right. Up/down and the buttons worked... but I couldn't get my guy out of the way reliably on the X axis. A little more testing realised a cable fault! If I put pressure on the cable, right where it enters the controller, then I could move in all directions... the cable must be internally fractured.
Pulling it open, you can see the cable come in from the top. It then slaloms through the plastic pins to keep any unwanted pressure/tension off the solder joints on the PCBs. Too much flexing, over time, has ruined the cable. The only method was to cut it and shorten the cable.
The cutting, pairing and soldering was quite painless. I unsoldered an existing wire and then soldered on the new wire, matching colour-for-colour. The end result was a perfectly working controller! It turns out you can even shoot diagonally in Bezerk!
Two of the four controllers I've acquired used to have the screw-in joyticks. One of the other two actually still had the joystick in place! For the ones that have been snapped off, I grabbed a screwdriver and applied enough pressure to have the phillips-head torque the plastic left-over out of the thread.
Now to find a suitable replacement screw-in joystick!