Thanks to these new working-from-home shennanigans, I had to dig through the to-sell-at-trash-and-treasure box and find a KVM Switch to hook up all my machines. The desk used to only have one PC, but now additionally houses my work laptop and a large development server. I've got two monitors, and I want one of those to switch over to the development PC when required. I also want my keyboard and mouse to switch between all devices. To do this, I'll use the VGA/USB KVM to channel input and video to the monitor.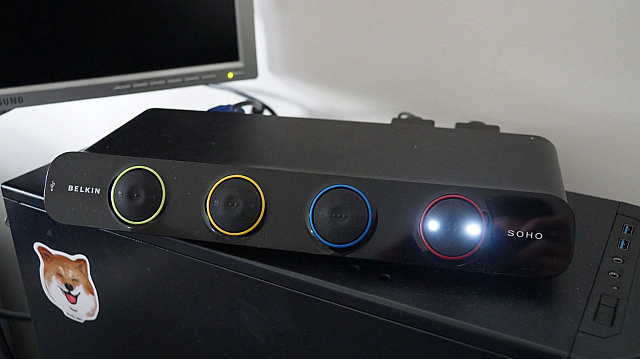 The best KVM in the box'o'stuff was a Belkin SOHO 4-port VGA+USB+Audio switch. Fortunately it had two of the KVM cables, so I could switch in my Laptop and development machine... but... I had to then unplug the USB to switch the input to the main PC. This wasn't optimal, so I went digging in the box again for another cable. The Belkin cables switched both Audio in+out, VGA and USB. From the outside, it looked like the audio channels were external to the VGA cable, unlike the USB which does seem to run through the same wires.
Back into the box, but unfortunately there were no other Belkin-branded cables. What I did find was another KVM with USB switching: Level One 2-Port VGA+USB KVM Switch.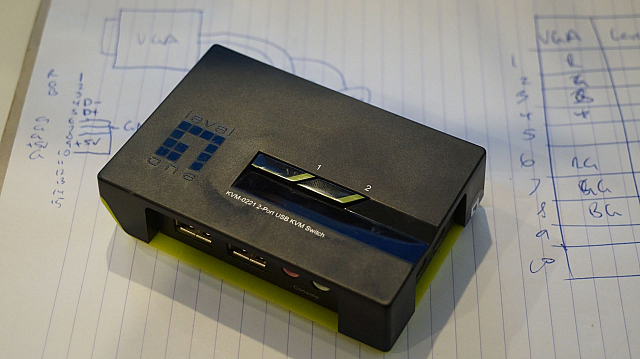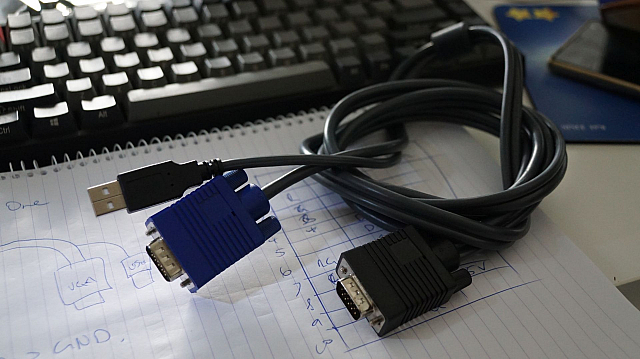 This one also switched audio, but via USB instead of standard audio jacks. I grabbed a cable from it and was about to just plug everything together, but then I halted. USB has four wires, with two of those being the 5v rails. If there's any wiring differences between the switches then I could well send voltages in haphazard directions and cook equipment!
USB over VGA cable pinout
Wanting to hook this all together, I reached for my multimeter and started mapping out both the Level One and Belkin KVM cables. Thankfully, they have used very similar wiring for their cables! Thanks to monitors now talking digitally to hosts when describing their capabilities, there are spare pins on the cables to use for other purposes. There's a lot of extra ground pins also, but Belkin still preferred to keep those split whilst Level One happily merged them altogether.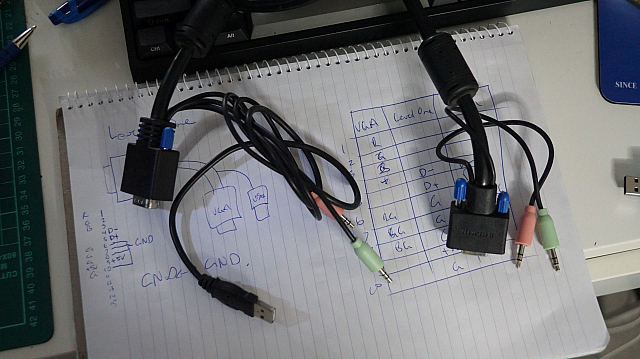 | Pin | VGA | Level One Cable | Belkin Cable |
| --- | --- | --- | --- |
| 1 | R | | |
| 2 | G | | |
| 3 | B | | |
| 4 | ID2 / RES | USB D- (White) | USB D+ (Green) |
| 5 | GND | USB D+ (Green) | USB D- (White) |
| 6 | RGND | USB GND + GND | USB GND + RGND |
| 7 | GGND | USB GND + GND | GND |
| 8 | BGND | USB GND + GND | GND |
| 9 | KEY / 5v | USB 5v + 5v | USB 5v + 5v |
| 10 | SGND | USB GND + GND | GND |
| 11 | ID0 / RES | | |
| 12 | ID1 / SDA | | |
| 13 | HSYNC | | |
| 14 | VSYNC | | |
| 15 | ID3 / SCL | | |
From above, you can see that the voltage (thanks to VGA actually having a +5v pin as standard!) and GND are close-enough, but the USB data pins are backwards. You assholes.. here I was thinking there might be a standard. What to do here? Well, I simply hacked apart a USB extension cable and crossed over the D+ and D-. Note that there is absolutely no reason for using this cable in any other scenario!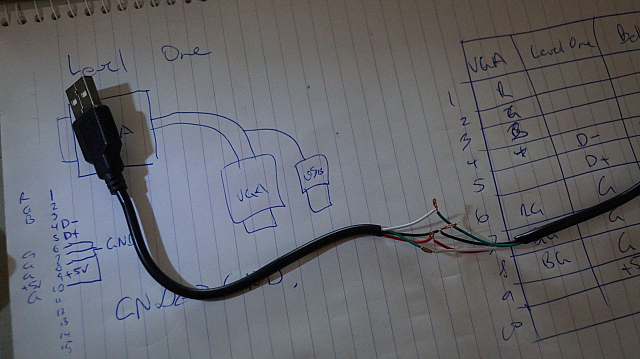 After this, one last hurdle.. the Level One KVM has a male plug at either end, whereas the Belkin cables have female on the KVM side.
And the bloody thing just worked! Happy to not have to spend money on extra proprietary cables that I actually couldn't find anywhere.