Nichinan City is an area consisting of a few separate towns, just south of Miyazaki in Kyushu. I make sure to make the pilgrimage here each time I visit Japan as a friend from University is now a Shingon Monk in Nichinan Town! Go and visit if you're in the area! (And Shuhei, congratulations on your new baby boy!)
Anyway, this time around the plan was to spend two nights and just relax. The area is known for beaches, temples and a very quiet way-of-life... and that's exactly what I was after. Of course, it also wouldn't hurt to actually see Umisachi-Yamasachi running!
After quite an eventful Friday night, we had all day saturday to do whatever we pleased. As per standard Japanese hospitality, it was up to the guest to work out what they wanted to do... but I was totally happy to go with the flow. It happened to be Buddha's birthday the next day, so I actually asked if there was anything that needed to be done in preparation and got the following response: "Actually, could you help me? We need to pick 1000 purple flowers from the country-side." Hahaha... sounds perfect!
Uchinoda Station
The best part? Shuhei made sure that we picked flowers near to the railway line! We ended up in the vicinity of Uchinoda Station on the Nichinan Line between Kitago and Obi. It was such a beautiful setting!

I kept an eye on the train timetable... actually Google Maps did for me... I was really impressed with the accuracy of the "next departures" feature!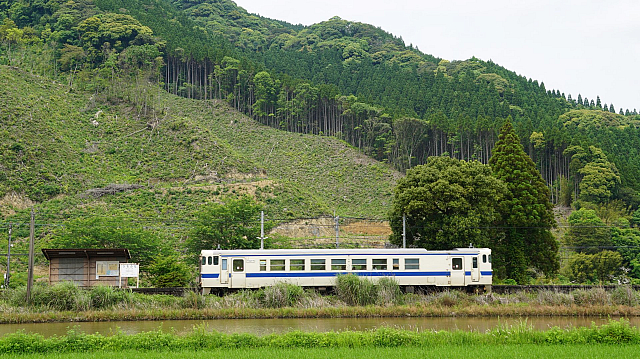 It wasn't long before a beautiful white/blue KIHA dawdled through, perfectly vintage amongst the country-side scenery. We then continued harvesting flowers... before nearly driving over a snake... which was probably waiting for us in the grass. Happy to still be alive.
Oodotsu Station
Not much happening here, at the time, but the station building had recently been totally re-built. The new design is actually beautiful and it's good to see they've used a nearly 100%-wooden design!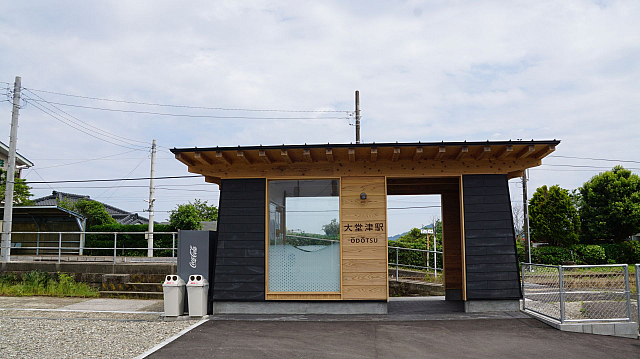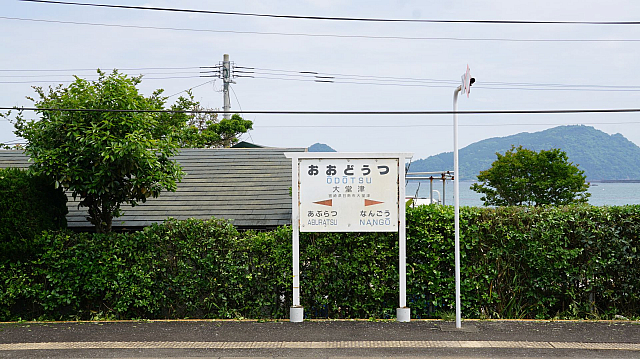 I then checked the timetable for the Umisachi-Yamasachi and realised we had time for lunch! It was therefore off to Nakau in Aburatsu.
Horikawa Canal
On the way back after lunch, before getting into position at the famous curved bridge just south of Aburatsu, we stopped in at Horikawa Canal to check out the beautiful buildings and temple!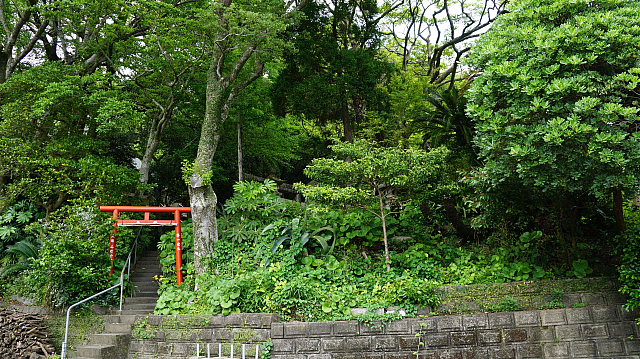 Those were not happy cats... but they at least had somewhere safe to live.
South Aburatsu / Sumitani River
I don't know how else to describe this area, but it's the 'famous' bridge (for railfans, anwyay) just south of Aburatsu. Google Maps says that it's the mouth of the Sumitani River. It's a beautiful curved bridge that looks like something straight from a Kato Unitrack catalogue!

It also seems to be a private settlement, so I'd warn anyone heading into the area to act responsibly! We ventured down onto the beach, but before we even got there a KIHA DMU passed through. I hadn't realised how close to the tracks we actually were when walking through down the paths.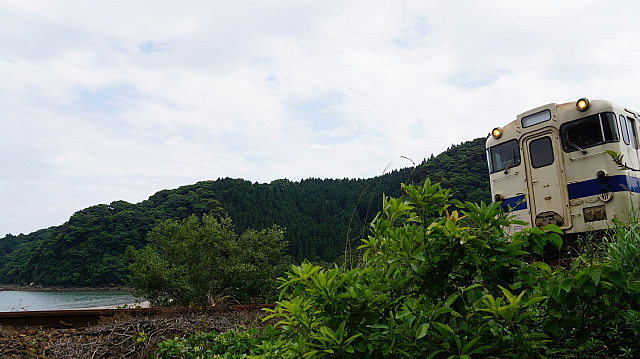 The goal here was to wait for the Umisachi-Yamasachi. It does one run back and forth from Miyazaki to Nichinan on both Saturday and Sunday. It had already run south on this Saturday, but it actually returns to Aburatsu between trips. Therefore it actually crosses this bridge 4 times each day. We were around 40mins earlier than it's departure time from Nichinan Station, so it had to pass us? Right?

We loitered for quite a while, building random 'sculptures' on the beach... before we realised it was only 5-minutes before the service was to depart Nichinan. It must have already passed this bridge! Of course, it had time whilst we were checking out Horikawa Canal above! Ooooooops. We made a hasty decision to get to the next famous bridge at Oodotsu.
Umisachi-Yamasachi in Oodotsu
Nailed it. We made it to the bridge, positioning ourselves on the sea wall just to the west of it. Before long the DMU totally dawdled across... playing it's musical horn! Pretty cute.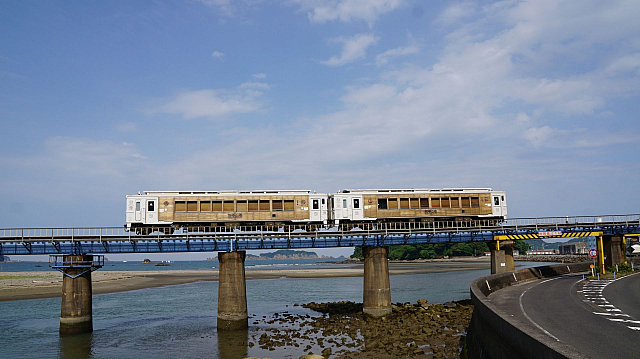 A relaxing evening was then had... I was even taught how to play Settlers of Catan.
Miyazaki Station
I departed early sunday morning, as I had plans to get to Sasebo, taking the first northbound service to Miyazaki. I was delightfully distracted by the assortment of DMU vehicles in the yard!
Little did I even think that my timing would perfectly co-incide with the Umisachi-Yamasahi departing Miyazaki for Nichinan!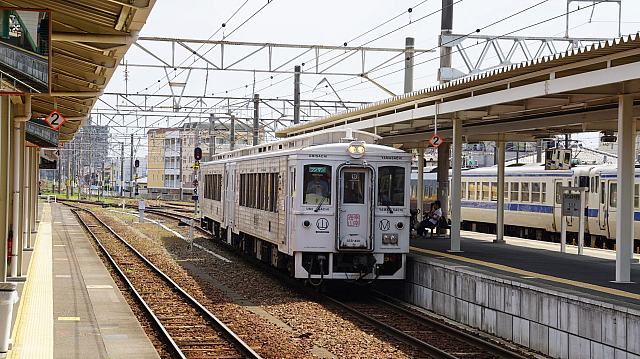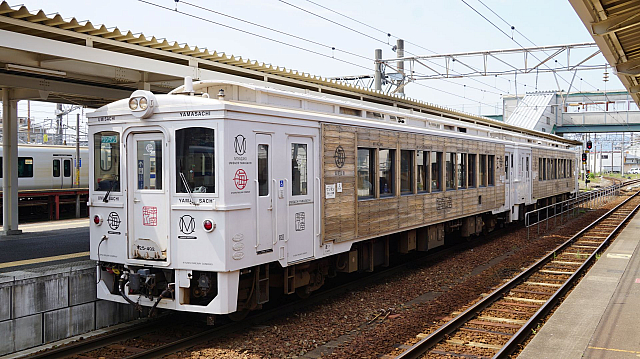 Right-time-right-place is always a nice achievement! Next stop, Tosu.