After a brief stop-over at Kumamoto, it was time to head further south... to the end of the railway network! This was to be the first time I'd hit any of the four extents of the railway in Japan. As mentioned, the journey started at Kumamoto where a Sakura service took me straight through to Kagoshima-Chuo. I'm really quite surprised they didn't name the station 'Shin-Kagoshima'.
Whilst waiting for my service to Yamakawa, I checked out the station. It has a very Kyushu-vibe of slightly weathered but still totally functional.
I was expecting the service to be a white DMU... but was totally blown away when my favourite-ever DMU approached! Hell yess... that's already two of three 200DCs crossed off the list!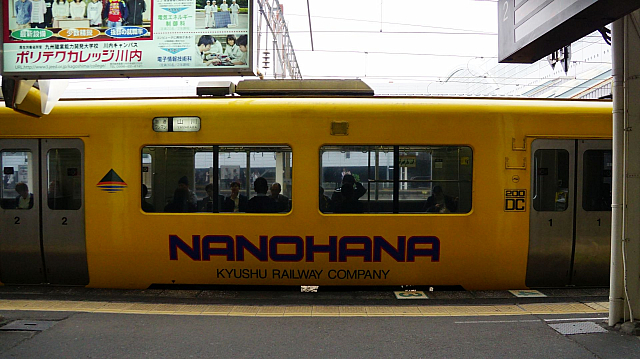 I hadn't been expecting a yellow 200DC on this local service as the timetable shows a specific 'Nanohana' express, which would run later. I hadn't thought they'd put the Nanohana on a non-Nanohana service. Turns out the white/blue livery is the rarity! Without a thought I jumped on-board and waited for departure. The vehicle had a very nice hum on idle... but that was about to get better. The transmission sounded fantastic as it changed gears, something very strange for a train to be doing!
Yamakawa
Before long we'd circled the left-hand-side of the bay via the Ibusukimakurazaki Line that surrounds Sakurajima, a dormant volcano just east of Kagoshima City. I had initially thought that Ibusuki Station was the terminus of the line and that another continued through to Makurazaki, but it turns out it's the same line all the way through. Ibusuki is one of the larger towns, south of Kagoshima, and most of the passengers got off here for the weekend outings. I continued one further stop through to Yamakawa.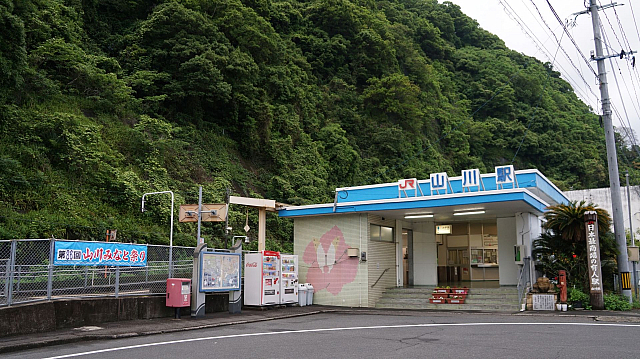 This station has two roads so that one consist can layover if needed. My service was a rapid from Kagoshima-chuo which terminated here and stayed in platform 2 until it's return working. Whilst I walked from the station, a white and blue KIHA 47 came through!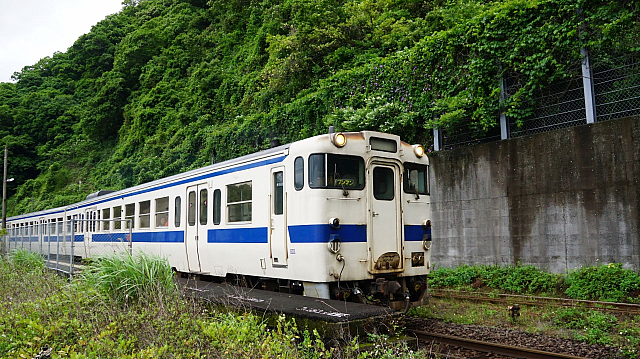 That was enought trains for now though, it was now time to cross the road and check into my lodgings.
Kuriya Guest House
Yamakawa is a small port town, south of Kagoshima, that relies heavily on the local fishing trade. You can therefore only imagine the cuisine available at Kuriya Guest House. Hardly across the road from Yamakawa station, this beautiful ryokan has all the treats one needs for a short stay. There's a full restaurant and even a bathouse underneath. You can use the bathhouse, after an entry fee, even if you're not staying the night.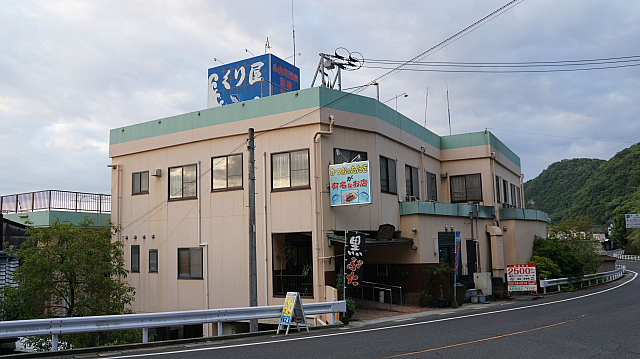 One note... Check-in is 5pm! You might not find any staff there mid-afternoon! I happened to get there at 4:55pm and hung around for a bit watching trains. The staff speak a little english, so get ready to practice all the Japanese you've learnt thus far. The bathhouse is only open in the evenings (or it was when I was there), so make sure you clean up before sleeping as there's no ability to do so in the morning. Well, I lie, there's a wash-basin and toilets if you know how to make-shift it.
The rooms are as basic as you'd expect. There's aircon and a TV, but it's pay-per-use and you'll need to insert 100yen coins to get anything out of them. There's also vending machines in the corridors. I had enough time for food before the next service to Nishi-Oyama, so I spoiled myself in the restaurant.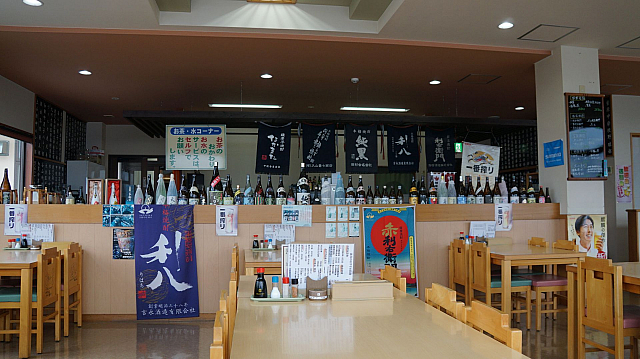 As you can see, there's a full assortment of liquor... there's also a great selection on the menu! I chose the makerel set and was not disappointed!
I noticed on a few of the seats that other customers had left autographs. I can't make out the signatures... but can you see anyone famous?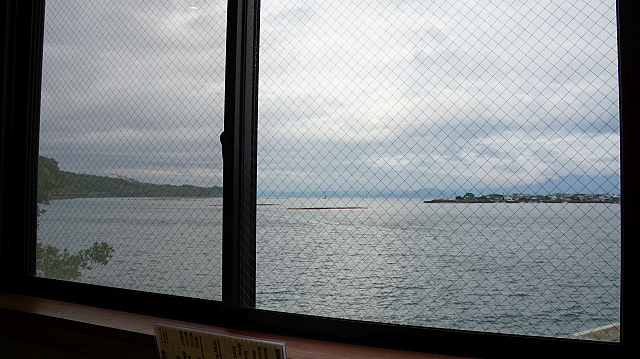 Note that the view is also fantastic... you're food will be with you in no-time as you're daydreaming of a lifetime on the water. I didn't have time to daydream though... there was a mission at hand!
Nishi-Oyama - The southernmost station of the JR network
Thanks to summer sunlight, there was still enough time to get to Nishi-Oyama and check it out. I had initially intended to do this the next morning, but after checking out the timetables I realised I could get there and back with minimal effort and tick it off the list! It was therefore a quick walk back to Yamakawa Station where I had a little bit of time to look around whilst I waited for my westbound service.
Finally, this time I was to ride a white/blue KIHA 47.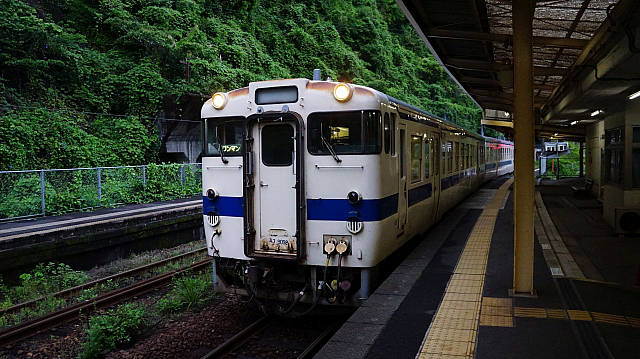 From Yamakawa, it's only two stops to Nishi-Oyama. 'Nishi' means west, so it's half-expected that the station inbetween is Oyama itself. 'Oyama' means 'Big Mountain', relating to either the mountain to the north, or the one you're about to see to the west.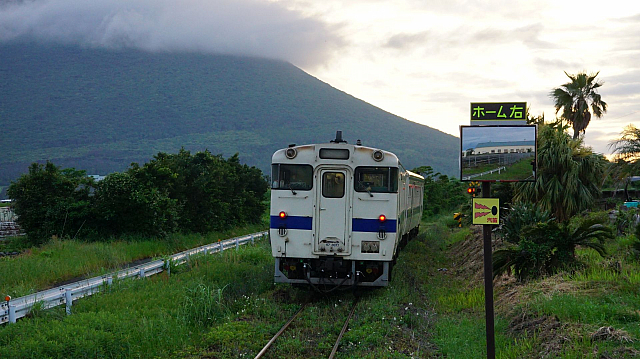 So, Nishi-Oyama station... there's a single platform on a single track and ... lots of country-side! Fortunately, since it's slightly-famous, there's also a gift-shop, free wifi and a toilet! There's even vending machines... but they were the only thing that was open when I visited at night. Actually, there's also a few more things: crazy locals. I had a guy come down on his tiny scooter-motorbike to tell me not to walk onto the tracks. Actually, I already knew that: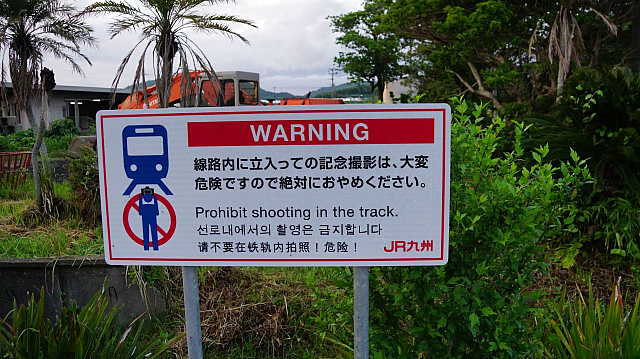 As temtping as it would be to get that bullshit-instagram-perfect shot of the sun trailing off past the railway line, I refused. To prove a point, I actually walked all the way round via the level-crossing to get to the other side of the rails. I mean, officially, this station sees in the order of 8 trains a day... with a huge 6-hour gap in the middle... so you're more likely to get taken out by a crazy local on a scooter, than a train... but rules be rules and I followed them.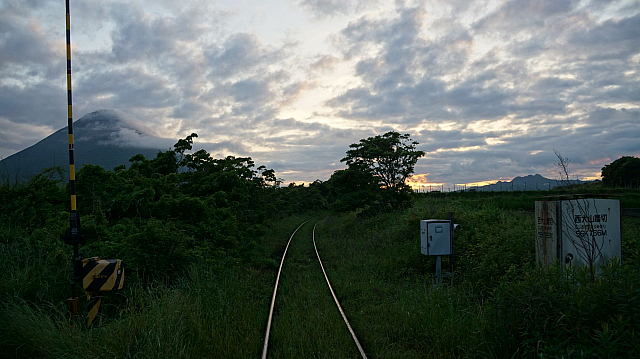 See!, level-crossing aparatus! I'm really happy I walked around actually as it provided a good angle to get the whole station in view... and I got to meet some huge cabbage!
There really isn't much in the other direction... It was also getting pretty dark.
Back to the north side of the station and I really only had the vending machines at my disposal; and then, only one was actually working... so I bought a coffee. The gift shop was shut and ... there's only one shop. Fortunately the toilets were available.
Back towards the station and the carpark has some nice ornaments to mark the heritage of the area. First you get a bell to wish yourself luck in the future... then a post box if you want to send someone a postcard.
There's then some further information on the surroundings...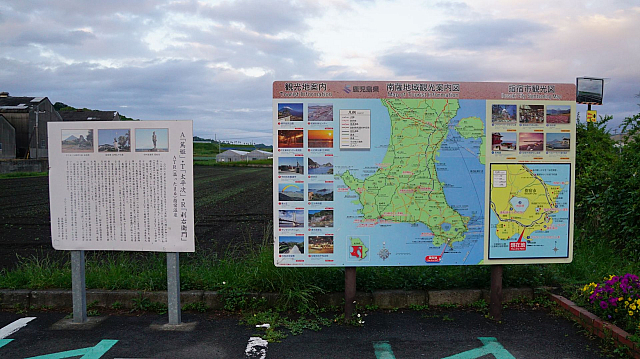 And a motorbike from North Korea...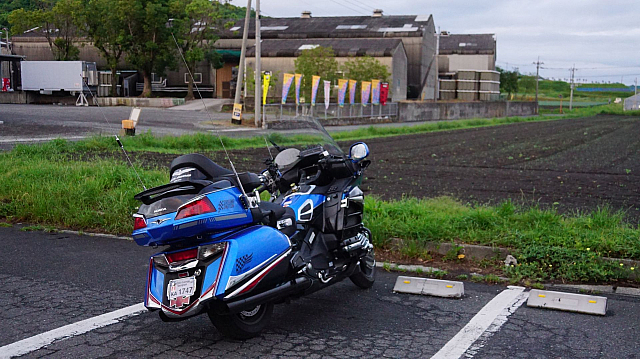 What? This actually became a talking point between me and the crazy local. He first warned me of the rules... which was fine... but then asked if I owned the bike. I suggested it was probably a day-tripper who would come back on the rails and return somewhere via the bike. Either way, I don't even think it's legal to ride a Kim-Jong-Un plated auto-bai in Japan? Who knows...
Whilst waiting for the return service, I realised there was a strange box on the platform...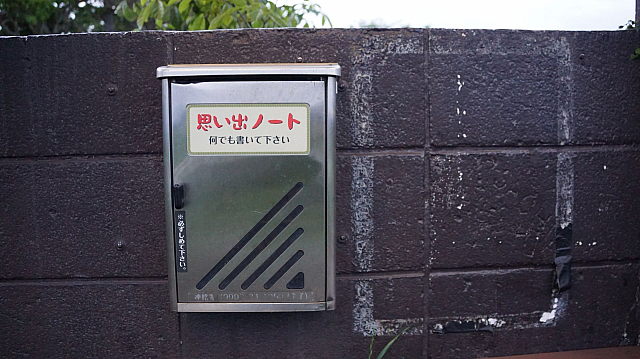 What does that say? Thinking Exit Notes?
Ahhhhhhh... craaaaap. Why didn't I know there was a notebook here to sign!? Look at all these well-wishers! And the odd flatulence-filled ogre? I'd have to come back in the morning. I'd have to also find a pen first... I left it in my main carry-on bag and didn't put anything into my Kyushu-weekender backpack!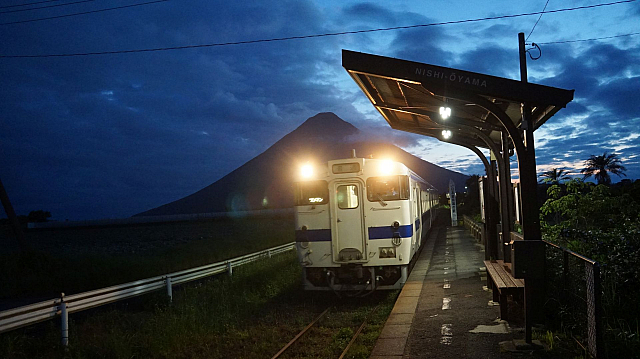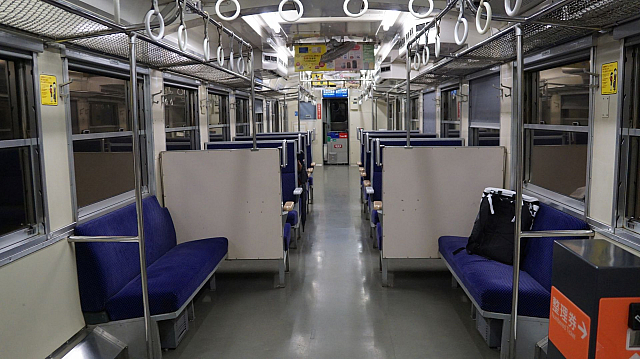 Before-long I was back in Yamakawa to wash-up and relax. Did I mention that my room over-looked the street and railway? I didn't even have to ask!
Back to Ibusuki for a Pen!
I didn't have one and reception had already shut when I got back to the lodging. There was also no shop to be found near the station in Yamakawa... so I pulled out my trusty google and worked out a plan of attack. It ended up that I'd leave on the first eastbound service, stop at Ibusuki, get a pen from the local convenience store (as well as breakfast) and then return back to Nishi-Oyama once more.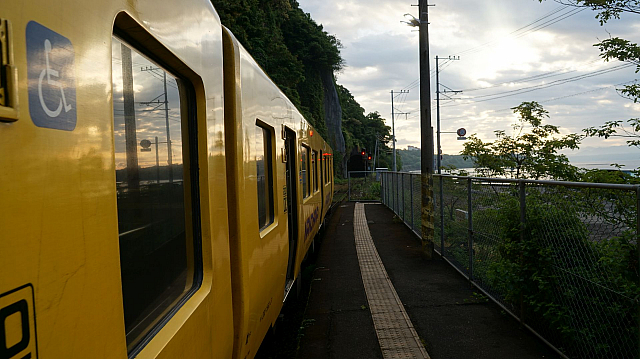 I love it when my favourite train is just waiting at a station for me. The 200DC made short-work of the single hop to Ibusuki, but then continued on to Kagoshima-chuo. I started wandering to the convenience store, but then realised that there'd be another service coming south... fortunately there was a level-crossing along the way, so I waited around, confusing a local who was already working on his garden.
After completing the relevant purchases (I love it that convenience stores in Japan are actually convenient!), I did a lap of Ibusuki yard.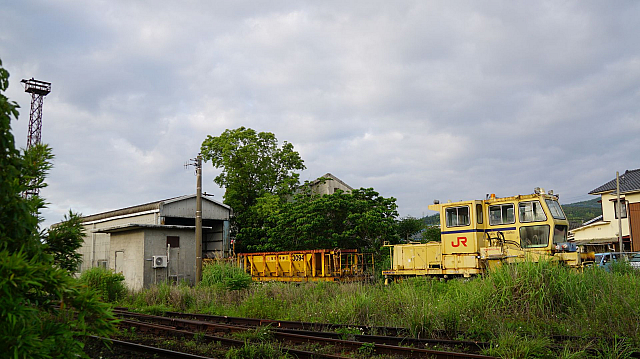 Finally, with all equipment in-hand (or, at least, in-bag) I jumped on the next westbound service through to Nishi-Oyama. It happened, again, to be a white and blue KIHA47. It seems these are the only model that runs further west than Yamakawa.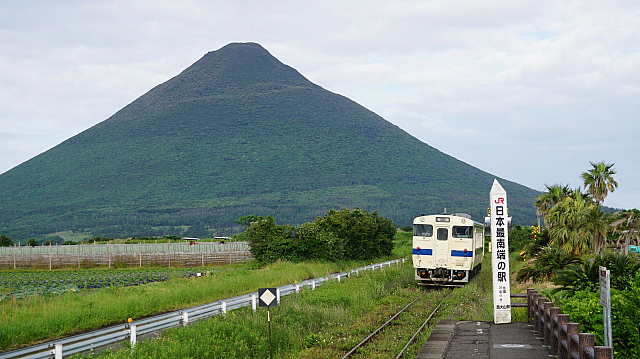 A note was finally left...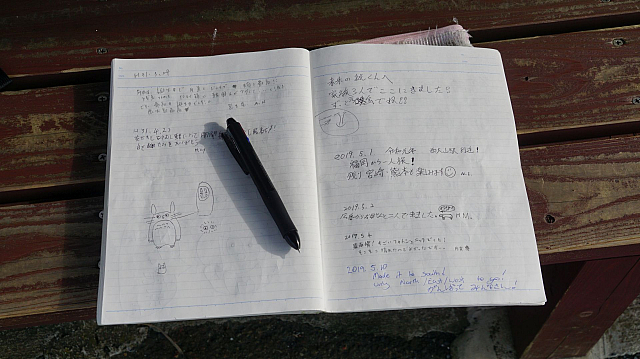 And the shop was open! I helped myself to a Mango Cider.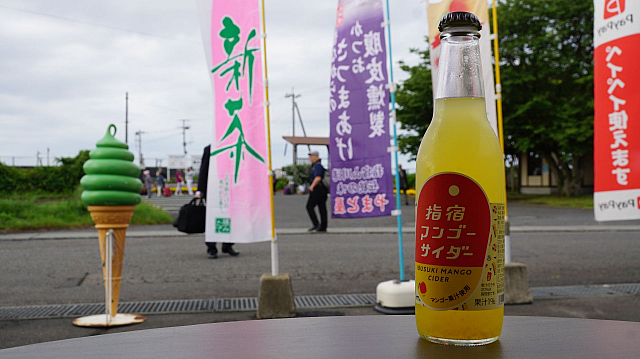 A funny thing then happened... a tour-bus full of elderly citizens arrived, ready to take the same train as me back to Kagoshima-Chuo. There must be a retreat somewhere up in the mountains.
From there, it was back to Kagoshima. Whilst stopping-over at Ibusuki, everyone's phones started making this weird alert sound. A really cute voice then, from all phones at once, proclaimed "Jisshin Desu!"... A new earthquake warning system?! I'd never heard this before and it was quite surreal. I quickly messaged my friend in Miyazaki/Nichinan (of whom I was about to visit) and he mentioned it was 5.something and he felt it... but we didn't in Ibusuki.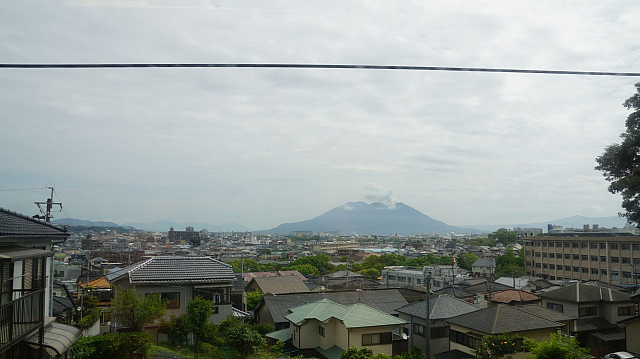 Sakurajima looked angrier-than-usual as we approached Kagoshima.