Staying in Tennoji this time around meant that I was close to the main trunk like of the Nankai railway. The closest station was Shinimamiya which is a shared JR/Nankai station. It allows passengers to transfer from the loop line to the Nankai service. From here you can proceed north into the heart of Namba or south towards the Airport, Koyasan or Wakayama.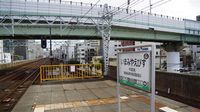 Between Shinimamiya and Namba is one station: Imamiyaebisu. This station exists on the two east-most lines and is only really served by local trains. Its location provides a great view in both directions, from both ends of the platform.
The two tracks to the west are for anything other than local trains. The expresses will pass along these lines at moderate speeds. Most express services still stop at Shinimamiya, so they wont be full tilt.
The only real drawback of the area is the ability for services to block your view and the overpass just to the north providing unwanted shade. First world problems, really. There were even other photographers there when I visited.
Southbound View
Nice sweeping curves and no issues getting full consists in the frame. Nankai has some basic liveries and a lot of stainless stock. Fortunately they like mixing it up quite a bit.
Northbound View
Northbound is just as nice... quite a straight stretch until the final right-hand curve into Namba. And then ... the consist I was waiting for approached.
The Nankai Rapi:t is the express train to Kansai International Airport. If you're staying in Namba, or don't have a railpass, then take this train when you arrive... it's fantastic.