GAME OVER? has existed for over 14 years, tucked away in a side-street in central Amsterdam. I was very happy to hear this when asking the owner about the history of the shop.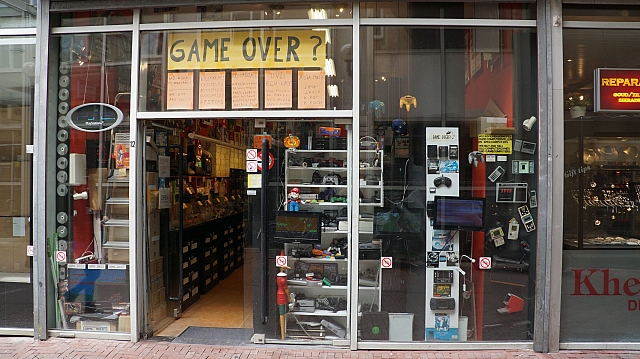 This shop is bursting at the seams! Wall to wall of amazing retro goodness. You'll find everything here from VIC20/C64/Atari through to XBOX/Gameboy/PlayStation. The window is full of relics and will get anyone interested inside. Don't be fooled into thinking that what's on display is all there is to offer... If you know what you're after, then ask away and have the owner dig bits and pieces out for you.
I happened to want one of the controllers in the window; turns out they're all damaged and just for display. I was then lead to a draw, on the left as you walk in, and a motherload of C64/Atari items was presented. Pretty ... much ... heaven. The owners are really friendly and let me take pictures inside the store... so do chat with them; their wealth of knowledge was very helpful!
As you can see from above, I picked up two Atari controllers and my first ever C64 cartridge: Rat Radar Race. Am still to test it, but have been told it is in working order. I couldn't trek half-way across the globe and not purchase a few goodies when they were there in front of me. I actually tried a few of the 'markets' around Amsterdam but found zero retro gaming items.
Check this shop out if you're ever in Amsterdam!