New year, new OS install. Windows 10 was lagging badly and took around 20 minutes to boot... sure... it was probably PLEX just trying to checksum 4TB of media, but I was sick of it. So, fresh install of Win7 on that 1TB SSD I installed into my previous Vaio. All went well with Windows 7, apart from crappy installation media... but upgrading to Windows 10 took a lot of effort.
Actually, Windows 7 had enough trouble with its own updates. I think that, nowadays, due to the sheer amount of updates that'll try and download and install (at once) on a fresh Windows 7 installation, it's nearly impossible to have them actually all install and succeed.
Therefore the windows updates process took around 10 reboots, with the progress counter getting to 70% and unwinding with an error... but each time more updates would succeed, so it just seemed that they needed intermittent reboots which aren't automated.
Anyway, once I finally had a Windows 7 desktop with an who-knows-how-successful SP1 install, I did the lovely accessibility Windows 10 update. I am hard of seeing, you see?
I came straight away into this error...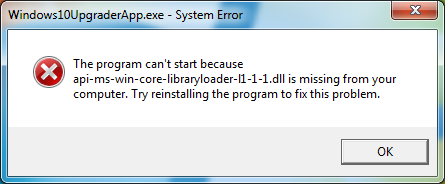 The program can't start because api-ms-win-core-libraryloader-l1-1-1.dll is missing from your computer. Try reinstalling the program to fix this problem. Re-installing what program? I'm running an installer! :)
After a large amount of googling... I stumbled across a one-liner in this post. Someone briefly mentions swapping wimgapi.dll from your c:\windows\system32\ folder into the c:\windows10upgrade folder... it then just worked!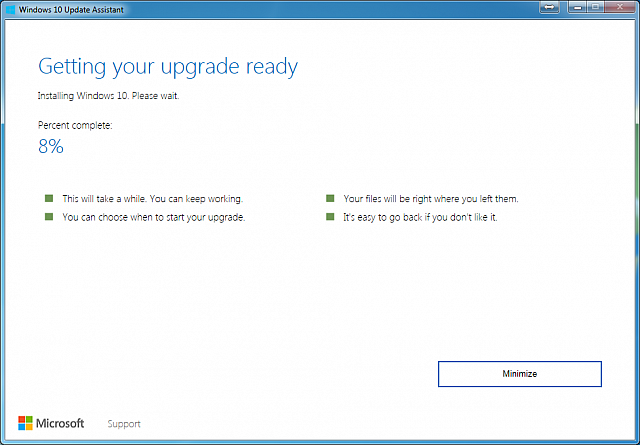 Well.. I hope it will... at least it's installing...