Following on my thread of airbnb apartments with train views, here's a beautiful apartment in Akihabara with a good view of the Chuo Main Line and the Sobu Main Line. It's, as to be expected in Japan, a small studio-style apartment which comfortably fit 3 of us and, thanks to being in close proximity to Akihabara and some great restaurants, never left us inconvenienced!
Of course, I could stay in a pig pen, as long as the balcony had something to look at...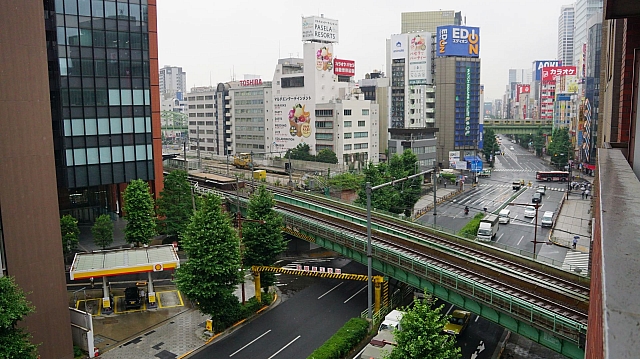 Yes, Platnium Fish Cafe (previously known as N3331 Bar and Cafe) in Maach Ecute on the old Manseibashi Train Station is just there... on that platform on the curve next to the building!
That's better... check that view out! Right up front is the Chuo Main Line, and up the back in amongst the buildings of Akihabara is the Sobu Main Line. I must admit though, there's a lot of standard passenger traffic over limited expresses. But then again, you do get some cool movements. We arrived on a Thursday night and the next morning ~0700 a Super Azusa consist dead-headed west and then another (or maybe the same) returned east. I didn't have my camera ready and this didn't happen on Saturday or Sunday morning! A little sad as they're slated for the recycle center once the new model comes out.
Either way, it's still a fantastic location to sit back with a few tinnies from 7/11 and you'll get enough Limited Express Shiosai or Ayame on the Sobu Main Line as well.
Sheesh... I need to work on my angles! I promise the track is level.
An Azusa consist also takes the Sobu Main Line on a single inbound AM service and outbound PM service, getting people to and from Chiba.
Anyway, I can only recommend this place if you need quick access to Akihabara and like trains! It's also an easy commute from Narita; just take the Skyliner to Nippori and transfer to the Yamanote Line clockwise.