I just happened across an eBay auction for a "Thunderbird" 7-Car consist in JNR red/beige livery which very much looked like a JR West Raichō or Kitakinki. After digging a little deeper, it turns out that the seller actually directly translated the Kanji of 雷鳥 to "Thunder bird". This, whilst literally correct, is a mistranslation of the train name which is, of course, the Raichō.
Little did I know that the JR West Thunderbird actually steals its name from the Raichō, which means "thunder bird" in Japanese. The bird is actually the Rock Ptarmigan, a native to the Tate[yama] Mountain Range of the Toyama region (which is where the train[s] travel to.)
Interesting to know that JR West first called the Express the 'Raichō', then released a 'Super Raichō' and then created a new service to the same area with the same name, but this time in english: the 'Thunderbird'.
Going through my galleries, turns out I have more shots of the Thunderbird than I care to remember!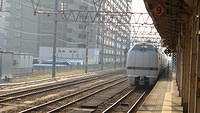 The Thunderbird just happens to be one of my favourite EMUs. It's colour-scheme is a little dated, but the design and practicality (opening end-vestibules) is awesome. Not surprisingly, it also reminds me of the Dutch NS Koploper.