Numerous sightings over the last 6mths... and it'll continue.
Living in the neighbourhood allows me to either grab a coffee and watch the consist pass or try to sleep and hear it take the bend south of South Yarra Station. Only when the tracks are wet does it choose to take that corner silently.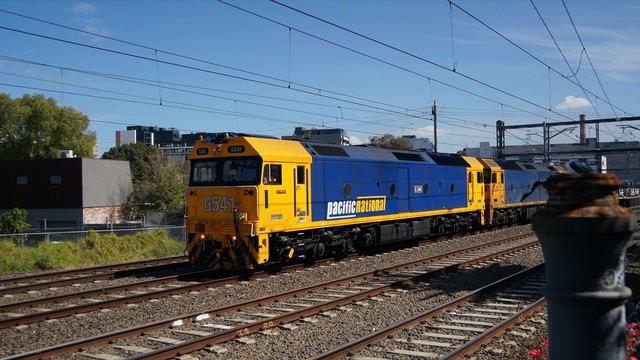 Every now and then the driver also chooses to select notch 8 when climbing towards Toorak Station. I'd really love to live closer to hear and feel it.
You can see that the early morning up seems to be rather bare. I've seen this train randomly in the past and, back then, hadn't bothered to record the timings. The current goal is to fill a full row out. It usually passes Richmond Station at around 6am... so I'll have to be keen.
Averages
0505
1156
1354
1843
2019
2340
(9552) Morning Up
(9553) Midday Down
(9557) 2pm Down
(9556) Afternoon Up
(9558) Evening Up
(9555) Midnight Down
2015-02-11
2358
2015-02-12
1850
2015-02-13
1857
2349
2015-02-16
1148
2333
2015-02-18
2359
2015-02-19
1851
2015-02-20
2348
2015-02-21
2338
2015-02-22
2348
2015-02-23
1851
0012
2015-02-25
0047
2015-02-26
2347
2015-03-02
1205
2015-03-03
1848
2350
2015-03-04
0008
2015-03-05
1848
2015-03-06
1850
2316
2015-03-07
1938
2015-03-10
1144
1851
2015-03-13
2334
2015-03-15
2331
2015-03-16
1208
1856
2348
2015-03-17
2322
2015-03-19
2354
2015-03-22
2336
2015-03-23
1131
1854
2358
2015-03-24
2350
2015-03-25
2352
2015-03-28
1249
1850
0005
2015-03-29
1143
2015-03-30
2339
2015-03-31
1855
2015-04-01
1850
2357
2015-04-08
1905
0030
2015-04-09
1853
2355
2015-04-13
1146
1843
0016
2015-04-16
1853
2015-04-19
1203
2015-04-20
1205
2015-04-21
2341
2015-04-22
0103
2015-04-26
1138
2015-04-27
1139
2015-05-03
1248
2015-05-04
1139
0005
2015-05-11
1138
2359
2015-05-14
2359
2015-05-15
0049
2015-05-17
1213
0001
2015-05-19
2340
2015-05-20
2346
2015-05-22
2320
2015-05-25
1121
2015-05-26
2353
2015-05-27
0003
2015-05-28
2358
2015-05-29
1849
2015-05-30
1232
2015-05-31
1207
1636
2015-06-01
1137
2015-06-07
1250
2015-06-10
0028
2015-06-11
1855
2331
2015-06-15
2350
2015-06-17
2345
2015-06-18
0010
2015-06-21
2327
2015-06-23
1850
2015-06-30
1158
2015-07-01
1154
2015-07-03
1155
2015-07-06
1200
2015-07-09
1125
2349
2015-07-10
1147
2015-07-11
1138
2015-07-12
1909
2015-07-13
1140
2015-07-15
1138
2328
2015-07-16
1138
0001
2015-07-19
1201
2332
2015-07-20
1146
1854
2015-07-21
1143
2015-07-22
1149
1858
2015-07-23
1222
1853
2015-07-27
1138
1852
2015-07-28
1150
0005
2015-07-29
2349
2015-07-30
1145
2015-08-01
1158
2015-08-02
2311
2015-08-04
1138
2333
2015-08-05
1140
2015-08-06
0017
2015-08-07
1148
2015-08-25
1138
2015-08-26
1138
2015-08-28
1159
2015-08-31
1139
1855
2015-09-01
1155
2015-09-02
1139
1855
2015-09-03
1203
2357
2015-09-07
1145
2015-09-08
1358
2015-09-09
1140
1851
2015-09-10
1155
0001
2015-09-11
1139
2015-09-12
2343
2015-09-14
1230
2015-09-15
1155
2015-09-16
1226
2015-09-20
1215
2015-09-21
1137
2356
2015-09-23
2336
2015-09-24
1155
1850
2015-09-25
1205
1854
2355
2015-09-26
1906
2015-09-28
1143
2015-09-30
1148
2015-10-03
1242
2015-10-05
1124
2015-10-12
0008
2015-10-14
0032
2015-10-18
0739
1400
2013
2343
2015-10-19
2024
2015-11-10
1159
2015-11-11
1153
2015-11-12
1852
2015-11-25
2355
2015-11-26
1811
2015-11-30
0037
2015-12-02
0029
2015-12-03
0003
2015-12-07
1820
2015-12-08
2016
2015-12-09
0000
2015-12-10
1155
2015-12-11
1207
2015-12-14
1812
2015-12-16
1851
0005
2015-12-20
1804
2329
2016-01-02
2326
2016-01-03
2349
2016-01-04
1853
2016-01-06
1207
2016-01-07
1157
2343
2016-01-09
2355
2016-01-10
1253
1802
2341
2016-01-11
0416
2358
2016-01-12
0357
1154
1901
2016-01-13
1827
2354
2016-01-14
2354
2016-01-16
0551
2336
2016-01-17
1803
2016-01-19
0527
1851
0029
2016-01-20
1158
0017
2016-01-21
0500
1850
2016-02-01
0350
2026
0028
2016-02-02
0557
1850
0014
2016-02-03
0454
2015
2016-02-04
2027
2016-02-05
0520
2016-02-06
2336
2016-02-07
1229
1701
2016-02-08
0432
1854
2016-02-09
0428
1903
0009
2016-02-11
1901
2016-02-12
2027
2016-02-15
2350
2016-02-16
1851
0023
2016-02-17
0517
0020
2016-02-18
0527
1855
2015
0020
2016-02-20
0421
1733
2016-02-22
1154
1355
1853
2013
0020
2016-02-23
1154
1348