The cheapest flight to Amsterdam favoured a return leg via Tokyo. Why just transit when you can stop over for two days? I've never really spent much time in Tokyo; My university was partnered with Kansai Gaidai and so most of my friends are living in the Osaka area. Due to this, I'd googled and facebook'd a few locations of interest...
Ochanomizu Crossing
right alongside Akihabara, you'll find Ochanomizu station. This station is located on the Chuo Line, right on the banks of the Kanda River. Two JR lines and the Metro intersect here and the scenery is fantastic. I took the Metro to Shin-Ochanomizu and walked 10 minutes to the bridge. Afterwards it was a further 5 minute walk to the middle of Akihabara.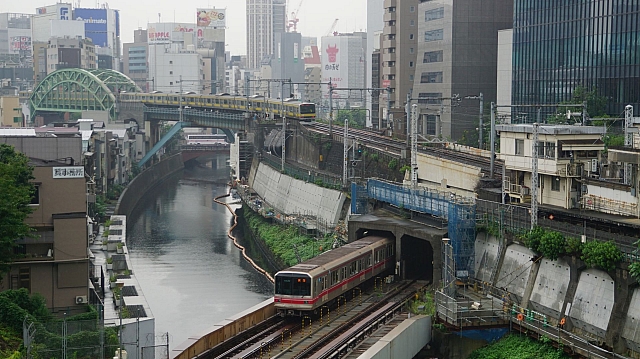 It just so happened to be raining... but nothing was stopping me from checking out the operations. I reckon in peak hour you'll have a high chance of getting a train on each track.
Tsurumi Line
This branch line (although it has physical connections at the far end) serves multiple industries in south-western Tokyo. It actually has multiple branches in itself, with specifically-timed services.
The Tsurumi area is nearly all industrial and houses large warehouse/manufacturing plants for Toshiba, Shell and many others. You'll be presented with sidings of oil containers and other freight areas as you make your way down the line. Each factory seems to have it's own connection to the line.
There doesn't seem to be any coupling/uncoupling at intermediate stations, so all trains have a single destination and the passenger must stay aware of this when boarding at Tsurumi.
Tsurumi Station
Tsurumi Station provides a transfer point to-and-from the Keihin Tohoku Line. Note that the Tokaido Line does not stop at this station!
Transferring involves heading up the escalator to the the station concourse. Walking north, you'll see the Tsurumi line trains waiting at the platform as they are elevated.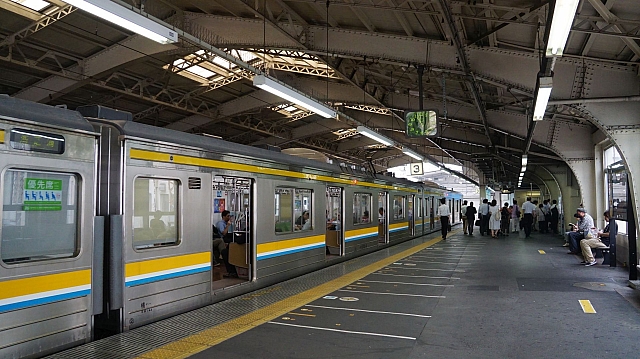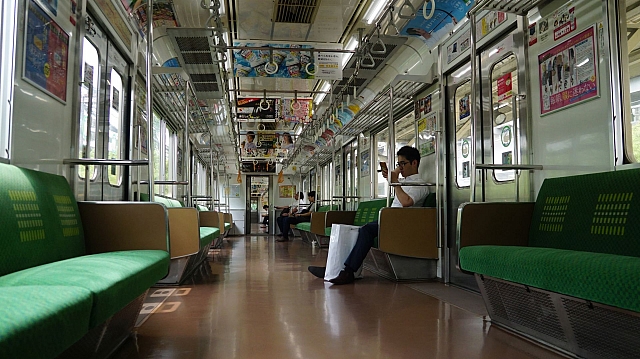 Do make sure that the train you're about to jump on goes to your target station. Due to the multiple branches, there are specific interleaved services that travel to the individual factory terminals. I jumped on the regular service that goes via Hama-Kawasaki to Ogimachi. At Hama-Kawasaki you'll find a whole lot of freight activity, so it was high on my priority list.
Hama-Kawasaki Station
This station is actually the intersection of the Nambu Line and the Tsurumi Line. There is also a main freight trunk that connects Tokyo Freight Terminal (via a series of tunnels) to the Tokaido Line.
This station is made of two parts and passengers, when using an electronic tickets, do NOT need to touch on/off when transferring. There are specific notices to prevent this. It also seems that photographers have haunted the place for a while! That sign about being careful whilst taking pictures is not new!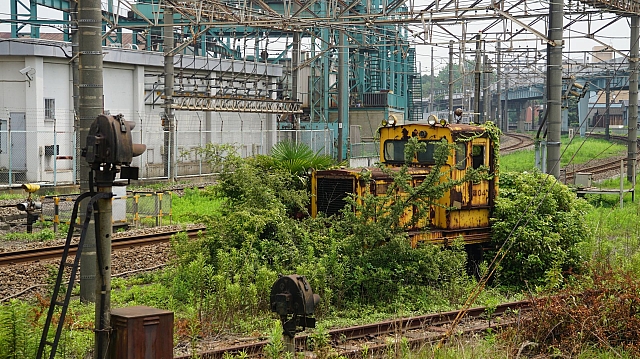 A poor little critter has been abandoned in the yard right next to the Nambu Line Platform and it seems the environment is trying to reclaim it.
Waiting on this platform, chances are good you'll see oil trains come to and from the yards to the south. You'll also see container trains bolting through the curve and turning north to the Tokyo Freight Terminal.
I then walked a lap of the area. There are multiple level crossings and overpasses which provide vantage points in every direction. Of note is the viaduct that runs over the top of the station. Seems to no longer be in use, but would've been handy to allow through running previously. I am assuming that the Tokaido freight connection used to be further west, instead of coming down the Nambu Line?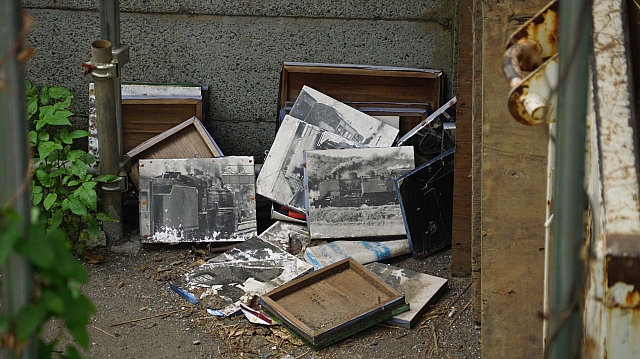 During my lap, I found the following. A collection of old prints that would've been hanging in a station building or staff quarters? I was on an overpass, so could not inspect closer... there was a line-side building that had been demolished, so they could've possibly come from there. Unfortunately it looked like their fate was sealed.
Kawasakishimmachi Station
I took a Nambu Line train from Hama-Kawasaki and got off here. This station is parallel to the freight lines, but doesn't give you the best vantage point. Either way, expect to see a lot of them pass.
Of note around the station are a bunch of cool portable storage containers. Personal, private storage that you can rent. Those pink doors in that last photo show the containers. I saw two people using them whilst I watched the freighters pass. There's also a cool underpass between the platforms; I really (and I can't explain why) love the black paint and tubular formation.
More freighters and then a hospital train? Also the local EMUs.
Kita-Urawa Station
I've been a member of a Facebook group for a while where Japanese locals are always posting freights from the northern-Tokyo region. All of it seems to be centered around the Urawa area. There's a triangle here where the Musashino Line joins the main north-south Tohoku Main Line.
At Kita-Urawa Station you have the local trains on your platform... but then there's six other tracks to the west that provide express access into Tokyo. You'll see a range of freight and express passenger services here. I got off at this station as I'd already seen train buffs with their cameras out. I wasn't disappointed, but the camera angles weren't what I was expecting.
Next time I'll traverse the Musashino Line and see what else is operating.
Shimbashi Station
C11 282 is stuffed-and-mounted here. It's a nice forecourt for the station. It's also a designated smoking area! How funny... humans can puff smoke just like the old Kikkansha used to! The area is called the "SL広場 新橋駅西口広場" which translates to Shimbashi Station West Exit SL Plaza.
As with every trip to Japan... I get that feeling that I've hardly skimmed the surface.