China Southern had a great deal on return flights to Amsterdam, but the return leg included an inconveniently-timed 10-hour stopover in Guangzhou. Instead of this, I re-routed via Shanghai and decided that an overnight bullet train trip was in order. It's really the only thing that China has done over Japan, the building of high-speed beds! Well.. I lie. I wrote that last sentence prior to going and now that I'm back I'm seriously impressed with the culture, technology and overall livability of China. It was very different to when I was there 15 years ago!
Getting a Tourist Visa
So, Australia ain't on the cool-list. As an Australian, you'll have to fill out the application form and either post it to the consulate or deliver it in person to the application center. I chose the latter and, expecting that I had all the correct information, rocked up without an appointment on a Thursday lunch-time. After a 2.5hr wait, I was told that I needed print-outs of my hotel reservations. I'd totally neglected to read the requirements.
I returned to work and decided to choose some hotels later that night. Once done, I made the smart move and actually booked an appointment. DO THIS! DO NOT VISIT THE CENTER WITHOUT AN APPOINTMENT! With everything on me, I rocked up the following Monday and still had to wait for around 40 minutes. Once called up, all information was accepted and I was handed a receipt with an expected completion date. This was the following Thursday and, upon arrival, I waited in line to receive my passport with its pretty new Visa installed. AUD$109.95 later and I was set!
So, the basic idea is: Book EVERYTHING before you go and apply for a Chinese Visa. The form actually requires you to record where you are each night of your trip, so make sure you have the appropriate evidence per day.
Shanghai
This city is crazy... I stayed right in town at the Raddisson 'Tru Blu' and enjoyed it. The location was great for walking Nanjing Road to the Bund and also for getting a train to the computer area. Unfortunately the markets were really only full of new stuff. The area was pretty cool though with the overhead metro lines and grotty markets/streets. Check this link at Wikia for more information.
I had a friend help me work out cool places to check out trains. We were advised that the station platform at Lianhua Road Station on Subway Line 1.
The line parallels the actual main railway and there are two flat concrete platforms out from the station roof that you can use as viewpoints. Either gives a clear view in one direction and not the other. I was really happy though, there was a good mix of loco-hauled and high-speed trains through in the 30 minutes we hung around.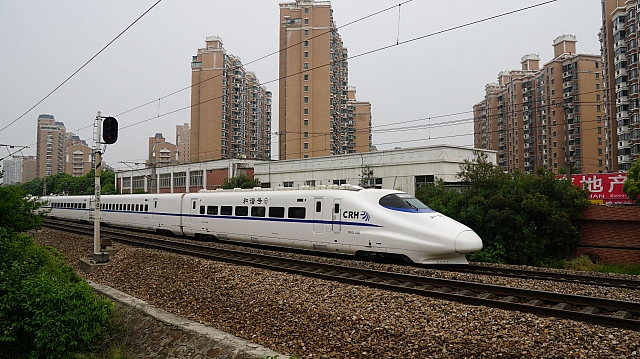 After this is was shopping, shopping and more shopping. Oh, and eating! Go to Da Dong for the most amazing Peking Duck.
The Overnight Bullet Train
After travelling on the Twilight Express, Kitaguni and Hokutosei... even the XPT in Australia and the Bangkok - Chiangmai Sleeper Train, it was time to ride the 'Deluxe Sleeper' from Shanghai to Guangzhou. This was going to be a 1400km coastal trip (not unlike the Twilight Express) with very convenient departure and arrival times.
This service only runs on Fridays, Saturdays, Sundays and Mondays, so make sure to plan your trip around the timetable. It seems that there's no demand mid-week and therefore does not run. Here's a recent Friday timetable.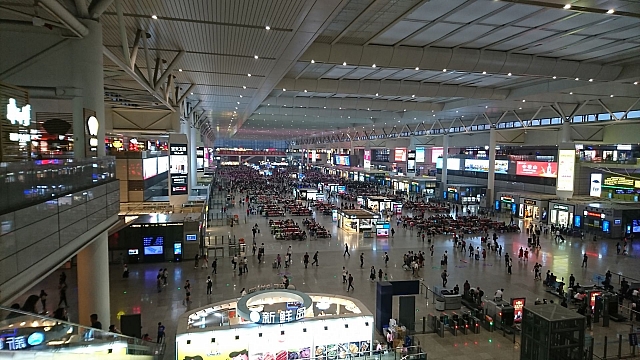 The trains and stations were enormous and astonishing (that first photo above is from the mezzanine in the waiting area of Shanghai Hongqiao.) Just the sheer scale made them impressive. I must admit that the passengers were also very well behaved, when compared with normal public interactions. Everything felt a lot more like an airport than a train station. Most stations also had 16-or-more platforms with trains heading in numerous directions. Unfortunately, the waiting area was above the platforms and you only got to see the trains when you were called to board.
The consists were clean and tidy. It was funny looking at each of the models and thinking like I'd seen them before. Some were kawasaki-styled, others siemens-styled. Either way they all (well, except the very latest with its red livery) had the same white/black/blue colour schemes. Train after train departed and arrived at Shanghai and it was amazing to watch.
The cabins themselves were very similar to those of both Thailand and Japan. Everything was very shiny and new, but the tech wasn't overly 'premium'. The beds were already down and made, although it was already 2030.
Each bed had a TV, reading light, control panel and ample bedding. It was all looking very comfortable, except for the couch, which was a little hard and facing backwards... but that was luck of the draw as even-numbered cabins would've had the couch facing the other way. Anyway, it was dinner time...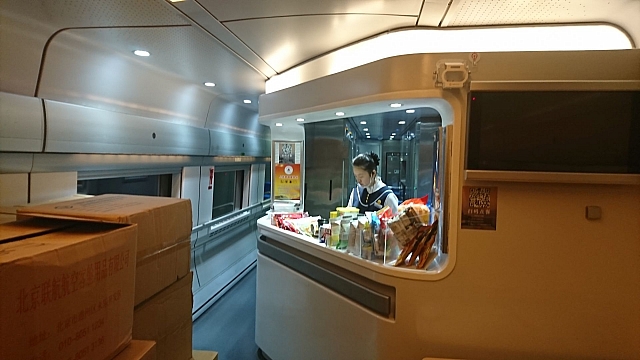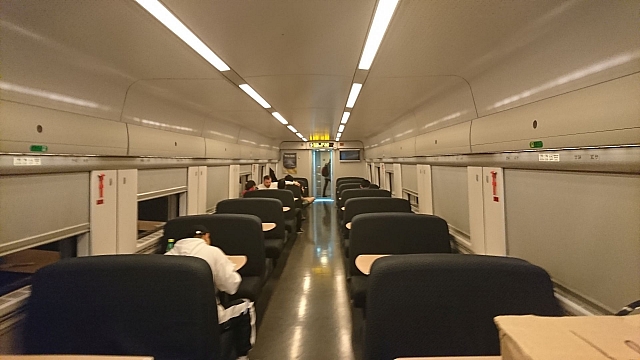 The buffet car was next door and felt comfortable enough. It actually reminded me of my KTMB trip from Butterworth to KL. Nice and clean, boxes of stock piled high, very spartan outfit but functional and a simple menu. All items were 'bento' style and re-heated in the industrial-strength microwave. I chose the fish and suffered through a lot of tiny bones; still delicious!
Back to the cabin via the cute decor... there's a temperature control next to the door to make sure you have a comfortable sleep... although the upper berth may receive the majority of the aircon. Note that cabin number one (and the other end, I think 10? or 12?) are right next to the toilet. They're airplane toilets as well... so thanks to thin walls you can feel when people flush next to you.
The trip was fantastically timed and really easy. There was only one really major fault that I believe I may still be suffering from. The pressurisation of the carriages wasn't working. You could tell as soon as we were entering a tunnel as your ears would start to pop. And I don't mean just once... I mean about 5 times on entry and twice on exit of each tunnel. Worse when there was an opposing train! Even when lying down and sleeping I was awoken to aching eardrums once or twice.
Guangzhou
We arrived into Guangzhou at 7am on a Tuesday and dumped my bags at the hotel. I ended up staying at the Royal Mediterranean Hotel in the Gang Ding area of Guangzhou... nice and close to all of the IT markets! It was too early to go shopping, so we ventured for the Canton Tower. This had an awesome observatory with a freakin' ferris wheel on the top!
Anyway... the days were mainly spent scouring through IT markets... but, of course, the effort was put in to ask the community where a good photography point would be. Turns out this one was a bit dicey. My friend was a local and declared that we could enter the area... but I was a little wary. We ended up taking Didi (Chinese Uber) and then riding the rental bikes to a rural area.
This area was known as the Xinshi Residential Area, or so I think? The maps are a little hard to work out. Either way, it was a side-road to a depot for track machines.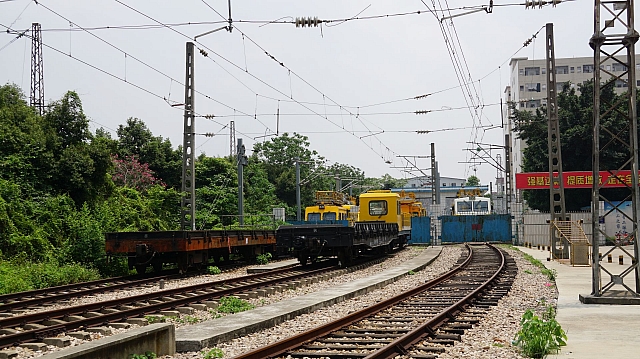 So.. yeah... after checking out the wagons, we *ahem* 'navigated' a fence and were presented with a fantastic line-side opportunity. Here's the northern view...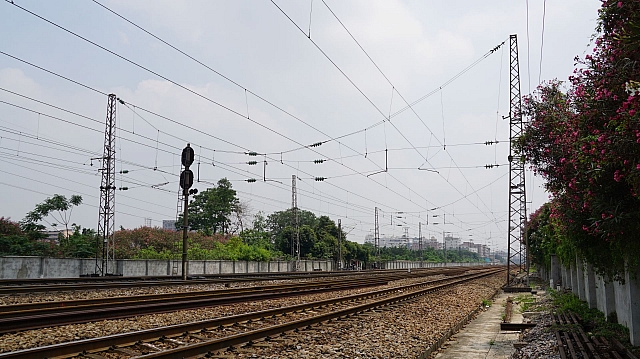 And then the southern view...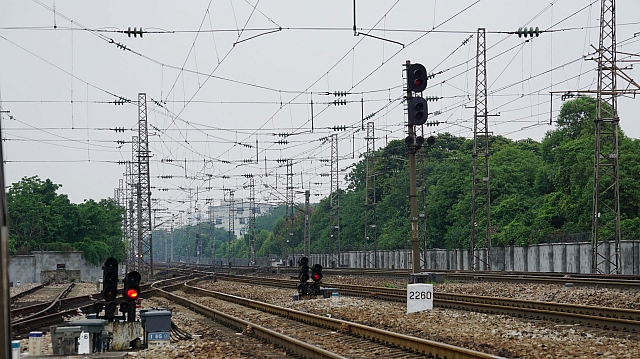 From here it was train-after-train-after-train. Seeing the signals helped a lot too. And this time there was freight! No high-speed though.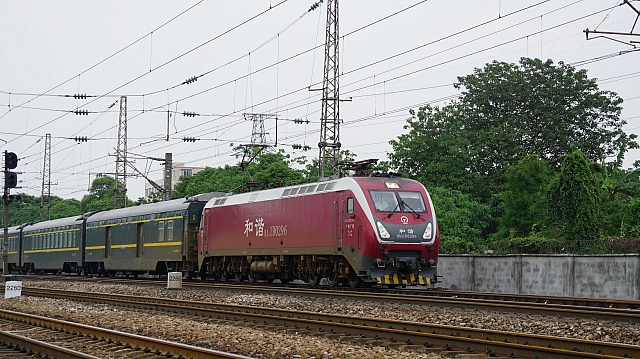 Lots of passenger consists... going to (or coming from) some very far reaching places!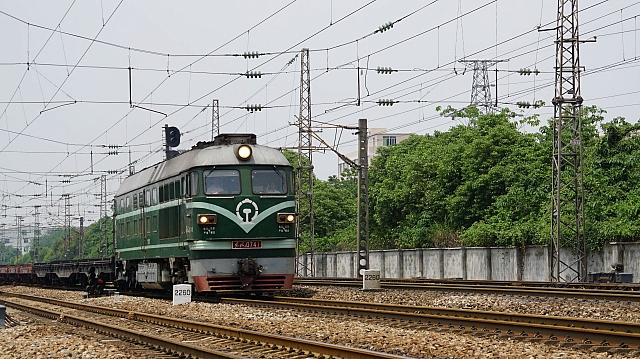 Ahhhh... diesel freight... nothing better...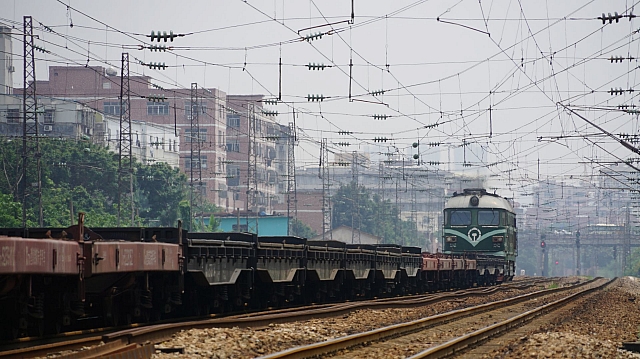 The passenger consists were actually seriously long. Turns out there was a bit of congestion too.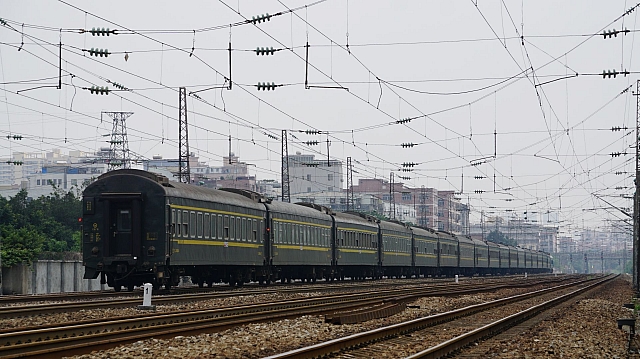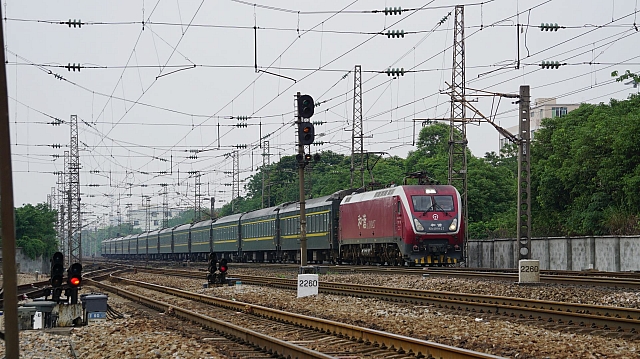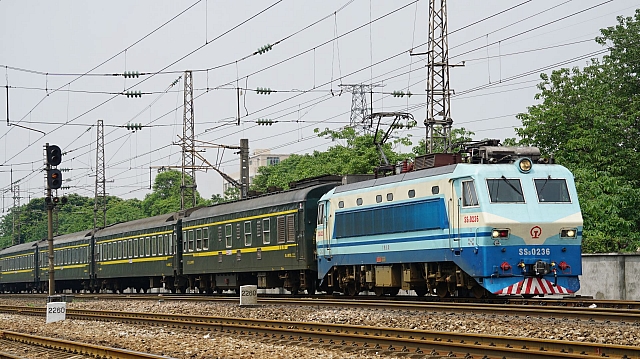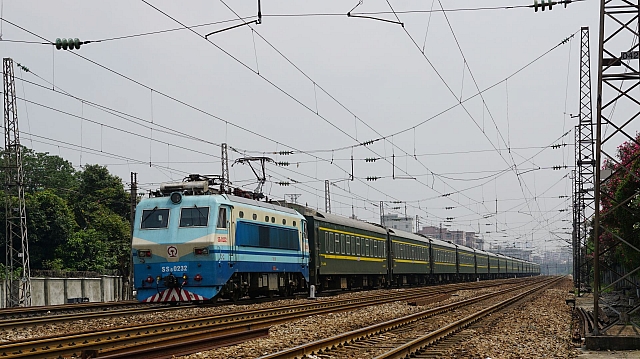 And then a final freight...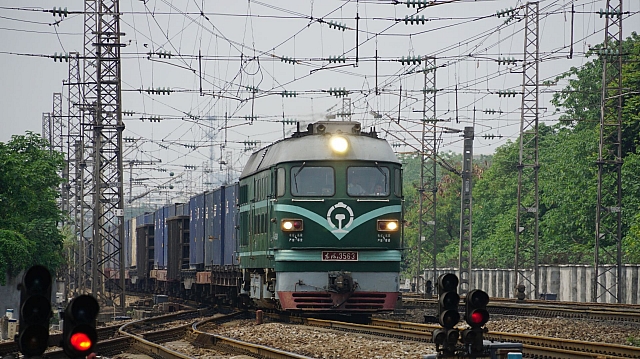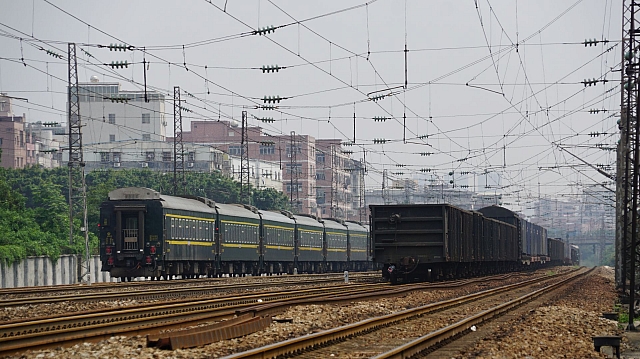 And finally... a puppy in a box...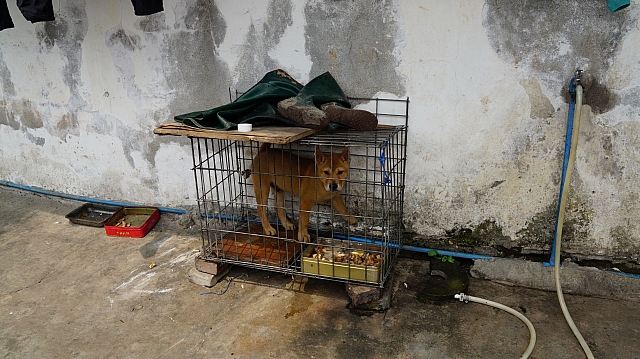 ...he wasn't a happy camper.
China Southern
One final note.. China Southern is a fantastic airline. Three of the four legs of the trip to Amsterdam were on seemingly-brand-new Airbus A330s and the staff and food were fantastic. The leg from Amsterdam to Shanghai was actually operated by KLM, so that was also a nice surprise.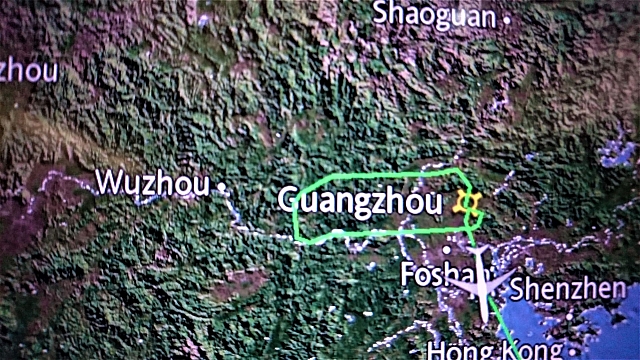 The final surprise was having the pilot draw a ring around the word 'Guangzhou' on the map as we departed for Melbourne. Things were amiss when we started heading west... I nearly thought I was in for another European holiday. We then veered south and I assumed we were to loop back and land in Guangzhou. But then as we swung around, out to the east was the most amazing storm-cell, smashing lighting in every direction. Fortunately this was well away from us and was exactly what the pilot was trying to avoid!