Thanks to Jetstar, I've been frequenting Narita International Airport lately as there is a great Melbourne to Tokyo direct flight on the Dreamliner 787. Sure, it's Jetstar, so you know what you're getting, but the red-eye timing is great on the way there and it's also not too early in the morning on the way back. Unfortunately, it seems that Qantas has seen how lucrative this leg is and will take it back early in the new year?
Getting to and from Narita Airport quickly means taking either take the JR East N'EX or Keisei Skyliner. On the way, other small towns flick by in the windows... these Limited Express trains don't bother stopping when it's not convenient.
Thanks again to Jetstar, we suffered a huge delay when returning to Melbourne. Well, actually, it wasn't Jetstar's fault. Melbourne Airport received a bad batch of aviation fuel and any plane loaded with it had to dump its tanks. Other planes waiting for fuel had nowhere to go and no fuel to receive.
Due to this, our operating aircraft was delayed. I received an email at midnight (before a midday flight the next day) telling me that my 12:50 would leave at 14:45. That's awesome when you're in Tokyo, as there's no end of stuff to do. Unfortunately, the email did not mention what time check-in was. Since the plane was suffering a 2+ hour delay, could I go to the check-in 2+ hours later? This was non-refundable-cargo-hold-style Jetstar and so I wasn't going to take that risk. I made it to the check-in desk at 10am for my 14:45 flight and the attendant happily checked in my obese bag! (Famicom + Games, MSX + Games, Model Trains, Pla-Rail, etc)
Now, thanks to Jetstar being an LCC, I was in Terminal 3 in Narita Airport with not much to do. I really like the terminal; the 'running track' is great to get people into the orderly fashion of Japan straight away and the food court is nice. But ... once through security (and they even warn you with signs stating so) there is nothing do to but sit in massage chairs.
It was 1030, the flight wasn't boarding until 1420. That was ... nearly 4 hours! Let's check out the closest town.
Narita
Yes, there is actually a town called Narita. It's located just south-west of the airport and isn't huge. The limited express trains of both companies (they have individual stations) often don't stop here. Therefore I jumped on the next Keisei local train (I no longer had a JR Pass and I wanted to test the competition) and travelled one stop.
So far, 15 minute walk to the station from Terminal 3, 2 minute ticket purchase, 5 minute wait and then 10 minute transit. We're here! McDonald's is out the front of the Keisei Narita Station. I had my last binge on delicious Japanese-style western food.
A quick walk north-east along the Keisei route saw a vista of a sweeping curve, but the elevation to take a shot from the road was too low. I intruded on a building's fire-escape and was quickly asked to move on.
It seems that, although it's a small town, I'm not the first Gaijin here and other intruders have done the same thing. If so, I'm not surprised; it would've been perfect to have the Skyliner bolting in with the sun where it was.
JR Narita Station
Oh well, time to check out JR. Wandering along any road north-west from Keisei will get you to the JR Narita Station. It's a lot larger and has a nice yard to the south. The N'EX trains come through frequently, but I was never in the right place at the right time.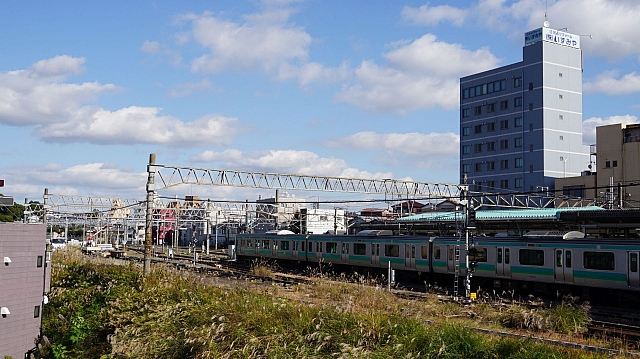 There's a viewing deck on the far side, near the bicycle parking. After this, I circumnavigated the yard to the south-west. At the time, this seemed like a great idea. I was wrong though... it's a LONG walk and it was already hot with the sun in your face most of the way. The road also doesn't provide any vantage point to the railway below. Once you get to the south-eastern side of the tracks, you're then too elevated to get a good shot without catenary. It was still nice to check out the sleepy town though!
Keisei Narita Station
After dawdling further around, you'll start intercepting level crossings for Keisei. This doesn't happen with JR, as their tracks are all grade-separated. From the south-west, where the companies rails cross (oh crap... if I'd looked at a map then I would've gone down to check out this over/under!) you can walk up the main road between both companies. You get a good view of Keisei to the right and the odd view of JR between buildings.
Further down the road, on the right, you'll hit some level crossings.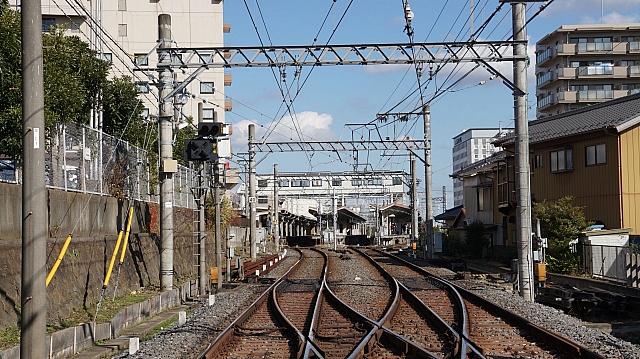 And then... if you hang for longer than 20-or-so minutes, you're bound to see the one we're all waiting for.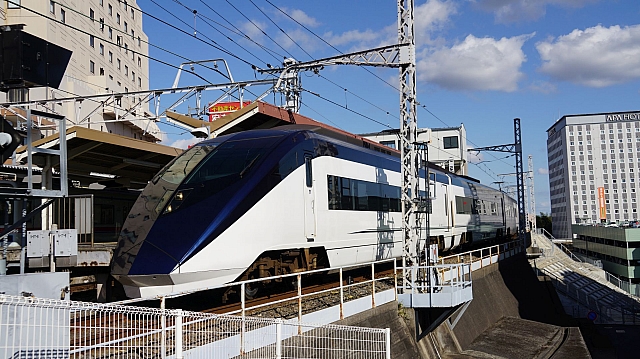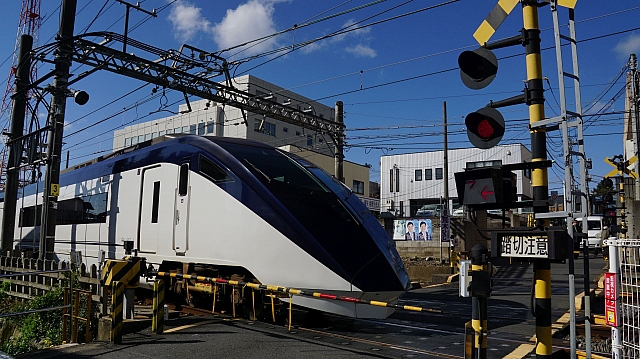 Now that I look back; waiting down at the area where JR passes over Keisei, regardless of the incorrect morning light, would've been a great opportunity. Oh well.. gives me something to go back for!
From here, it was a quick local trip back to the airport for a second and then third lunch.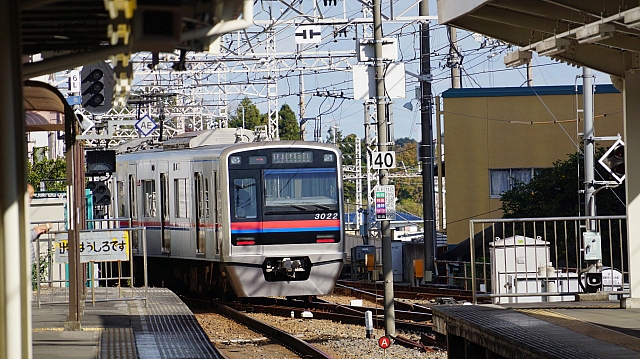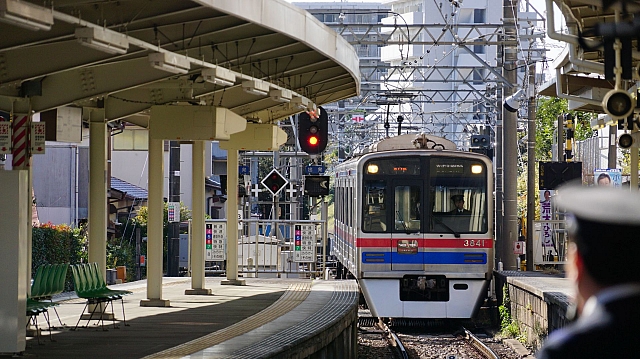 Is it just me or does Keisei have an Amtrak feel to their livery?