Kyushuu is renowned for it's joyful trains. I was fortunate enough to be in the vicinity of one in the south-eastern part of the island and couldn't afford to miss it. The Umisachi Yamasachi runs on the Nichinan Line from Miyazaki to Nango nearly every weekend in the later months of the year. Here is the latest timetable. The consist uses two DMUs which used to run on the (now closed) Takachiho Railway between Nobeoka and Takachiho. I was visiting a friend who works in a local monastery that happened to be right next to the line just short of Nango.
We arrived late on a Saturday and I actually saw the consist bolt past as we drove from Miyazaki Airport to Nango. It was already too dark to bother trying to get a shot of it.
Nango Town
This quaint little port town is home to a fleet of fishing vessels. It's located north of the Toi Cape, just south of Aburatsu. The shrine I was staying at happened to be located right next to the railway.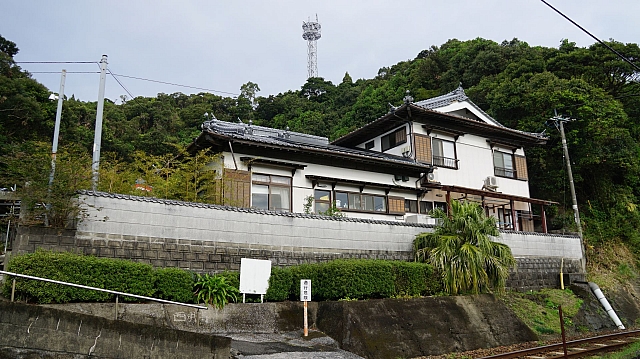 The local Nichinan Line service operated like clockwork and shook the building when it went past. It worked perfectly as an alarm clock.
Every now and then you got a double-DMU consist... but I failed to get a good shot of it! There was a yellow KIHA also.
Umisachi Yamasachi
This train only runs on weekends and so I only had the following Sunday to track it down. The service runs from Miyazaki to Nango and therefore was to run right past the temple. Unfortunately we had a busy day planned, so I wasn't to be in the right spot to get it. My friend actually called JR Kyushu for us to determine where the train would be staged between runs; turns out that location was Aburatsu Station. We headed there during our travels to see it.
So... didn't get to see it running; and now that I think of it, the consist would've passed the temple 4 times! I initially thought it staged at Nango Station as there is a siding there. Either way, seeing it at Aburatsu Station was a great opportunity!
Nichinan Line Bridges
During the travels around Aburatsu and Nango, we came across some great vantage points for photos. There's a bridge in the south of Odotsu that provides a fantastic backdrop.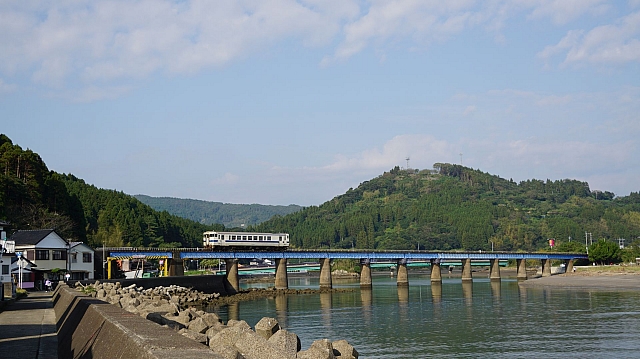 And then one just north of Odotsu, but do be careful: the beach there is private property and we were politely asked to leave!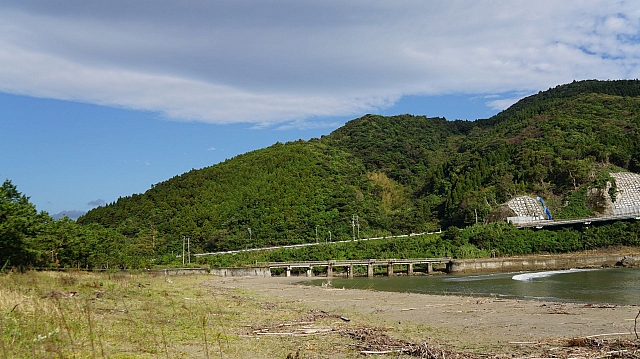 Low-light shots
As that I had the time and the location sorted, I thought I'd grab the tripod (or other suitable mounting point) and try for long-exposure shots of the DMU passing through. Turns out I suck; but it was fun trying!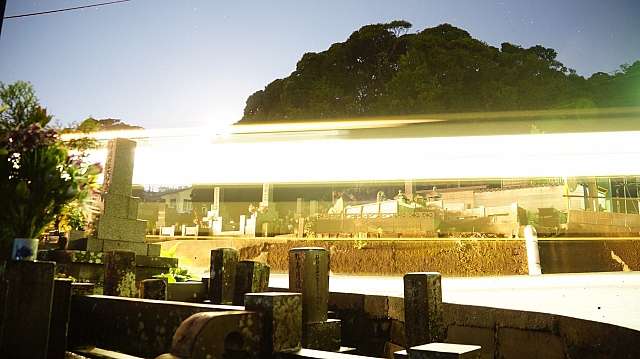 That last one was actually at ~4:45am when the 'super moon' was up... hence the sky is also super-light.
Nobeoka
We ended up driving to Shimonoseki from Miyazaki Airport. This meant a trip through Nobeoka for lunch. The main reason was to visit as many recycle shops as possible! Either way, it timed perfectly with the daily freight that heads into Nobeoka South freight depot.
Bad lighting... but I didn't have enough time to work out a better vantage point. The recycle shops were calling!