From Shimonoseki, a Hikari was taken to Osaka. Staying in the Shin-Osaka area meant for a bit of urban exploring around the Yodogawa precinct.
Higashi-Yodogawa Station
This is the first station to the north of Shin-Osaka station. It's only for local trains, so most pass. There's a level crossing right next to the station and the gates are down more often than not. It's the Kyoto/Tokaido Line, so you'll see a good selection of both freight and express passenger trains. There's also a recycle shop on the 'west' side of the level crossing where I happened to buy my Famicom from!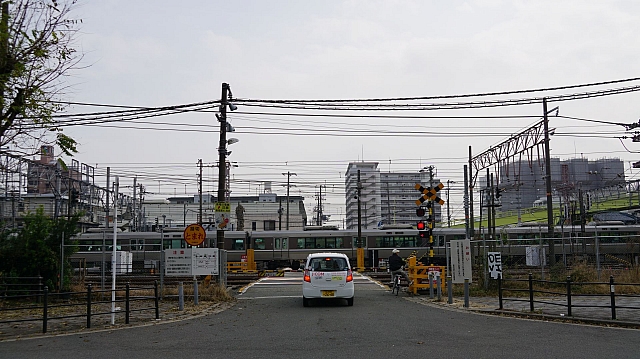 Hankyu Depot, Kishibe
From Higashi-Yodogawa Station, you can take a local towards Kyoto and find yourself at Kishibe Station. From here, it's a short walk along the Tokaido line to see the Hankyu yards. It's a large complex and there were some interesting sights!: carriages being completely overhauled, works trains being formed and consists being stored/started in all roads. The closest Hankyu station is Shojaku.
Closer around to Shojaku is the running line to Kyoto.. meaning it is very busy.
Meanwhile, don't forget to keep an eye on the Tokaido line. You're right near Suita yard at this point and there's always something happening.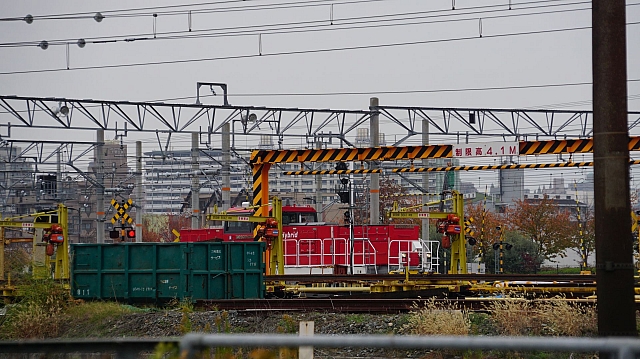 I returned to Kishibe and then took a quick trip to Takatsuki. There was a recycle shop there that I'd been too years back. It has a GREAT selection of railway stock, but also famicom games. I actually found A-Train for 500yen! From Takatsuki, I took the Hankyu line to Awaji.
I do love the green velour of those Hankyu consists!
Awaji Station
This area is being set up for a huge overhaul. Looks like everything is about to be elevated and they're building some huge concrete towers which, after being joined and completed, will form the base for the elevated line.
The trek to the bridge is pretty straightforward. In past trips, I've used wifi dongles, but this time we all got international data sims and they work a treat. Sure, no calls or sms (so when my credit card got skimmed I had to switch the sim card back), but the data is brilliant. Following google maps made sure that I didn't get lost!
Along the way you could see the work being done on the "East Osaka Line" from Suita. They're busy double-tracking all the bridges and making a wye at the Suita end so that trains can come from Shin-Osaka and turn right.
Yodogawa Bridge
This area has changed as well. The bridge itself used to be single track (on the right) with a pedestrian path on the left. Not so anymore...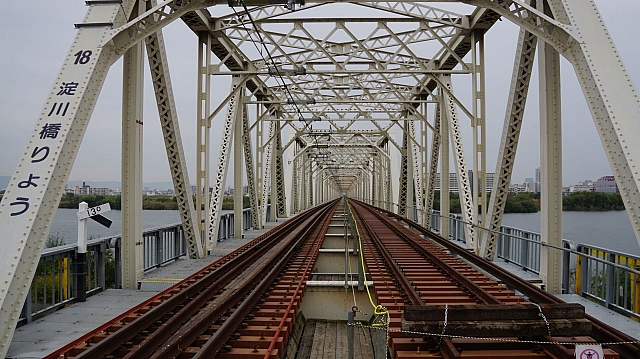 So they've actually ripped up the pedestrian path, layed the new track, connected it and then re-laid the track on the right.
They still have quite a bit of tracklaying to go before the whole lot is connected. Supposedly it's taking a long time as they've had to re-acquire land that has been 'squatted' on. There's a few buildings that owners have illegally built into the old corridor!
I'd timed the trip to co-incide with a freight service. Usually I'd hang around for an hour waiting... but I had a friend with me and there was no need to waste their time also! We started walking in the direction of a final recycle shop for the day until I heard the bloody level crossing activate!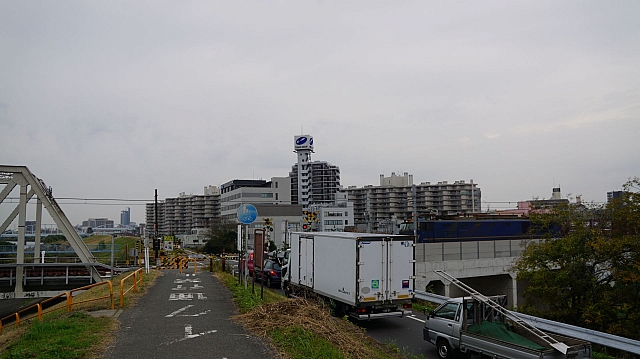 I do love an EF-510. First time I've seen one on this line! We continued to the recycle shop ... but on the way, found something a little more interesting!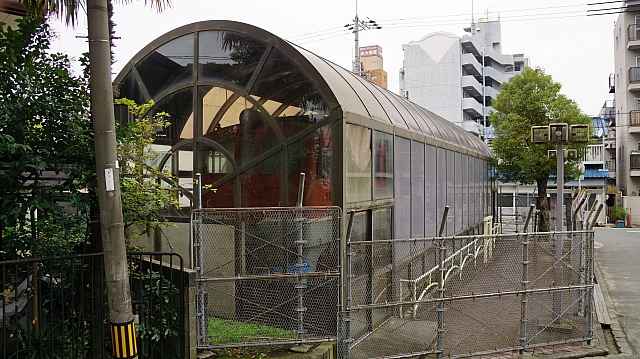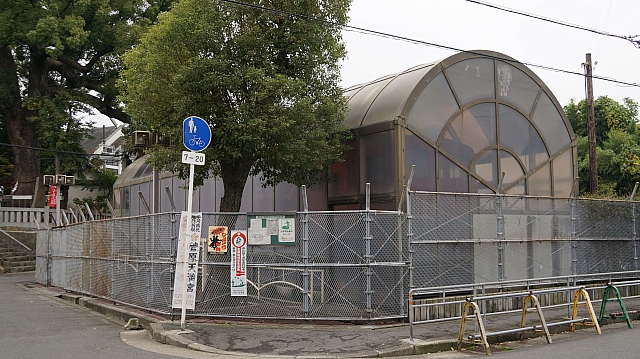 This poor old DF50-4 has been stuffed, mounted and forgotten. I was never expecting to find this locomotive; I knew that there was an EH10 in the area, but not this DF50. I actually forgot to track down the EH10, so it was a pleasant surprise to find this locomotive!